Take yourself for a ride in this gay cycling trip in Slovenia to one of the most underrated destinations in Europe. This gay group trip allows you to cycle around Slovenia with other like-minded people, enjoying the stunning scenery and natural beauty that this central European country is so famous for. You'll even be able to enjoy wine tasting, rafting, hiking and much more!
Group Trip Breakdown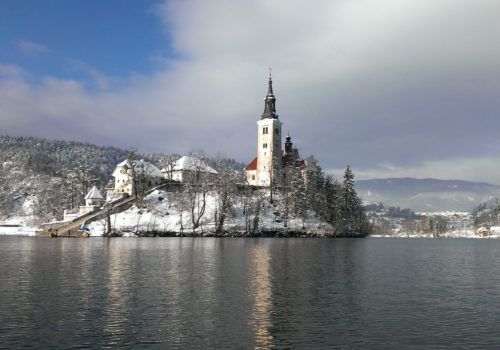 Day 1: Bled
Today you will arrive into Slovenia and will make your way from Ljubljana airport to the picturesque Bled. You'll be staying in a hotel right on the front of the lake and here is where you'll get to meet all of your fellow cyclists, getting to know them over evening dinner.
Day 2: Triglav National Park
After enjoying a hearty breakfast you will head westwards towards the Triglav National Park and Bohinjska Bistrica. Explore the beautiful natural surroundings as you cycle through the quiet roads before stopping off at a local cheesemaker where you will enjoy lunch. You'll then head into the park where you'll come across Lake Bohinj which is considered one of the most beautiful lakes in the world. You can have a swim before you go back through the woodland back towards Bled. In the evening you'll enjoy dinner all together at a local favourite restaurant where you'll be able to try some of Slovenia's finest red and sparkling wines.
Day 3: Bled To Kobarid
You'll enjoy breakfast in the morning before heading off cycling towards Kranjska Gora (close to the Austrian border). Along the way you'll cycle around Lake Bled and you'll discover the jaw-dropping views of the Alpine peaks. Those who are up for a challenge can choose to cycle up Vršič Pass where they can enjoy beautiful panoramic views. Those going up by van can choose to stop off at Russian Prisoner's Church before getting out to hike the rest. Towards the end of the day you'll move down towards the Soca River (which is near the border of Italy). You'll be staying in a charming little inn in the area and will have your evening at leisure to do with what you wish in the town of Kobarid.
Day 4: Kobarid
In the morning you will have free time to do with what you wish and relax. Of course, you don't have to, and a lot of people opt to join the optional excursion rafting down the Soca River – perfect on a sunny day. In the afternoon you'll visit the museum before travelling to a stunning secluded waterfall. Later on you will have more free time, but you can opt to go walking through the nearby forests. In the evening enjoy a lovely dinner all together with locally produced specialities.
Day 5: Goriska Brda Winery
In the morning you'll set off towards Livek to see the World War I trenches that can still be found around the countryside. You'll ride through woodland and forests towards a lovely winery in the Goriška Hills of Brda. You'll have a fresh lunch overlooking the beautiful vineyards, being able to see Italy in the distance! You'll have a tour around the winery and enjoy a wine-tasting session where you'll be able to try some of the finest tipple around. In the evening you'll check-in at a small B&B in a small town and enjoy dinner as a group.
Day 6: Collio To Brda Wine Country
Today you'll cycle around the countryside along winding roads that ignore modern-day borders and take you alternately in and out of Slovenia and Italy! As you go along you'll enjoy some more wine tasting sessions in both Slovenia and Italy before sitting down for dinner in a local family restaurant where you'll have views of the Collio & Brda wine country to enjoy.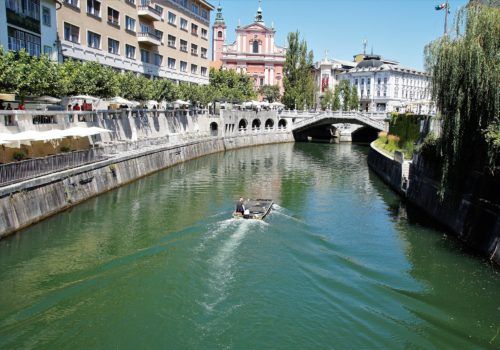 Day 7: Ljubljana
Today you'll cycle through the stunning Karst region where you will be able to discover the fascinating limestone formations that bring tourists far and wide to come and see. This area is famous for producing red wine and you'll have the opportunity to enjoy some of these at the farewell group dinner. The farewell group dinner this evening will be in the castle in the old town of Ljubljana.
Day 8: Departure
Today marks the end of the trip. You will be transferred back to the airport ready to catch your departing flight home.