This LGBT friendly group trip is seriously luxurious. Flying around Western Australia via a private aircraft is as high-end as you can get. You'll take in history and culture in Kununurra, adventurous boat rides in Broome, stunning beaches and marine wildlife in Exmouth and much more. This is a group trip for those who want to see the less touristy spots of Australia and strip it back to its roots. 
Itinerary Breakdown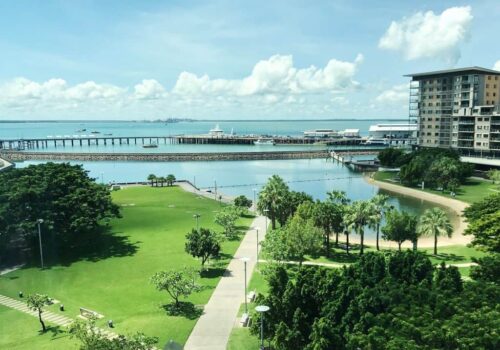 Day 1 - Arrival
Today you'll arrive in Darwin where you'll be met by a tour representative and transferred to your luxury hotel in the very heart of the city which overlooks Darwin Harbour. In the evening, you'll meet the rest of your fellow travellers and get to know each other over a welcome reception and group dinner.
Day 2 - Darwin
In the morning you'll embark on a tour of Darwin learning about its history and its role in the second World War and how it was impacted by Japanese bombings during those tumultuous times. In the afternoon, you'll visit the Museum and Art Gallery which is the main museum in the Northern Territory. You'll be able to take in many different collections of modern, Aboriginal and classic art that tells the story of this region of the world. In the evening you'll enjoy dinner as a group at a popular local restaurant.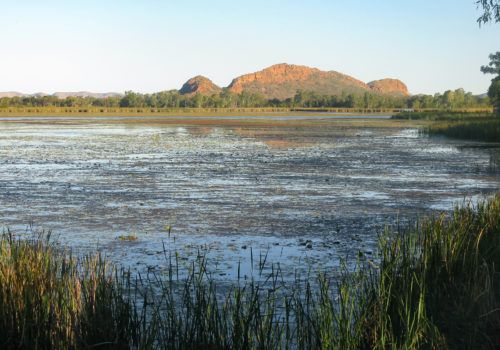 Day 3 - Kununurra
After enjoying a hearty breakfast you'll be transferred to the domestic airport ready to board the Skippers Airlines' Dash 8-300 private Aircraft to Kununurra. Once you have arrived you'll visit the Mirima Aboriginal community centre which works to preserve the culture, language and history of the Miriwoong Indigenous tribe. You'll also take in some Aboriginal art at a local art gallery before being transferred to Kununurra Country Club.
Day 4 - Kununurra
Today you will visit the historic Durack Homestead Museum. This museum was once home to the famous Durack family, including Dame Mary Durack, who were early pioneers in the region. The original home was dismantled and rebuilt brick-by-brick in a safer location to prevent it becoming flooded by Lake Argyle and thus keeping it preserved for future generations. From here you'll enjoy a scenic private tour of Lake Argyle which is the largest man-made freshwater lake in all of Australia. You'll enjoy a barbeque lunch and a swim to break up your day before driving across the Ord River Dam and back down the river where you'll board another boat and enjoy a picturesque cruise back to the starting point. You may even be able to spot native wildlife along the way such as crocodiles.
Day 5 - Kununurra
Today you'll board your next private aircraft at Kununurra airport which will take you all the way to Purnululu National Park. You'll get to enjoy the beautiful scenery from the air before getting onto the ground to see this place of natural beauty up close. The strange rock formations of the Bungle Bungle range make this one for the picture books! You'll drive through the range before undertaking a small trek in Picaninny Creek, taking in the beehive-shaped sandstone domes and Cathedral Gorge. You'll enjoy a lovely lunch at the Cathedral before being transferred back to the hotel.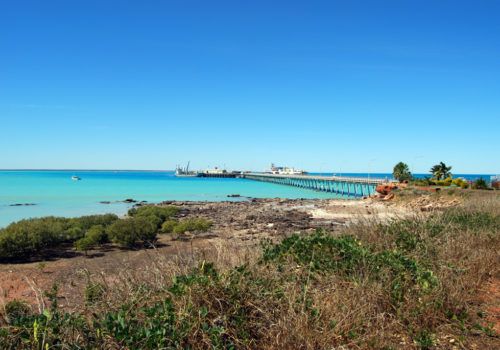 Day 6 - Broome
After breakfast in the morning you'll board your next private charter to take you to the beach resort town of Broome. Broome is well known for it's pristine, white sand beaches, beach camel rides and dinosaur tracks that are found amongst the red rocks at low tide. Once you arrive you'll visit Willie Creek Pearl Farm and learn all about how they produce the famously beautiful Australian South Sea Pearl. You'll learn more about the pearling industry from start to finish and will be able to see a demonstration of seeding the oysters. You'll even enjoy a boat cruise to view their farming operations on the water whilst being able to spot more local wildlife.
Day 7 - Broome
You'll be flown via private seaplanes to The Kimberley – an expansive region of northern Australia characterised by dramatic landscapes and isolated coastlines. You'll land at Talbot Bay where you'll enjoy a thrilling speed boat ride through horizontal falls before continuing on for a relaxed cruise in the surrounding bays and creeks on a luxury cruise boat. You'll then go cage-diving to experience feeding the native species of fish that are found here aplenty. You'll then be transferred back to the hotel via a scenic private plane ride, sweeping across the Buccaneer Archipelago, Cape Leveque, Willie Creek Pearl Farm, Cable Beach and Broome township.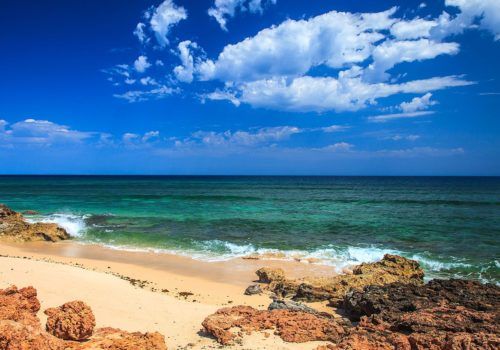 Day 8 - Exmouth
After enjoying your breakfast in the morning, you will be transferred to Broome airport for a private chartered flight to Learmonth where you'll be transferred via coach to Exmouth. Exmouth is known for it's coral reefs, sandy beaches and marine wildlife. Learn about some of the rich history in the area and take a visit to Nigaloo Coast – a World Heritage Site where you'll be able to spot over 500 species of fish.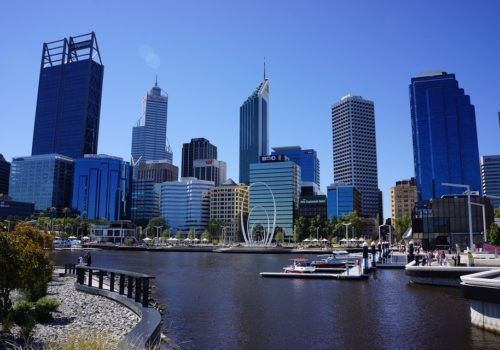 Day 9 - Perth
On this day, you'll take your final charter flight to Perth – a rich, cultural hub of Australia where beach life meets the city. You'll begin by exploring the capital of Western Australia on foot with a private guided walking tour taking you through the streets to explore churches, shops and public areas. After this, you'll visit the Perth Mint where you'll be able to see the huge collections of gold, silver and platinum collector coins. Here you'll learn about the history of the mint and the extraordinary stories it holds within its walls. In the evening you'll enjoy a group farewell dinner at a popular local restaurant.
Day 10 - Departure
After enjoying your breakfast, you will be transferred to the airport ready to board your departing flight home.