Stefan and Sebastian are better known as the Nomadic Boys. You may have heard of them. They run a popular gay travel blog chronicling their globe-trotting adventures, complete with lots of hot selfies.
Their work is fun and also informative – where else are you going to find a gay guide to Iran?
Travel is one of the most fulfiling things you can do with your life. Stefan and Sebastian have turned it into a full-time career. So, how have they pulled it off? Let's find out.
When did your Nomadic adventures begin?
In around 2012, we agreed to go for it and start in Asia. So, we started planning and saving up and set 2014 as the year we would be financially ready to leave London.
We set up the blog before we left London in June 2014, mainly for friends and family to share our adventures with us and see our photos/videos. It quickly grew in popularity and has today become our full-time job.
How many countries have you visited together?
Over the 10 years of our relationship, we've travelled to almost 80 countries together.
Most gay travellers would avoid Russia following the recent anti-gay propaganda bill. Did you experience difficulties travelling in Russia as a gay couple?
Russia was one of the first places in Asia we visited during our big trip around the continent. It was on the Trans-Siberian train from Moscow all the way to Siberia, then into Mongolia. Based on what we'd heard in the press, we were quite scared and agreed we would be "mates/buddies" travelling in Russia and only book single beds. We avoided the gay scene of Moscow when we were there for fear of police raids. But with hindsight we regret this. Yes there is an air of homophobia in the country, but LGBTQ life still goes on – it very much exists, but is not very visual obviously. Remember it is legal to be gay in Russia, whereas in quite a lot of other countries in Asia, being gay can get you a jail sentence or worse, killed.
We think it is very important for LGBTQ travellers to visit such destinations. Obviously be safe, have common sense and don't go around flouting your sexuality in public. But your very presence there, supporting gay locals, and LGBTQ friendly businesses is going to do far more to positively help our gay brothers and sisters there, rather than just boycotting them entirely and refusing to visit.
Do you have a favourite destination?
Thailand stole our hearts. It's one of the most gay-friendly destinations in Asia, has terrific beaches, and the gay scene of Bangkok is one of our favourites. We also love the Filipinos for their hospitality and fell in love with Sri Lankan food.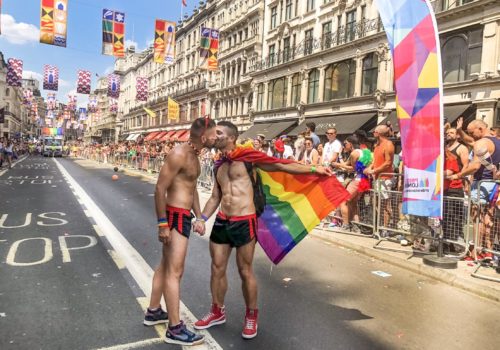 What advice would you offer to someone thinking about following in your footsteps and exploring the world?
Do it! Obviously have a sensible financial plan in mind. Whether you do it as a sabbatical or a mini holiday, exploring the world is one of the best and most fulfilling things we have done in our lives.
What's the craziest thing that's happened on your travels?
The craziest will always be the Trans-Siberian, which was right at the start of our big Asia trip. Stefan is more up for roughing it and has travelled alone extensively before, particularly in Latin America. However, for Sebastien, this was his first big trip outside of Europe and from home comforts. Stefan's goal was to "break" Sebastien into the world of backpacking by throwing him on the deep end, in third class of this long famous train journey. That's almost a fortnight of no washing and roughing it on a train. It's awesome, but those tantrums from Seby throughout the experience were the scariest thing we've encountered so far on our travels
The main life lesson you've learned from your adventures?
The most important lesson we learnt is to not sweat the small stuff. So much can and does go wrong when you travel. You quickly realise that as long as you have your health in order, nothing else really matters so much. You missed a flight? Had your credit card stolen? Even lost a passport…all of these things can be solved. Also, you're constantly having to plan the next step and problem solve to get around things that happen which are beyond your control – 3/4 hours delays in India are the norm, for example.
You've been to Pride events all over the world. Which city hosts the best Pride party?
We love Pride in London, because that is our home, so always has a special place in our heart for us. The Fierte Pride in Montreal was fantastic because it's such a pretty city and the entire population there gets involved during Pride. Madrid Pride is also notorious and a lot of fun.