Lily Beach, The Maldives
The Maldives is king of overwater bungalows with most of the resorts on the islands having a bungalow as an accommodation option. Lily beach is one of the best, with four types of bungalows to choose from.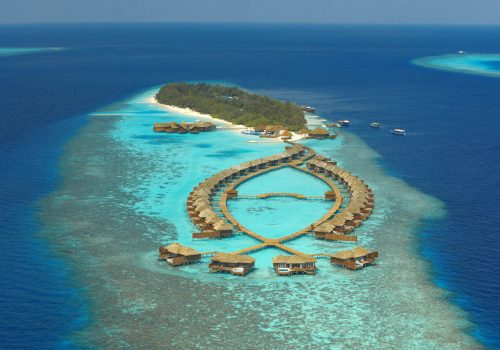 Stay in a lagoon villa for that beachy jungle experience, or if you are looking for top of the range, then stay in a Sunset water suite and watch the sun melt into the ocean every evening, no need for a TV, you have incredible entertainment right on your doorstep.
Sofitel, Bora Bora
Bora Bora is always near the top of the list of the most beautiful places in the world, and rightly so! You just can't beat the sense of luxury that encompasses it.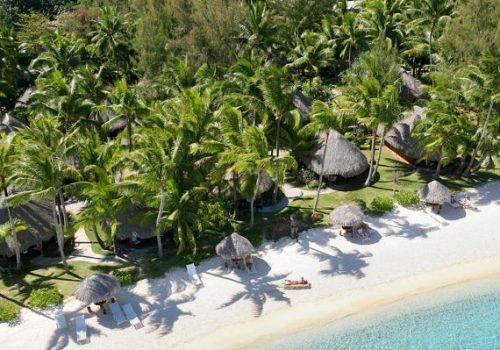 Sofitel Hotel Bora Bora has the classic bungalows you expect to see in a holiday brochure. These gorgeous bungalows balanced on stilts are perfect for those wanting a tropical beach holiday. The best bungalows have their own pool and decking area perfect for those who are looking for some intimacy. The bungalows have ladders leading right into the ocean, so your morning ocean swim is literally a hop, skip and a jump away from your bed.
Rosewood Mayakoba, Riviera Maya
These aren't your typical water bungalows, but Rosewood Mayakoba definitely ticks the luxury box. Stay in the main hotel building which is beautifully decorated or stay on the waterfront in a 'Lagoon suite" which have a quirky modern twist. If you are looking for comfort, luxury and something a little different then Rosewood is the one for you.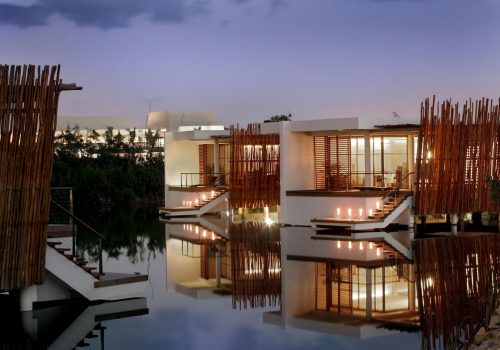 If you want the gold standard room category, then the 'Luxury Overwater Bungalow' ticks all the boxes with a private deck leading right into the ocean and five dedicated staff members who are there to make your stay impeccable.
Song Saa Private Island, Cambodia
When you think of Cambodia, a water bungalow hotel doesn't spring to mind. However, we were very pleasantly surprised with Song Saa Private Island. Its sleek luxurious design is the perfect place to escape to. The resort is located on a private island and is only accessible by boat, so it is perfect if you are seeking ultimate seclusion.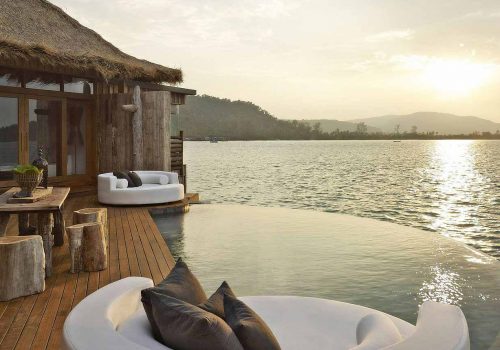 The water bungalows themselves are decorated with an authentic theme throughout and are equipped to a very high standard. The uninterrupted view of the ocean is something hard to say goodbye to when it's time to leave, but this very special island will give you an unforgettable experience.
Hotel Palafitte, Switzerland
It seems you don't have to get on a 12-hour flight to get your water bungalow holiday! Switzerland is kind of the odd one out in this collection of destinations, but the Hotel Palafitte is the perfect peaceful rural escape. Ideal for those looking to connect with nature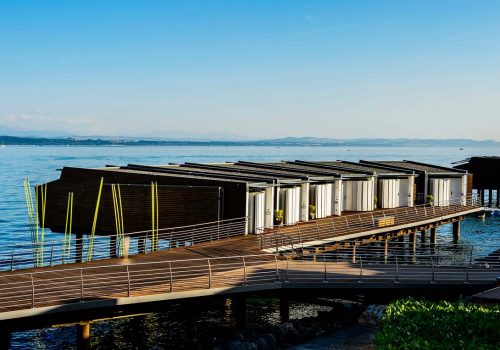 The design of the rooms has a naval theme, with the exterior styled around shipping containers. These comfortable cosy bungalows are built on Lake Neuchâtel. The bungalows have ladders leading down to the lake for those who fancy a refreshing morning dip.
For your perfect water bungalow experience, you can call us on 02071571570, submit an Enquiry, or live chat to one of our sales agents.