Colombia is a country full of history and culture, and much of it is still relatively unknown in the West. This gay group trip takes you on a journey to discover this country's past, including its art, literature, architecture and ties to the infamous slave trade and drug cartels. This trip is for those that seek a luxurious trip with all of the highlights packed into one.
Departing on
There are no available departure dates for this trip.
Group Trip Breakdown
Day 1 - Arrival
You'll fly to Bogota where you'll be met at the airport by a tour representative and transferred to your hotel.
Day 2 - Bogota
After a hearty breakfast, you'll start your group trip with a tour of Bogota. You'll take in all of the cultural sights and landmarks in this sprawling capital city, known for its beautiful colonial architecture, history and cosmopolitan vibe. You'll take in famous local markets before visiting the historic main square of La Candelaria called Plaza de Bolivar.
From here you'll visit the Botero Museum where you'll be able to see works of art by artists such as Picasso, Monet, Dalí, Renoir and more. You'll finish your tour at the Gold Museum where you'll find precious stones, jewels and, most of all, gold which are sacred to the many varying local cultures. In the evening you'll enjoy a group dinner altogether before heading out to explore some of Bogota's nightlife.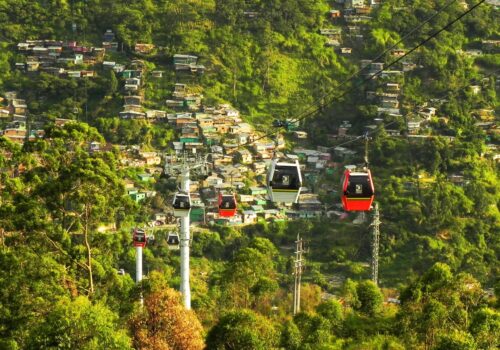 Day 3 - Bogota To Medellin
Once you've enjoyed your breakfast in the morning, you'll make your way to the airport to fly to Medellin. Once you have arrived in Medellin you'll be transferred to your hotel. The evening is at your leisure.
Day 4 - Medellin
Today you'll explore what was once one of the most dangerous cities in the world due to its infamous links with Pablo Escobar and his drug cartel. You'll learn more about its history and its past, and how it has transformed itself into a modern metropolis referred to as the City of Eternal Spring. You'll enjoy lunch as a group at a lovely local restaurant. The evening is at your leisure.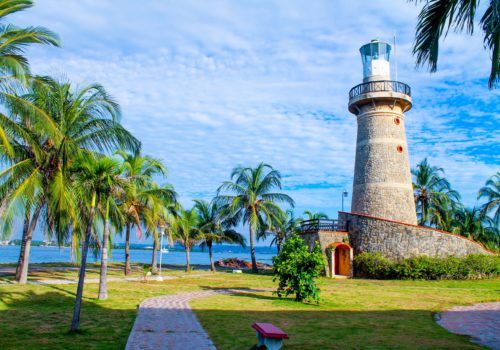 Day 5 - Medellin To Cartagena
You'll be transferred to the airport in the morning where you'll board a flight to Cartagena – a beautiful walled city on the Caribbean coast of the country. Once you've arrived, you'll embark on a panoramic city tour where you'll be able to see all the sights the city has to offer. During this trip, you'll stop at San Felipe Fortress, built on San Lázaro hill which was used to protect the city from pirates.
Day 6 - Cartegena
Today you'll explore some more of the rich history, culture and architecture of this amazing city. You'll start off in the old city, known as Ciudad Vieja where you'll see the Convent and Church of San Pedro Claver. You'll also visit the Gold Museum which houses artistic treasures from pre-Colombian cultures. You'll then make your way to the city wall where you'll find a collection of archways built into the stone. Here you'll see artisans plying their trade. This area, known as Bovedas, formally served as a prison in the 14th Century. In the afternoon you'll have more free time to explore; alternatively you can join an optional tour to the fishing village of La Boquilla – a former slave colony. Alternatively, relax by the hotel pool.
Day 7 - Cartegena
In the morning you'll begin with a walking tour centred around Colombia's most famous author – Gabriel Garcia Marquez. The tour takes in locations that inspired some of his most inspiring literary works, such as Love in the Time of Cholera and One Hundred Years Of Solitude. In the evening the group will come together for a farewell dinner, no doubt with many interesting experiences to reflect on.
Day 8 - Departure
Today is the day you'll say goodbye to your fellow travellers and depart home. Alternatively, we can arrange extra nights in Colombia for you.