This gay group trip takes you sailing around the famously beautiful islands of Croatia, allowing you to relax, have fun and be astounded by the natural beauty, history and charm that can be found amongst them. Sail with other gay men as you go between Mljet, Korcula, Lastovo, Vis, Hvar and Trogir islands, enjoying time floating on the topaz blue waters as well as time exploring each place and all of the exciting things there are to see.
Group Trip Breakdown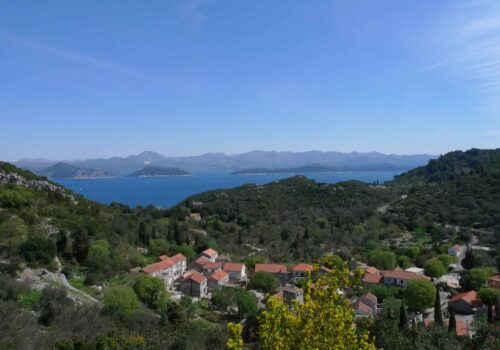 Mljet
Mljet island is considered to be one of the most beautiful islands in the Adriatic and it's not hard to see why! The most forested island in the Adriatic is also home to lovely, sandy beaches, a National Park, rocky shores, olive groves, and historic sights such as the Roman Pace and the old Grecian shipwrecks along the coast. You can also find several quaint, little villages across the island which are great for exploring.
Koraula
Koraula island is the sixth largest island in the Adriatic and is famous for its mix of sandy and pebbly beaches, scenic little villages and, more surprisingly, for its unique wine production. This island is full of dense forestry that gives it a very natural and earthy feel, and the stunning medieval old-town adds even more to the old-world charm. The wine produced on this island is very special as the grape it is made from isn't found anywhere else in the world which gives it a distinctive taste. Due to the island's location being further away from the mainland and harder to get to, it isn't as popular as it's counterparts like Hvar and Brac, meaning much fewer tourists and crowds!
Lastovo
Lastovo island is a part of the Lastovo Archipelago Nature Park which is made up of a collection of almost untouched, idyllic islands. Lastovo is barely inhabited due to being the most remote and isolated island, with under 800 people in total living there, meaning it's a very private and quiet place to relax and enjoy the natural surroundings. The island, like the rest, is very green and covered in thick forest but the coast here is rocky and craggy with dramatic cliffs cascading down into the aquamarine waters. Dotted around the island you can find some pretty pebble beaches where you can enjoy taking a dip in the sea.
Vis
Vis is one of the most mysterious and unheard of out of the Croatian islands – probably because of the fact that the island wasn't actually open to visitors until 1989 due to being primarily a military base. Its history as a military base has prevented development on the island, meaning no big resorts and skyrise buildings, only authentic, Croatian villages left untouched by tourism. You'll find natural beauty galore along with a lot of history, plus the freshest seafood you'll have in the country!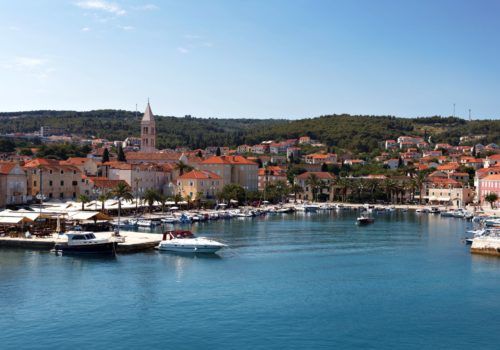 Hvar
Hvar is one of the most popular island destinations to visit in Croatia and, ironically, the island itself is shaped like a tourist relaxing on a sun lounger! This island sees the sunniest hours in the whole country and is thought to be the most luxurious beach location in Croatia.
The town of Stari Grad is a protected UNESCO World Heritage Site and is one of the oldest towns in Europe as well as one of the most picturesque. Hvar town is a slightly more glitzy affair and is known, not only for its 13th-century walls and Gothic palaces but for its popular nightlife scene. Some of the best beaches are found on Hvar as well, hidden in small bays around the island.
Trogir
Located west of Split on a small island accessible by bridge lies the tiny town of Trogir. A UNESCO World Heritage Site due to its lovely Venetian architecture, this small town can be seen all on foot with it taking less than 10 minutes to walk from one side to the other.
It is full of charm with its seaside promenade which is lined with bars, cafes and yachts, seen best from the viewing point at the top of the St. Lawrence Cathedral. This is a perfect place to stroll around and soak up the history that can be found on every corner.