The Maldives Weather and Resorts in April
---
April is the ideal month to take a trip to the Maldives. The dazzlingly blue skies, the pristine aquamarine waters, and the serene beaches make it an idyllic paradise for those looking for a tropical getaway. Swim in the azure ocean and observe diverse coral reefs in their full regalia of vibrant colors, or savor some restful moments on any of these beautiful islands' captivating shorelines.
If you're looking to visit the Maldives, the best time of year to do so is during its high season, running from December through April. The weather during this time is ideal for swimming, exploring and sunbathing, as well as for spotting a wide variety of marine life like manta rays, whale sharks and dolphins.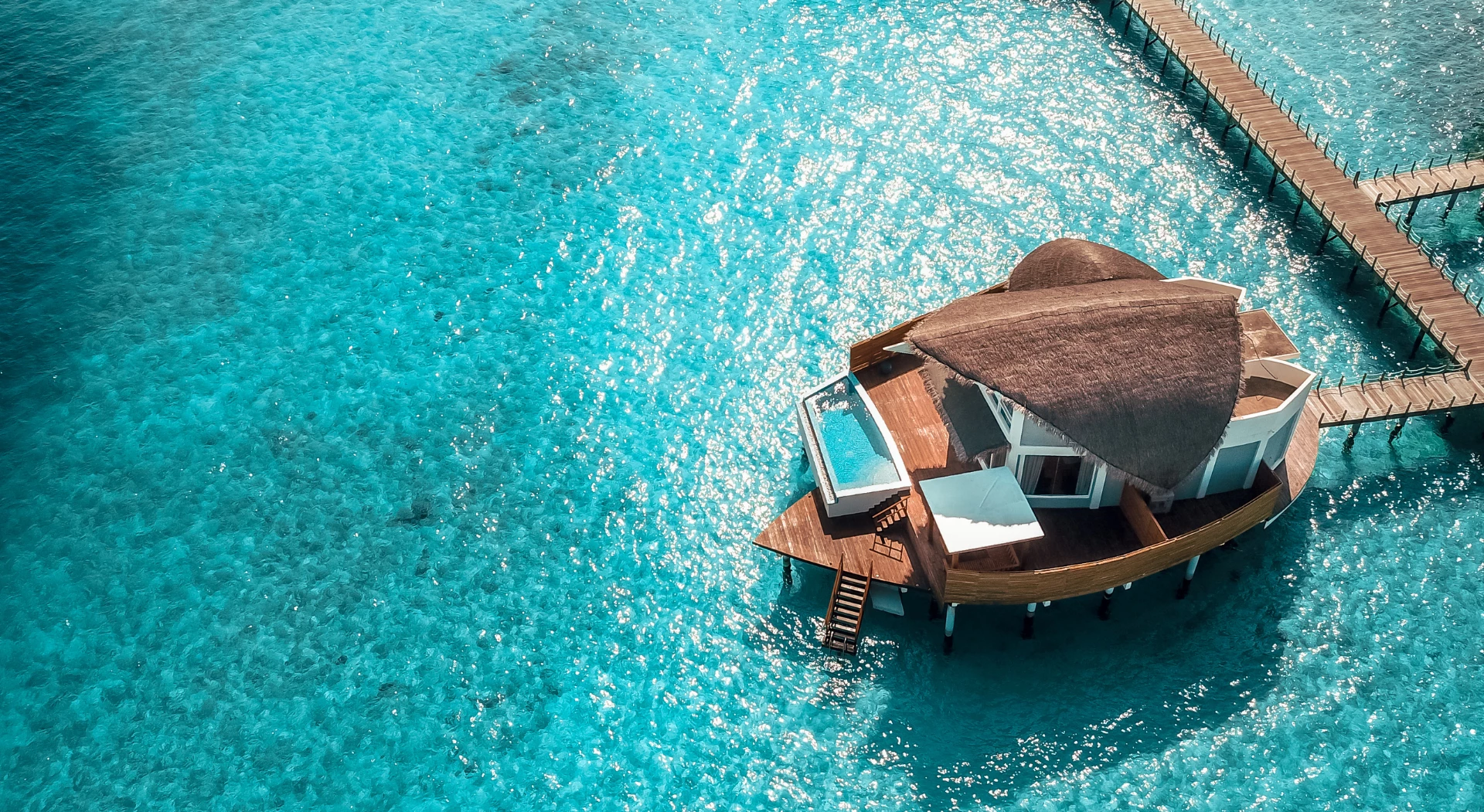 ---
About Out Of Office
Out Of Office is a luxury tailor-made travel company with a focus on delivering exclusivity and inclusivity. Our passion for global adventure is matched only by our deep commitment to delivering exceptional five-star service.
Everything we do is customised and designed especially for you – our valued customer – based on your exact personal requirements. Each member of our team is widely travelled. This means you get access to first-rate travel insights and the best possible advice from our team of luxury travel experts.
---
What's the weather like in the Maldives in April?
April is the perfect time for a trip to the paradisiacal Maldives. The sun gently warms the temperatures to between 26-30°C and clear blue skies dominate, allowing you to bask in a worry-free climate. The light breeze compliments the balmy weather, making it an ideal place to enjoy a winter holiday away from the gloomy cold of home.
April is an ideal time to visit the Maldives for some underwater fun. With temperatures around 28°C, you can safely enjoy all kinds of water activities such as snorkeling and swimming. You'll also be blessed with amazing visibility that will help you navigate the country's wonderful coral reefs and observe its captivating marine life.
April in the Maldives brings beautiful evenings and comfortably low humidity levels. Witness the stunning sunsets that cast brilliant shades of orange and red across the peaceful waters of the Indian Ocean. Spend relaxing afternoons in bright blue skies, followed by peaceful nights filled with stunning views.
April is a great time to visit the beautiful Maldives with its abundance of incredible activities. From relaxing on pristine beaches to enjoying a day full of watersports, visitors will find plenty to keep them entertained. Before you hit the beach, make sure you've packed light clothing and sunscreen for a safe, enjoyable experience.
What's the best resort in the Maldives in April?
April is a great month to visit the Maldives and enjoy the wonderful resorts that this paradise offers. With its warm weather, stunning beaches, and luxurious amenities, you'll be able to relax, indulge, and explore all that these beautiful islands have to offer. With many amazing resorts to choose from, you're sure to find the perfect place to spend your April vacation soaking up the sun and sand of the Maldives.
The Conrad Maldives is a premier destination for an escape to the tropics. Spend your days in one of the resort's luxurious water bungalows, with direct access to a blue lagoon and the Indian Ocean. Refuel with extravagance at Ithaa Undersea Restaurant, which was recently awarded "the world's most beautiful restaurant". You can also enjoy other incredible dining options ranging from local seafood delicacies to signature cocktails.
The Conrad Maldives has earned a reputation as one of the world's most luxurious resorts and for good reason. Located on Rangali Island, this exclusive paradise offers luxuries like no other, headlined by the first-ever underwater bungalow, The Muraka. Guests can witness unspoiled ocean views both above and below the surface from their private villa.