The Maldives Weather and Resorts in October
---
Whether it's for adventure or pure relaxation, this tropical paradise has something in store for all travelers. With breathtaking sunsets, awe-inspiring beaches, and vibrant marine life, the Maldives are sure to provide an unforgettable experience.
October marks the tail end of the Maldives' rainy season, which usually stretches from May to October. During this time, rainfall increases, temperatures cool off and there's a higher risk of tropical storms. Despite the challenges this season brings, you can still make the most out of your visit to these beautiful islands with proper planning and preparation.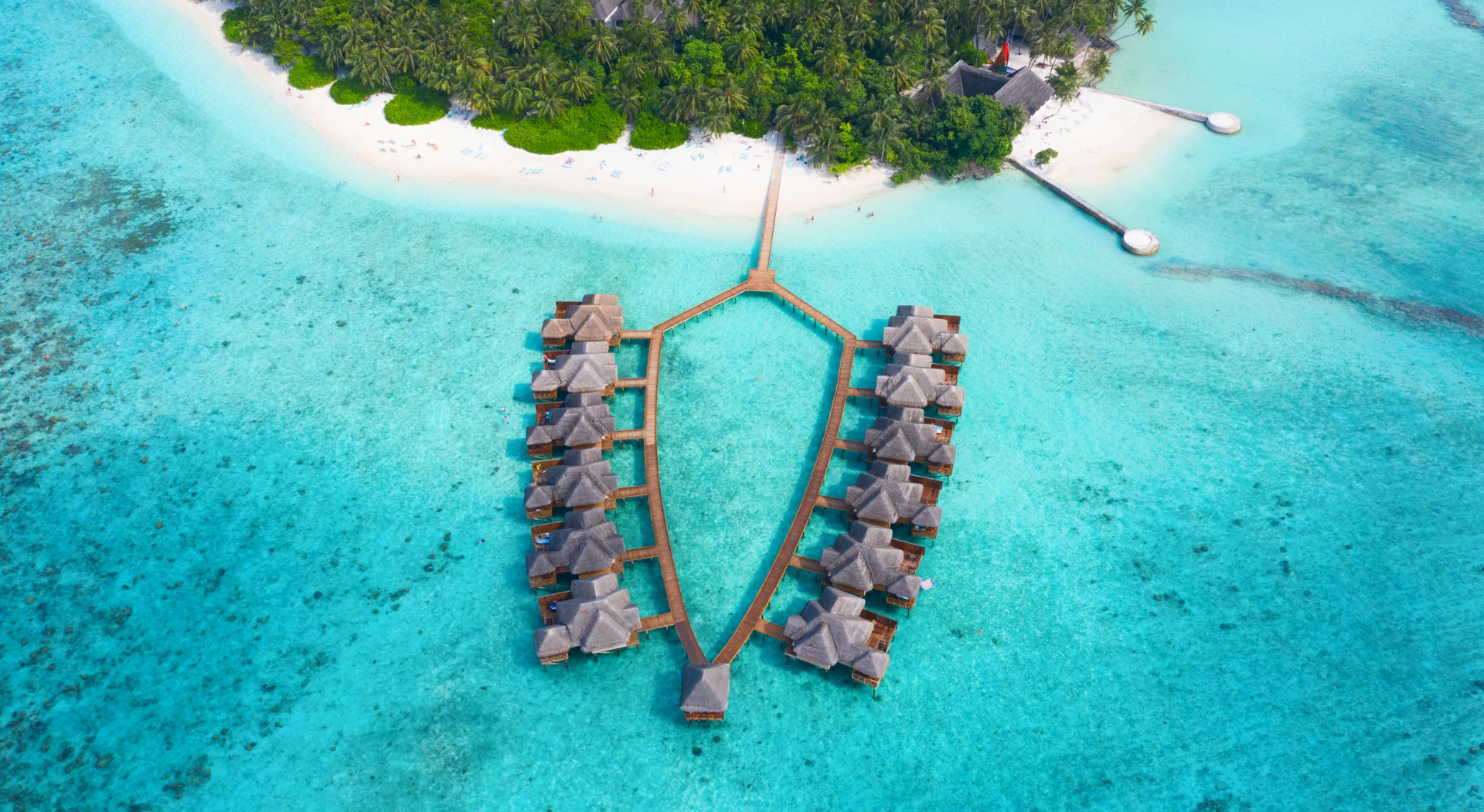 ---
About Out Of Office
Out Of Office is a luxury tailor-made travel company with a focus on delivering exclusivity and inclusivity. Our passion for global adventure is matched only by our deep commitment to delivering exceptional five-star service.
Everything we do is customised and designed especially for you – our valued customer – based on your exact personal requirements. Each member of our team is widely travelled. This means you get access to first-rate travel insights and the best possible advice from our team of luxury travel experts.
---
What's the weather like in the Maldives in October?
October is the perfect time to visit the Maldives and bask in gorgeous weather. You can expect temperatures to range between 24°C and 31°C with plenty of sunshine, although this is a transition period and the humidity will be higher than usual. So don't forget your sunscreen – you're going to want to take full advantage of this tropical paradise.
The humidity levels in the Maldives during the month of October remain high, with temperatures also staying consistently high throughout. Rainfall is common, although usually brief and does not significantly affect the temperature. Northern islands receive more sunshine than those in the south, which may be covered by more cloud cover; however, this doesn't change the overall hot climate in all parts of the country.
The November to April period in the Maldives denotes the dry season, which is when wonderful weather and pleasant temperatures grace this paradise nation. There is generally little rainfall during this time, making it perfect for enjoying a holiday here with abundant sunshine every day.
If you're looking to visit the Maldives in October, you can expect to experience pleasant weather conditions with plenty of sunshine. While temperatures may be slightly cooler than the other months of the year, the climate is still enjoyable and temperatures typically range between 80-90 degrees Fahrenheit. However, it's important to keep an eye on weather forecasts, as the Maldives does have a tropical climate and is prone to storms and cyclones during this time of year.
What's the best resort in the Maldives in October?
October is a fantastic time to visit the Maldives. The resorts tend to experience fewer visitors during this period, meaning it's much easier to enjoy the serenity and peace of the island. Not only that, but you'll be able to benefit from excellent service and plenty of individualized attention that is often hard to come by at busier times of the year.
If you're looking to treat yourself to a luxurious getaway this October, The Ritz-Carlton Maldives is the perfect destination. Offering an unparalleled level of service, inspired by the royal courts of ancient Maldives, this resort spares no expense when it comes to pampering its guests. You even have your own private butler at your disposal.
The Ritz-Carlton Maldives is an idyllic destination for an indulgent getaway. Each spacious villa offers an air of sophistication and understated luxury, perfectly brought together by the copper color scheme adorning throughout. Vacationers looking for a truly luxurious experience will not be disappointed here; The Ritz-Carlton delivers on all expectations for a memorable stay in the Maldives.