This resort is the best of the best. Located on the private island of Tetiaroa which is around 30 miles north of Tahiti. The hotel is the epitome of luxury, combining style and elegance with pristine nature. The island is surrounded by a beautiful lagoon which provides a great location for many activities including scuba diving and snorkelling.
There is an abundance of wildlife which lives there including sea turtles, manta rays and all kinds of exotic fish. Whilst everything is designed with luxury at the forefront, the resort still has an authentic feel to it which reflects French Polynesian culture. Stay in either a one, two or three bedroom villa, all which are situated right on the beach.
The Brando was where Barack Obama stayed when he was 'Out Of Office' and is also where Pippa Middleton and her husband James Matthews honeymooned. The island can only be accessed by private seaplane which makes it ideal if you are looking for an intimate experience.
Call our travel experts on
+44 (0)20 7157 1570
Highlights
Cost Category: Platinum

Private access only
Intimate and spacious accommodation
World-class spa
Fine dining restaurants
Water-based activities
Beautiful beaches
More Information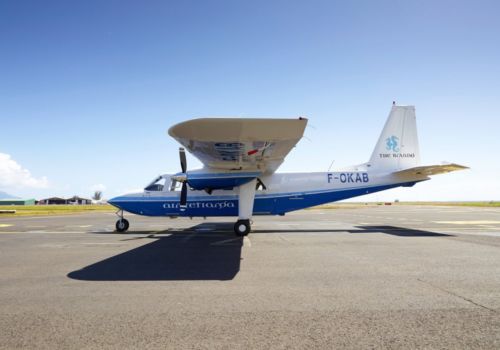 Getting to the Brando
You'll need to fly into Papeete in Tahiti from where you'll board a smaller aircraft for the short, but the spectacular 20-minute flight with Air Tetiaroa.
Flights operate from Los Angeles to Tahiti as well as direct flights from Auckland and Tokyo.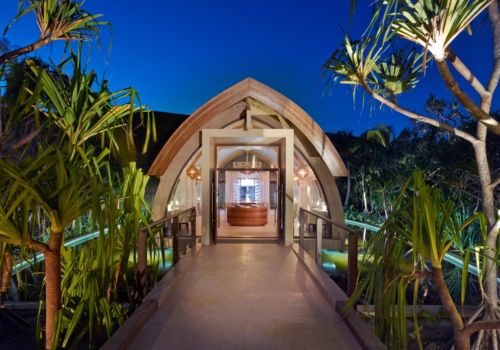 Food And Drink
The resort has two restaurants which showcase food from all over the world including traditional French Polynesian cuisine. All fruit and vegetables are grown on in the gardens and orchards on the island and all dishes are carefully crafted with the freshest ingredients.
Beachcomber Cafe
Enjoy stunning views of the beach and the lagoon, you can dine inside or outside. The restaurant provides a range of dishes including many traditional French Polynesian dishes along with classic French cuisine.
Les Mutines by Guy Martin
This restaurant is the perfect place to dine if you are looking for an intimate experience. Situated on a moat which is surrounded by the beautiful lagoon, you get the wonderful sense that you are floating into the sunset. The restaurant provides a fine dining experience and serves delicious French cuisine. With a world-class wine cellar which is temperature controlled, you will find a wide selection of wines to accompany your food.
Te Manu Bar
This open-air bar is located on the second floor of the main hotel building and provides some of the best views of the lagoon and beyond. The perfect place for an evening cocktail.
Bob's Bar
This relaxed bar is an ideal place to chill during the day. It is a very sociable place and great if you are looking to meet new people.
Room Service
Order in and enjoy a delicious meal in the comfort of your own villa.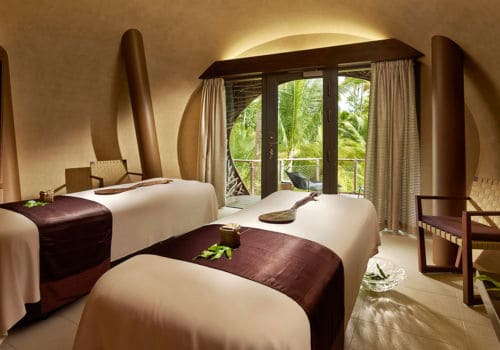 Varua Te Ora Polynesian Spa
Nestled on a tranquil pond, if you are seeking the ultimate relaxation experience then this spa will tick all the boxes. With a wide selection of holistic treatments offered you will leave feeling refreshed and rejuvenated.
Using traditional Polynesian remedies and techniques, this spa provides a totally unique experience. It blends in beautifully with the environment and there is an outdoor area for you to relax in after your treatment.
Activities at The Brando
Whilst The Brando is most definitely one of the best desert islands in the world, there are plenty of activities to keep you occupied during your time in French Polynesia.
From snorkelling and diving to cycling and paddle boarding you are immersed in nature. With a fantastic coral reef, you're likely to encounter sea life such as turtles, reef sharks, rays and thousands of tropical fish.
The resort also boasts a Library and Explorer Centre in which you can read books about the region or take part in demonstrations about Polynesian culture, lifestyle and history.
The Brando's own research scientists will also show you their work and talk to you about their research and marine life found on the atoll.
If you visit between July and October, you'll also be able to go on a whale watching tour.