Greece is one of the best destinations in Europe for gay travellers looking to go on a gay group vacation to Greece. In antiquity, Greece forged western civilization as we know it and created the first democracy – not bad considering they were endlessly waging war, not least on their fellow Greeks. It was also a culture that accepted homosexuality (among men, at least). Ancient Greece's glory days didn't last for very long. It became an outpost of the Roman empire and later became an Ottoman colony.
Greece's tourism sector remains hugely successful and one of the most popular destinations for Out Of Office travelers. The biggest draws in Greece are Athens and the Cycladic islands of Mykonos and Santorini. Enjoy the perfect climate, the ruins of antiquity and excellent boutique hotels. Needless to say, Mykonos is Europe's most popular gay vacation spot.
Recommended reading
The Seven Best Gay Group Trips for 2022
Most Popular Greece Gay Vacations
Greece

From 12 days - Tailor-made from

£2970

Greece is the cradle of Western Civilisation, so it's no surprise that it's a popular tourist destination. The perfect weather, golden beaches and cuisine also help. Not to mention the magical Islands surrounding the mainland. On this trip you'll get...

View Itinerary

Greece

From 8 days - Tailor-made from

£1425

Greece is known as the cradle of Western Civilisation. You'll revel in the stunning beaches, unrivalled history and buzzing nightlife, not to mention great food and drink. This trip will take you sailing around the picturesque islands of Mykonos, Naxos...

View Itinerary

Greece

From 8 days - Tailor-made from

£1050

Do you fancy meeting new people and visiting some of the most idyllic islands amongst the Mediterranean? This group sailing trip offers some of the best scenery you'll ever see. You'll get to explore the great gay bars in Plaka,...

View Itinerary
Gay Group Trips Greece
Greece is one of our most popular destinations for gay group trips. All group trips to Greece will begin in Athens, where you'll find the most reliable ferry transfers to the islands. Athens is well worth exploring. You'll want to see some of the great ruins, especially the Parthenon – the best-preserved buildings from classical Greece. Athens also has a lively gay scene, not least an excellent culinary scene.
A few days in Athens should suffice. You'll catch the most reliable ferry transfers from Athens. Hundreds of charming Greek islands await you. The most famous islands are Mykonos and Santorini. Mykonos is where you go to party, while Santorini is more of a romantic destination. Both can get busy in peak season. There are also less bustling Greek islands to explore, such as Naxos and Syros.
Greece attracts around 38 million tourists each year. If you go to Greece once you'll want to go back every year. The Greek language is around 5000 years old.
Why Greece?
It's packed with culture and history.
Greece is one of the best destinations for gay travellers.
The climate and cuisine are sublime.
There are hundreds of islands to explore.
It can meaningfully claim to be the birthplace of western civilisation.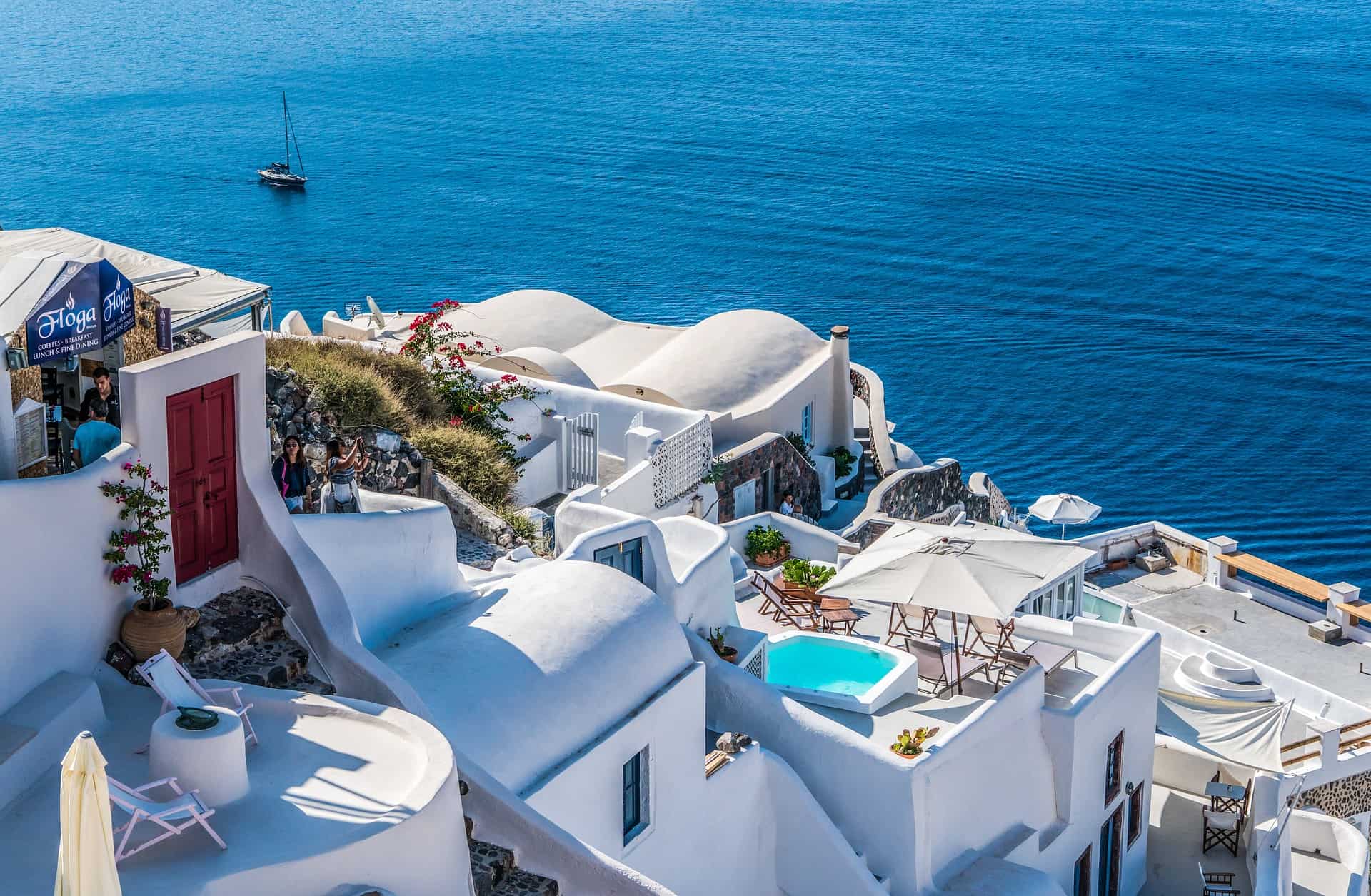 Browse Itineraries
Explore Greece With Like Minded Travellers
All of our gay group vacations to Greece include some island hopping. Some of our Greece group trips are centred around island hopping, so you'll be visiting a new island every day. Planning your own island-hopping trip around Greece can be tricky. You have to book multiple ferry transfers and multiple hotels. You'll also need to begin and end your trip in Athens to get the most reliable transfers and make sure you don't miss your return flight! Joining a group trip alleviates all the worry. The trips have been plotted meticulously by destination experts. You just have to show up and have fun.
History enthusiasts will be in heaven in Greece. The country is packed with dazzling ancient monuments. Our Greece group trips include trips to some of the best historical places, including Delphi: here the oracle priestesses once shared their drug fulled prophecies. It's one of the most numinous places you'll ever see. Another highlight is Delos, a small island close to Mykonos that's packed with ruins from antiquity.
Advantages of group travel in Greece
Your island-hopping itineraries are planned for you.
You'll learn about the sights with expert local guides.
You can opt for luxury or budget-friendly options.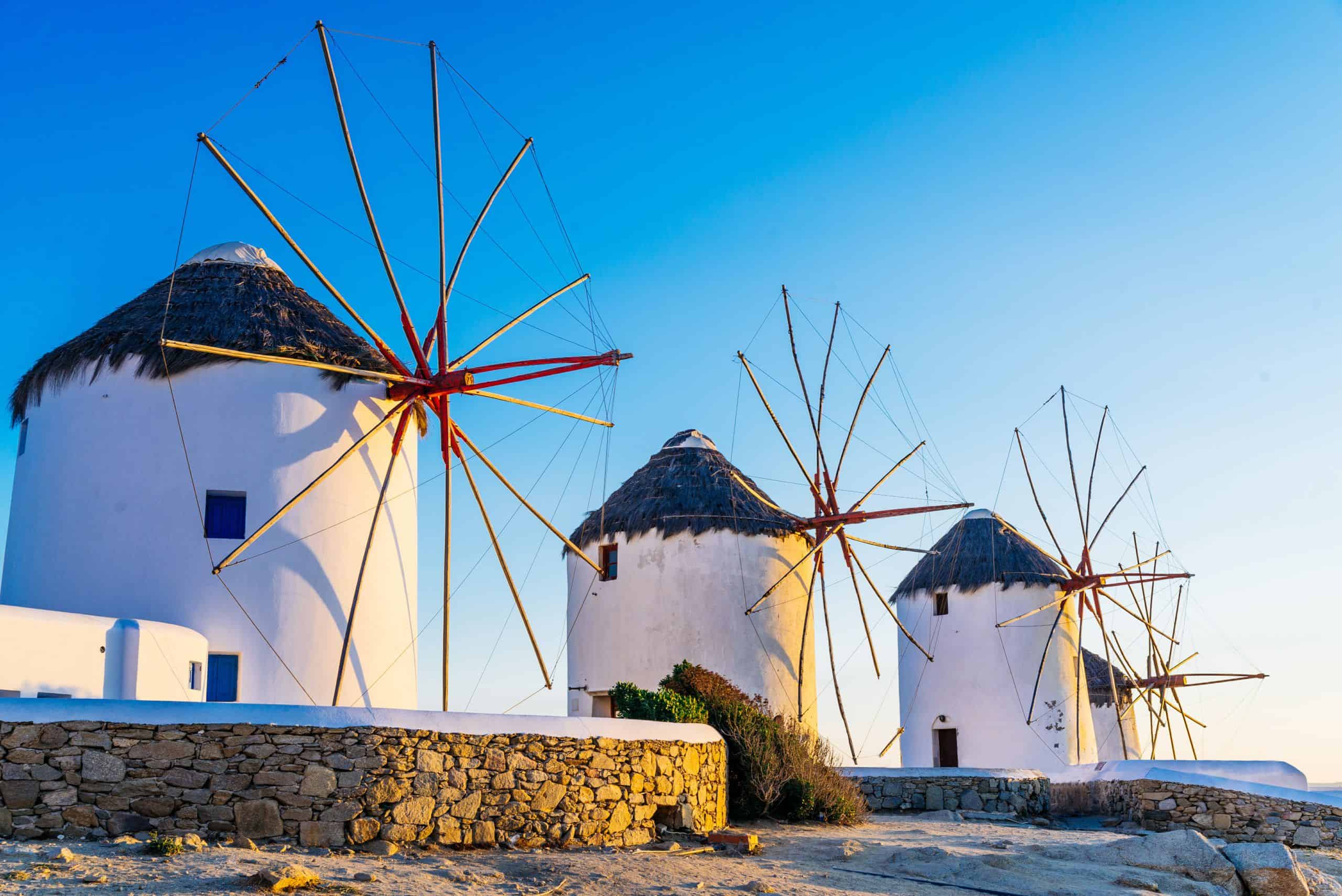 Highlights of Greece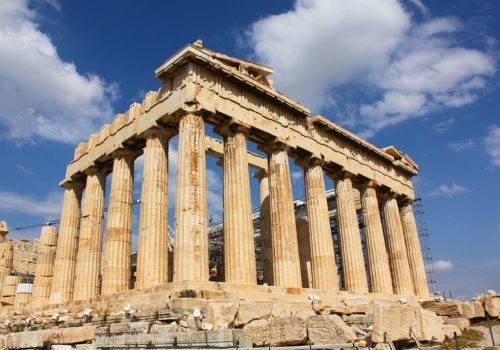 The Parthenon
The Parthenon is a temple complex perched on the hill of the Acropolis overlooking Athens. It dates back to the 5th-century BCE, classical Greece's golden age. The temple is dedicated to the goddess Athena. It's the must-see historical sight in Athens. The Parthenon is a symbol of harmony and elegance – the Doric columns are designed to look perfectly symmetrical. This temple represents a society at the height of political, economic and artistic sophistication.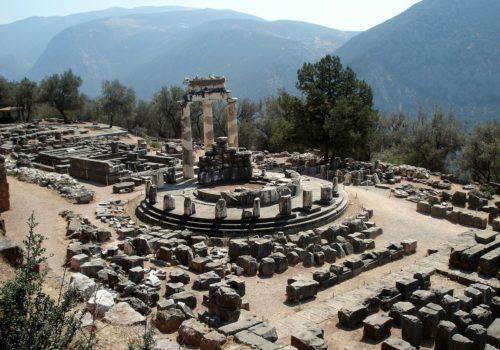 Delphi
It's roughly a three-hour drive from Athens to Delphi but it's worth it. You'll find the Oracle of Delphi's Temple on Mount Parnassus. The priestesses were gifted with the art of prophecy. Well, they took drugs and rambled, but people believed that they were predicting the future – who knows, maybe in some indefinable way they could. The oracles were among the most enigmatic figures of western antiquity. The site was abandoned in around 381 AD after paganism was banned.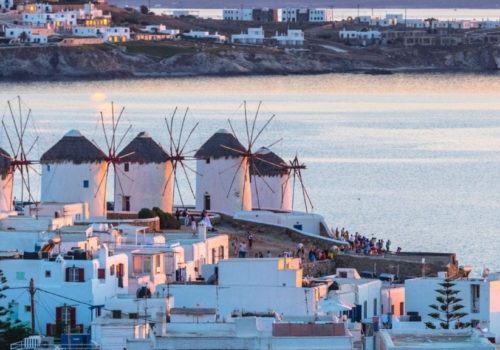 Mykonos Windmills
The famous windmills by Alefkandra harbour are the most famous sight in Mykonos. They have come to symbolise the island. Wherever you stand in nearby Mykonos Town, you can see the windmills. They were originally built in the 16th-century by the Venetians. There are 16 windmills on the island.