Thailand is the unofficial gay capital of Asia. It's known as the Land of Smiles for a reason. The people of Thailand are very friendly and broadly tolerant. We have a number of gay group trips to Thailand – it's one of our most popular destinations. It offers the perfect combination of culture, nightlife, perfect beaches and wonderful cuisine. You can explore the bustling metropolis of Bangkok and then indulge in a bit of island hopping. You'll find secluded islands and also larger islands with buzzing gay nightlife, such as Phuket. Thailand is such a diverse destination and it's one of the most rewarding countries for gay travellers.

Recommended reading
The Best Gay Travel Books
Gay Group Vacations to Thailand
Thailand

From 12 days - Tailor-made from

£2235

This 12-day gay group trip in Thailand will maximise your experience of one of the world's most popular travel destinations. Thailand is the most LGBT-friendly country in Asia. Instead of rushing around from one place to another, you'll see five...

View Itinerary

Cambodia

From 15 days - Tailor-made from

£2495

This 15-day gay Thailand group adventure starts in the metropolis of Bangkok, the capital city of Thailand and home to Asia's best food, nightlife, and shopping. It has been designed to maximise your experience of Thailand. Instead of rushing around in...

View Itinerary

Thailand

From 11 days - Tailor-made from

£4750

Thailand is the home of fabled palaces, giant golden Buddhas, and stunning temples. These cultural wonders are matched by its breathtaking natural beauty, with platinum beaches that have inspired authors and filmmakers alike. This itinerary will show you the best...

View Itinerary
Gay Group Vacations to Thailand
Bangkok is a big, brash city. You can get lost in the winding streets of Chinatown, explore the golden temples, see Buddhist monks strolling by and check out the neon-lit sleazy areas packed with sex shops and bars. It's a city of contrasts, to say the least. Bangkok has many gay bars. One of the oldest is called Telephone – the table's have telephones on them so you can ring someone if they take your fancy.
Phuket is right by Thailand's southwest coast surrounded by the green Andaman Sea. It's ideal if you want to relax, party, stay in a luxury resort or spend the whole day on the beach – we like a mix of all the above.
The street food alone makes a trip to Thailand worthwhile. Its culinary scene is very diverse. You can grab stunning, colourful dishes for next to nothing as you're wandering the streets. Flying to Thailand may not be cheap, but when you arrive your money will go very far. As it gets dark in Thailand, the disco dollies come out to play. Your senses will be pleasantly assaulted both day and night.
Thailand attracts around 32 million visitors each year. It's the second most visited country in Asia – behind China, of course. Thailand's streamlined visa policy allows visitors to enter the country easily, which no doubt boosts the numbers. Whether you're a recently graduated backpacker, a twenty-something party person, a history buff, a luxury traveller or, come to think of it, any kind of traveller, Thailand will win you over.
Why Thailand?
It's packed with culture and history.
It's a great destination for LGBT+ travellers
Bangkok is the unofficial gay capital of Asia
There are hundreds of islands to explore
The people are very friendly
You'll love the street food

Browse Itineraries
Explore Thailand With Like Minded Travellers
All of our gay group trips to Thailand begin in Bangkok. You'll want to explore the big city first and get a feel for the country in its capital. The most reliable transfers around Thailand can be found in Bangkok. As Thailand is one of our most popular destinations, we have some group trips with several departure dates throughout the year. Supposing you'd like a twin-centre itinerary, some group trips to Thailand can be combined with Cambodia.
We also have some gay sailing trips around the Thai islands. These trips are more budget-friendly and you can visit a different island every day. All of our Thailand group trips will include some island hopping.
If you've never been on a group trip before and you don't have a specific destination in mind, Thailand is a great choice. It's a very welcoming country and it offers a little bit of everything. If you go once you'll want to go back every year.
Beach Hotels
Your island-hopping itineraries are planned for you.
You'll learn about the sights with expert local guides.
You can opt for luxury or budget-friendly options.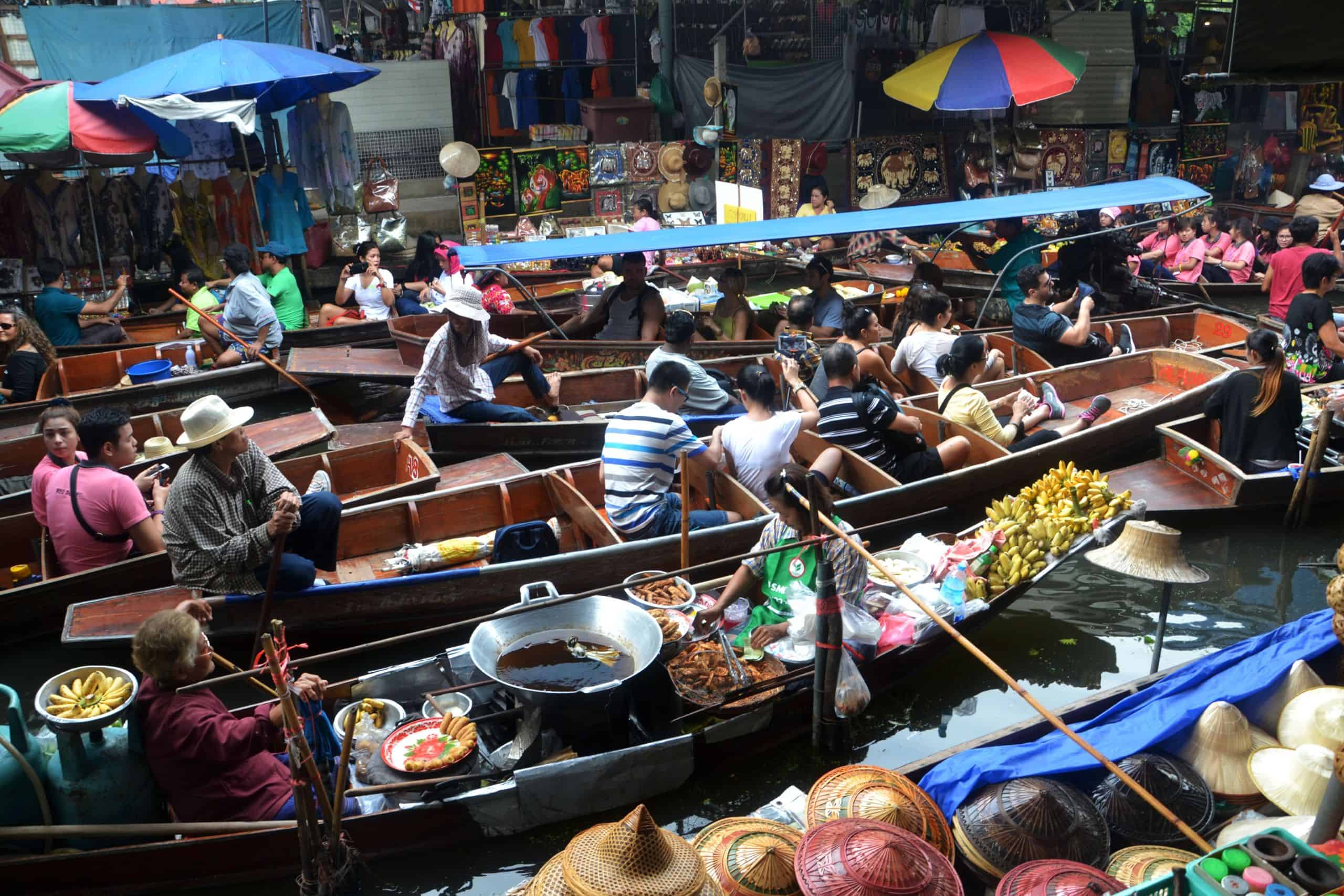 Highlights of Thailand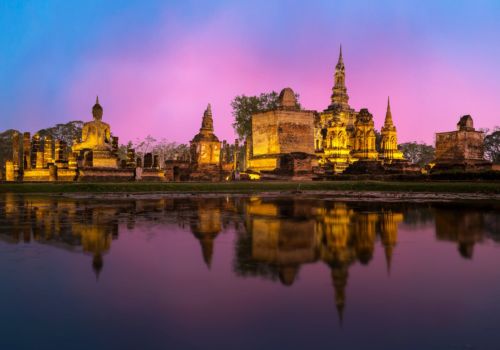 Ayutthaya
Thailand's historic capital was founded in 1350. Up until the 18th-century, it was one of the most cosmopolitan cities in the world. Located above the Gulf of Siam, it was strategically located to avoid flooding and seaborne invasion. Ayutthaya was none the less razed to the ground by the invading Burmese in 1767. It has been an archaeological ruin ever since. Ayutthaya is a beautiful, numinous city and a testament to both human ingenuity and violence.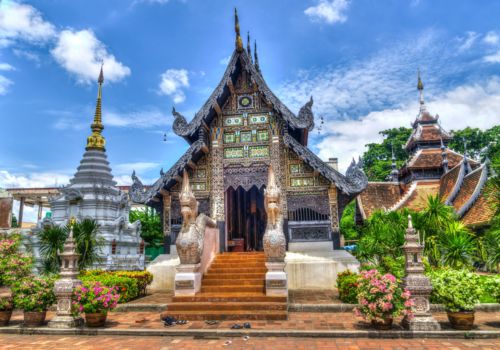 Chiang Mai
Chiang Mai is the second-largest city in Thailand. Take a trip to the night market by the river and experience some of Thailand's best street food. Chiang Mai is close to Laos and Myanmar and the cuisine on offers reflects that. Unlike other hyper-gentrified big cities in Asia, Chiang Mai maintains old school eateries and shops, giving you a glimpse of a less westernized, older Asia.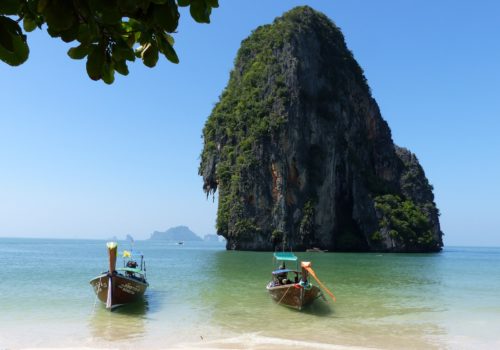 Andaman Coast
The island of Krabi boasts some of Thailand's finest beaches. It's surrounded by hundreds of uninhabited islands. You can island hop from Krabi to Phuket. You can also go on a boat tour and see many more island of the Andaman Coast, including the uninhabited ones. The Andaman Coast is increasingly touristy but it's also picture-postcard perfect.