French Polynesia is an unspoiled paradise and its most famous island is undoubtedly Bora Bora. You'll find the softest sands and clearest waters. It's the home of the overwater bungalow, black pearl farms and dazzling coral and marine life. Marlon Brando filmed Mutiny On The Bounty in French Polynesia in the 60s. He fell in love with it and purchased the island of Tetiaroa, where you'll find The Brando – the world's most exclusive hotel!
Bora Bora is our most popular destination for a luxury honeymoon. It's the most iconic island in French Polynesia. The view from the plane will take your breath away as Mount Otemanu sweeps into view. You'll find French Polynesia's finest overwater bungalows in Bora Bora. It's unlikely you'll find a more ideal setting for a honeymoon.
Call our travel experts on
+44 (0)20 7157 1570
Things To Do In Bora Bora
Bora Bora is a volcanic island set on a stunning blue lagoon. When we say blue we mean blue. These may well be the bluest waters on the planet. Flawless white sand beaches dotted with coconut trees weave around the coastline.
Watersports are a must in Bora Bora. You can dive with sharks and stingrays and even pursue them on a jet ski tour. It'll vary depending on how active you're feeling. Island hopping is also a good idea. You are surrounded by some of the most beautiful islands in the world, after all.
The beaches are among the world's finest, as we've already established. Matira Beach is often hailed as the finest in Bora Bora- you'll definitely want to while away some dreamy afternoons here. If you like to walk then you should take a trip to Mt Otemanu. You'll be greeted with panoramic views of Bora Bora.
In Short - Why Bora Bora?
It's home to the world's finest beaches.
It's impossibly romantic.
Unrivalled as a luxury destination.
Very gay-friendly.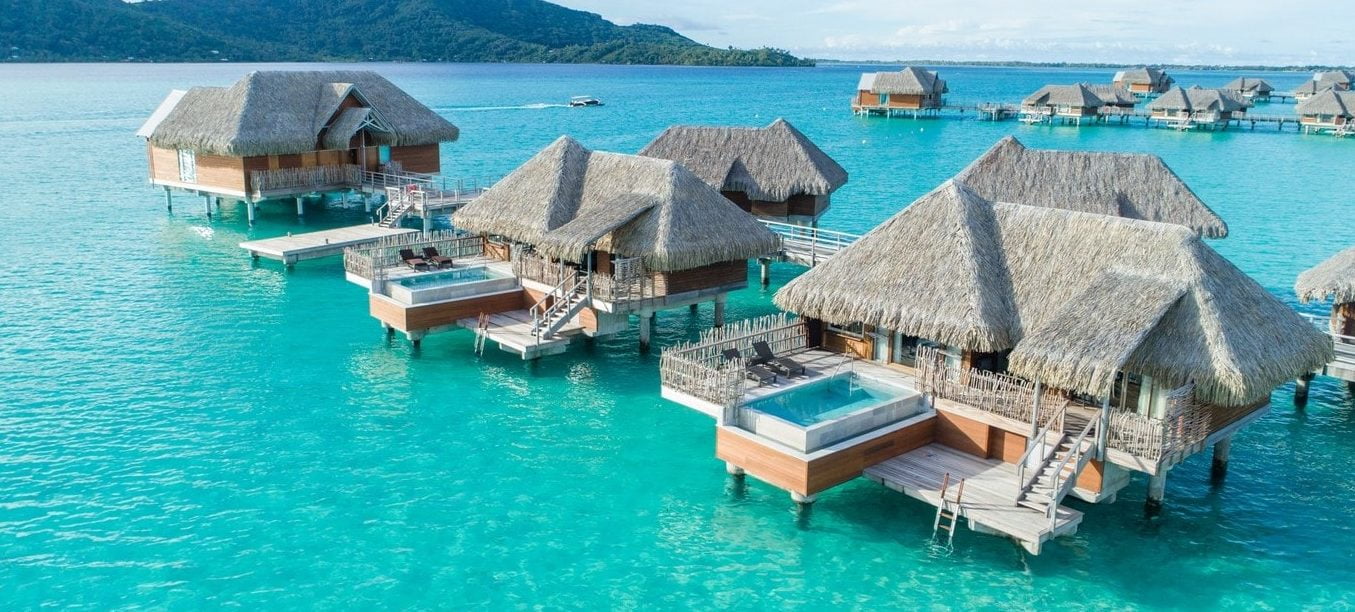 Gay Honeymoons In Bora Bora
French Polynesia is very gay-friendly. If you choose to marry and have your honeymoon in Bora Bora, you can get a full legal ceremony. If you get married elsewhere, you can have a commitment ceremony in Bora Bora. This could include a blessing with a Tahitian priest.
Island hopping in French Polynesia is always a good idea. You can take trips to Tahiti, Moorea and Papeete. If you'd like to experience a lesser-known part of French Polynesia, head to Rangiroa. It's a Robinson Crusoe hideaway nestled among the Tuamotu island group. It's the main wine-producing area of French Polynesia and it's also home to black pearl farms.
An iconic destination is, of course, the Bora Bora Yacht Club. Take a trip there in the evening and enjoy some French Polynesian nightlife in a stunning lagoon-side setting.
Best Ideas For Gay Honeymoons in Bora Bora
Best Hotels for Gay Honeymoons in Bora Bora