Planning a luxury honeymoon in Bora Bora is undoubtedly something to look forward to – it's one of the most beautiful destinations on earth. Part of the islands of Tahiti, also known as French Polynesia, Bora Bora is a bucket list destination. Pristine beaches, blue lagoons and incredible scenery, the island is renowned for its overwater bungalows.
A great wedding and honeymoon destination, Bora Bora can be paired with other beautiful islands such as Moorea and Tahiti. As well as the famous overwater bungalows, you'll also find black pearl farms and beautiful marine life and coral reefs. Marlon Brando filmed Mutiny On The Bounty in French Polynesia in the 60s. He fell in love with it and purchased the island of Tetiaroa, where you'll find The Brando – the world's most exclusive hotel – and a great place to combine with Bora Bora.
At Out Of Office we'll arrange the full itinerary, ensuring you're greeted at the airport with a beautiful Tahitian lei before your onward trip to your island by plane or ferry. Once you've done Bora Bora, you're pretty much set for life – the memories will last forever!
Call our travel experts on
+44 (0)20 7157 1570
What To Do In Bora Bora
Bora Bora's famous blue lagoon surrounds the volcanic island of Bora Bora. You'll find some of the earth's most unique properties with iconic overwater bungalows and plenty of coconut trees for you to relax under.
Perhaps one of the best destinations for watersports, you'll also be able to dive with sharks and stingrays or take a jet ski tour to feel the thrill of adrenaline. Bora Bora is often paired with the islands of Moorea or Tahiti.
You're also able to take a 4-wheel-drive tour of the island where you'll explore the island's mountainous and rugged interior. If you like to walk then you should take a trip to Mt Otemanu. You'll be greeted with panoramic views of Bora Bora. Or if you prefer being on the water, whale watching at certain times of year is only a short boat ride away. There's also the opportunity to take a romantic sunset cruise accompanied by a beautiful dinner as the sun sets.
In Short - Why Bora Bora?
Earth's most luxury destination.
Romance galore.
It's home to the world's finest beaches.
Beautiful wedding destination.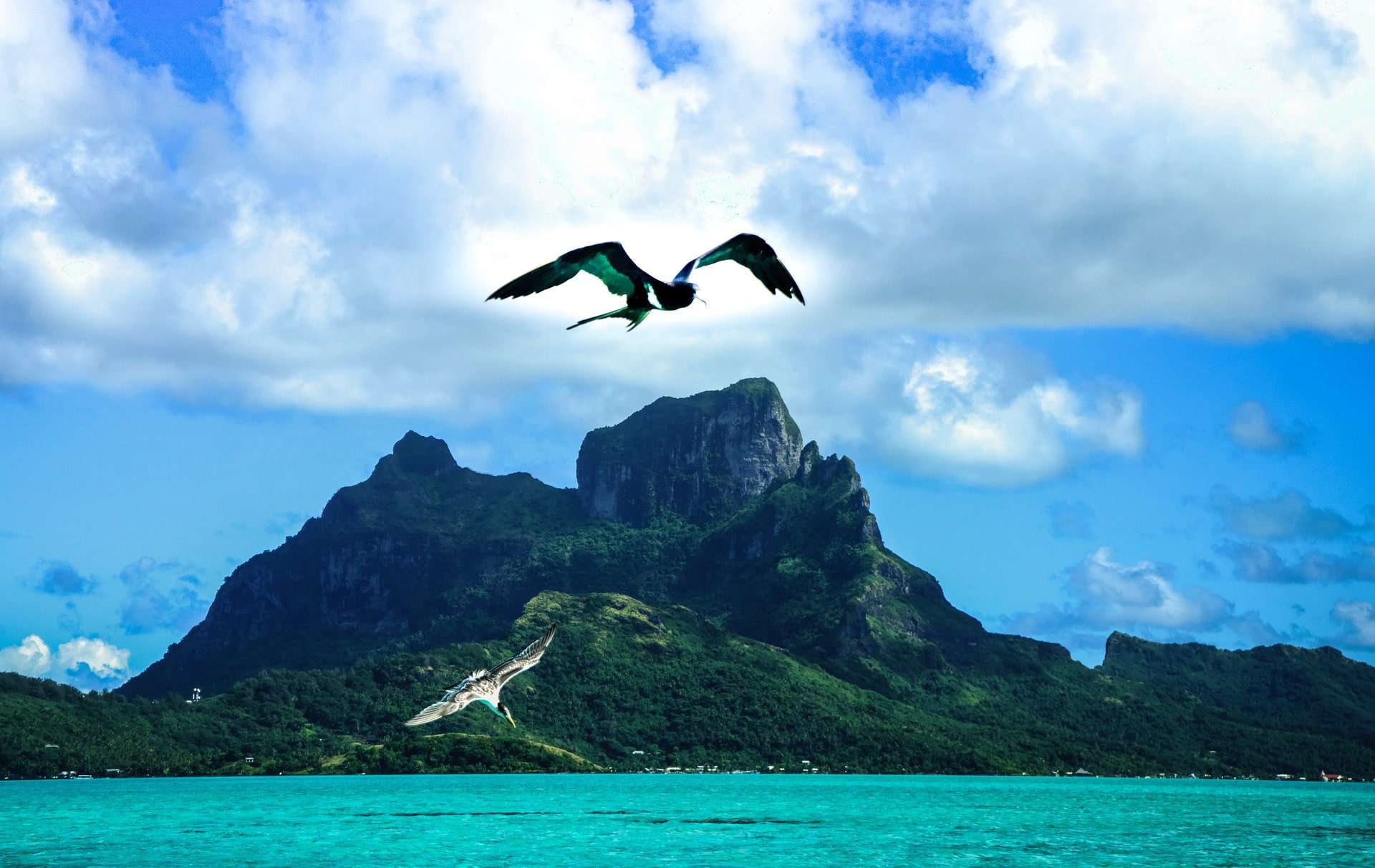 Getting to Bora Bora
International Flights arrive on the mainland of Tahiti at Papeete Airport. To get to Bora Bora, it's a short 45-minute flight from the capital. Many of our clients choose to visit another island en route such as Moorea.
Once you arrive in Bora Bora you'll be picked up and taken to your resort by transfer. Bora Bora is small and so it's no more than 30-minutes to any of the islands' resorts. Some, such as Sofitel Private Island, require a short boat ride.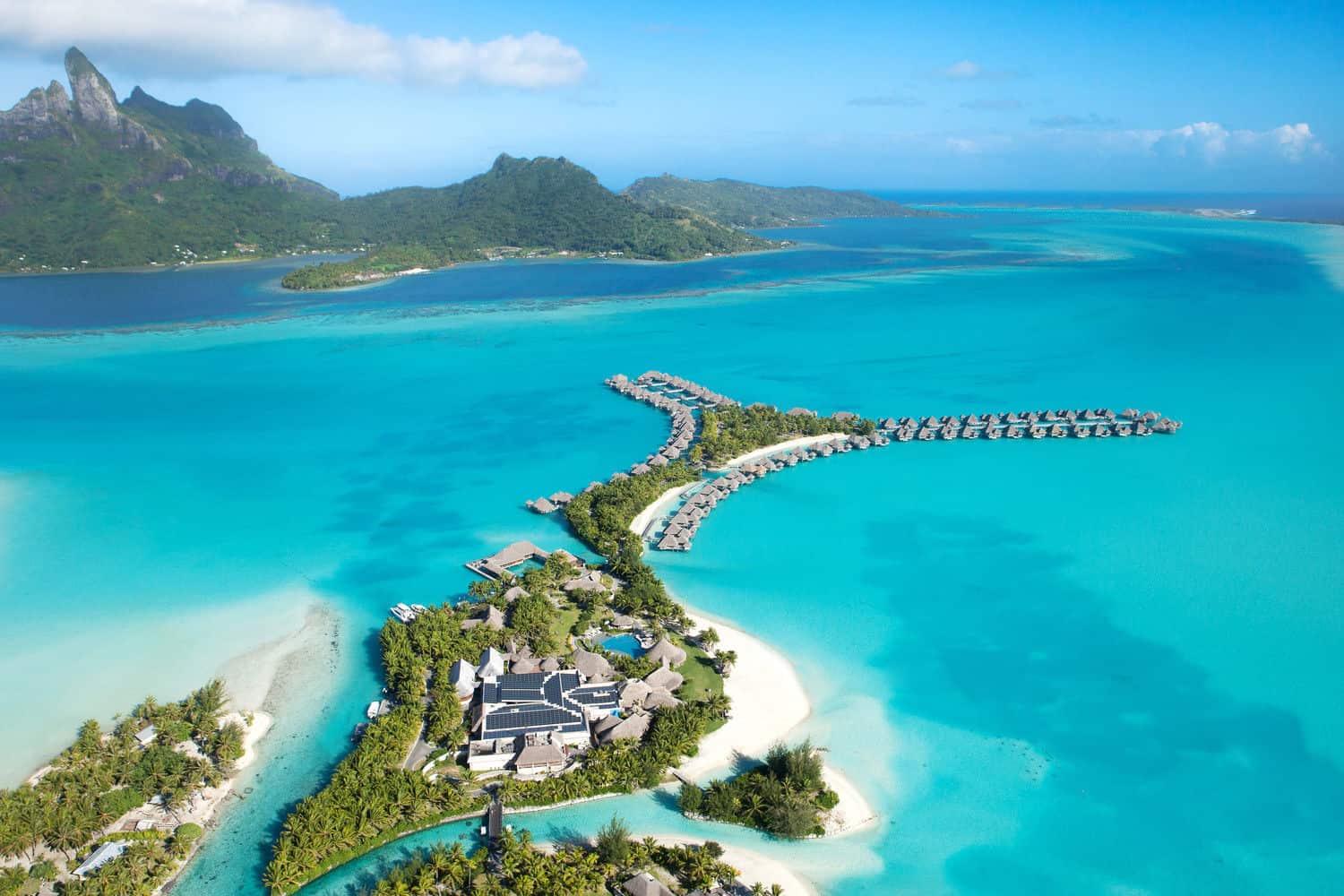 Best Ideas For Honeymoons in Bora Bora