This stunning luxury India holiday takes in some of India's most famous cities but also the opportunity to see wildlife on safari at Ranthambore National Park. You'll start on a journey of discovery from Delhi before heading down to Agra to see the famous Taj Mahal before visiting the luxury game reserve at Ranthambore where you'll spend time on game drives to experience first hand the wonderful Indian nature. The luxury India hotels that you stay at will wow you and make this an Indian holiday of a lifetime.
Call our travel experts on
+44 (0)20 7157 1570
Itinerary In Detail
Day 1: Delhi
Upon arrival into Delhi you'll be met by one of our team who will take you to your luxury Delhi hotel.
This afternoon your car and driver are at your disposal should you like to explore Delhi.
Delhi reflects the legacy and heritage of Mughal Delhi which is popularly known as Old  Delhi, where you get a glimpse of many contrasting flavours from wedding bazaars to expansive spice markets, to graceful architecture. In contrast to Old Delhi, the imperial city or New Delhi which was created by the British has numerous, magnificent buildings, fine colonial structures and wide boulevards laid according to the master plans of the great colonial architect Lutyens.
Day 2: Delhi
This morning you will explore Delhi with your guide.
Old Delhi's narrow lanes twist and turn between the tall, leaning buildings. You will witness the hustle and bustle of thronged bazaars where you will experience the full sights, sounds and aromas indicative of the Indian subcontinent. In Old Delhi you will drive past the famous Red Fort surrounded by shops and bazaars, the Jama Masjid with its tapering minarets and wonderful marble domes and Chandni Chowk. In Old Delhi you will also have an opportunity to experience a rickshaw ride.
New Delhi stands in formal splendour. It is a city of wide boulevards that offers ever-changing perspectives of Lutyen's landscaped city. It is also a city known for its formal parks, magnificent Parliament Building, the Rashtrapati Bhawan (the official residence of the President of India in the 330 acres of land and designed by Sir Edwin Lutyens) and India Gate. In New Delhi you will also visit Qutab Minar, the 72.5 metre high tower dating back to the 13th century, and Humanyun's Tomb, which was built in the 16th century and architecturally considered the forerunner of the Taj Mahal.
Later you will visit the Gurudwara (Sikh temple), which has one of the biggest (and cleanest) poor kitchens in Delhi and witness the hundreds of people that come to eat here each day for free – and if you are feeling like it you would be guided by your guide on how to help – perhaps rolling chappatis (Indian flatbread) or stirring the huge pots of lentil stew or perhaps serving! It is not the usual option for a sightseeing experience in Delhi but perhaps one of the most real.
Your driver is available to you in case you would like to go out for dinner.
Day 3: Delhi to Agra
This morning you will be driven to Agra. On arrival, you will be assisted at check-in to your hotel, where you'll have a chance to relax after the drive.
In the afternoon you will be taken on a sightseeing tour of Agra. The Mughal Emperor Shah Jehan was imprisoned by his son in Agra's magnificent Fort. Here you will see the art and crafting of the white marble that has made the area so famous, the Pearl Mosque and the Halls of Public and Private Audience. After visiting Agra Fort you will visit the Tomb of Itimad-Ud-Daulah. Before the Taj Mahal was built, its design was already standing in the form of Itimad-Ud-Daulah's Tomb, hence it is affectionately known as the 'Baby Taj'. Built to represent a silver jewel box in marble, this mausoleum houses the body of Mirza Ghiyas Beg, the father of the Mughal Empress Noor Jahan.
This evening if you will be taken for a Kachpura walk – the walking tour provides a fascinating insight into traditional life in the rural village of Kachpura that overlooks the Taj Mahal from the opposite bank of the Yamuna River. The 1.5km walk is a part of a community development programme. It seeks to build sustainable livelihoods for youth and women from low resource communities. Local people are trained as tour guides and will lead you on the tour. This area of Agra is home to a number of ancient Mughal monuments including the Gyarah Sidi and Humanyun's Mosque, and on this short walk, you will have ample time to explore these sights as well as interacting with the local people in the village of Kachpura. The walk ends at Mehtab Bagh from where there are stunning views of the Taj Mahal standing majestically across the river.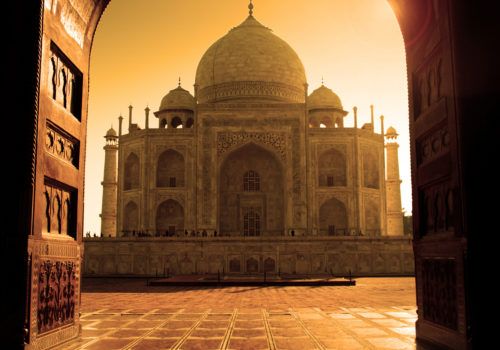 Day 4: Agra to Ranthambore
This morning you will visit the stunning Taj Mahal at Sunrise. The Taj Mahal is a monument of love built by Shah Jehan in 1630 for his Queen, Mumtaz Mahal to enshrine her mortal remains. For twenty-two years 20,000 men laboured day and night to build this masterpiece, which has held the world awestruck ever since. The Taj Mahal is truly one of the wonders of the world.
After breakfast, you will be driven for an hour to the deserted Mughal city of Fatehpur Sikri which was built by Emperor Akbar in 1569 and abandoned after fifteen years due to a scarcity of water. Here you will see the city's many graceful buildings, which include the Jama Masjid, the Tomb of Salim Chishti and the Panch Mahal.
Later drive for 30 minutes to Bharatpur railway station to board a train to Sawai Madhopur.
On arrival, you will be driven to your accommodation – the stunning Sher Bagh in the beautiful Ranthambore National Park. It is one of the biggest and most renowned national parks in Northern India and is spread over an area of 400sq km of dry, deciduous forest. The former hunting grounds of the Maharajahs of Jaipur is a major wildlife tourist spot which attracts many wildlife experts and photographers and lovers.
Ranthambhore was established as the Game Sanctuary in 1955 and was declared one of the Project Tiger reserves in 1973. Although there is a rich wildlife here, the park is famous for its tigers and is considered one of the best locations to spot the majestic predators in its natural habitat. Other animals include spotted deer, Nilgai, Sambar Deer, sloth bear, hyena, jackals, leopards, langur monkeys, marsh crocodile and a variety of birds. The terrain is beautiful with lakes, rocky outcrops, and ruins of the 10th Century Ranthambore Fort.
Day 5: Ranthambore
Today enjoy the morning and afternoon shared game drives into Ranthambore national park to spot the wildlife in a safari that is sure to thrill.
Day 6: Ranthambore to Jaipur
Enjoy morning shared game drive and later you will be driven 4 hours to Jaipur. On arrival in Jaipur, you will check in to your hotel. Spend the evening at leisure.
Day 7: Jaipur
Jaipur is blessed with a wealth of wonders. Here you will see the Jantar Mantar (the Observatory) and the Maharaja's City Palace. Jaipur is known as the Pink City, where the light playing upon the buildings, creating shadows and highlighting every nuance of the architecture can be enchanting.
Spend some time at your hotel in the afternoon and later take a walking tour through the narrow lanes and by-lanes of the old city. As part of the tour, you will also ride in a rickshaw.
This walk gives you the opportunity to see life in the city away from the tourist areas. You will visit craftspeople who use basic tools and ancient traditions to make the most extraordinary variety of handicrafts and household appliances; you will stop and chat with local families in their homes and share a cup of "chai" with them; along the way you will be introduced to the country's delicious and aromatic street food; and will learn local religious rituals and legends when you stop at small shrines. During your Old City visit, you will also have a private blessing in a small temple.
Day 8: Jaipur
This morning you will be taken for an exploration of Amer fort with your guide.
Amber, the ancient capital of the region, still recalls its heydays in the majestic ramparts rising steeply along the contoured hillsides. Here, elephants still carry visitors in stately splendour to the Main Palace, through unusually high gateways, obviously designed to accommodate this archaic mode of transport. It is an extremely well-preserved building and very delightful to explore. Visit the Jagmandir or the Hall of Victory glittering with mirrors, Jai Mahal and Temple of Kali. You may like to visit the Anokhi Museum of Block printing on your way back.
Later you will be taken to the private estate of Dera Amer where a local family has rescued elephants from carrying tourists to and from Amber Fort. Here you will be taken for a ride through the forest, passing temples followed by a private dinner in the forest. The time here is entirely private and allows a chance to be outside the city and around the mightiness of such beautiful creatures as the Indian elephant.
Day 9: Jaipur to Jodhpur
This morning after breakfast you will continue your journey to Jodhpur. It is approximately 6 hours drive from Jaipur. You can opt to take a train instead if you like.
Spend the rest of the day at leisure or you may like to explore this afternoon. Jodhpur is also known for its antique warehouses that sell a varied an interesting collection of bric-a-brac. You can walk through the Old City Bazaar's, noted for its craft stores that manufacture and sell silver jewellery, lacquerware, tie-dyed fabrics, puppets and camel hide leather products.
Day 10: Jodhpur
This morning you will visit Mehrangarh Fort with your guide.
Rao Jodha, chief of the Rathores, a Rajput clan, founded Jodhpur in 1459. Until recent times, Jodhpur was known as the ancient kingdom of Marwar, the largest kingdom in Rajputana. Standing at the edge of the Thar Desert, Jodhpur is the largest city in Rajasthan after Jaipur. The city is dominated by the huge Mehrangarh Fort that sits atop a sheer rocky ridge right in the centre of the town.
Your tour of Jodhpur city will include a visit to the majestic Mehrangarh Fort and the beautiful Jaswant Thada.
This afternoon take a walk in the markets with your guide, take some time for shopping if you like and also enjoy your beautiful hotel.
Day 11: Jodhpur to Udaipur
This morning after breakfast you will be driven 5 hours to the village of Delwara which is 45 minutes outside Udaipur, en route stop to visit the Jain temples at Ranakpur.
The Ranakpur temple is one of the most famous Jain temples and dedicated to the first Jain Tirthankar (prophet), Adinath. The temple is supported on 1444 pillars, of which no two are alike. Made entirely of white marble, the temple is said to be the physical manifestation of a celestial vehicle that appeared in Dhanna Shah's dream. It is believed to have been built in the 15th C.
Check in to Devi Garh and spend the evening at leisure. The views from the hotel's bar across the Aravali hills, especially at sunset, are stunning.
Day 12: Udaipur
In the morning drive 45 minutes into Udaipur for a sightseeing tour which will start at the City Palace. This sprawling palace was built over three centuries and is a series of four interconnecting palaces, illustrative of various architectural styles.  It is a blend of Rajput military architecture and lavish Mughal inspired decorative art on the inside.  In terms of an exemplary eye to detail and craftsmanship, few palaces match the artwork in this palace.  Also of particular note here is the exquisite collection of priceless Rajput Miniature paintings done in the Mewari tradition.
After visiting the Palace, take a walk in the old city with your guide.  Sharing space with cows, elephants, people, and the walk through the winding lanes is an interesting insight into lifestyles in what is referred to as "small town India".  Shops selling a variety of items, unexpected folk art decorating the walls of houses and small architectural gems like a latticed work Haveli window.
Finish the walk at a cafe overlooking the lake.
After further exploring and shopping, when you are ready, you will be driven back to your hotel. En route back you may like to stop at the small temples at Eklingi.
Day 14
This morning you will be transferred to the airport for your flight to Delhi (or Mumbai) and connecting flight home.
Sounds good? Call our travel experts:
+44 (0)20 7157 1570