More and more tourists are flocking to Israel each year. It's the most liberal and cosmopolitan country in the Middle East, and it has the best gay scene in the region. Israel has an unrivalled cultural heritage, as it's the hub of the three major monotheistic religions. The bustling modern city of Tel Aviv is known as the Manhatten of the Middle East. This city hosts Israel's annual gay pride event. It's a truly unforgettable party. You can also soothe your hangover by floating weightlessly in the healing waters of the Dead Sea; as well as visiting the great historical landmarks of Jerusalem.
If you'd like to take this adventure a step further, you can join an optional Jordan add-on and visit the red sands of Petra.
Departing on
There are no available departure dates for this trip.
More Information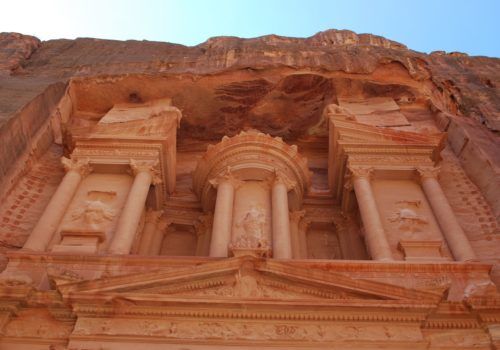 Day 9-13: Jordan Add-On
Jordan is easy to access from Israel and it's a must-see destination. You'll be staying in the best hotels and eating the best cuisine throughout the trip, as well as benefiting from an expert local guide.
You'll transfer to Amman and have a welcome dinner at the hotel. The following day we'll head to Petra, an ancient city that was founded in 800 BC by the Nabeteans. This is the top tourist destination in Jordan. It's known as the "rose-red city half as old as time". We'll be entering the city on horseback – very dramatic!
On the third day, we'll transfer to our hotel by the Dead Sea. It's a great place to rejuvenate – the saline waters are said to have healing properties. On the last day, you're free to enjoy spa treatments at the hotel and then you'll be transferred to the airport for your return flight.