This beautiful 5-star luxury resort is perfect if you are seeking sun, sea and island escape. Stay here and enjoy the beautiful accommodation options, all which are decorated beautifully and finished to a high standard. Great for a gay honeymoon in Mauritius, the spa is the perfect place to visit and revive your mind, body and soul with your loved one. Our favourite has to be one of the local treatments such as the Coconut Lime Glory Body Polish. There are lots of other activities offered at the resort including several watersport activities, plane rides and a submarine adventure. 
Highlights For Angsana Balaclava
Cost Category: Platinum

Wide selection of accommodation options
Large villas available for groups
Family friendly
Direct beach access
Watersport activities
Spa

MAKE AN ENQUIRY
Room Options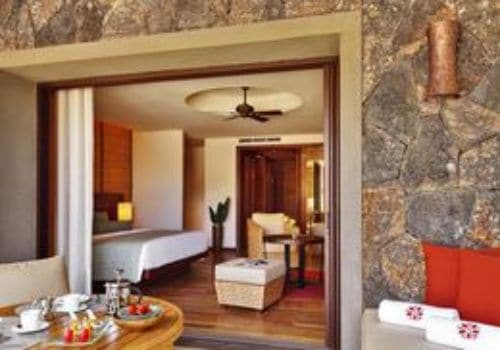 Garden Suite
Light, spacious and luxurious is the best way to describe these suites. Enjoy the beautifully decorated bedroom equipped with a king size bed and gorgeous wooden furnishings, en-suite bathroom which is finished to a very high standard.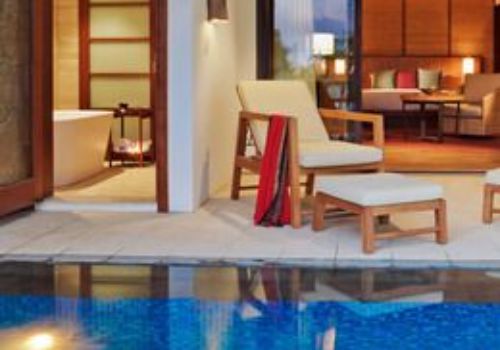 Deluxe Pool Suite
Cool off from the heat and take a dip in your very own infinity plunge pool. The bedroom is decorated with elegant furnishings, making your stay comfortable and luxurious. The bedroom leads out onto your very own terrace area, which is also where the plunge pool is located.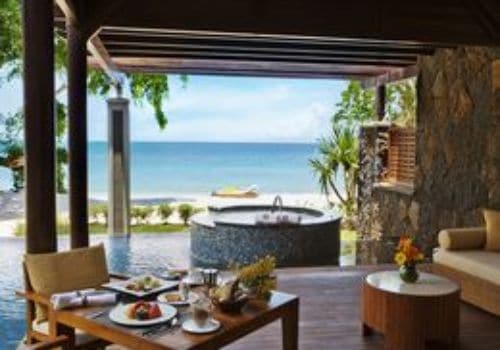 Beachfront Suite
Just too beautiful to refuse! These villas are right on the beach front, giving you the ocean views you have been dreaming about. Enjoy the L shaped infinity pool, jet-pool and terrace area which leads directly onto the beach. The actual suite is spacious and beautifully decorated, making your stay very special.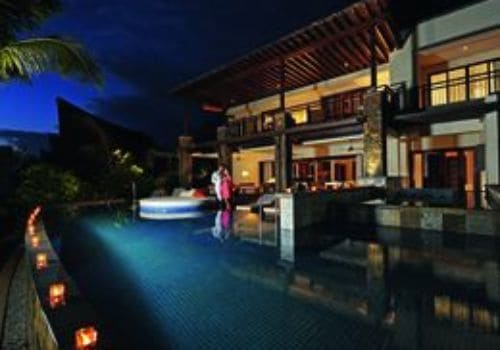 Imperial Pool Villa
This enormous villa is perfect for a small group or family. There are two bedrooms with en-suite bathrooms, a separate living area, a kitchen and dining area. There is an exercise area, steam shower and a beautiful bathtub which overlooks the ocean. Enjoy your private infinity pool which is perfect if you want a little more privacy.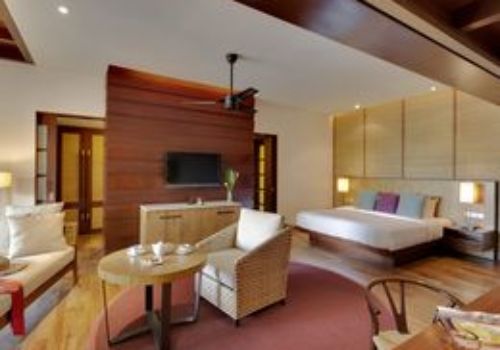 Four-Bedroom Imperial Pool Villa
Designed for bigger parties and groups, these villas are very spacious with four bedrooms all with en-suites. There is a spa area, exercise room equipped with exercise machines, living and dining area, kitchen and a timber veranda where you can enjoy al fresco dining with the whole group. Outdoors, you will enjoy a private infinity pool, which also has a jet-pool.
Video
Food And Drink
Epicurean Delight 
Enjoy the beast Mauritian food and dine here with your friends and family. You'll experience traditional Mauritian flavours at their best.
In-Room Dining 
Sometimes, it is nice to dine in the comfort of your own suite, and enjoy an intimate meal. The staff will prepare anything from the menu for you and bring it to your very own dining table.
Oryza
This is the main restaurant in the resort. You can choose to dine inside, outside, on the pool deck or under the kiosk. Here you will find a delicious Asian inspired menu as well as some international dishes.
Passion Grill 
Located close to the pool, this restaurant serves a range of barbecued meats and fresh succulent seafood including fish, mussels, oysters and lobsters. You'll also find a selection of pizzas, burgers, salads and finger foods.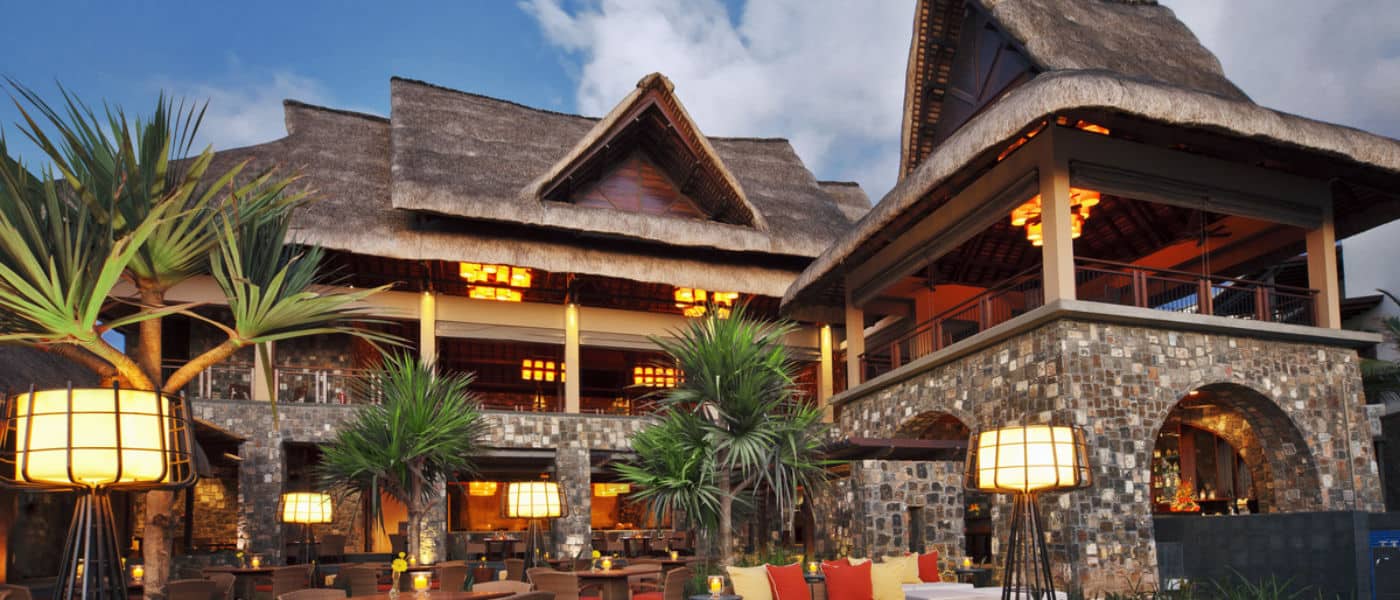 Spa
Using the best native ingredients, the spa at Angsana Balaclava provides treatments which aim to relax the mind, body and soul. Pick from the selection of treatments offered including massages and facials or try out the resort specials which include a Coconut Lime Glory Body Polish, Ginger Lemongrass Body Polish or Oatmeal Banana Body Polish.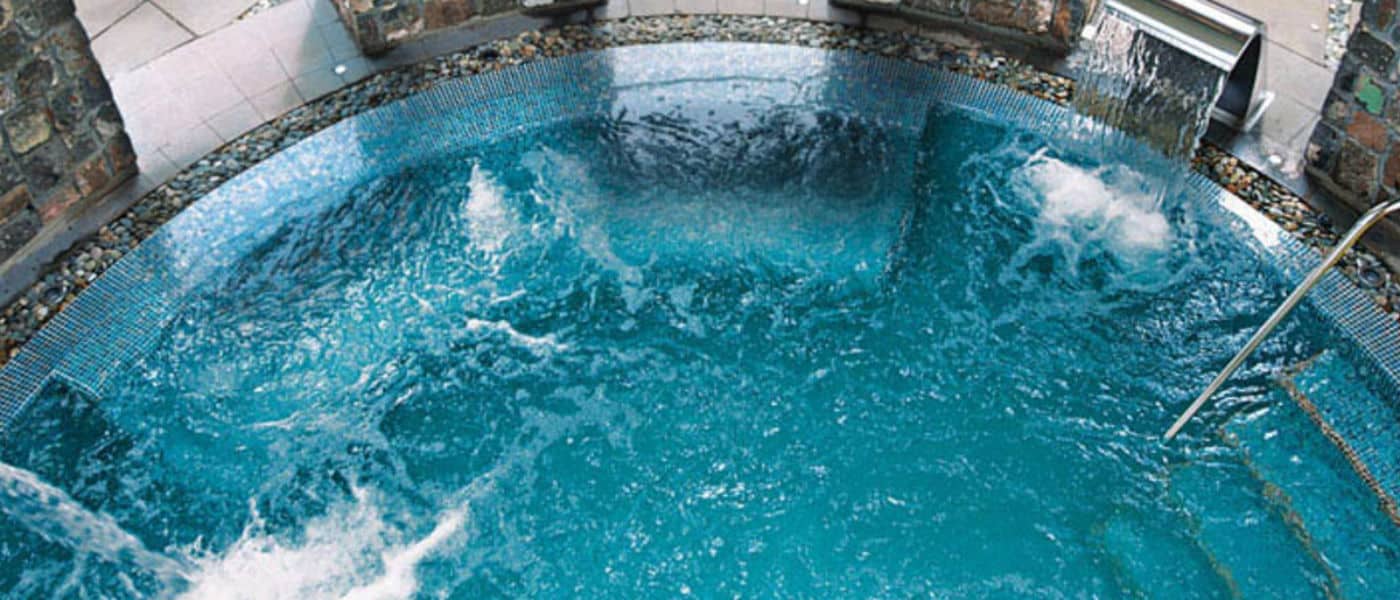 Other Activities
There are lots of watersports offered at the resort for you to try including kayaking, water skiing and pedal boating. Other activities include your very own submarine adventure where you will be taken undersea to explore the marine life, in the comfort of the mini-submarine. You can even head high up into the sky in the resort plane tour, giving you the best views of the island.