Out Of Office can show you breathtaking Myanmar from all angles, any time of day. The sunsets from Mandalay Hill are truly spectacular. At dawn, the monks take part in religious rituals, something Out Of Office can give you a rare look at. Inle Lake shows off Myanmar's culture, where houses and gardens seem to float on the water.
Formerly Burma, a UK colony, Myanmar is a fascinating mix of cultures. Recent political conflict has placed Myanmar off many people's tourism radars. That being said, as the political situation stabilises, this is a country you should definitely consider exploring. For the time being, travel to Myanmar is not advised by most governments.
More Trips to Myanmar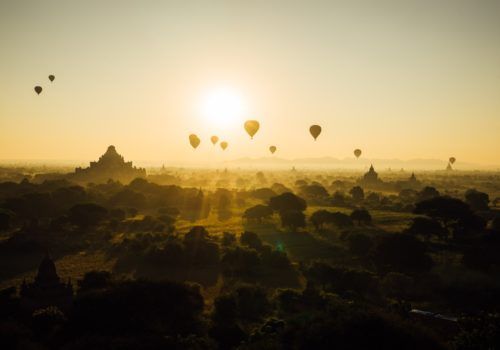 Tailor-Made
Spend time in historic and culture-laden Myanmar (Burma). Cross the famous Irrawaddy River and stay in Yangon, formerly known as Rangoon. Experience the famous temples of Bagan, visit Mandalay where you'll spend time exploring monasteries. The trip's highlight is spending...
Luxury Hotels in Myanmar
Getting to Myanmar
It's difficult to fly direct to Myanmar from Europe or the USA, but you can fly to many of the Asian hubs such as Bangkok, Kuala Lumpur and Singapore.
General Information
Myanmar, also known as Burma borders India, Laos and Thailand. Like many of its neighbouring countries it has a rich culture and to this day, embraces its traditions. From the elaborate temples in Yangon to the traditional fishing villages in the Inle Lake region, you will see it all in Myanmar.
In Mandalay is often referred to as the 'cultural capital'. It busy chaotic atmosphere is why people fall in love with it. Once you pass the busy hectic surface discover the rich culture on every street. The city is filled with endless monasteries, pagodas, workshops and teahouses.
Our top traveller's tip would be to head up Mandalay Hill for incredible views of the skyline. Head there at sunrise or sunset to make it extra special!
Head to the Inle Lakes and take a boat ride passing the idyllic villages. Watch the fisherman hard at work catching their daily load – using traditional Burmese methods!
What Everyone Does In Myanmar
The most famous temple in Myanmar is the Shwedagon Paya in Yangon. This temple is coated in gold leaf and decorated with thousands of diamonds and other precious gems. It is magnificent to witness. In Yangon, you will find plenty of other temples to visit.
What Some People Do In Myanmar
Make your holiday extra special and add on a hot air balloon ride over Bagan. Set off at sunrise and watch the mist slowly lift above the trees and temple tops.
What No One Else Does In Myanmar
Discover Myanmar's temples beyond Bagan. Take a trip to Shwedagon Pagoda in Yangon, or the Bronze Buddha statue at the Mahu Muni Pagoda, Mandalay. A deeply spiritual country, the temples are unmissable.
From the Blog
Essential Myanmar
We caught up with Matthew Schueller, one half of Michael & Matt. Their travel vlog has made a big impact on Youtube. They describe themselves as "two travel-obsessed husbands from Portland Oregon". Both their blog and their Youtube channel are

BORA BORA This French Polynesian island, located in the middle of the South Pacific island is home to some of the world's best hotels. Stay in an overwater villa and enjoy having a view of the open ocean right at