Spend time in historic and culture-laden Myanmar (Burma). Cross the famous Irrawaddy River and stay in Yangon, formerly known as Rangoon. Experience the famous temples of Bagan, visit Mandalay where you'll spend time exploring monasteries.
The trip's highlight is spending time on and by Inle Lake, perhaps Myanmar's most spectacular sight. Pass areas built on stilts over the lake, inhabited by the local Intha people and explore their villages.
Call our travel experts on
+44 (0)20 7157 1570
Itinerary In Detail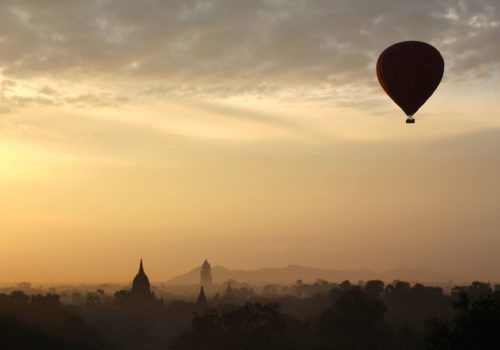 Day 1: Yangon
Upon arrival, you will be greeted by your guide who will accompany you as you transfer to the hotel.
Yangon, formerly known as Rangoon, is a relatively quiet and charming city. Its impressive colonial and spiritual heritage makes it one of the most fascinating cities in Southeast Asia.
After lunch, you'll head to Kyaukhtatgyi Pagoda, home to a 70-metre long reclining Buddha. A visit to Kyaukhtatgyi provides a great overview of Buddhism with murals depicting the life of Buddha, the feet of the statue carved with traditional symbols and often many locals gathering to pay homage and pray. Continue to a local tea shop for a chance to experience an integral part of Burmese life: drinking tea! Select from an array of snacks and enjoy a coffee or tea as you sit amid businessmen, friends and families who gather at the tea shop to socialize or conduct business.
You'll then discover Kandawgyi Park, one of central Yangon's greenest spots. Here you will see the glittering Karaweik barge, a replica of the royal barge, and the vast lake with views of Shwedagon in the background. Depending on the day of your visit Kandawgyi may be busy with local families who come here on the weekend to relax in the fresh air.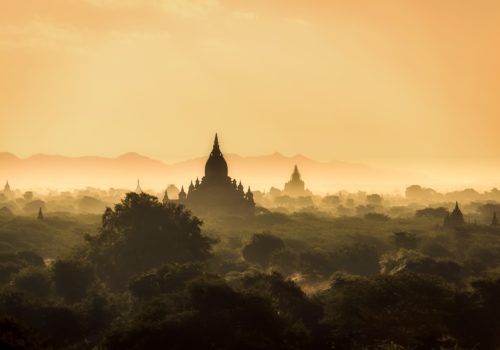 Day 2: Yangon to Bagan
Fly to Bagan, which from the 11th to 13th centuries was the capital of Myanmar. The rulers constructed thousands of huge stupas and temples many of which are still standing today on the banks of the Irrawaddy River.
On arrival, your journey begins with a visit an elevated temple from where you will have a panoramic view of the magnificent plains of Bagan.
Later, you'll travel by horse cart for a tour passing Thatbyinnyu, the highest temple in Bagan, massive Dhammayangyi Temple, noted for its remarkable brickwork, and Sulamani Temple.
Enjoy an unforgettable sunset over the plains from the upper terrace of one of the temples.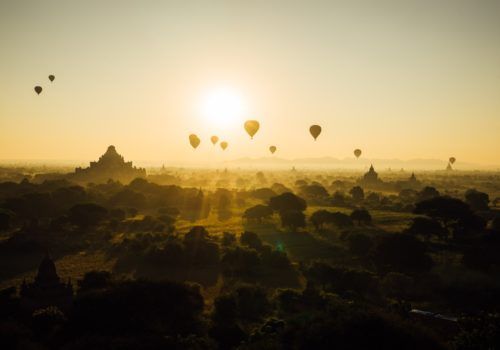 Day 3: Bagan
Start your day early with an optional hot-air balloon flight over Bagan's temple-studded plains. Climb aboard and rise gently above thousands of gilded stupas and temples with the beautiful backdrop of the Irrawaddy River. This is only available from late October to late March.
Afterwards, visit the colourful Nyaung Oo Market where villagers gather every day to buy and sell their produce and other goods. Continue to Myinkaba village and take a short walking tour to explore the temples of Manuha and Nan Paya.
In the afternoon, continue to the rural village of Minnanthu, one of Bagan's least visited areas. Here you will explore temples such as Payathonzu, Lemyentha and Nandamannya before heading to the riverside pier. Board a local boat for a slow cruise down the Irrawaddy River. As you cruise the waters, observe the lifestyle of the fishermen and riverside villagers as well as enjoying the unique perspective of Bagan's temples.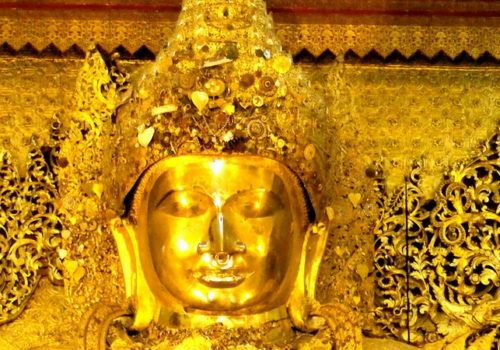 Day 4: Bagan to Mandalay
Fly to Mandalay. Start with a visit to Mahamuni Pagoda. This pagoda is home to one of the country's most revered Buddha images which, over the years, have been covered with gold leaf giving it an almost 'lumpy' texture. Mandalay is well known for its skilled craftsmen and as you tour traditional workshops, you will learn more about the city's cottage industries. Observe the production of wood carvings, kalaga tapestries, and gold-leaf where the techniques remained unchanged from those used centuries ago to craft items for the Royal Court.
Day 5: Mandalay
Today you can explore the former capitals of Ava, Sagaing and Amarapura.
Cross a bridge over the Irrawaddy River to Sagaing where you'll find 600 white-painted pagodas and the home of 3,000 monks and 100 meditation centres.
In Ava, you'll travel by horse and cart to the old wooden Bagaya Monastery and the remains of the Royal Palace and Fort.
Return via Amarapura, whose name means "City of Immortality".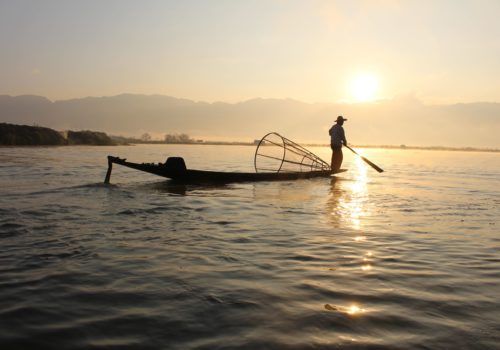 Day 6: Mandalay to Inle Lake
Fly to Heho. A scenic one-house drive leads to Nyaung Shwe, the gateway village to Inle Lake where you'll board a boat and head out past one of Myanmar's most spectacular sights. Pass villages built on stilts over the lake and see local fishermen and their floating gardens built up from strips of water hyacinth and mud anchored with bamboo poles.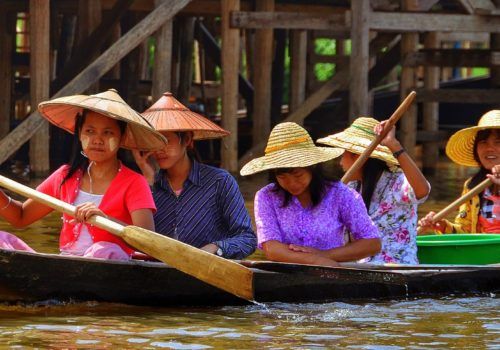 Day 7: Inle Lake to Yangon
Visit the lake's morning market which rotates its location around the lake's villages and is visited by the surrounding hill tribes who come to sell and trade their wares.
From the middle of the lake, continue down a small canal leading to the Pa-oh village of In Dein. Explore the area on foot, strolling around the village and wander through the beautiful Alaung Sitthou area. Alaung Sitthou is filled with picturesque ancient stupas and has magnificent views of the lake below.
You'll then fly back to Yangon.
Day 8: Yangon
Take a unique ride on the city's circular train ride through the outskirts of town. This slow travelling train gives you a unique opportunity to observe the lively, colourful lifestyle of the local people. Disembark at the Kyi Myin Daing market where you can peruse the various stalls and interact with the friendly vendors before transferring back to Yangon.
Sounds good? Call our travel experts:
+44 (0)20 7157 1570