A fun, captivating gay cycling group trip through northern Spain, taking in key sites such as León and Santiago as well as lesser-known, more authentic places in between. You'll cycle through beautiful, mountainous regions with awe-inspiring scenery with a group of other gay cyclists, taking part in fun activities along the way. This gay group trip is one for those who appreciate scenery, countryside cycling and history.
Departing on
There are no available departure dates for this trip.
Group Trip Breakdown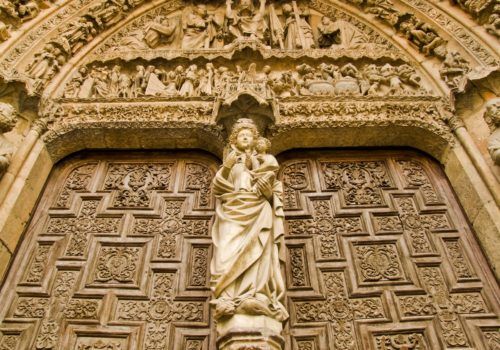 Day 1: Leon
Today you'll arrive into León, the former capital of Spain and one of the most beautiful cities in the country. You'll make your way to the hotel, drop off your belongings before going for a bike fitting and collecting your pilgrim passports. In the evening you will enjoy a welcome dinner with your fellow cyclists.
Day 2: Leon To Astorga
Today will be your first day of riding and you'll start it by cycling through the beautiful region of La Maragateria which is home to the Maragatos – a mysterious subculture of mysterious origin with a long history in the region. Their flamboyant celebrations and costumes are a spectacle and their food is famous all over Spain.
You'll finally end up in Astorga where you'll find lots of neo-gothic architecture and a cathedral dating back to the 15th Century. Here is where you will visit the Museo del Chocolate and learn all about the history of chocolate in this region (and possibly even try some).
Day 3: Astorga To Cacabelos
After enjoying a hearty breakfast you'll make your way to a traditional Maragatan village to learn more about the Maragatos people and their culture. From here, you'll cycle past the Montes de León, taking in all the small hamlets on the way and tackling an uphill cycle. On the way you'll see sights such as 'El Cruz de Ferro' – an iron cross surround by a huge pile of rocks. People come from far and wide, dropping a stone from home off as a sign of letting go of their worries and troubles. You'll eventually arrive in Cacabelos – a medieval town famous for its wine production and impressive castle.
Day 4: Cacabelos To Cebreiro
Today you'll cycle towards the quaint little hamlet of Cebreiro in the region of Galícia. This small community is made up of beautifully restored straw-roofed stone houses called 'Pallozas'. It is a place famous for its cream cheese (which is considered a local delicacy) as well as for being a place where 'miracles' occur. In the evening you'll enjoy dinner as a group with a show afterwards.
Day 5: Cebreiro To Potomaran
Today you'll continue cycling through the Galícia region into the country, where the locals speak a language that pre-dates both Spanish and Portuguese called Gallego. The culture around the countryside areas makes you feel as though you are in Ireland instead of Spain and is steeped in superstition, fantasy and religion. On the way to Portomarín, high above the Miño River, you'll get to see the Monastery of Samos which is one of the most ancient monasteries in all of Spain. In the evening, enjoy a traditional Paella dinner in your comfortable inn stay.
Day 6: Portomaran To Galicia
After enjoying breakfast in the morning, you'll cycle through more of the Galícia region through the many small villages. The villages in this region transport you back in time as the agricultural region hasn't developed for decades and still gets by using primitive tools and ancient techniques. It is common to see people travel by oxcart or wearing wooden shoes. You'll continue taking in the stunning scenery of the region until you reach a typical Galician Country Manor House which will be your accommodation for the night. On the way there you will pass through Castaneda where pilgrims used to bring stones to help finish the construction of the Cathedral.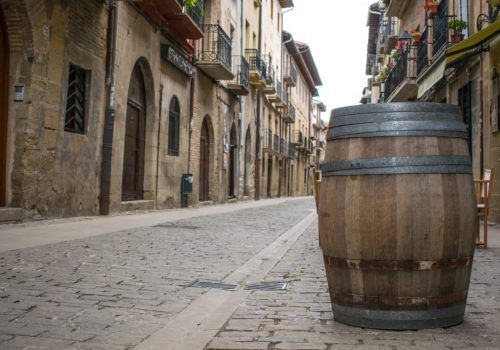 Day 7: Galicia To Santiago
Today you'll enjoy a shorter ride in order to allow for more time in Santiago. One the way there you'll go around the town Labacolla where pilgrims centuries ago would supposedly stop off to wash in the river before entering Santiago. Once you have arrived in Santiago you'll visit the holy pilgrimage site of Portico de Gloría where you'll be able to place your hands in the Tree of Jesse and be amazed by the jewels that date back to the middle ages. You'll be able to visit many more sites during the rest of the day, directed by your tour guides on the best places to visit, before enjoying a farewell dinner in the evening.
Day 8: Departure
Today marks the end of your trip. You will make your way to Santiago airport ready for your departing flight home.