Gay Switzerland: A gay group trip for those who love a bit of adventure, awe-inspiring scenery and, most of all, hiking. This brilliant group trip takes those who like a bit of a challenge and keeping physically fit to Switzerland to the postcard-perfect Grindelwald. You'll hike up jagged mountain peaks, along glacial trails, through forests, over mountains and past waterfalls for the ultimate experience with other great activities along the way.
Departing on
There are no available departure dates for this trip.
Group Trip Breakdown
Day 1: Arrival
Today you'll arrive in Switzerland and take the train to Grindelwald – a beautiful village in the Bernese Alps which is popular with hikers, skiers and adventure enthusiasts. Take a look around before convening in the hotel at 6 pm for a reception and orientation followed by dinner where you'll get to meet your fellow hikers.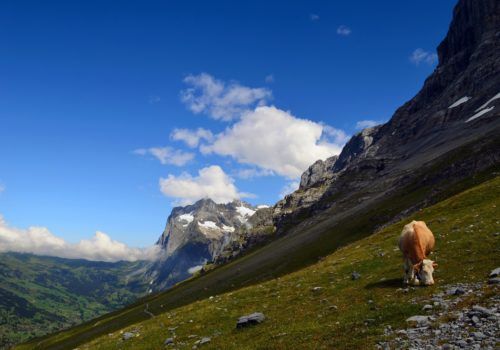 Day 2: Grindelwald
Today is the day you start your first proper day of hiking! You'll firstly make your way across a glacial river and past an old, abandoned marble quarry to arrive just outside of Grindelwald. You'll hike along the alpine trails above the icy 'Lower Glacier' below, taking in the spectacular views.
You'll enjoy lunch in a remote restaurant found up in the mountains before hiking to Schreckhorn, a 4078-metre peak. Braver hikers may attempt to reach the Schreckhorn hut! From here, the final stop is Gletscherschlucht where you'll find narrow, vertical walls formed by the churning waters of the glacier.
Day 3: Grindelwald (Lakes And Waterfalls)
Take the ski lift up to the north slopes to a spot named 'First' where you will begin your hiking adventure for the day. You'll start at First, hiking along an easy trail to a stunningly blue mountain lake known locally as the Bachalpsee. The view of the valley with its beautiful green pastures and roaming cows make for a great view. You'll continue hiking down narrower paths, through space-like rock formations until you reach a magnificent waterfall and colourful fields of flowers. You'll stop for a late lunch at a mountain inn known as Bussalp before descending back down either on foot or by one of the yellow 'Post Buses'.
Day 4: Grindelwald (Paragliding, Medieval Cities Or Biking)
Today you'll have a range of activities to choose from depending on what takes your fancy!
You can have an exhilarating experience by going paragliding over the Grindelwald valley, taking in the panoramic views of the mountains with an experienced pilot. Alternatively you can visit the medieval city of Thun, located on a lovely, blue lake with its towering castle, or the Swiss town of Brienz where you can take a ride of the steam-powered cog train. Other options include spending time in Interlaken shopping and exploring, or hiring a bike and riding down to the village from the top of the mountains.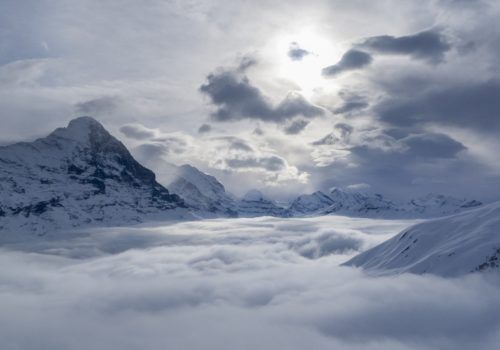 Day 5: Grindelwald (Glaciers)
Today you'll take a ride on the Jungfrau cog rail train to the highest railroad station in the whole of Europe which is found 3454 metres high up the huge Jungfrau mountain. It will take you on a scenic train journey through mountain tunnels inside the Eiger and Monch whilst also giving you views of the longest glacier in all of Europe – the Aletsch glacier. You'll take a visit to the Ice Palace which has been carved into the blue glacier where you'll find intricate ice sculptures. Here you can enjoy some skiing or sliding down the slopes on a snow disc.
You'll continue on the Eiger trail under the cliffs, around twisted glacier-fed streams, through forests until you have reached the other side of the 'Lower Glacier'.
Day 6: Grindelwald (Mountains And Waterfalls)
You'll start today with a scenic train journey to Lauterbrunnen – a quaint little village found between two imposing cliffs. Waterfalls stream out of each of the cliffs making for an impressive sight as you walk to Trummelbach Falls. You'll return to the village for lunch in a local cafe before taking a 930 vertical metre hike up a switch-backing path from Wengen to Mannlichen. You can opt to take the cable car some of the way. Once you have arrived in Mannlichen you can ride the cable car back down to Grindelwald or take the alpine train over to Kleine Scheidegg which takes you down and past the cliffs and peaks with beautiful scenery along the way.
Day 7: Grindelwald (The Swiss Alpine Peaks)
Today is a day where you can choose to take much more challenging hikes up into the Swiss Alpine Peaks. For serious hikers, you can choose to hike up the peak of Schwarzhorn, standing tall to the north of Grindelwald, which is accessible by some easy and some rougher trails. Another hiking option includes the Schunige Plateau, or for those looking for a lighter option take the Schynige Platte Cog Railroad for panoramic views of the Bernese Oberland wall.
Day 8: Departure
Today marks the end of the trip. After check-out, take the train back to the airport ready for your departing flight.