This gay sailing cruise in Thailand is perfect for all those that are looking for some winter sun, on this cruise you'll be voyaging to many of the idyllic islands in Thailand including Phuket, Phi Phi islands and Patong. With the opportunity to soak up some sun on many stunning beaches and to party with your fellow travellers in the gay district; there's nowhere else you'd rather be.
Departing on
There are no available departure dates for this trip.
Group Trip Breakdown
Day1: Phuket
Upon arrival into Phuket, you'll board the ship and begin your life at sea; after arrival drinks and a lovely meal by the marina you'll be shown your cosy cabin where you'll get a nice rest before the next days events.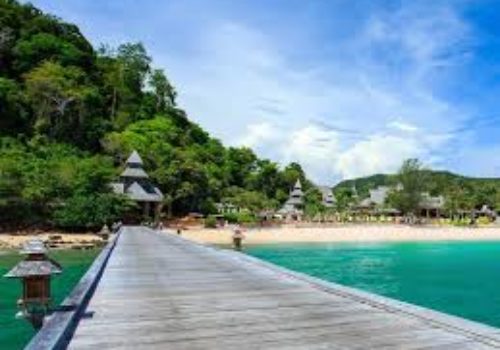 Day 2: Koh Yao Yia
Heading towards Krabi province, you'll cruise through the lovely tropical beauty of Phang-nga Bay where you'll get to see Thailands colourful and exotic side. After taking in your heavenly surroundings, you'll have dinner on the beach at Koh Yao Yai.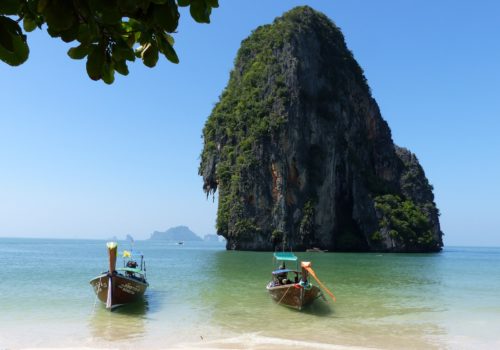 Day 3: Krabi
Today you'll witness Thailand's stunning bays and beaches, including the well known Railay beach perfect for swimming and snorkelling in crystal clear waters next to the sunkissed sand and coconut palm trees.
Day 4: Koh Puh
Our next stop on our Thailand cruise is Koh Puh, also known as Koh Sum. Bedded with white sand beaches, our experience of the island will be far from the touristy north side. Our beautiful little hideout has a beautiful beach, a handful of delicious restaurants and beach bars to enjoy.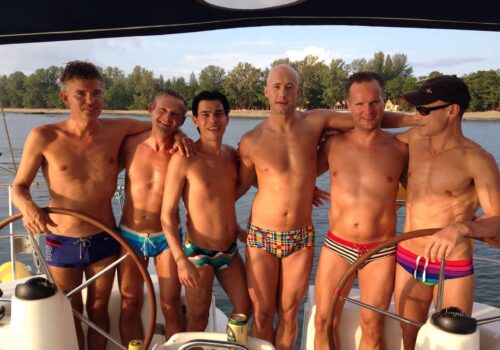 Day 5: Koh Phi Phi Don
On our 5th day we sail due east to the Phi Phi Islands, a gorgeous Archipelago island in Thailand. Phi Phi Don is the largest of the Archipelagos islands, where we'll make the most of the restaurants and lively nightlife scene.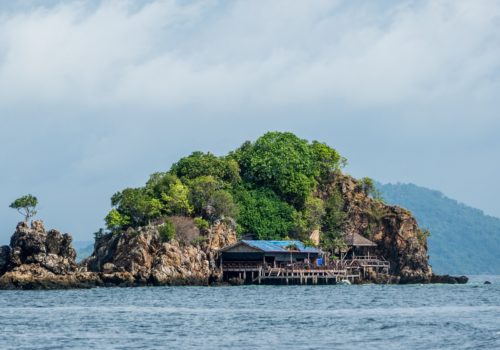 Day 6: Ko Racha Yai
After experiencing the great nightlife at Phi Phi Don, today south of Phuket at Ko Racha Yai you'll get some much needed time out.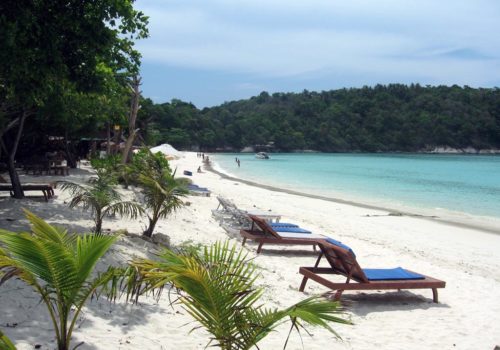 Day 7: Patong
Once you've recharged your energy you'll travel to the west coast to Patong where you can discover Thailand's gay scene.
F.A.Q.
WHAT AIRPORT DO I NEED TO FLY TO? Phuket International airport
HOW LONG IS THE TRANSFER FROM PHUKET INTERNATIONAL AIRPORT? It is only a short journey from Phuket International airport to the marina.
DO I NEED TO HAVE PREVIOUS SAILING EXPERIENCE? No not at all, you can learn as much or as little as you'd like, there's always the option to help the skipper with mooring the ship or alternatively, you can sunbathe and take in the beautiful rays.
CAN I STILL GO ON THE CRUISE IF I SUFFER FROM SEA SICKNESS? Yes, of course, medication is sold on board if necessary but most of the routes the cruises take are between islands meaning that there is a low chance of violent waves.
WHAT SHOULD I BRING WITH ME? It is advised that you bring a small bag that can be folded if possible due to the limited space (suitcases not advised). Summer clothing, swimwear, a warmer jumper for the cooler evenings, toiletries and a rucksack to take ashore.
WHAT PROPORTION OF GUESTS ARE SINGLES AND COUPLES? The cruises usually consist of 30% couples and 70% singles.
IS THERE A SINGLE SUPPLEMENT? You can book a cabin for yourself at an extra charge, however, if the trip is fully booked you will be asked to share a cabin (usually a bunk bed or twin beds).