Heritance Aarah is a great luxury choice. It's located in the Raa Atoll, separated from other resorts and islands, giving you Robinson Crusoe seclusion. It's made up of wooden, thatched roof villas. The understated luxury of the design is very charming. The interiors feature lightly accented colours, complimenting the tropical paradise of the island.
The island is fringed with soft sand beaches and coral reefs. This hotel is geared towards relaxation. You can engage in many water-sports if you'd like to stay busy. The hotel can also arrange dolphin cruises and trips to other islands. There are two swimming pools and an upscale spa. Premium all-inclusive offers are available to book.
Highlights
Cost Category: Gold

Premium all-inclusive options
Seven restaurants
Stunning villas
More Information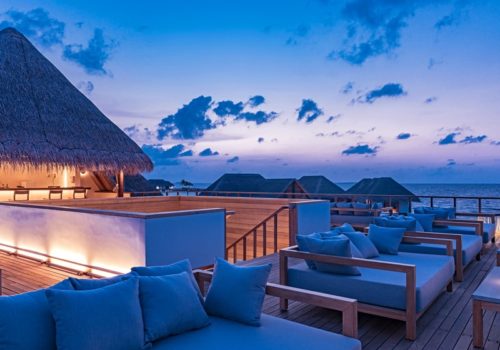 Food And Drink
Heritance Aarah's all-inclusive offers can cover five of the resorts seven restaurants. Ranba and Ralu serve breakfast in the morning from 7am. They offer an extensive buffet of international cuisine. Ranba specialises in a wide range of international cuisine – from the eastern hawker stalls to the western farmers' market. A buffet to transport you across many continents.
Ralu's menu is inspired by the French and Italian Mediterranean brasseries on the Riviera. Explore the mini buffet as the chef rustles up an à la carte menu of every-day favourites.
Head over to Ginifatu, a beach grill, for lunch. Enjoy freshly made seafood served to private pods of comfort – the waters of the lagoon surrounding you. Be sure to try the catch of the day on the plate and the popular 'Rum Punch'.
Ambula is great for fine dining in the evenings. They serve Sri Lankan, Thai and Japanese cuisine, including tasting menus. Banni is an overwater Middle Eastern restaurant (exclusive to Ocean Suite guests).
Head to Hathaa to explore the vibrant food culture of different cities, from the streets of Bangkok and Tokyo. The space is transformed to the cities guests will dine at, every evening, giving you an immersive experience.
Right at the heart of Aarah you'll find Bandhi Bar. Enjoy cocktails by the poolside with the leaves of the palms creating natural shade.
Exclusive to Ocean Suite guests, the bar, which takes its name from the lagoon ('Falhu' means 'lagoon' in Divelhi, the official language of Maldives). It's located between the infinity pool and Baani restaurant.
Head to the Sky Bar for a truly atmospheric experience. You'll be greeted with some of the best panoramic views in the Maldives. Head to Rahlu Bar for a large selection of Rum, including rum cocktails. The Infinity Pool Bar is the place to be for drinks as you enjoy the pool that merges with the horizon.