OZEN by Atmosphere is two sandy oases connected by a wooden bridge in the pristine island chain of the Maldives. Contemporary design style and the overall ambience of this 5-Star luxury resort compliments the naturally blessed surroundings of Maadhoo island. The contemporary spa complex incorporates various elements from around the world, creating luxuriously crafted spa experiences for guests. Relax in the serene surroundings of this Maldivian paradise, or immerse yourself in the beauty of this expansive turquoise lagoon with an excursion to help you embrace this piece of paradise.
Highlights For OZEN by Atmosphere
Cost Category: Gold

Bar
Beach
Fitness centre
Kids' club
Laundry
Pool
Restaurant
Room service
Sauna
Spa
Steam room/hammam
Wi-Fi

MAKE AN ENQUIRY
Room Options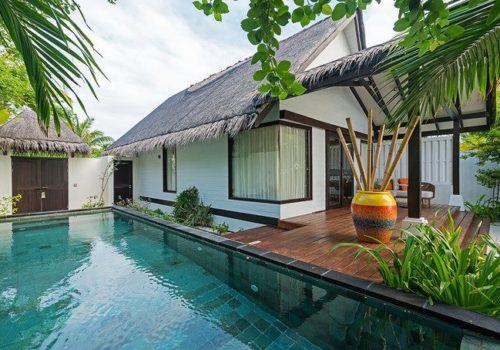 Earth Villas & Earth Villas with Pool
These stunning individual Beach-front villas with high slanted ceilings, come with luxurious interiors in warm earthy tones and fresh colours. Every villa has a large outdoor deck and a tropical garden along with a spacious outdoor bathroom, featuring a hand-crafted bathtub and a monsoon shower.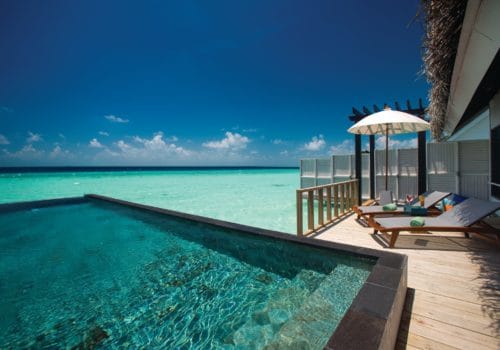 Wind Villas & Wind Villas with Pool
Every villa is infused with fresh & vibrant colour tones, cosy & warm interiors, a seductive bathroom with a stand-alone ellipse-shaped bathtub with an uninterrupted view of the horizon!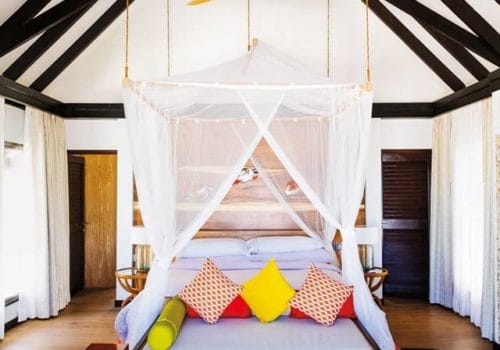 Earth Family
The Earth Family Suite with Pool features a 2-Bedroom Villa complex with a large Master Bedroom and a twin-bedded second room along with a large 35 Sq. m private pool with fibre optic mood lighting. Every Suite has a separate Living room and an outdoor veranda with deck. Each of the bedrooms have their own private bathrooms.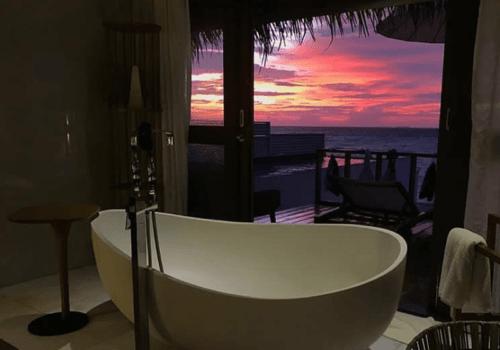 OZEN Water Suite
A three bed-room Suite at the tip of the Pier with amazing views all-around, features a stunning 35 Sq.m over-water pool ) with fibre-optic mood lighting, a personal gym, a maid's room with separate access, a small kitchenette, an outdoor dining pavilion with private bathrooms for every bedroom
About the Hotel
Having opened it's shores in 2016, this is one of the newest luxury locations in the Maldives. The resort houses a PADI Certified Dive School that consists of an experienced team of multi-lingual professionals well versed in the field. ELENA Spa & Wellness Complex together with their team of professional masseurs and therapists, offer guests a wide range of therapies, rituals and other spa services. Visit local islands, experience the warmth of Maldivian people and their culture – or try an exclusive submarine experience with SUB-ZEN by Atmosphere.
Food and Drink
The Palms
Boasting brilliant ocean views, the main restaurant is a wide open space with high ceilings and vibrant Indian Ocean interiors. Open for breakfast, lunch and dinner, The Palms at OZEN offers a wide selection delectable world cuisine and gastronomical delights.
IndoCeylon
Going back to the traditional South Asian culinary roots of Sri Lankan, Indian and Maldivian cuisine, these dishes will not only serve up enticing flavours but also a culinary feast for the eyes, with fantastic presentation and ethnic style platters.
Peking
Our chef's creations are a culinary journey to the origins of Far-East cuisine. Combining exemplary cooking techniques and the finest ingredients, these dishes showcase authentic Chinese dishes which will give your taste buds an unrivalled experience like no other.
M6m
Our exclusive underwater restaurant is without a doubt the jewel in the crown of the fine dining experiences at OZEN. Open for lunch and dinner, this speciality seafood restaurant showcases beautiful underwater views whilst you enjoy exceptionally exotic Modern Seafood cuisine.
Joie De Vivre
Meaning 'Joy of Life' in French; the true heart of OZEN is home to our pool bar and pizzeria.
R.A.W.
Specializing in RAW food cuisine, R.A.W. at OZEN opens for Lunch time offering a selection sumptuous sushi platters and healthy RAW food options and beverages.
GIN IS IN
A myriad of over 25 top-of-the-line Gin brands from world-over, with an array of Tonics.