About Out Of Office
A lot of OutOfOffice.com's customers are well travelled and as such will be well versed in the potential pitfalls of foreign travel. We partner with both Equaldex and the Foreign, Commonwealth and Development Office (FCDO) in the UK to ensure that anyone booking with us has access to the best and most up-to-date advice anywhere.
We recognise that a lot of our clients are LGBT travellers and that it is important to be fully informed on the laws pertaining to the region of travel. Some countries we send clients to have severe penalties that discriminate against LGBT individuals but we also recognise that with the proper information, knowledge and advice there are ways to travel safely to many of these destinations.
It is why every page of our website includes the latest laws in black and white. It is intended to inform our customers about the current situation in any country. This is thanks to our well-established partnership with Equaldex. LGBT travel laws are changing all the time and as the world becomes a more progressive and accepting place we aim to continue to keep each of our customers informed. Indeed, where possible we offer advice to any traveller with no obligation.
The management team at Out Of Office are regularly in conversation with key stakeholders, hotels, tourist boards and governmental bodies to ensure that we continue to lobby for greater inclusion and acceptance in every country in the world.
FCDO ADVICE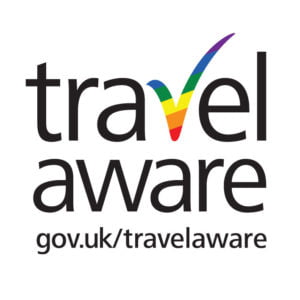 The FCDO also updates its travel advice on a regular basis to ensure that British citizens are kept up-to-date on the latest situation in countries worldwide.
The FCDO has recognised that there is now a need for a greater variety of good quality travel information, which reaches out to British nationals of all ages and demographics. Travel advice is now also relevant during your time abroad, as well as pre-departure, to help ensure you have a safe holiday.
To address this, the FCDO has evolved their Know Before You Go pre-departure advisory campaign into Travel Aware, which offers travel tips and information to cover both of these stages.
If you are not a UK customer, we recommend taking advice from your local government.
Travel Aware offers the following advice for people going on holiday to help make sure you have a trouble-free, enjoyable trip:
STATE DEPARTMENT ADVICE
Customers booking from the USA are advised to stay up-to-date with travel advisories from the US State Department.
CHECK YOU ARE INSURED
Take out appropriate travel insurance before travelling and make sure it covers you for all the activities you want to do. It is a requirement of booking with OutOfOffice.com that you have adequate travel insurance for your trip.
DO YOUR RESEARCH
Learn about the laws, customs and entry requirements of the country you're visiting and understand how they differ from home, check www.gov.uk/foreign-travel-advice. Penalties if you get it wrong can be severe so think twice and know the risks. Check if vaccinations are required for your destination. For medical advice, visit travelhealthpro.org.uk. Understand what consular staff can and can't do to help British nationals travelling overseas. Familiarise yourself with the number of the local British Consulate in case of an emergency.
MAKE SURE YOUR TRAVEL DOCUMENTS ARE UP TO DATE
Check your passport is valid and you have all necessary visas. Look after them while travelling. Once in resort, keep them in a safe place at all times. To make copies of important travel documents, take a picture of them and/or store them online using a secure data storage site.
KEEP AN EYE OUT WHILE YOU ARE AWAY
Act responsibly and be responsible for yourself when abroad. Tell someone where you're going and provide them with emergency contact details. Take enough money with you and make sure you have access to emergency funds. Keep an eye on your drink and stick with your friends and/or family.
Travel Aware aims to better prepare British travellers before you travel and while you are abroad with a view to reducing the number of problems you could face when overseas and ultimately the number of consular cases.