With treks along the glacier, kayaking through icy waters and exploring volcanoes this trip offers an experience of a lifetime. Head to Alaska on this gay group trip where you will visit the explore pristine Denali National Park. Discover Gay Alaska with us.
Departing on
There are no available departure dates for this trip.
Group Trip Breakdown
Day 1: Arrive in Fairbanks
You will be met by a representative who will escort you to the hotel by airport shuttle. The evening is at your leisure to adjust to the 'midnight sun'. Take a scenic flight to Inupiaq Eskimo village north of the Arctic Circle in the dramatic Brooks Range and Gates of the Arctic National Park. The tour departs tonight at 7 pm and returns around midnight.
Day 2: Welcome To Alaska
The morning is yours to relax. Those who want to have the option of catching a scenic flight over Fairbanks and Coldfoot, north of the Arctic Circle in the Brooks Mountain Range. Those who wish can head to the new Morris Thompson Cultural and Visitor Center for an excellent introduction to life in northern Alaska. At noon you will meet with the rest of the group for lunch at a local restaurant. You will then visit the University of Alaska Museum of the North, where you will meet the researcher who studies the local reindeer, caribou, and musk ox and see some of Fairbanks' highlights on a brief city tour. On your way back you will embark on a short nature hike at Creamer's' Field State Game Refuge. Once back at the hotel you will have dinner at a local bistro.
Day 3: Denali
Today you will have a 3-hour drive to Denali. You will begin by exploring the trails about two hours from Denali Park Visitor Center. After lunch, you will head into the wilderness of Denali Park on a wildlife watching shuttle bus to Toklat, make sure you have a camera with you! Tonight you will have dinner at a local restaurant, famous for its Alaskan seafood.
Day 4: Glacial River Rafting
You will start the day off with a hike through the forest to a trapper's cabin where you will have lunch. After lunch, you will dress up in dry suits and embark on a white water rafting trip along the Nenana River. This glacial river features class 3 and 4 rapids but don't worry, there will be an experienced instructor to guide you. In the evening you are free to do as you wish.
Day 5: Wrangell-St. Elias National Park
Today you will be heading off the beaten track to Wrangell-St. Elias National Park. You will head east from Denali National Park and stop for lunch along the way. From the town of Chitina you will take a scenic flight past large volcanoes and glaciers to the hamlet of McCarthy where you will have dinner.
Day 6: Kennecott Glacier Trek
After breakfast, get your crampons on and wrap up warm as you will be stepping into what seems a new world. Pass the eerie valleys and untouched mountains as you embark on a glacier trek on the Kennecott Glacier. You will stop for a packed lunch and then continue to discover more of this incredible landscape. Once back at the hotel you are free to do as you wish for dinner.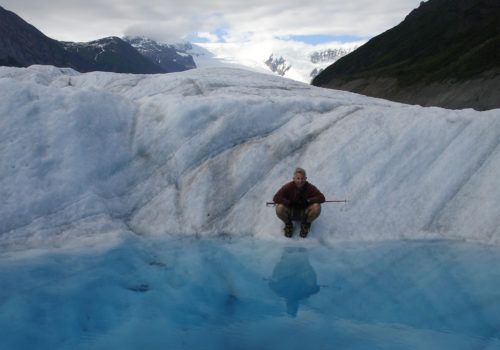 Day 7: Glaciers And Waterfalls
After breakfast at the McCarthy Lodge you will head through the Chugach Mountains to Valdez on the coast. On route, you will stop at Worthington Glacier for a short hike to the hanging glacier. Once at Valdez you will be offered the chance to head out on some challenging hikes. Tonight you are free to eat where you like, there are lots of restaurants in Valdez.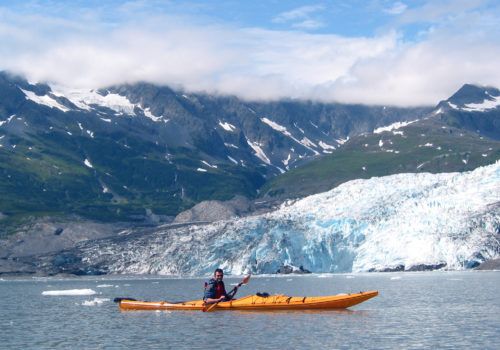 Day 8: Kayaking Along The Coast
Today after a hearty breakfast you will head out on kayaks and paddle along Shoup's coastline. You will pass seabird colonies and picturesque scenery. You will stop for lunch (on the shore) before heading back to town where you will have the rest of the afternoon at your leisure before having dinner together.
Day 9: Whittier
Your day will begin with a short hike on the Dock Point Trail. After this you will board a ferry which will take you across Prince William Sound to Whittier. You will pass icebergs, sea otters and sea lions, so have your camera at the ready.
Located at the end of a tiny fjord, Whittier was developed as a secret port during World War 2. Once the ferry has docked, you will head through a tunnel which will take you to Turnagain Arm and the Seward Highway. On route, you will visit the rescued wildlife at the Alaska Wildlife Conservation Center for a chance to see bears, moose, caribou and Alaska's other famous wild residents up close. In the evening you will have a farewell dinner in Anchorage where you can discuss your memories from the week with your new friends.