New Orleans is one of the most enigmatic cities in America. It's the home of voodoo, jazz and Mardi Gras. Anne Rice set her famous vampire novels here for a reason. It's every bit as spooky as it is romantic.
The biggest event of the year in New Orleans is, of course, Mardi Gras. It begins on "12th night" and it ends on "Fat Tuesday (the Tuesday before Ash Wednesday). There are so many parades to see and parties to attend. The Krewe du Vieux parade in the French Quarter is a bawdy, subversive event – perhaps the most traditional of the parades and not to be missed.
The most popular time to visit for Mardi Gras is over the weekend before Fat Tuesday. You'll get the chance to explore the city before the madness begins.
"It has been said that a Scotchman has not seen the world until he has seen Edinburgh, and I think that I may say that an American has not seen the United States until he has seen Mardi-Gras in New Orleans." — Mark Twain
Call our travel experts on
+44 (0)20 7157 1570
More Information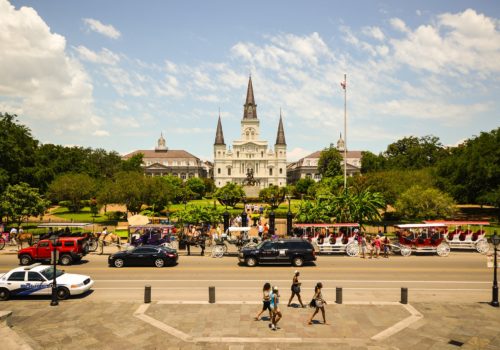 Further Information
This itinerary is tailor-made and it can be adapted to suit your needs. There are different ways to experience Mardi Gras, some more family-friendly than others.
When the carnival begins, it's best to visit the French Quarter during the day, as it will be very busy at night. Bourbon Street, packed as it is with bars, gets a bit raucous in the evening during carnival – best to have a night on Bourbon Street in the days leading up to Mardi Gras.
If you view the parades from Uptown you'll be in a slightly quieter, less touristy setting.
As Mardi Gras is such a huge event advanced booking is recommended. The hotels will be full and very expensive nearer the time.