OutOfOffice.com was founded in 2016 and has grown to become the world's largest LGBT travel company thanks to its acquisition of TravelGay.com. For further information about Out Of Office please vist our dedicated page or take a look through our press and media appearances below.
We are always looking to speak to successful bloggers and journalists about potential opportunities that arise.
If you're a journalist and looking for more information or to run a story about Out Of Office please get in touch with us on 020 7157 1571 or at press@outofoffice.com.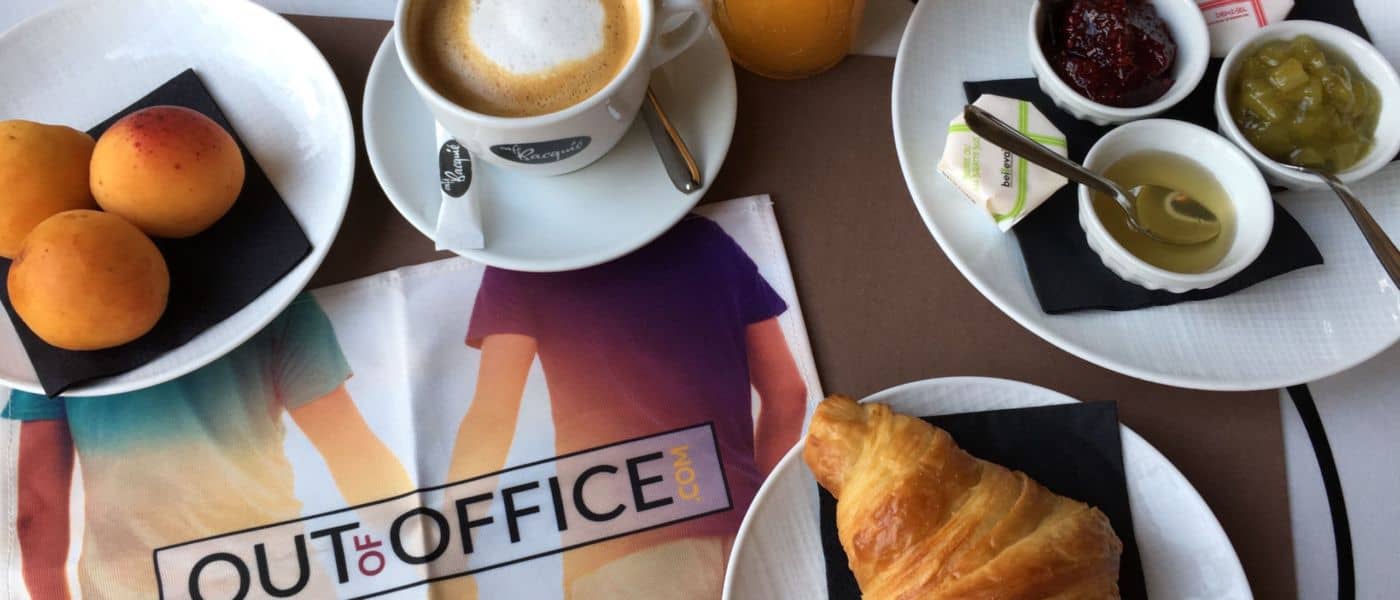 In Video
Out Of Office has appeared on television several times, including on the legendary Ru Paul's Drag Race. Managing Director Darren Burn has also spoken about the brand and as a commentator on various issues regarding travel. He even took on The Graham Norton Show red chair!
Proud Experiences, June 2019
Ru Paul's Drag Race, May 2019
BBC News, BBC News and BBC World, April 2019
BBC Business Live, BBC News and BBC World, September 2018
WTM London, August 2018
Sky News, October 2014
Graham Norton Show, November 2017
On Radio
Darren appeared on BBC Radio Scotland with Kaye Adams to talk about the reason he founded OutOfOffice.com alongside travel journalist Simon Calder.
BBC Radio Scotland, February 2016
In The Press
Understanding these nuances was key for Darren Burn when he founded Out of Office, a tailor-made luxury LGBTQ+ travel company, in 2016. "One day, there might not be a need for companies like ours," he says, "but the reality is that it's just not always straightforward for our customers."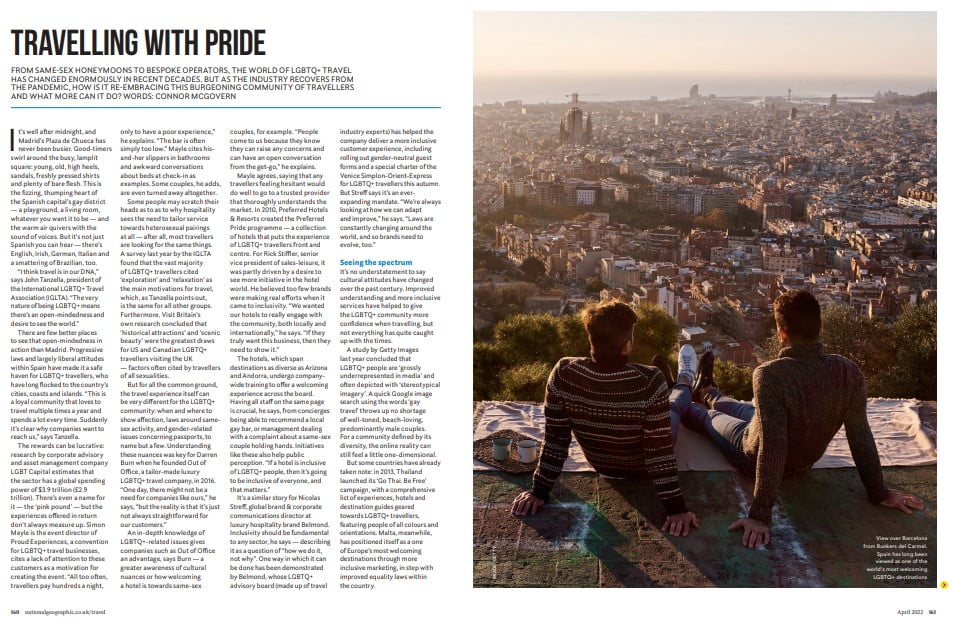 "The LGBTQ community has 23 per cent more disposable income than their heterosexual counterparts, they travel more frequently and spend more when in resorts," says Darren Burn, the managing director of TravelGay.com, a gay travel, entertainment and lifestyle guide, and OutOfOffice.com, which arranges tailor-made holidays and gay group trips.
British Airways Business Life, June 2018
Business Life competition winner Darren Burn is on a "social mission" to open up the world to LGBT travellers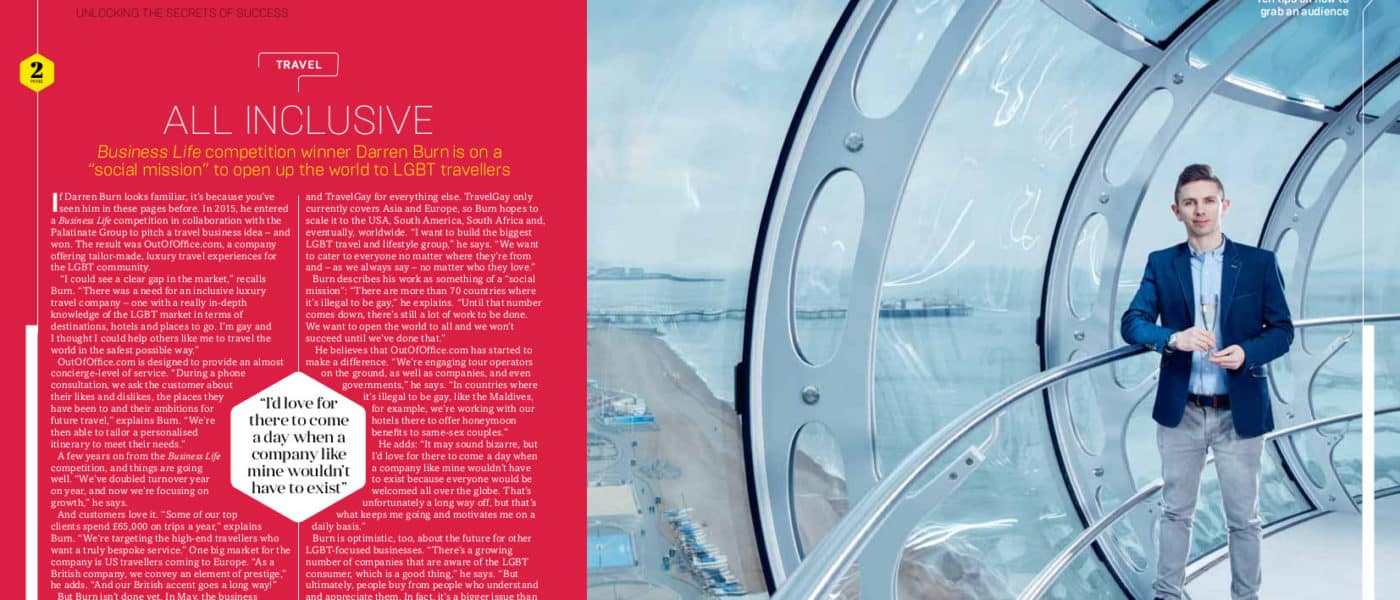 LGBT travel company OutOfOffice.com has purchased travel guide website operator Out4You for a "six figure sum" to help accelerate its growth plans.
Ross Marshall may be best known as the boss of Your Golf Travel, but he is also an investor in the biggest LGBT travel firm in the world. OutOfOffice.com, founded by Darren Burn, a former ITN News journalist, yesterday acquired Out4You, the company behind the TravelGayAsia.com and TravelGayEurope.com websites. It is aiming to raise £10 million to invest in growth. Given that Grindr, the gay dating app, was valued at $380 million in its recent sale, it could be money well spent.
LGBT travel firm OutOfOffice.com yesterday acquired Out4You, the company behind the TravelGayAsia.com and TravelGayEurope.com websites.
Darren Burn, founder and managing director of the upmarket gay travel specialist, Out Of Office, said: "It's disastrous, a backward step. They're taking a lot of money from cruise lines."
Three years on from same-sex marriage in the UK, LGBT travel expert Darren Burn picks the best gay-friendly honeymoon destinations
The Sun, November 2016
All aboard Trans Europe sailing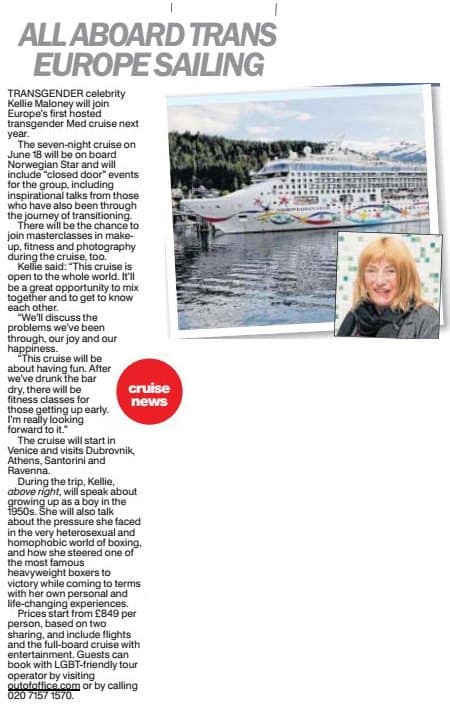 LGBT-friendly luxury travel company OutofOffice.com has enjoyed month-on-month growth since launching in January. As co-founder Darren Burn - an IoD 99 member - looks towards expansion, he asks our expert panel how best to attract venture capital.
A new survey showed a quarter of LGBT travellers hide their true selves on holiday. Where, aside from the obvious hotspots, can you feel safe? OutOfOffice.com spoke to the Independent to give our top destinations.
Speaking to LGBT travel company OutOfOffice.com, Naama Oryan-Kaplan, director of the UK and Ireland for the Israel Government Tourist Office, said: "Initially, social media was buzzing with disgust and bafflement at the teaser billboards plastered across London, and it is easy to see why; our messaging was controversial and lacked information.
Various, March 2016
61% of LGBT travellers wouldn't travel to destinations where it is illegal to be gay
Out Of Office ran a travel survey to examine LGBT consumers' travel trends. The results found that 61% of LGBT travellers wouldn't travel to destinations where it was illegal to be gay.
Attitude Magazine, 7 March 2016
Gay Times Magazine, 7 March 2016
It was personal experience that drove Darren Burn to launch LGBT travel specialist OutOfOffice.com. "I went to Egypt with my ex-boyfriend a couple of years ago and I spent ages researching where was safe and open to go," he says. "But when we got there the hotel was really unwelcoming - we had to find somewhere else. I realised I should be able to go anywhere in the world and have that reassurance."
Outofoffice, a new internet-based lesbian, gay, bisexual and transgender (LGBT) luxury travel company, has turned over £250,000 since launching last month.
OutOfOffice.com, a new start-up offering gay-friendly holidays, has proved a hit with travellers across the globe.
Gay Times, February 2016
Our Top 14 destinations for 2016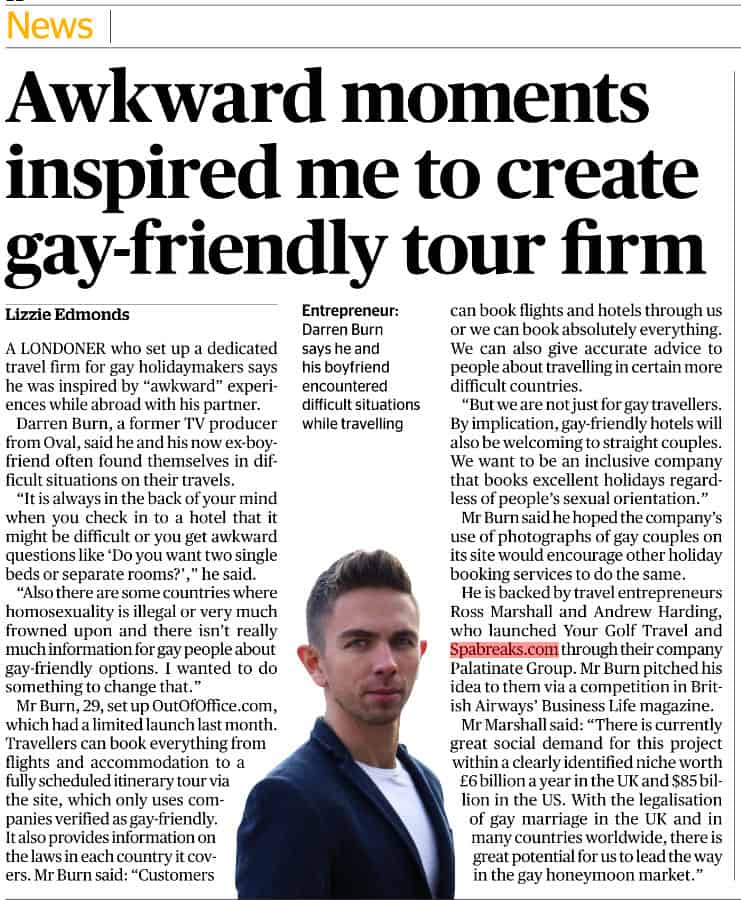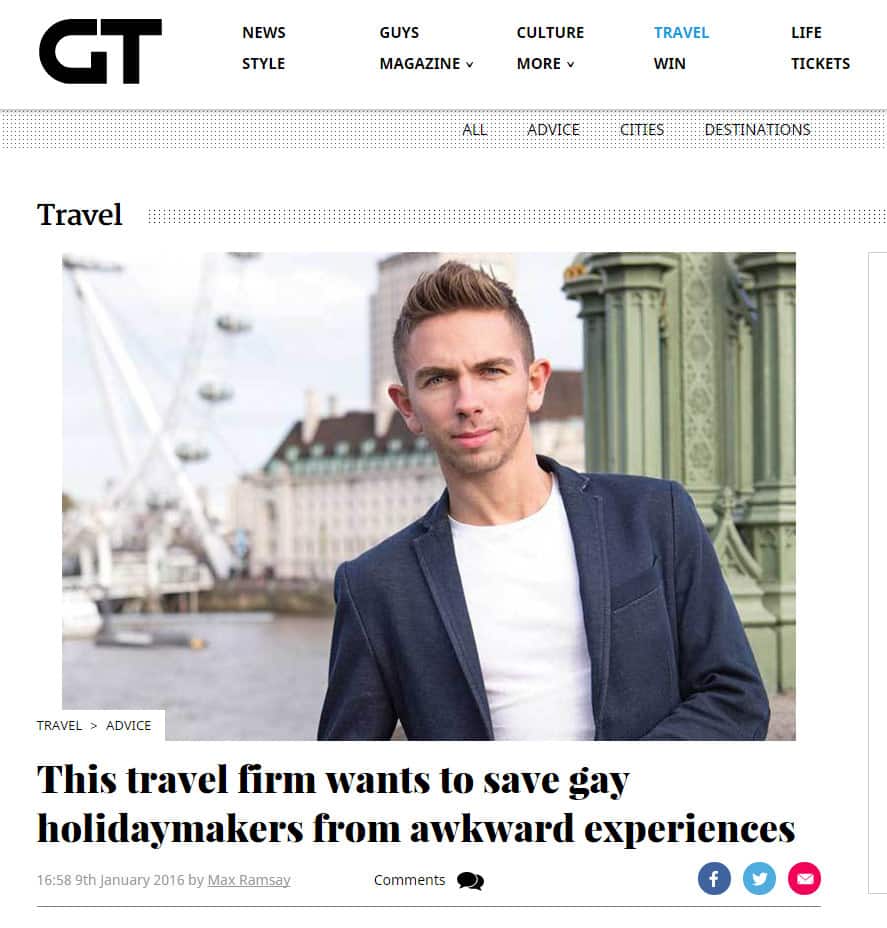 Attitude Magazine, January 2016
Gay travel - but not as you know it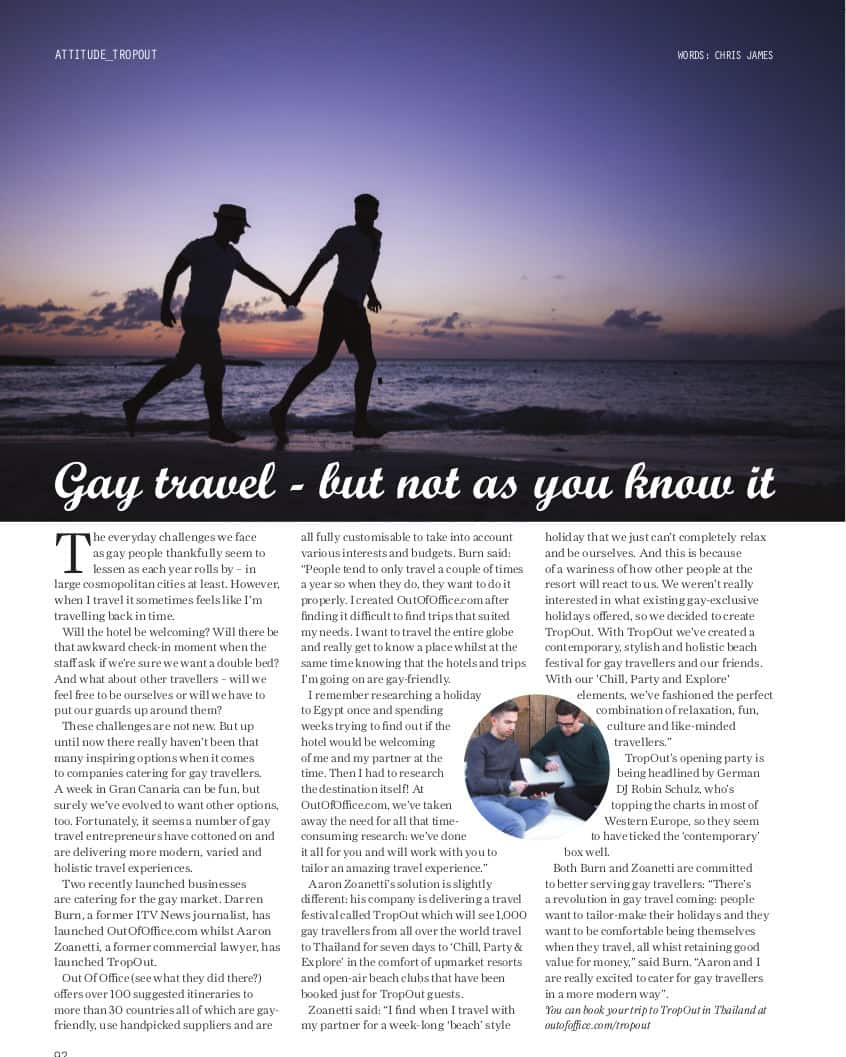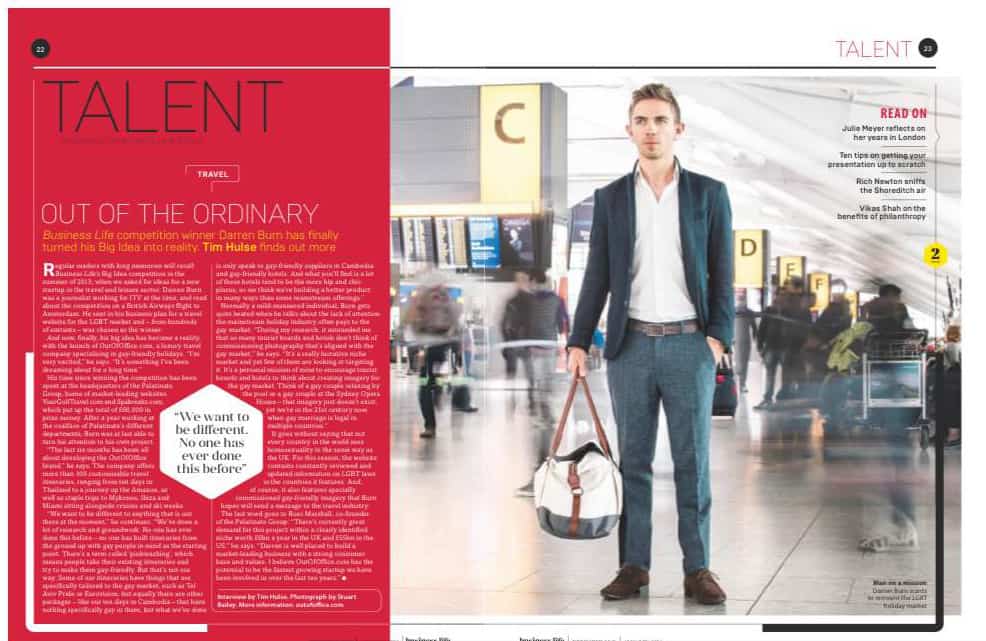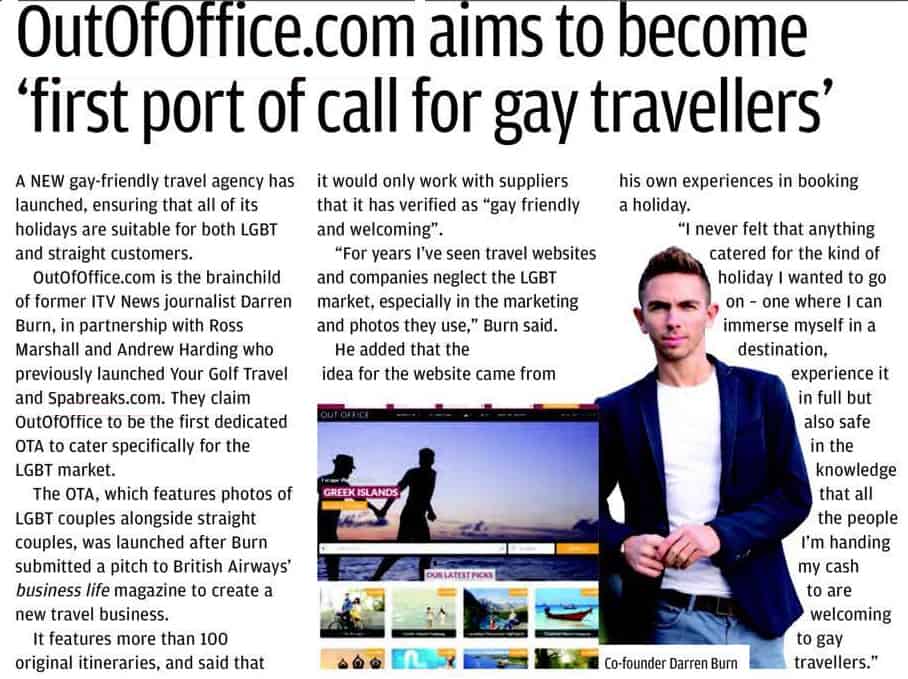 A new LGBTI-friendly travel company is being launched by former ITV News journalist Darren Burn.
Metro, June 2015
LGBT-friendly stays a click away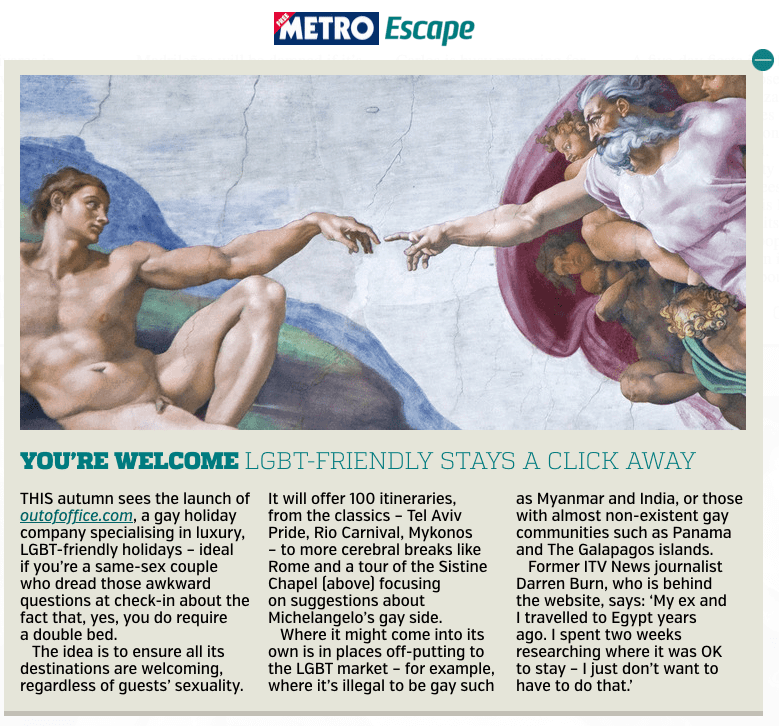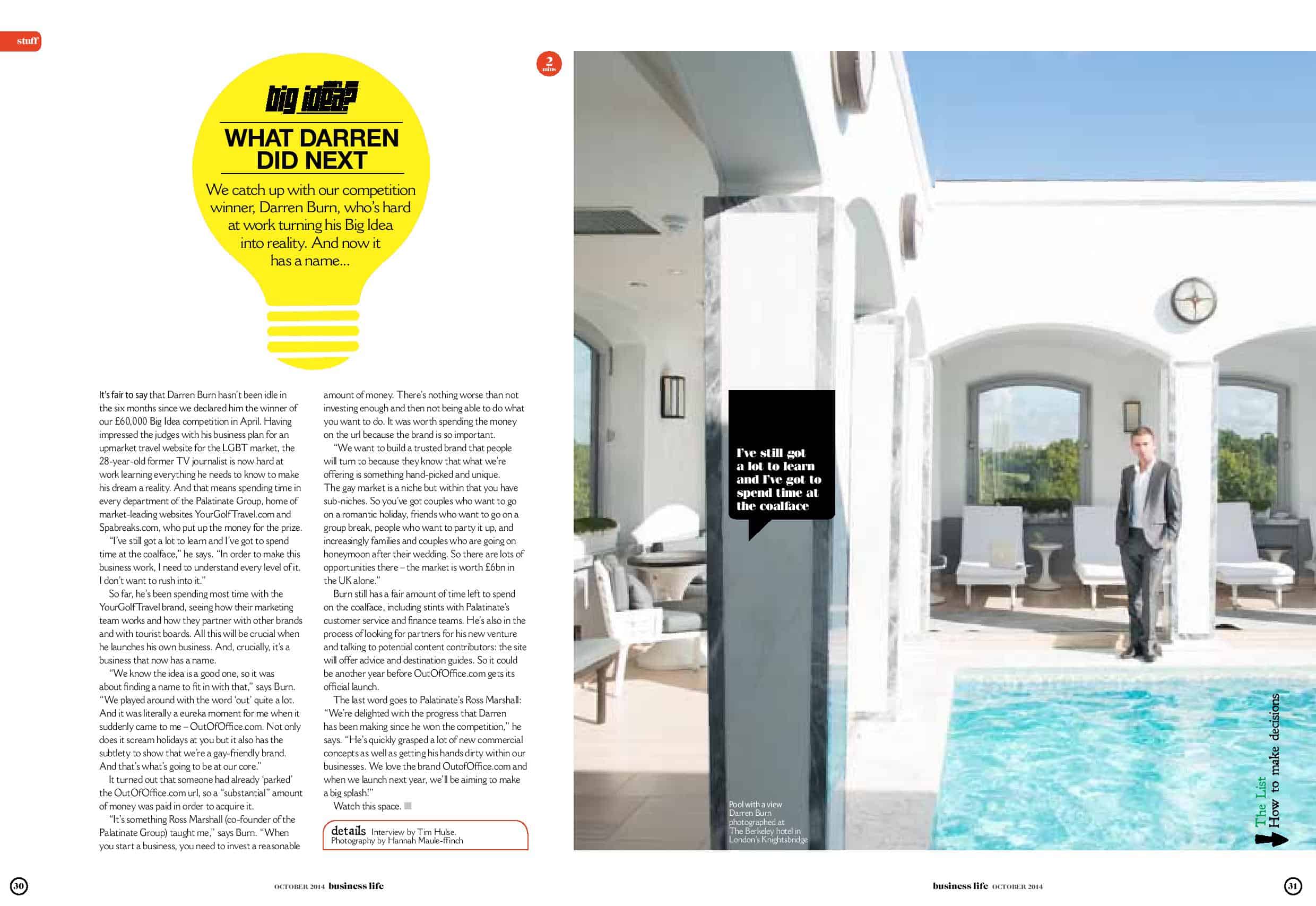 The Times, October 2014
Apple unveils new (role) model: a gay CEO