A truly awe-inspiring country, New Zealand has perhaps some of the most stunning scenery on earth. You need a good chunk of time in the country to explore and get under its skin. You'll see spectacular glaciers, picturesque fjords, vast plains, rolling hills, subtropical forests, rugged mountains, a volcanic plateau and miles of coastline with sandy beaches.
New Zealand's straddles two tectonic plates and is therefore home to geothermal areas and volcanoes, some of which are still active. Lake Taupo is the result of one of the largest and most destructive volcanic eruptions in the world. Visit Rotorua and you can witness this geothermal activity with spouting geysers, hot water pools and bubbling mud.
Our Best Trips To New Zealand
From 14 days - Tailor-made from

£4325

Set out on a gay group trip in New Zealand, the world's adventure capital. You'll explore the Milford Sound fjords, trek along glaciers, bungee jump and raft through the wondrous Nile River Cave System. This is a trip for people who love the...

View Itinerary

From 11 days - Tailor-made from

£6115

This gay group trip will show you the cultural riches of New Zeland. You'll see penguins, drink the finest New World wines and explore the mountainous landscapes where Lord of the Rings was filmed. You'll also sail on a vintage 1912...

View Itinerary

From 14 days - Tailor-made from

£1795

This two-week itinerary lets you get under the skin of both New Zealand's north and south islands. You'll visit cities and rural locations taking in some of the breathtaking scenery that New Zealand is renowned for. Enjoy a self-drive itinerary...

View Itinerary
All Trips to New Zealand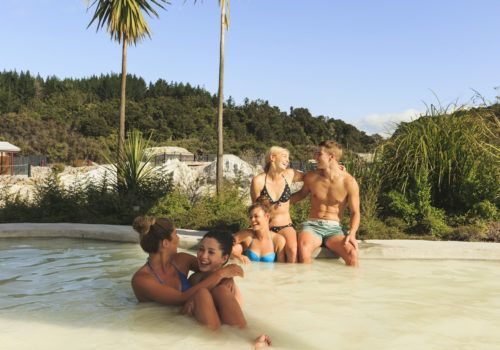 Tailor-Made
This whistlestop tour takes you to both New Zealand's north and south islands in seven days. You'll visit the main cities and have a chance to encounter some incredible experiences. This self-drive and fly itinerary will allow you to explore...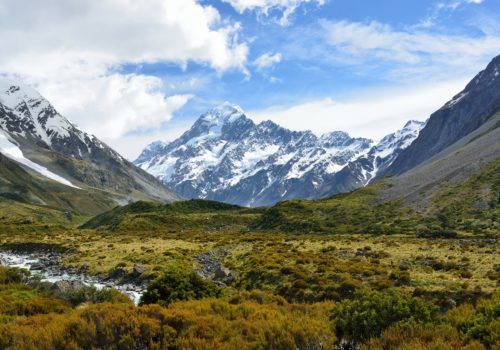 Group Trip
Departs on
31st August 2019
Gay Ski Week NZ is the Southern Hemisphere's largest Gay Winter Festival. Hundreds of gay men and women head to Queenstown, New Zealand for the week-long alpine party filled with partying, socialising, skiing, drinking, dining, adventure, live music and snow....
Hotels in New Zealand
General Information
Known for its breathtaking landscapes, incredible geological features and peacefulness, New Zealand is perfect those seeking a holiday filled with adventure and exploration. From zip lining, bungee jumping, white water rafting, skiing, subterranean trampolining, hiking, biking and so much more, the list is endless.
It is safe to say there won't be a dull moment as there is always something to do. Auckland is a great city to visit. The modern buildings are laid upon the rugged rocky coastline makes it a unique place. Spend a couple of nights here giving you plenty of time to see the sites.
Then head to Rotorua and go via the Waitomo Glow-worm Caves. Once at Rotorua choose from many activities including white water rafting on the Kaituna River or see Mt. Tarawera – Waimangu Volcanic Valley by floatplane.
Your next stop is Christchurch which is a great place to swim with dolphins or go whale watching.
Your final stop is Queenstown. Enjoy the sublime landscape including smokey lakes, flat green plains, and snowy mountains.
What Everyone Does In New Zealand
Visit Auckland and experience the colourful vibrant city. Due to its coastal location, it is a great place to sail, so why not head out on a day trip along the coastline. If you are looking for a holiday which covers the main places then our Introducing New Zealand itinerary is perfect.
What Some People Do In New Zealand
Put your fears to the test and bungee jump off the Kawarau Bridge in Queenstown. There are plenty of other incredible destinations you can jump in New Zealand. You will be strapped in (by professionals!) and then take the leap of faith off the bridge and feel the awesome rush of adrenaline. A once in a lifetime experience we recommend.
What No One Else Does In New Zealand
Visit Stewart Island which is just off the South coast of New Zealand. A nice additional trip to make when visiting. Stay in Oban and visit the many beautiful bays and beaches. Like the majority of New Zealand, it is known for its beautiful scenery.
From the Blog
Gay Group Trip: New Zealand Adventure
Every travel lover has that daydream that involves clicking your fingers and being transported to an unnamed paradise. You're fanned, fed grapes, you run along a pebble-less beach in slow motion. For the slightly more rational dreamers, a private jet materialises with

The paysage Let's get this one out of the way at the beginning. Famed for its incredible scenery, there's a reason why so many movies are filmed there. Just watching The Piano makes us want to grab the nearest musical

Weddings are always at least a little bit stressful, but do you know what makes it all worth it (aside from marrying the love of your life, of course)? When you and your guests can enjoy a bit of a