Forest, rivers, and mountain ranges are part of the stunning scenery, but pale in comparison to the rich history and culture that Germany provides. Never a dull moment is to be had as festivals such as Oktoberfest showcase the famous beer and snack food that Munich has come to be known for, whilst Berlin plays host to vibrant art, music and gay nightlife scenes.
Best Germany Trips
From 10 days - Tailor-made from

£2225

From Berlin to the Black Forest, this is your chance to discover Germany. Your adventure will begin in Berlin, one of the coolest cities in the world. Its fascinating history is there to be discovered and its nightlife is arguably...

View Itinerary

From 9 days - Tailor-made from

£3299

It's the most wonderful time of the year – and so why not join a gay river cruise exploring Europe's Christmas markets? You'll start with two nights in Munich before you enjoy a six-night river cruise on the Danube. Visit...

View Itinerary

From 2 days - Tailor-made from

£2295

Take a journey into paradise and enjoy this wonderful adventure on board the Venice Simplon-Orient-Express. Start your journey in London and end in Berlin. You will enjoy delicious food prepared by the very best chefs and the staff are there...

View Itinerary
All Germany Trips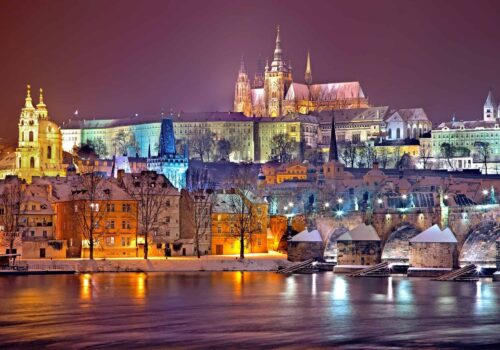 Your all gay river cruise begins with two nights hotel and guided sightseeing in Prague, the "Jewel of Eastern Europe." One of Europe's best-preserved cities, Prague's medieval centre remains a beautiful mixture of cobblestone pathways, guilded towers and gothic cathedrals. From...
Best Germany Hotels
From the Blog
Discover Germany
Sitges Kicking off the pride season on 11th June, the picturesque town of Sitges just outside Barcelona hosts a riotous Pride celebration each year right on the beach. With a huge parade that can't be missed, you can upgrade to
Getting to Germany

Berlin is the main destination in Germany with two major international airports on its doorstep. Munich, Hamburg and Stuttgart also have their own airports.
What Everyone Does In Germany
From stunning landscapes and quaint little towns to the bustling streets of Berlin, Germany has it all. Head to Berlin and immerse yourself in the extraordinary history. From Checkpoint Charlie, the symbolic divide between what was East and West Berlin to KaDeWe, Europe's biggest shopping centre, you'll have endless sights to see. What's more, Berlin may well have the most buzzing nightlife in Europe – including the most outrageous gay scene.
What Some People Do In Germany
If you're in Munich at the right time then head to Oktoberfest and indulge in the finest German beer. You may wish to dust down your lederhosen as well!
What No One Else Does In Germany
Head to the spa town of Baden Baden near the border with France and then explore the magnificent Black Forest from where the famous gateau gets its name.