'Vibrant' is Spain's middle name, with every corner of the country bringing a new twist of culture alongside a splash of colour. Peppered with museums, art, beaches, food and music, it's easy to see how it became the popular tourist destination it is today.
'Fiesta' and 'siesta' aren't just words, they're lifestyles, so feel free to party the night away with friends and recover on the luxurious white sand in the morning.
Best Spain Trips
All Spain Trips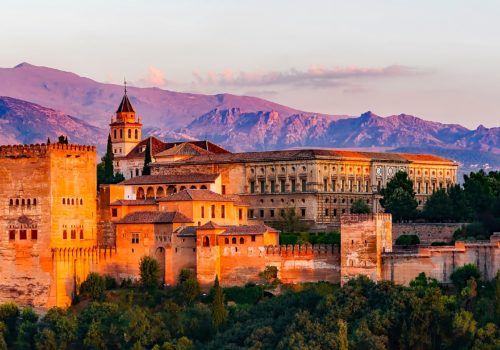 This 12-day gay group Spanish trip will give you a fully rounded experience of Spain. From the buzzing city of Barcelona on the Mediterranean coast to the rustic landscapes of Andalusia in the south. In Granada and Seville, you'll experience...
Best Spain Hotels
Gay Group Trip: Detox Break In Almeria
From the Blog
Gay Group Trip: Detox Break In Almeria
This morning's news might have come as a shock to many, but the reality of the fluctuating markets and concerns over the stability of currency has caused many people to wonder what the Brexit means for holiday plans. Darren Burn,

After the death of dictator Francisco Franco in 1975, being gay became legal in Spain just four years later. The LGBT community were finally no longer considered a "threat" to society (as Franco's Vagrancy Act had claimed). Now, since 2005,

It's no secret that LGBT individuals suffer hardships and prejudice throughout the world. But where exactly do we mean when we say 'throughout the world', and what hardships are we referring to? Whether you're looking to travel, move, or are
Getting to Spain

There are direct flights from most European countries and also flights from some countries in South America North America, Africa, the Middle East and Asia.
General Information
The great thing about Spain is that it's a short flight away from the UK and has everything from cultural cities, to beautiful coastal beach areas. The capital city Barcelona is vibrant and buzzing, with lots to do and see. The city is dotted with the work of the famous artist Gaudi and after a long day of exploring head to the beach to catch some rays or take a refreshing dip in the sea.
Spain has many fantastic cities waiting to be discovered. Madrid, with its lively atmosphere and historic centre, offers a different experience whereas a trip to Seville will give you a glance into the past, with its authentic architecture, quaint cafes and. Seville has personality and style and a place you must visit.
What Everyone Does In Spain
Since it is only an hour and a half flight away and offers a wide range of accommodation options, anyone can visit Barcelona. If you love culture, art and history, then there will never be a dull moment in this city as you can pack your days with visits to museums, galleries and cultural sites including the famous Sagrada Familia.
What Some People Do In Spain
Since each main city in Spain is different from the next, why not visit more than one. You could fly between each place or even rent a car and drive, allowing you to stop in some of the less well-known towns on the way.
What No One Else Does In Spain
If the Roman era interests you, then a trip to Las Medulas will definitely be worth it. You'll find some stunning landscape on the border between Galicia and Castilla y Leon. This area was once the Roman Empire's most important gold mine, and you will find some ancient Roman settlements in the area which have been uncovered.