Fran Lebowitz once said, "Los Angeles is a large city-like area surrounding the Beverly Hills Hotel." It's one of the great luxury hotels in America and the whole world, for that matter. The shock pink exterior is instantly recognisable. The red carpet leading in the lobby is also iconic. Many Hollywood stars have partied and conducted great romances here. It's a byword for decadence and luxury. The decor isn't subtle but it's utterly fabulous. This is where unashamed, ostentatious glamour finds its natural home. It's located right in the centre of LA. At one time it may have felt like the centre of the world.
Call our travel experts on
+44 (0)20 7157 1570
Highlights
Cost Category: Platinum

Historic hotel in the centre of LA
Classic American luxury
If its wall could talk!
More Information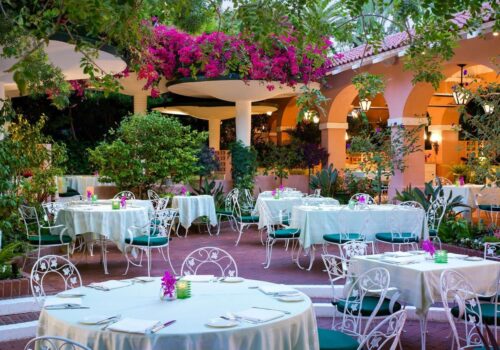 Food And Drink
The Polo Lounge
It has a candy-striped ceiling and it actually pulls it off. How do you like that? This is quite a legendary establishment – it's been called 'Hollywood's commissary'. This is the home of LA power dining. That film won't finance itself!
Fountain Coffee Room
You can pop into the 1950s-style Fountain Coffee Room for a cup of coffee and a club sandwich. Guns N' Roses signed their record deal here.
The Cabana Cafe
Perfect for an alfresco lunch. The iconic pool is right by The Cabana Cafe. You'll find the ladies who lunch raising a glass.
Bar Nineteen12
Powerbrokers and wannabes on the LA scene come here to shmooze in the evening. Have a cocktail and watch the world go by. The bar is named after the year the hotel first opened its doors.