This stunning property on the beautiful island of Moorea in French Polynesia is a beautiful five-star resort. The island of Moorea is a heart-shaped island that has a picturesque mountain backdrop and a wonderful lagoon on which the property is set.
The Hilton Moorea has a lovely white sandy beach as well as an abundance of tropical fish in its blue waters which are ideal for snorkelling and exploring – you'll find stingrays, black-tip reef sharks and even dolphins. You'll find beautiful rooms and suites – including plunge pools with the garden bungalows and then iconic water bungalows which allow you to step out directly into the sea.
Call our travel experts on
+44 (0)20 7157 1570
Highlights
Cost Category: Platinum

Stunning water bungalows
Short ferry journey from mainland Tahiti
Blue lagoon and stunning views
White sandy beach
Only overwater bar in French Polynesia
Eco-friendly hotel
Free wifi
More Information
Food And Drink
Arii Vahine 
Surrounded by ocean views you'll be tucking into a selection of classic Polynesian foods and international cuisine. Dance shows and other musical entertainments also take place.
Eimeo Lounge Bar
A great place to indulge in a selection of cocktails. You're right by the pool so can take a dip anytime – preferably before you hit the cocktails!
Rotui Bar And Grill
This a casual venue near the pool where you can drink and have lunch in an informal atmosphere. You can also drink at any time throughout the day.
Toatea Bar
Set in a stunning location, you'll be wining and dining over a natural aquarium. Ideal place to have a drink and watch the sunset.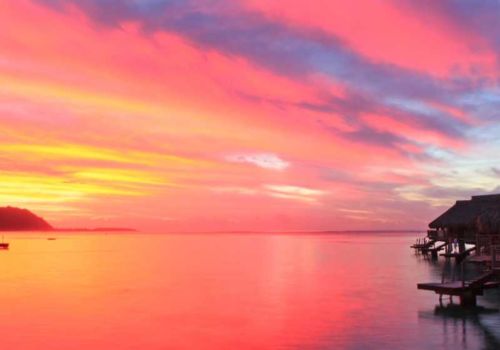 The Moorea Lagoon Spa
Enjoy a range of Traditional Polynesian treatments, including hot stone massage, black pearl facials and scented baths with rich essential oils.
We'd recommend trying the Moorea Lagoon massage, inspired by ancestral Tahitian techniques. This traditional massage is designed to release tension from the body and relieve stress.
The Moorea Volcanic massage uses volcanic stones renowned for their energetic and reviving qualities. Alternatively, book the anti-jetlag massage upon arrival to recover from your long flight and stimulate your circulation.