Italy has been attracting tourists ever since tourism existed in a recognisable form. You weren't considered to be educated unless you'd seen the marvels of the ancient world in Italy, from from the Roman Colosseum to the Venetian lagoon. Italy really has it all: World-class cuisine, an unrivalled artistic heritage and fashion industry that still dominates globally.
So, you're planning your dream trip to Italy – the question is where are you going to stay? We've gathered together some of our favourite luxury hotels in Italy, from the former home of a 19th-century opera diva to a palatial property in Florence. We've got cave hotels and we've got modern hotels. We've also nominated our favourite hotel on the ever-glamorous Amalfi Coast.
Il San Pietro di Positano
Il San Pietro di Positano is one of the most glamorous hotels in Italy and the entire world, for that matter. It's our favourite luxury hotel on Italy's famed Amalfi Coast. This hotel is especially popular with Hollywood royalty. The hotel is carved into the rock not far east of Positano and hidden from prying eyes.
The combination of luxury and privacy makes it appealing to people like George Clooney and Julia Roberts, both of whom have stayed here. Il San Pietro di Positano is still family-run. The hotel was originally built by Carlo Cinque in the 1970s. The Amalfi Coast gives you a front-row seat to the most romantic views in Europe.
View Il San Pietro di Positano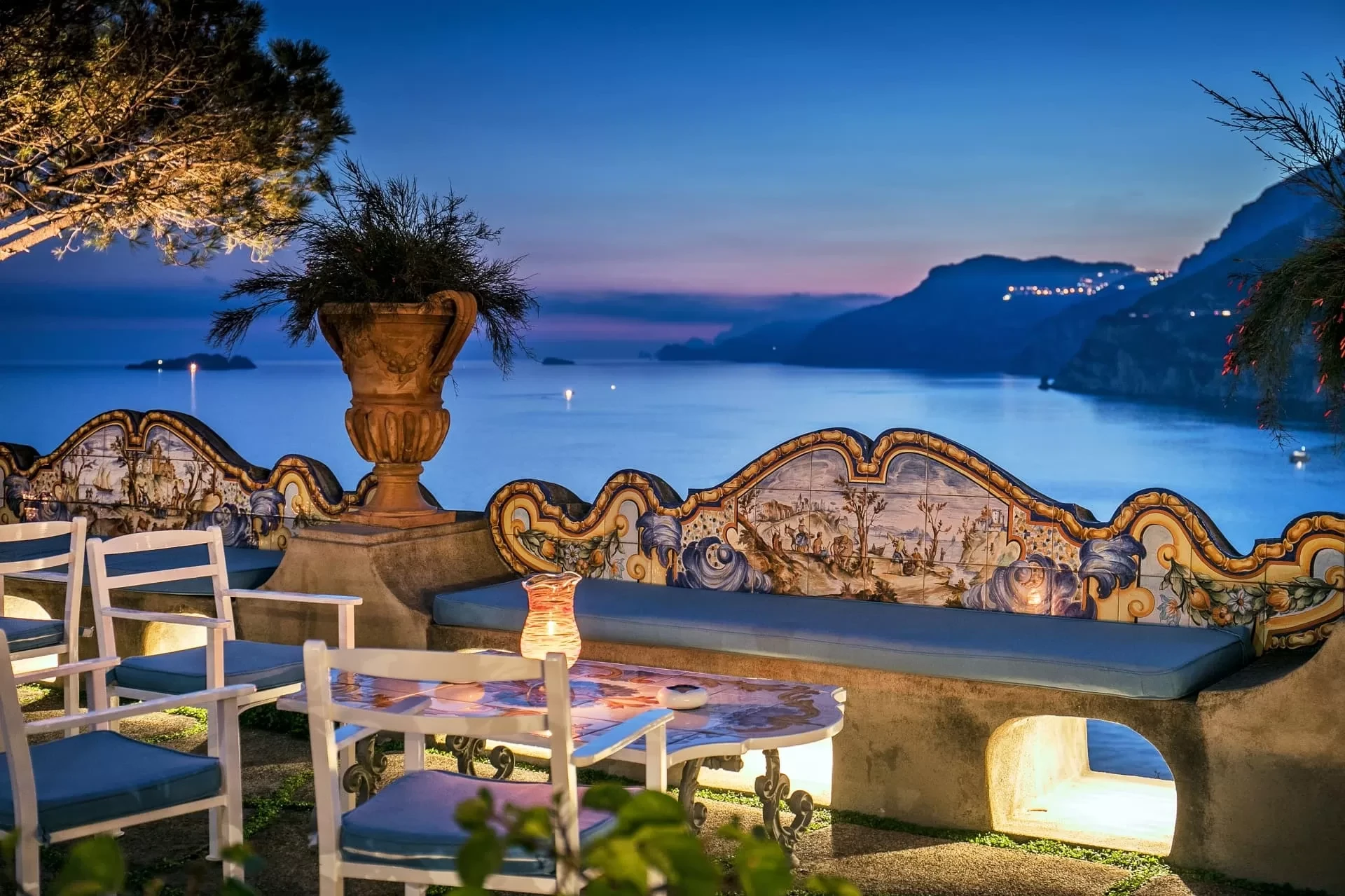 Villa Cora
If you're looking for something very grand, then Villa Cora in Florence could be the solution. This is a very ornate property. It's so luxury it kind of goes beyond luxury – this is how Marie Antoinette would have lived if she'd had the budget.
Villa Cora overlooks the Boboli Gardens on the hills just outside the historic centre of Florence. It was an aristocratic house commissioned by Baron Oppenheim in the 1860s. Villa Cora is dizzying a mishmash of different styles. It has hosted major historic figures, including Napoleon's wife and the composer Tchaikovsky. Villa Cora was established as a Grand Hotel in the 1960s. It's very popular for weddings – grand weddings! Today it's widely considered to be one of the finest buildings in Florence and one of the world's leading independent luxury hotels. The hotel is surrounded by rose gardens. Inside you'll find trompe l'oeil frescoes, crystal chandeliers and parquet floors.
View Villa Cora

Mandarin Oriental
If you're on a leisure or pleasure trip to Milan, Mandarin Oriental is a great choice. It's one of the most recent additions to Milan's luxury hotel scene. Combining Milanese design with Oriental luxury, the Mandarin Oriental offers a luxurious 5-star stay in Milan, the fashion capital of the world. Boasting famous fans, from Dame Helen Mirren to Christian Louboutin, the unrivalled reputation the Mandarin Oriental has for service and attention to detail will have you feeling at home in no time.
You can indulge in the soothing spa treatments that specialise in both Eastern and Western therapies, or even enjoy a two-Michelin starred meal in the hotel's restaurant. Surrounded by 1940s Milanese interior décor, it's hard not to fall for the glamour of the Mandarin Oriental.
View Mandarin Oriental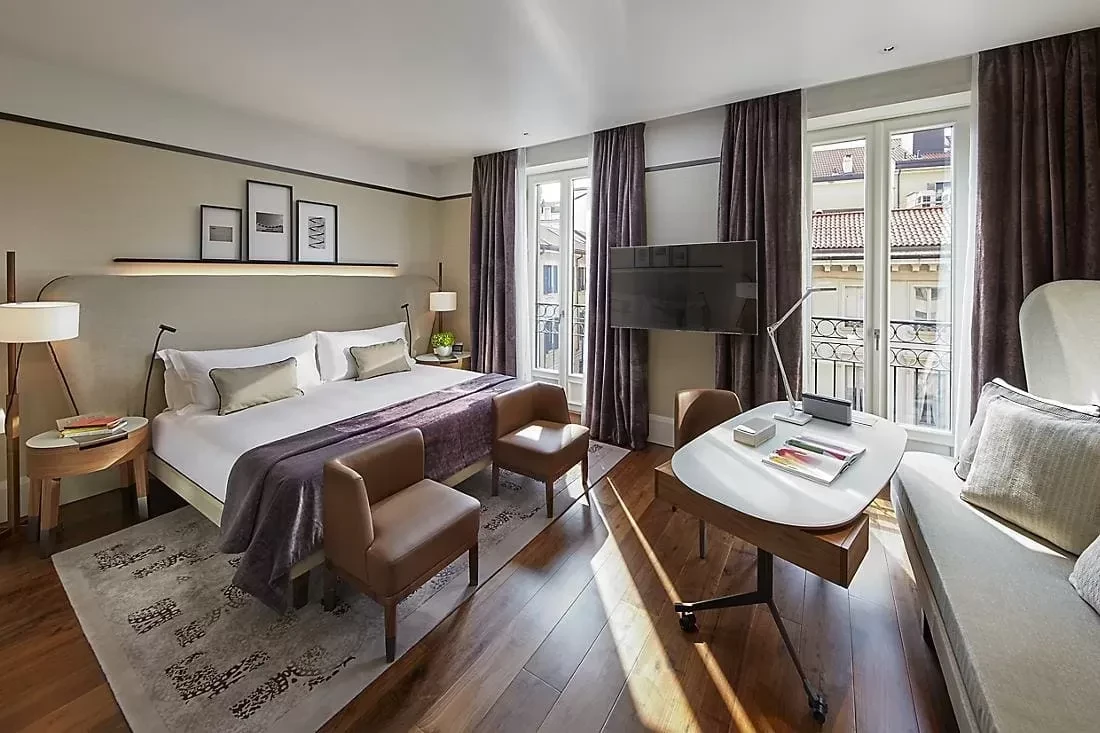 Palazzo Gattini
Matera is one of Italy's hidden gems. It's one of the most ancient cities in the world. Biblical films are often filmed in Matera – it's the closes you'll get to what a city looked like two thousands years ago. That being said, it's very stylish and packed with nice restaurants. Palazzo Gattini is located in Matera's most exclusive district, perched over the city in the shadow of the cathedral. It's where the aristocracy built their homes during the Renaissance. You'll be greeted with panoramic views of the Sassi cave dwellings down below. The caves of this ancient city have been inhabited since the Stone Age.
View Palazzo Gattini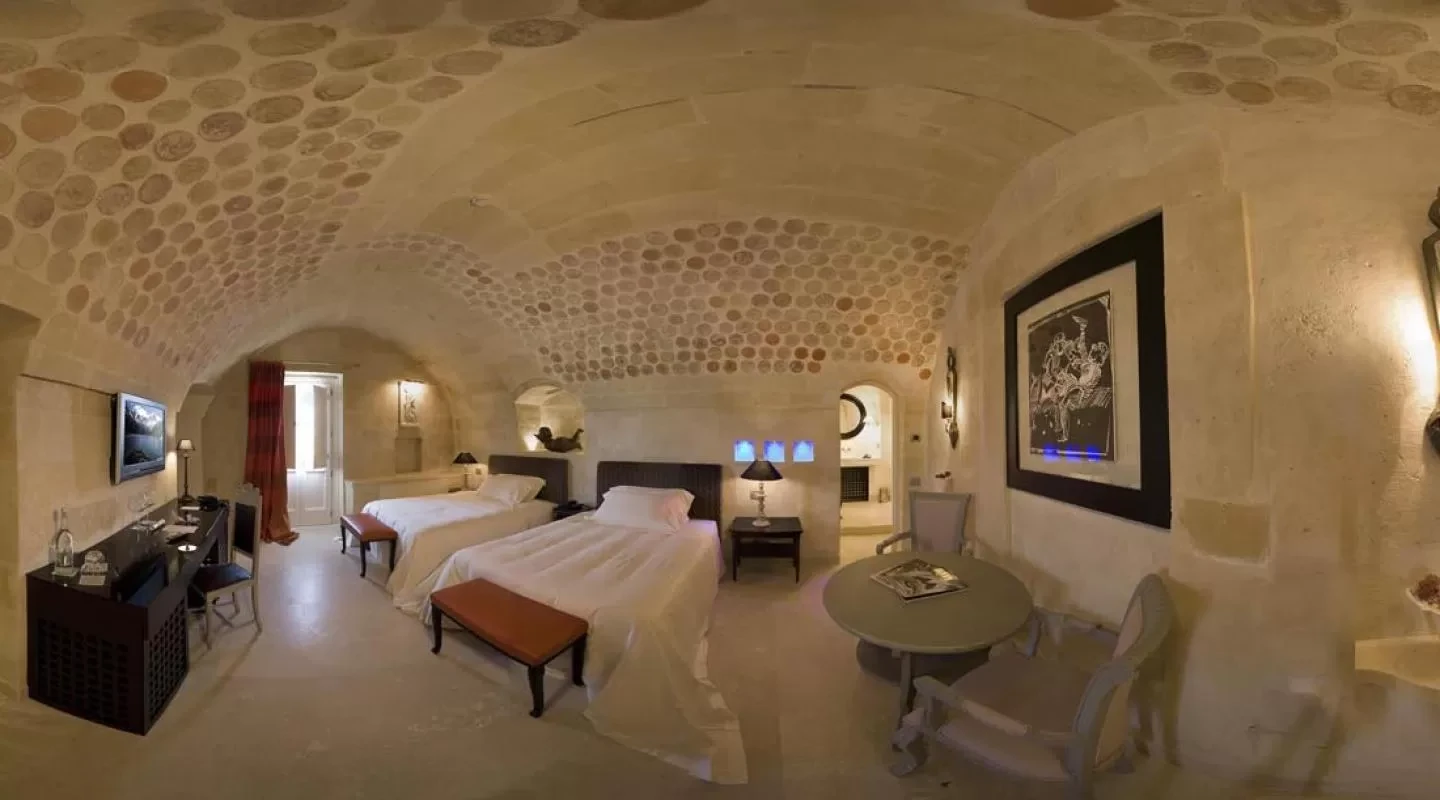 Cipriani, A Belmond Hotel, Venice
Cipriani, A Belmond Hotel is the last word in luxury in Venice. Perched on Giudecca island overlooking the lagoon, you're just around the corner from Piazza San Marco. The hotel was founded by Giuseppe Ciprian in 1958. He also founded Harry's Bar. Dine at the hotel's Michelin-starred Oro restaurant. All the rooms and suites embody the best of classic Venetian design. You'll have views of either the lagoon or the manicured garden. The Olympic-sized pool is one of the only swimming pools in Venice. It's mandatory to have a Bellini on the terrace as you gaze over Piazza San Marco.

Mandarin Oriental, Lake Como
This is the place to be if you're staying around Lake Como. It's a 19th-century villa once inhabited by a grand opera diva with an unimprovable name, Giuditta ("Judith") Pasta. Ms Pasta was clearly a lady of considerable refinement. When it emerged as a hotel it was called CastaDiva Resort, but the property really came to life when it was taken over by Mandarin Oriental.
The decor is chic and contemporary. The wallpaper is even handmade. Mandarin Oriental, Lake Como is also frequented by Hollywood royalty and it has the price tag to match. This is a great choice if you're looking for something romantic and luxurious on a very special occasion. The hotel is located close to the village of Blevio.

We want to ensure you have the best experience with us so we'll keep working on your itinerary until perfect. You will have your own personal dedicated member of our team who will help build the perfect trip for you.
We pride ourselves in the number of clients that are referred to us by our existing customers. Our 5* Trustpilot rating is important to us, so we encourage you to browse our reviews. They speak for themselves and that's why you are in safe hands.