Puerto Vallarta is one of the most popular vacation spots for US travellers. Overlooking Banderas Bay and surrounded by the Sierra Madre, it's an impeccable beach destination. You'll find a huge gay scene in Zona Romantica – it's Latin America's biggest gaybourhood. As LGBT+ Europeans head to Mykonos, LGBT+ Americans head for Puerto Vallarta.
Whether you prefer to call it Puerto Vallarta or simply Vallarta, this destination offers a perfect blend of relaxation and adventure. With its stunning sandy beaches, unique shops, trendy restaurants, and charming streets, Puerto Vallarta is a place where you can unwind and explore at your own pace.
Puerto Vallarta is a haven for those who love the outdoors, with loads of opporunities for wildlife watching.
Don't forget to take a leisurely stroll along the beautiful malecón, where you can soak in the picturesque views and immerse yourself in the vibrant atmosphere.
You can party all night long if you so wish. You can also explore the beaches, go whale watching and sail around the bay. PV boasts Mexico's best culinary scene, second only to Mexico City.
Firmly established as one of Mexico's biggest tourist destinations, PV has many excellent hotels to choose from. You'll find boutique options, all-inclusive resorts and premium luxury. If you're really looking to celebrate, you can even stay in Elizabeth Taylor's old house. Here's our guide to the best hotels in Puerto Vallarta.
Best For Luxury: Hotel Mousai
Hotel Mousai is the only AAA Five Diamond resort in town. It's an unbeatable choice for luxury in Puerto Vallarta. The rooftop bar is world class and it has an infinity pool that seems to touch the sky. An ideal place to enjoy cocktails overlooking the Sierra Madre mountains. It's a thirty-minute cab ride to downtown Puerto Vallarta. Hotel Mousai is also very modern and stylish. You can opt for a suite with a wraparound balcony for special occasions.
View St. Hotel Mousai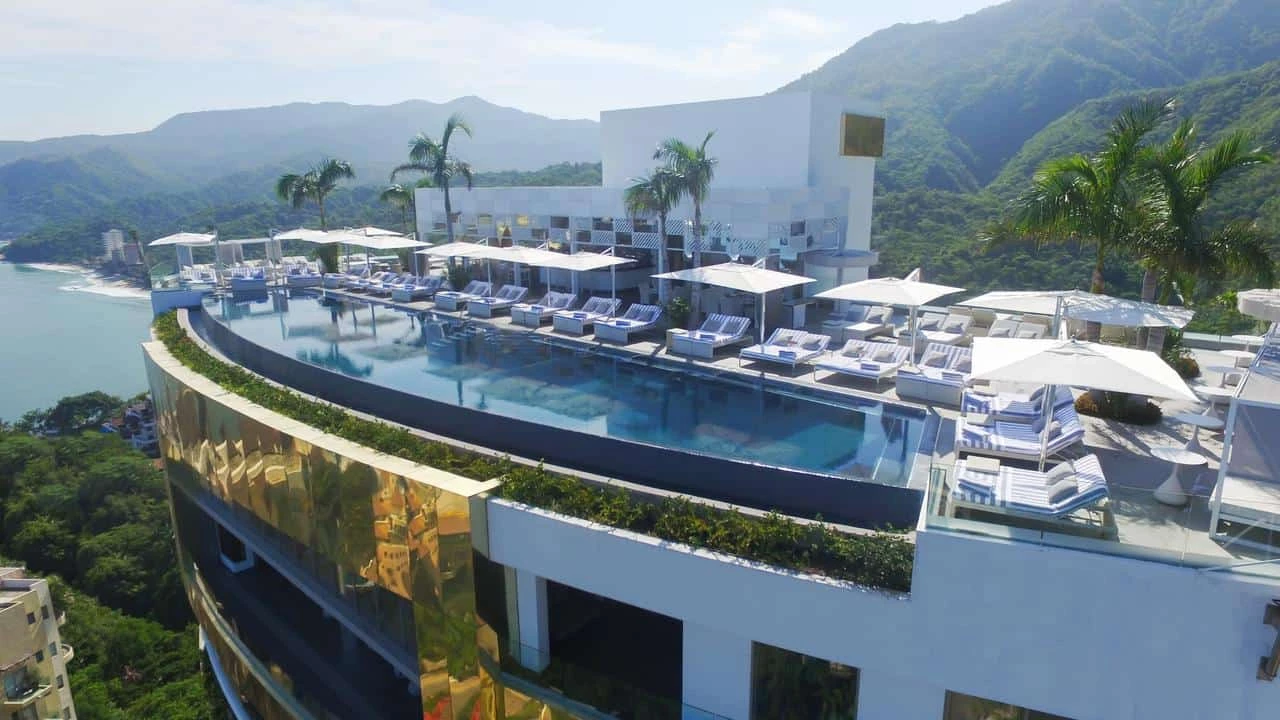 Best for Bucket List: Casa Kimberly
Casa Kimberly is the former home of Elizabeth Taylor and Richard Burton, probably the most glamorous celebrity couple of the last century. They are credited with putting Puerto Vallarta on the map. Burton filmed The Night Of The Iguana in Puerto Vallarta in the 1960s. It was just a small port town back then. The presence of Hollywood royalty elevated the destination. Perhaps that's why it became so gay-popular – the gays couldn't help but follow Elizabeth Taylor! If you have deep pockets, you can stay at Casa Kimberly in Taylor's bedroom and swim in her pool.
View Casa Kimberly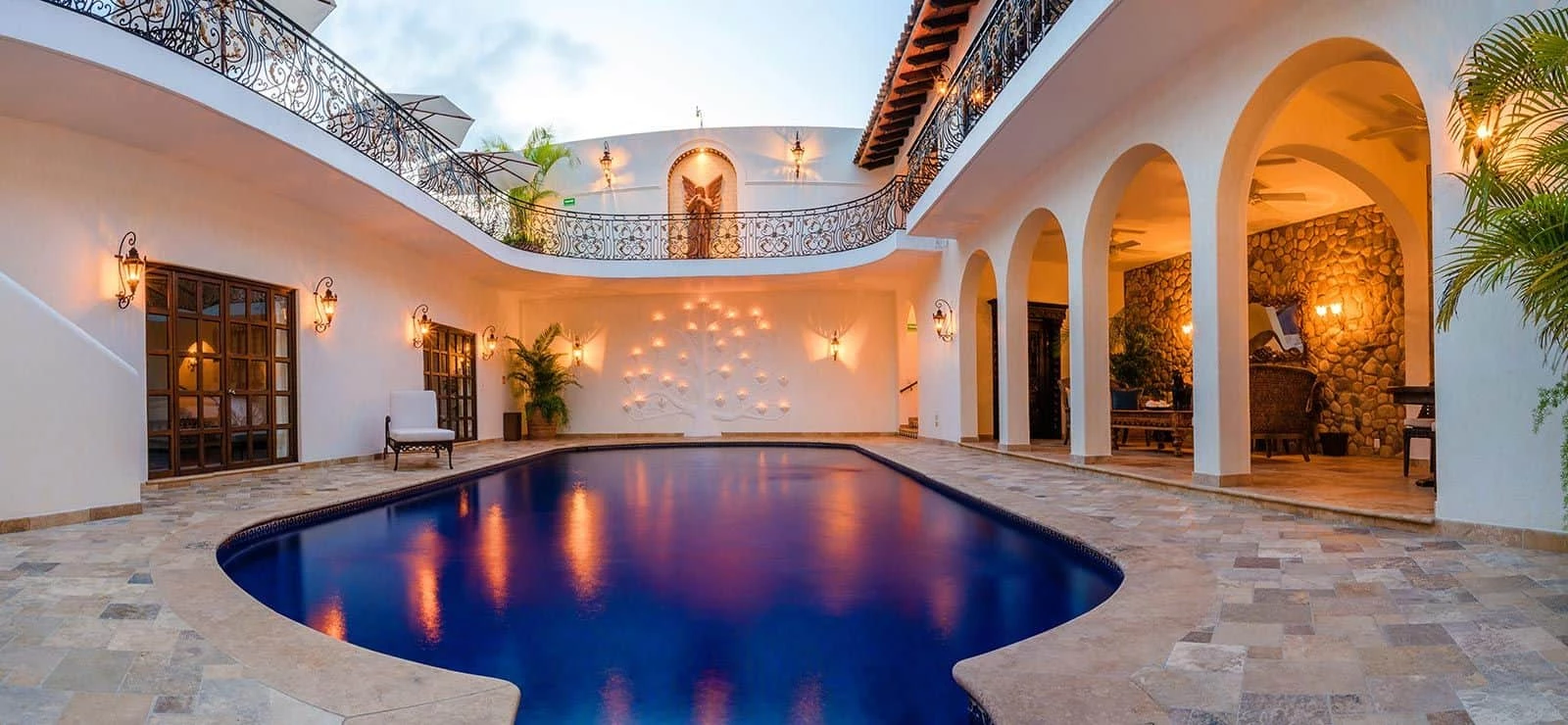 Best for Style: Hacienda San Angel
Just behind the Church of Our Lady of Guadalupe you'll find Hacienda San Angel. It was previously owned by Richard Burton and some of his furnishings are still at the property. This is a suitably dramatic setting for a film star – it has the look of a film set. All 19 of the suites are unique. The central location, history and impeccable style of Hacienda San Angel make it one of the best hotels in Puerto Vallarta.
Like Casa Kimberly, this hotel is full of history and character. Its Hollywood connection gives it quite an edge over its competitors, making it worth the price. Hacienda San Angel and Casa Kimberly are the places to go if you're looking to do PV in impeccable style.

Best For All-Inclusive: The Hacienda at Hilton Puerto Vallarta
This is an adults-only all-suite hotel with excellent all-inclusive options. It has a swim-up bar and wide selection of restaurants. All of the rooms are spacious, modern and offer balconies. The hotel is light and airy. It's one of our favourite places to stay in Puerto Vallarta. It's located in the north hotel zone. You can get a taxi to the centre of town in twenty-minutes. Some of the all-inclusive highlights include on-site 24 hour Starbucks.
There isn't much to see in this particular location, but transport links are easy. The hotel will arrange your cab rides day and night. PV is pretty compact so getting around is very easy. This is a great hotel to come back to after a night of partying in Zona Romantica. You can head to the upstairs bar if you're still feeling up to it.

Best For Hacienda-Style: Casa Velas
Located in the heart of Marina Vallarta you'll find Casa Velas, a distinctly Mexican hotel. It's adults-only and also all-inclusive. The food is especially good and the decor is full of charm. It's a traditional Mexican hacienda with yellow walls and tiled roofs. The suites have the same colour scheme and overlook the gardens. It's just a twenty-minute cab ride to downtown Puerto Vallarta.
Head to the patio lounge for drinks in the evening. The main restaurant is Emiliano, offering indoor and al fresco dining. As PV is so international the cuisine on offer is very varied. You'll find classic Mexican dished along with American and Mediterranean options.

Best LGBT+ Hotel: Almar Resort & Spa
The Almar Resort & Spa is one of the best LGBT+ hotels in the world. It's modern, chic and located right by Zona Romantica. Enjoy sweeping views of Puerto Vallarta from the hotel's Top Bar. Expect live entertainment from drag queens and DJs every night. This an especially popular choice for American LGBT+ travellers. You'll be greeted by rainbow flags upon arrival.
The beach club is connected the resort is sure to have you entertained for many days. It's just over the road and it's right by the gay beach. There is a DJ to spin the tunes and great food and drink to keep you happy. The pool parties are some of the best known in the area and the salt-water infinity pools offer stunning views. Even if you don't stay here be sure to visit The Almar for some drinks.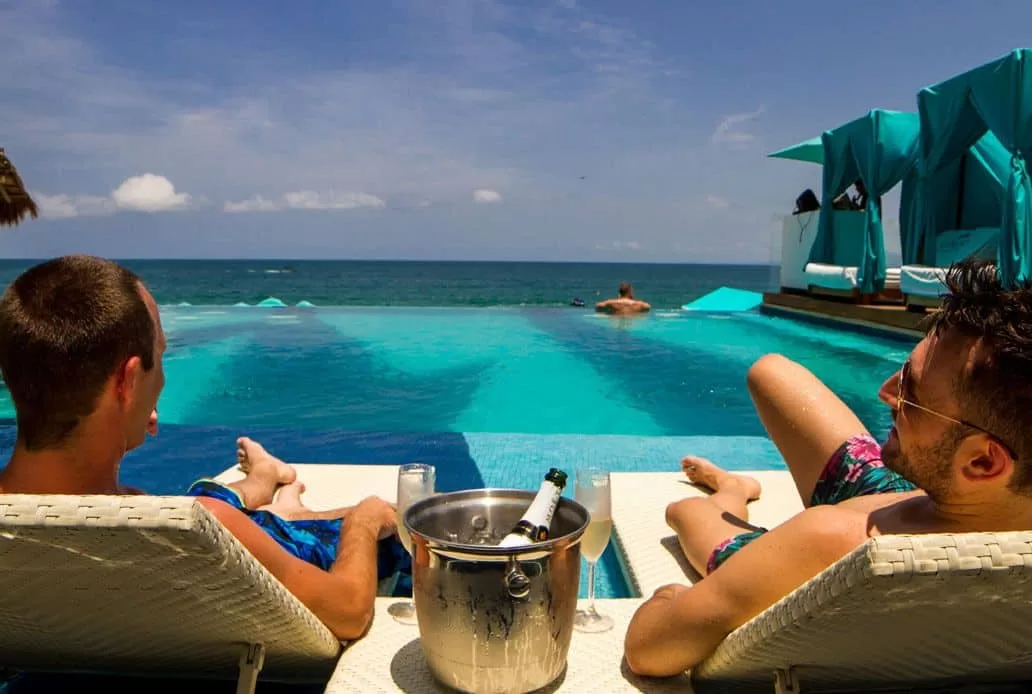 We want to ensure you have the best experience with us so we'll keep working on your itinerary until perfect. You will have your own personal dedicated member of our team who will help build the perfect trip for you.
We pride ourselves in the number of clients that are referred to us by our existing customers. Our 5* Trustpilot rating is important to us, so we encourage you to browse our reviews. They speak for themselves and that's why you are in safe hands.