The red sands of the Wadi Rum desert are otherworldly. It looks like the surface of another planet – many sci-fi movies have been filmed here for that very reason. It's also known as the Valley of the Moon. In Wadi Rum, you can visit the ancient desert city of Petra. You can see Wadi Rum as part of your Jordan itinerary. You can also combine it with a trip to Israel. It's just a short trip across the border.
If you intend to explore Wadi Rum in style, then you must stay at the Wadi Rum Night Luxury Camp. It consists of twenty-five Bedouin tents with king-size beds and hand-made furniture. You'll be "glamping" in the Jordanian desert in the utmost style. The tents are powered by solar energy in the evenings. All of the tents come with private terraces where you can enjoy sweeping views of the mountains. This is a major bucket list experience.
More information
Stay in a luxury tent in the Wadi Rum desert
Set out on a desert safari in a 4×4
Discover some of the most iconic landscapes in the Middle East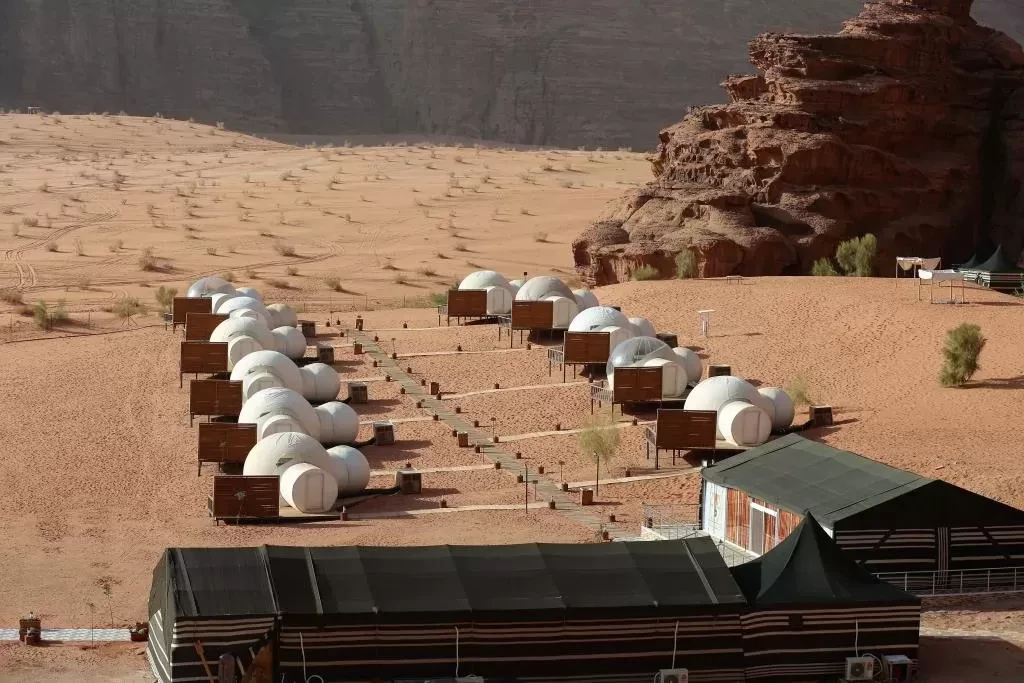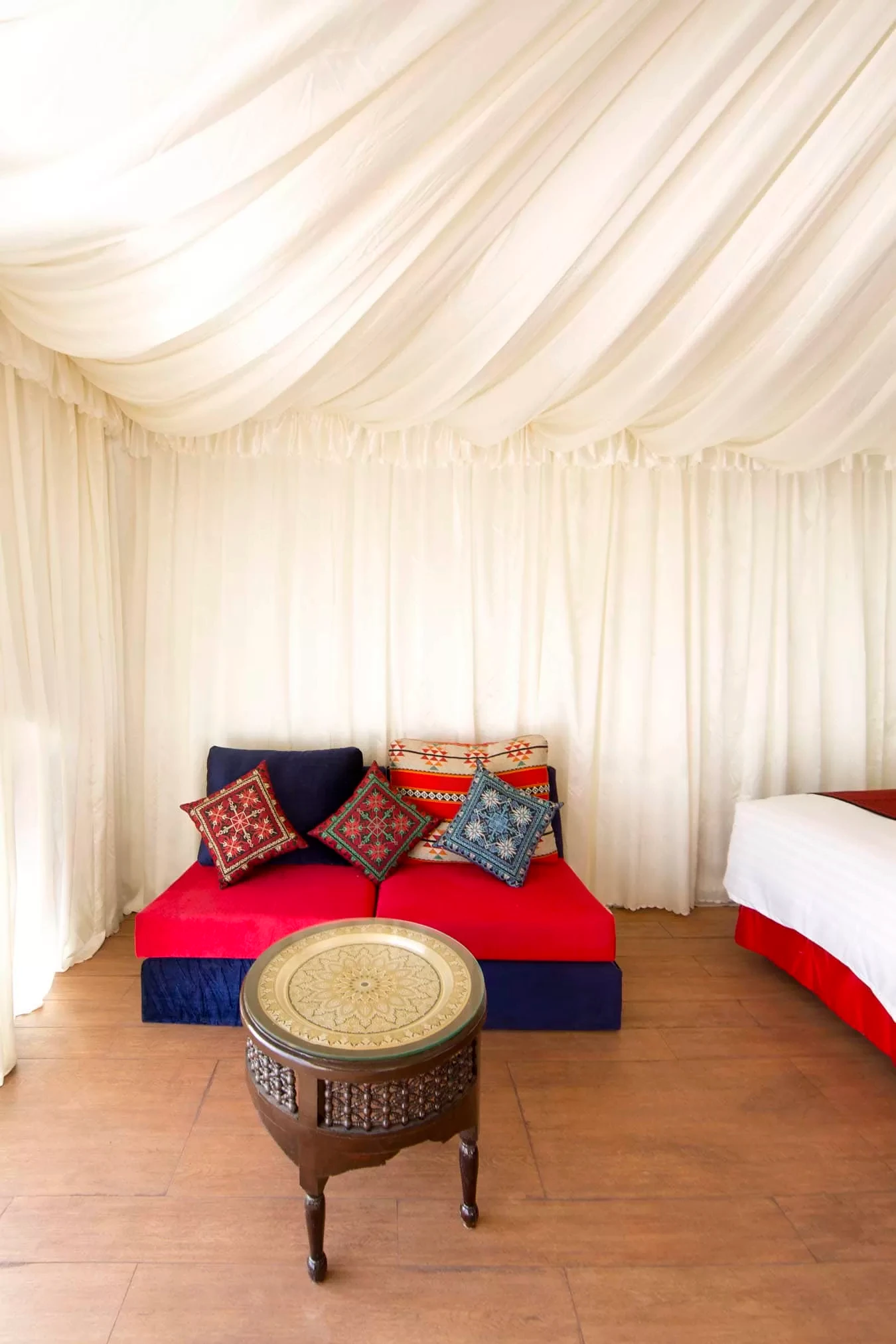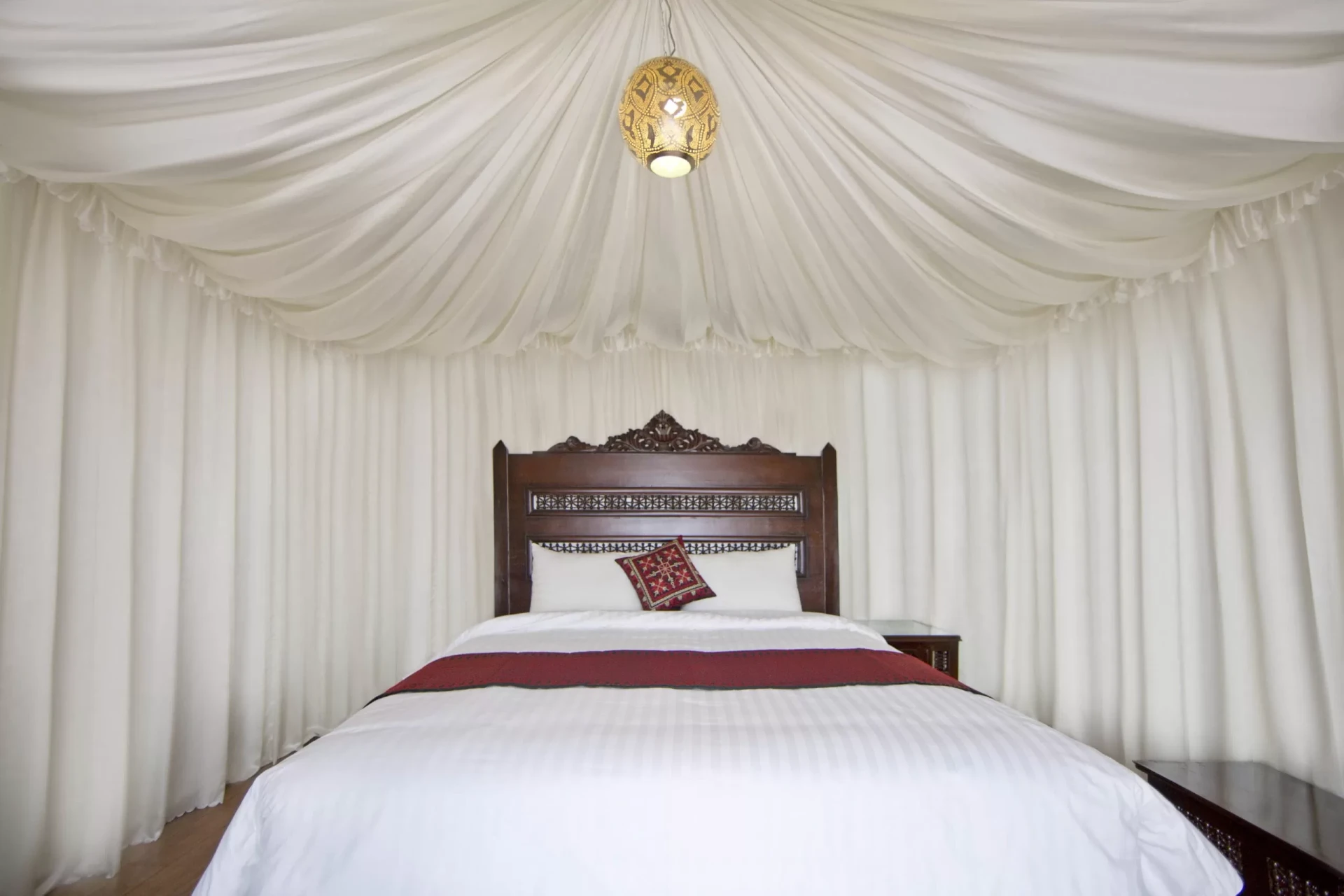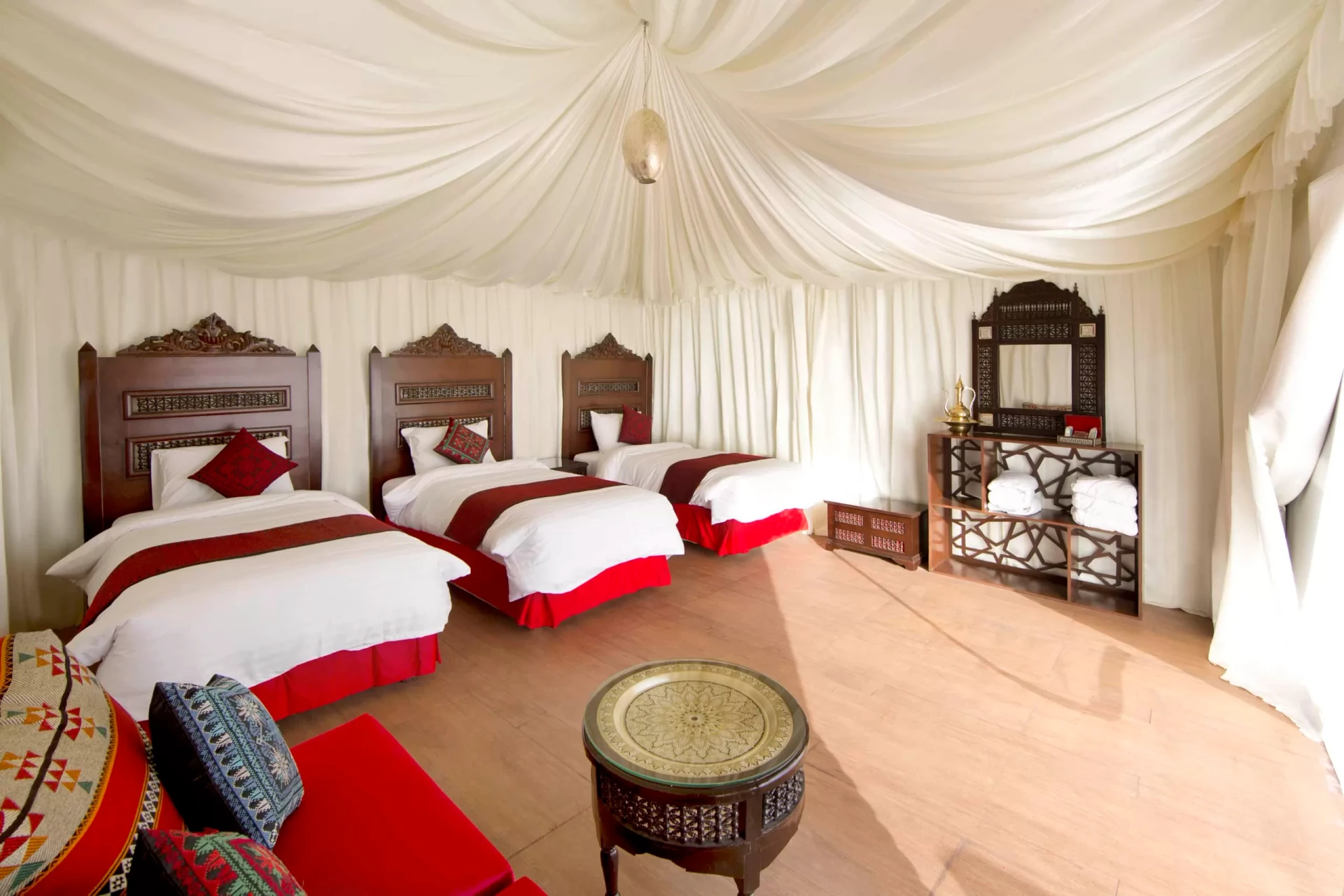 The Triple Luxury Tent has a king-size bed, a double bed and a single bed. Ideal for a family or larger group of friends. It comes with a Bedouin sofa, a private bathroom and a private outdoor sitting area with panoramic desert views.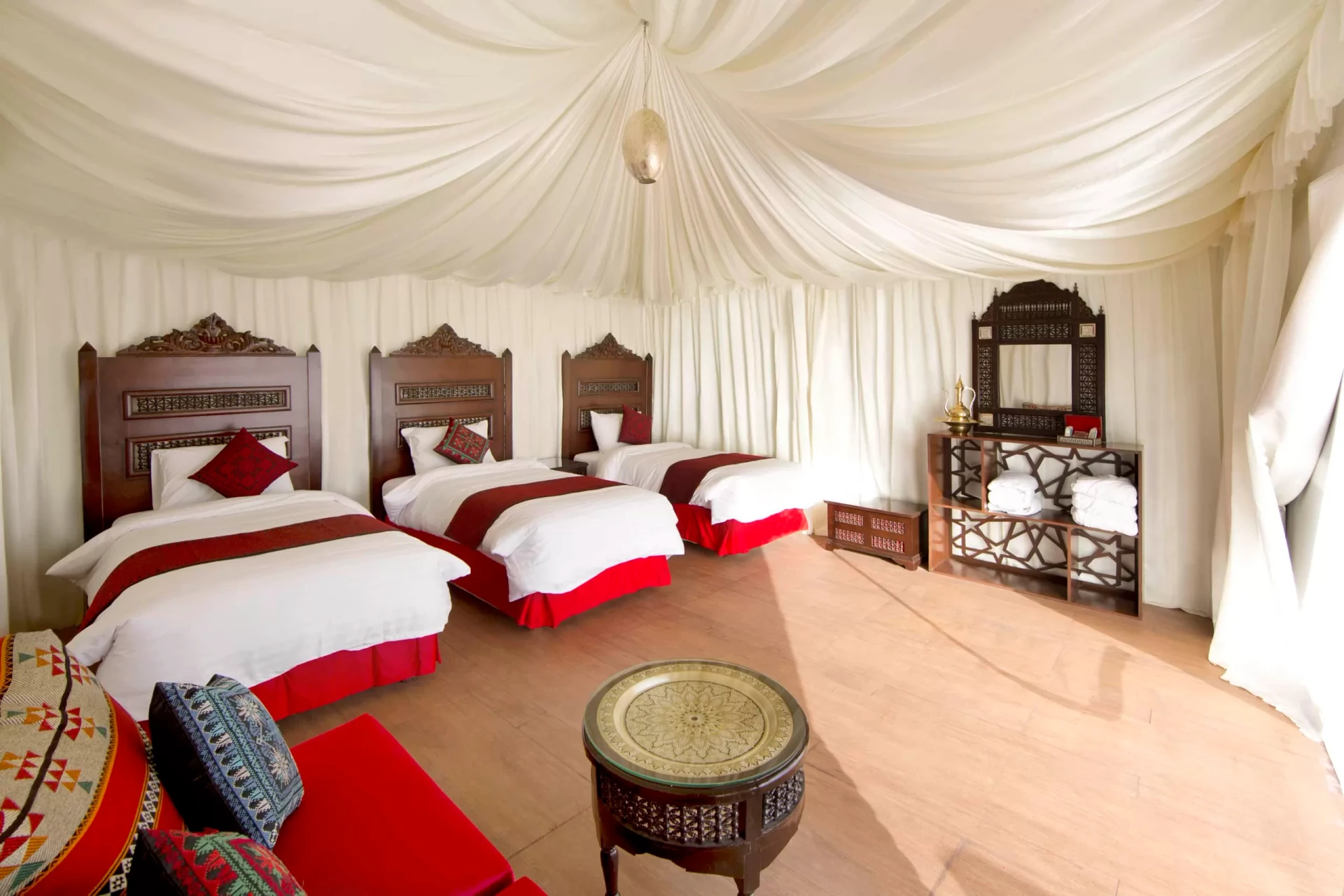 The Twin Luxury Tent comes with two king-size beds, a Bedouin sofa, a private bathroom and a private outdoor sitting area with panoramic desert views.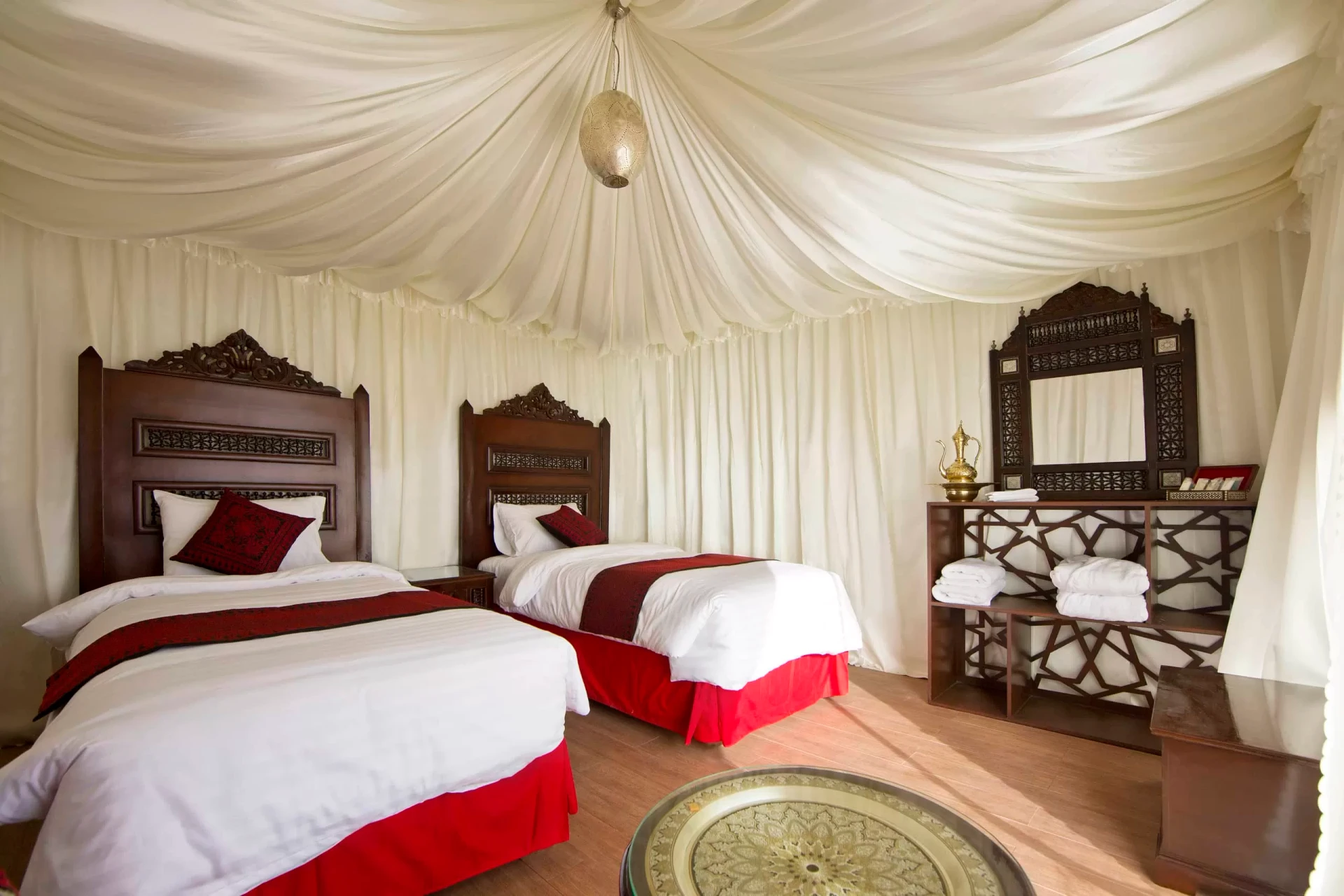 The King Size Luxury Tent is ideal for a romantic getaway. The king-sized bed is truly king-size. Sleeping under a canopy of desert stars is a pretty romantic experience you're unlikely to forget.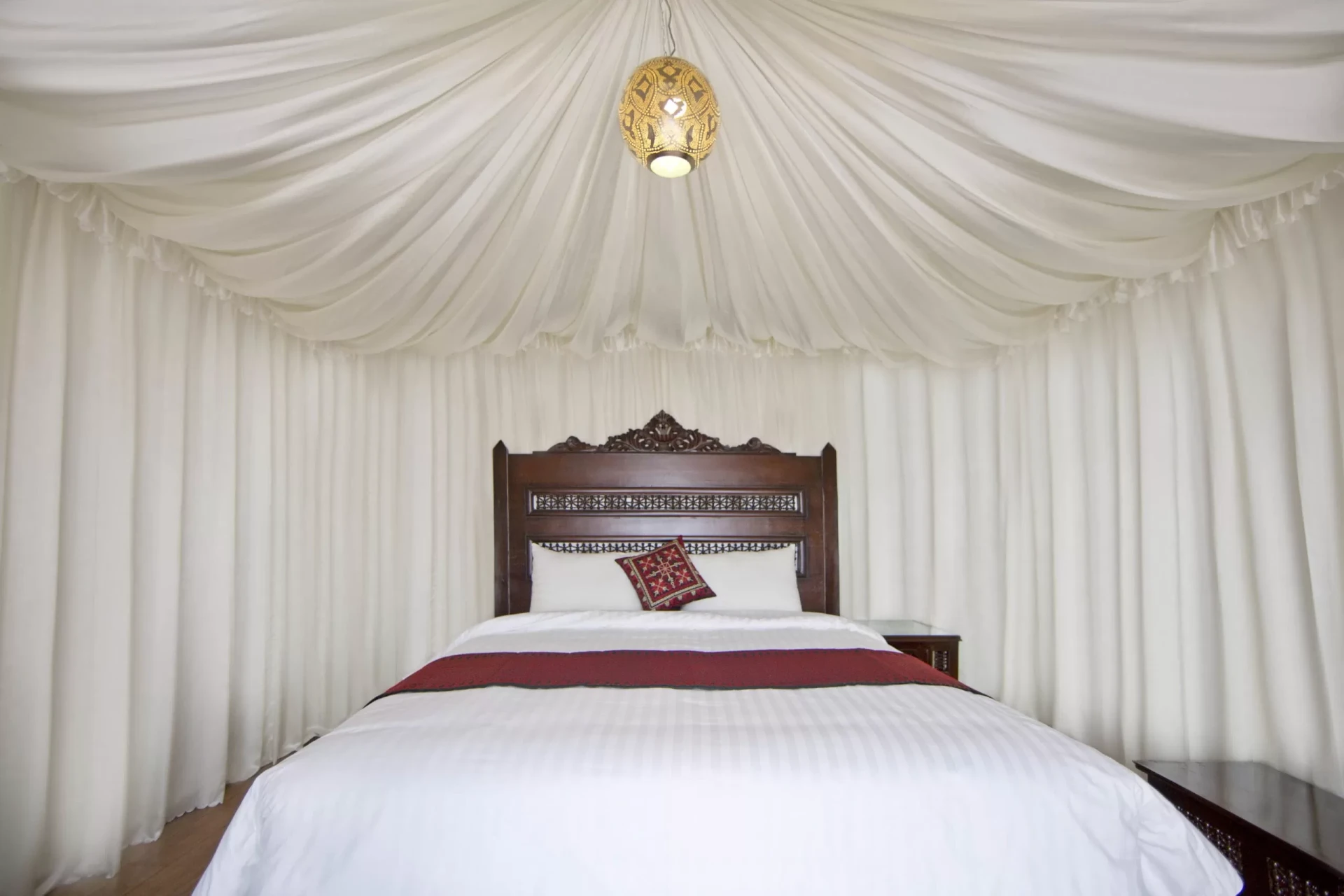 Dining
The in-house chef cooks fresh Jordanian food every day. You can have your meal brought to you in your tent. If you're looking for something a little more romantic, a table can be prepared for you under the stars. You can also head to the dining tent. All meals and soft drinks are included.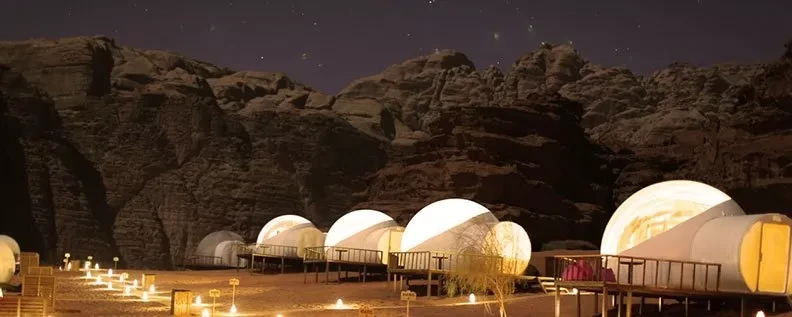 Further Information
You can set out on a desert safari in a 4×4. Only Bedouins are licensed to drive in Wadi Rum, so you'll benefit from the insights of an expert local guide. You'll get the chance to take photos of the amazing landscapes and see the sunset over the desert. Some of these landscapes may look familiar: iconic scenes from Lawrence of Arabia and Prometheus were filmed here. Wadi Rum roughly translates to "valley of sand." The drive from Amman to Wadi Rum takes roughly two-hours.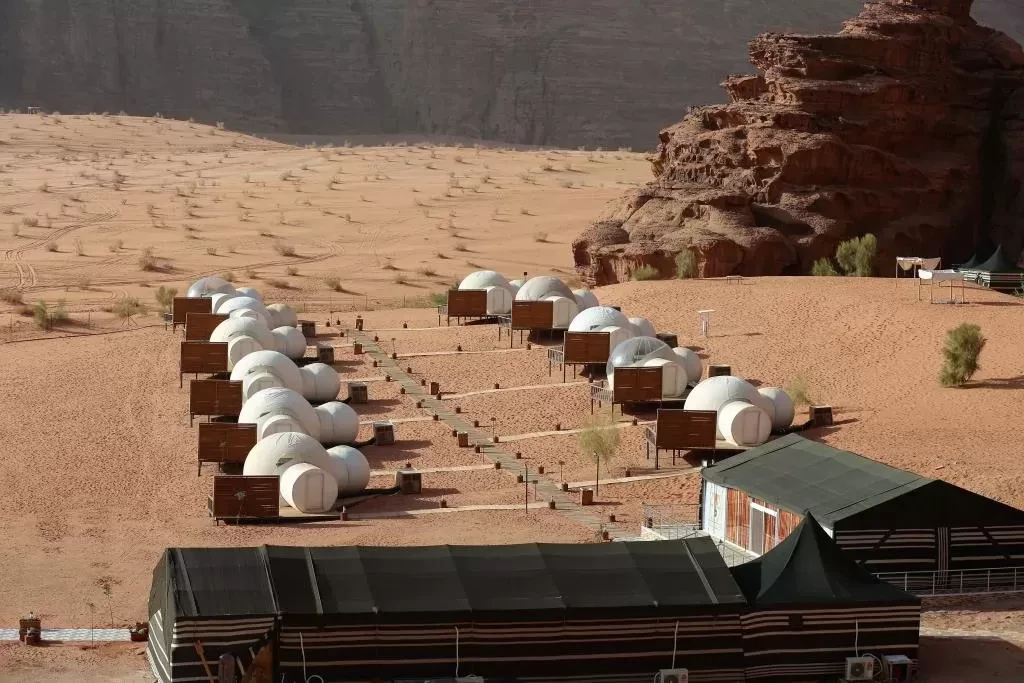 We want to ensure you have the best experience with us so we'll keep working on your itinerary until perfect. You will have your own personal dedicated member of our team who will help build the perfect trip for you.
We pride ourselves in the number of clients that are referred to us by our existing customers. Our 5* Trustpilot rating is important to us, so we encourage you to browse our reviews. They speak for themselves and that's why you are in safe hands.
Make an
enquiry
---
Email
info@outofoffice.com
To start planning your trip, please call us or complete the enquiry form and one of our team of experts will contact you as soon as possible for an initial consultation to discuss your travel plans in more detail.
All the prices on our website do not include flights. We can, of course, arrange them for you.