The red sands of the Wadi Rum desert are otherworldly. It looks like the surface of another planet – many sci-fi movies have been filmed here for that very reason. It's also known as the Valley of the Moon. In Wadi Rum, you can visit the ancient desert city of Petra. You can see Wadi Rum as part of your Jordan itinerary. You can also combine it with a trip to Israel. It's just a short trip across the border.
If you intend to explore Wadi Rum in style, then you must stay at the Wadi Rum Night Luxury Camp. It consists of twenty-five Bedouin tents with king-size beds and hand-made furniture. You'll be "glamping" in the Jordanian desert in the utmost style. The tents are powered by solar energy in the evenings. All of the tents come with private terraces where you can enjoy sweeping views of the mountains. This is a major bucket list experience.
Call our travel experts on
+44 (0)20 7157 1570
Highlights
Cost Category: Gold

Stay in a luxury tent in the Wadi Rum desert
Set out on a desert safari in a 4×4
Discover some of the most iconic landscapes in the Middle East
More Information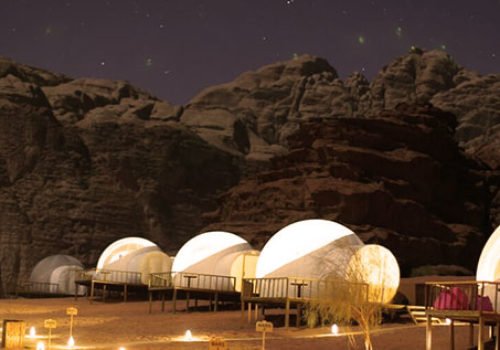 Dining
The in-house chef cooks fresh Jordanian food every day. You can have your meal brought to you in your tent. If you're looking for something a little more romantic, a table can be prepared for you under the stars. You can also head to the dining tent. All meals and soft drinks are included.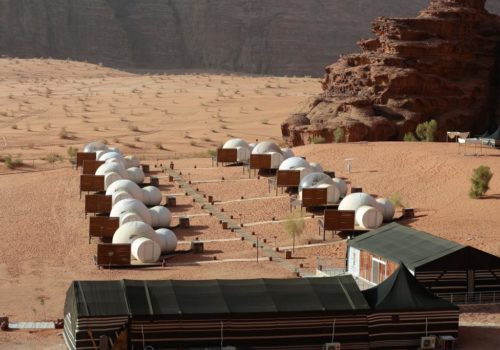 Further Information
You can set out on a desert safari in a 4×4. Only Bedouins are licensed to drive in Wadi Rum, so you'll benefit from the insights of an expert local guide. You'll get the chance to take photos of the amazing landscapes and see the sunset over the desert. Some of these landscapes may look familiar: iconic scenes from Lawrence of Arabia and Prometheus were filmed here. Wadi Rum roughly translates to "valley of sand." The drive from Amman to Wadi Rum takes roughly two-hours.