French Polynesia Weather and Resorts in November
---
It's worth knowing that November is at the very start of rainy season if you're planning on visiting then. Generally, it's still warm with sun, but it comes with the risk of random downpours. Saying that, temperatures are higher than some other months of the year. Also, as it's out of peak season, you'll find quieter beaches and less busy resorts than if you went in the June or July months.
The weather is typically dry and sunny, bar some rainy days. It's plenty warm enough to partake in outdoor activities and enjoy relaxing beach days, but you'll want to have some alternative plans on hand in case the weather turns.
Check out our blog post, The Benefits of Visiting The Islands of Tahiti in the Low-Season, to see why we still think this country is definitely worth visiting out of season.
---
About Out Of Office
Out Of Office is a luxury tailor-made travel company with a focus on delivering exclusivity and inclusivity. Our passion for global adventure is matched only by our deep commitment to delivering exceptional five-star service.
Everything we do is customised and designed especially for you – our valued customer – based on your exact personal requirements. Each member of our team is widely travelled. This means you get access to first-rate travel insights and the best possible advice from our team of luxury travel experts.
---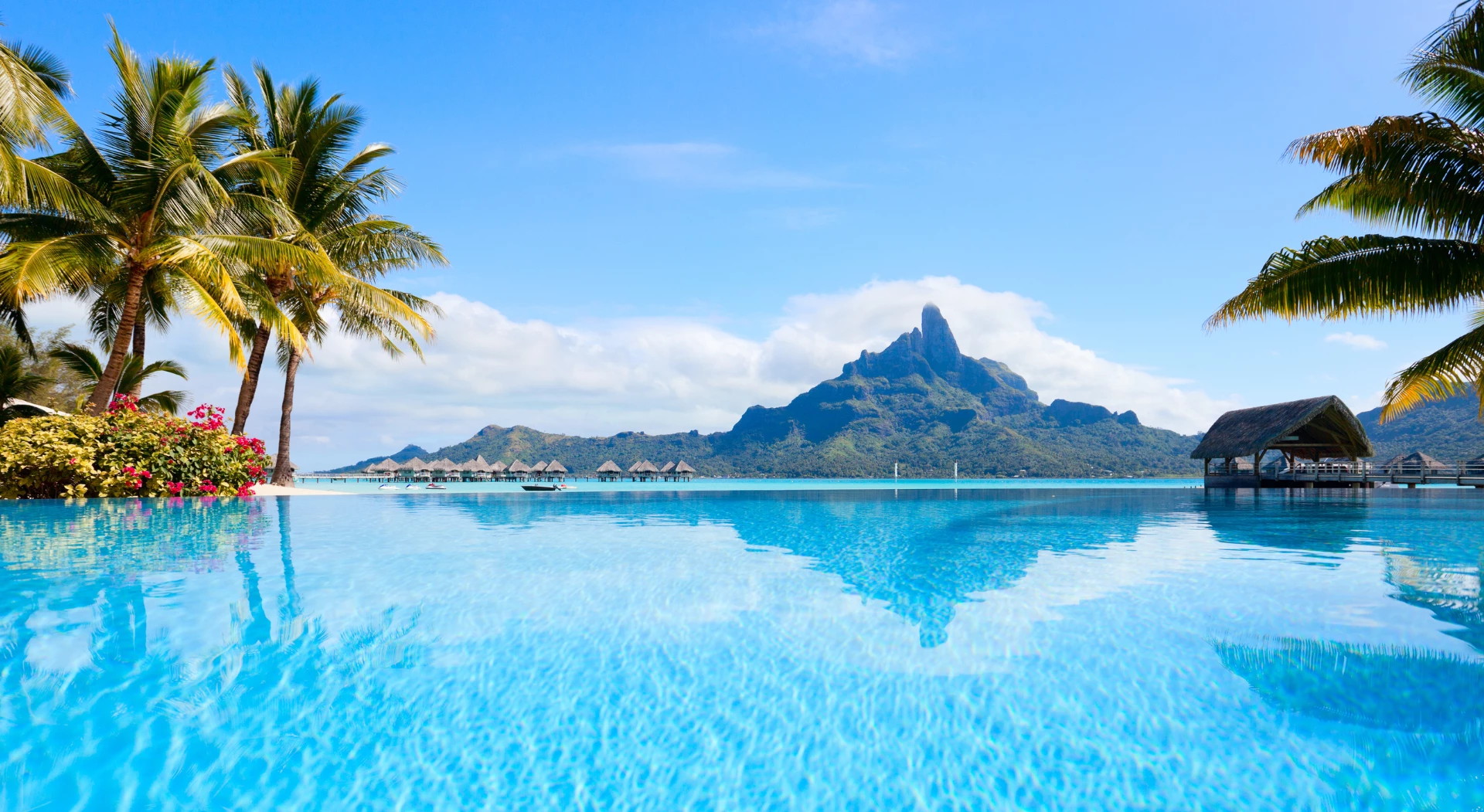 What's the weather like in the French Polynesia in November?
For those seeking warm temperatures, November is an ideal month to visit French Polynesia. However, it is recommended to bring layers for the occasional shower, as well as for the evenings where you'll experience cooler temperatures.
French Polynesia in November experiences fairly warm temperatures with an average maximum daytime temperature of 26.1°C (78.98°F) and a minimum temperature of around 19.7°C (67.46°F) in the evenings.
In November, there's an average precipitation of 110mm (4.3 inches) and around six rainy days. While rain can be present in November, you'll still enjoy 209 hours of sun throughout the month.
Humidity is moderately high during November, with an average humidity level of 77%. With average sea temperatures of around 27.7°C, it is an ideal month to visit for swimming, snorkelling, and scuba diving.
What's the best resort in French Polynesia in November?
If you're looking to enjoy a peaceful trip in November, French Polynesia is a great option. Let us help you book a luxurious resort now and start planning your relaxing getaway to this little slice of heaven.
We'd recommend a stay at the The Brando, one of the top resorts in the area is located on the private island of Tetiaroa, just north of Tahiti. This resort offers the ultimate in luxury, combining elegant accommodations with pristine surroundings. The island is surrounded by a beautiful lagoon, perfect for activities like scuba diving and snorkeling, where you can encounter a variety of wildlife including sea turtles, manta rays, and exotic fish. Despite its luxurious amenities, the resort still maintains an authentic feel that reflects the rich culture of French Polynesia. Guests can choose from one, two, or three-bedroom villas, all situated right on the beach. The Brando, as the resort is called, has hosted notable guests such as Barack Obama and Pippa Middleton, and its exclusive access via private seaplane ensures an intimate and secluded experience.