---
Santorini is one of the most romantic and exclusive destinations in Europe. It's home to a great selection of luxury boutique hotels. You won't find many sprawling resorts here. This volcanic island lends itself to a more intimate, authentically Greek experience.
Cave hotels are unique to Santorini and a handful of other destinations. You may be wondering what a cave hotel is. They are, quite literally, hotels built within caves. You won't need to put a plastic helmet on and enter through a cave mouth while waving a flashlight. The hotels we've chosen are all very luxurious. They tend to be partially immersed into the caves, merging seamlessly with the natural environment. The best cave hotels in Santorini combine rustic charm with modern amenities and classic Aegean design. Oh, and swimming straight from your cave room to the infinity pool is one of the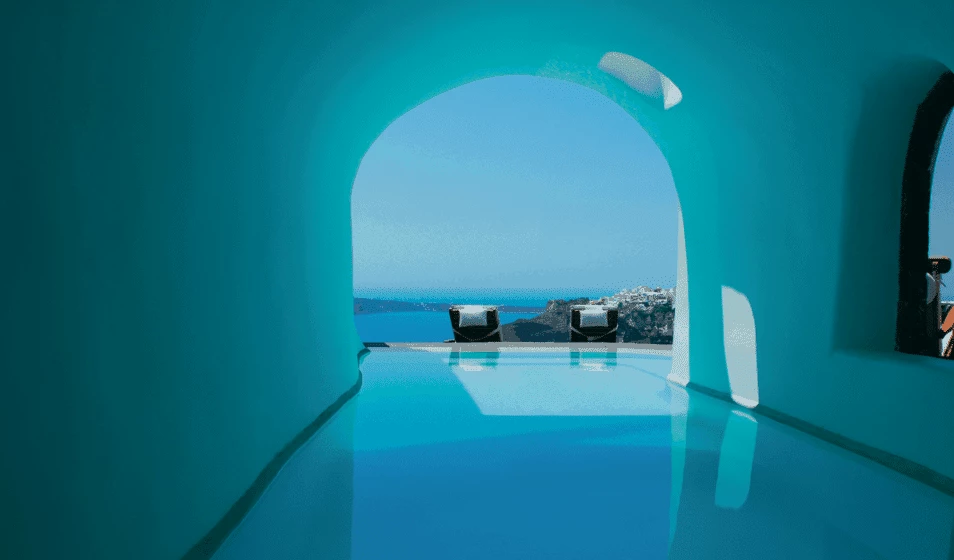 ---
About Out Of Office
Out Of Office is a luxury tailor-made travel company with a focus on delivering exclusivity and inclusivity. Our passion for global adventure is matched only by our deep commitment to delivering exceptional five-star service.
Everything we do is customised and designed especially for you – our valued customer – based on your exact personal requirements. Each member of our team is widely travelled. This means you get access to first-rate travel insights and the best possible advice from our team of luxury travel experts.
---
Perivolas
Perivolas opened in 1983. It's credited with helping to put Oia on the map. The hotel has been run by the same family since it opened. The infinity pool is one of the best on the island. Some of the rooms come with private pools. The suites are carved into the cliff overlooking the Aegean. Located at the edge of Oia, this hotel is very private. You can stay in a deluxe suite carved into a cave – this suite was once the home of a local winemaker. This is one of the most appealing things about cave hotels: they merge harmoniously with the natural environment.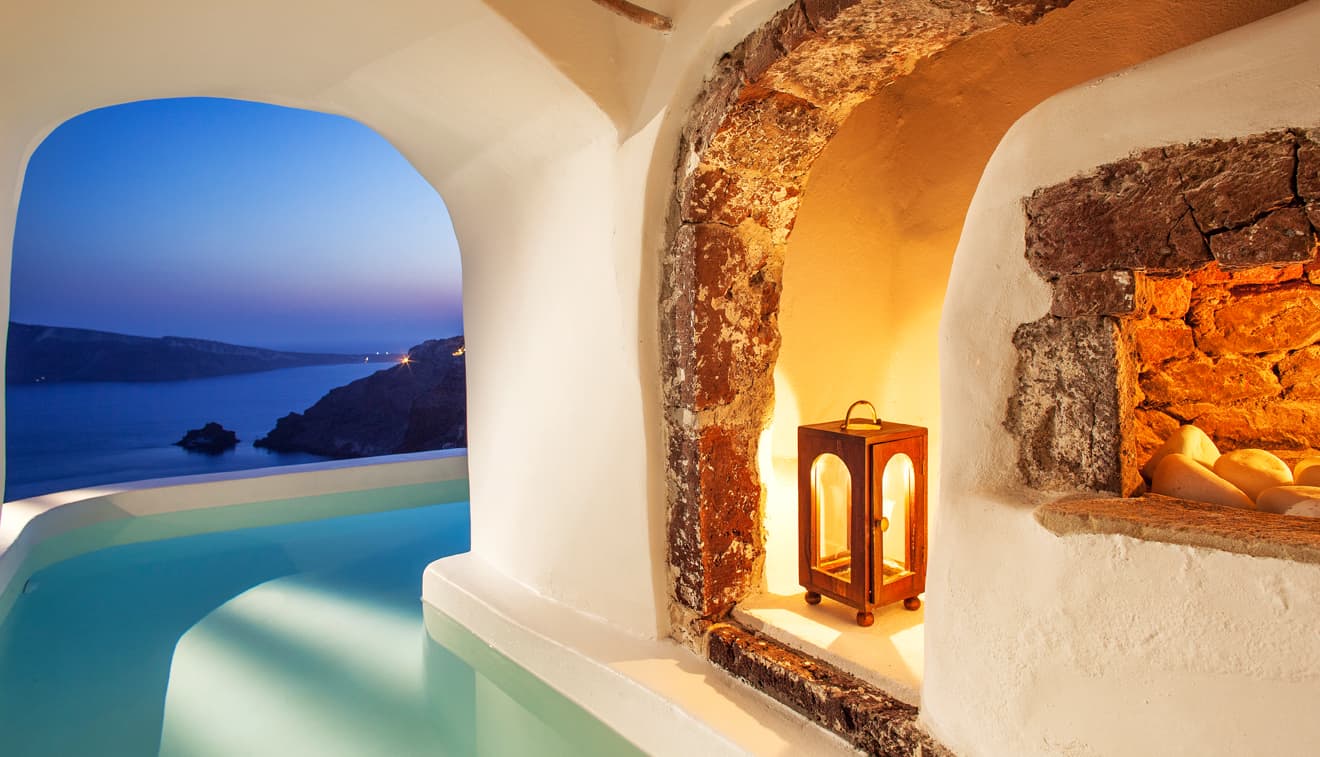 Canaves Oia Suites
One of Santorini's most iconic properties, Canaves Oia Suites is a luxury property with stunning suites, many complete with their own private pools. As with some of the rooms at Perivolas, Canaves Oia was a traditional winery in the 17th century. This luxury cave hotel has been carved into the cliff face. Santorini architecture is synonymous with this type of property. Expect minimalist design, large open spaces and private plunge pools with beautiful views directly into the Aegean Sea and the famous Caldera.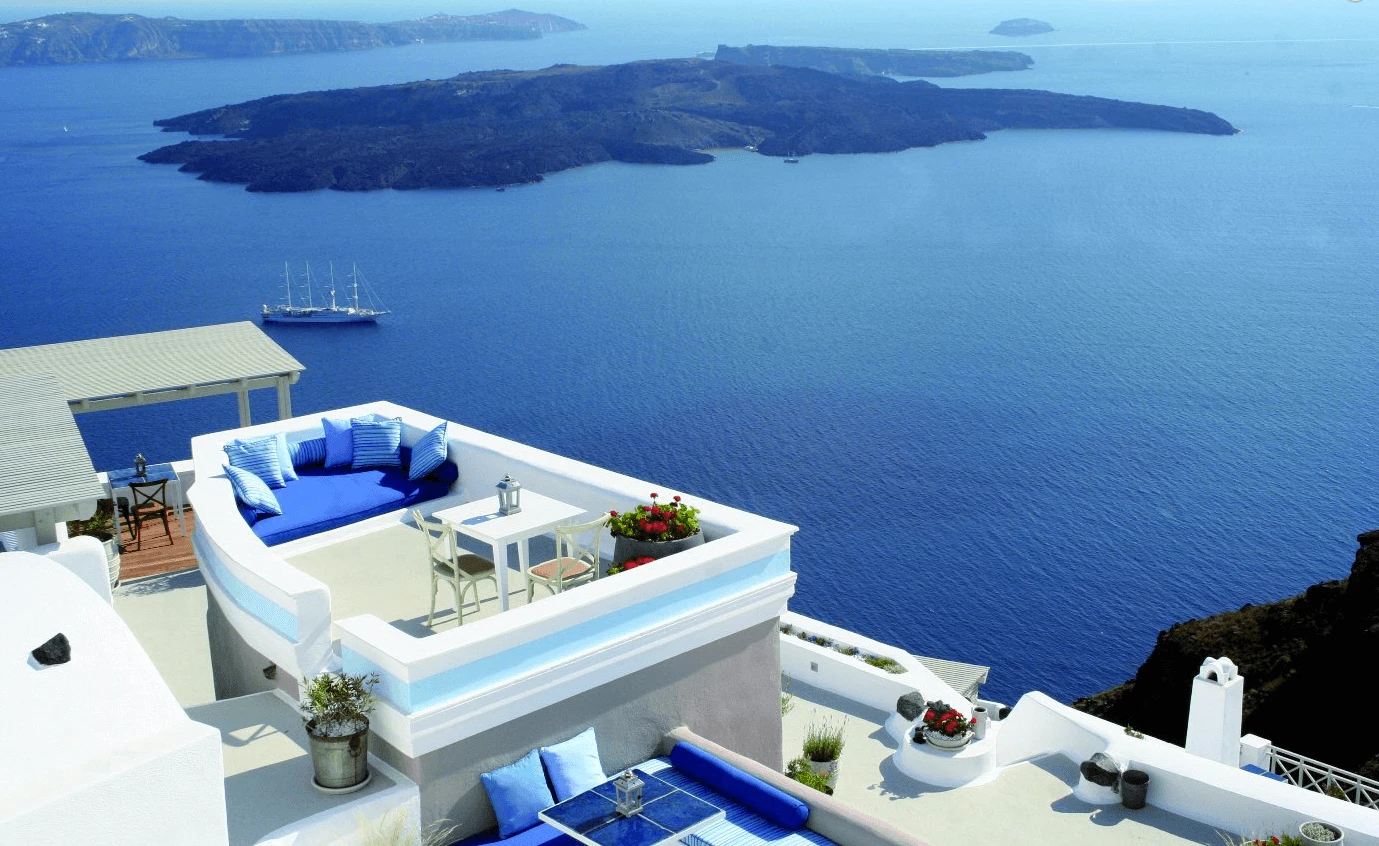 Iconic Santorini
Iconic Santorini is a stunning cave hotel located on the rim of a volcanic cliff. It's right by the scenic village of Imerovigli and a short drive to the busy streets of Oia. Iconic Santorini has been named as Greece's best boutique hotel several times in numerous awards. It's located in the quiet village of Imerovigli. Iconic Santorini is comprised of 19 cave suites. White steps wind around the property, leading you to the suites, the large pool, and offering sweeping Aegean views wherever you look. Classic Greek breakfast served every morning on your terrace.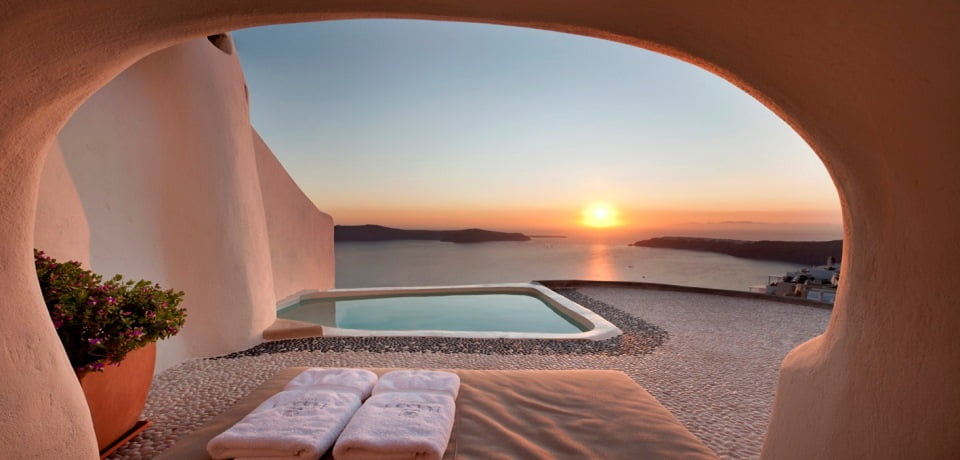 Kapari Natural Resort
Escape to Kapari Natural Resort, a secluded sanctuary perched along Santorini's fabled caldera. At Kapari, traditional design and modern luxury intertwine, transporting guests through time and space. Whitewashed cave dwellings blend seamlessly with the volcanic cliffside, epitomizing the island's iconic architecture. Step inside the restored interiors to discover indulgent amenities – from private infinity pools to stone spas. Savor the panoramic coastal views from your private veranda as the Aegean Sea sparkles below.