Kyma is Greek for 'wave', and equally the last word in sophisticated hospitality on Mykonos. This 5-star haven of luxury soars high above Mykonos town. A strikingly beautiful and intimate 5-star member of Design Hotels has cultivated a loyal jet-set following that prizes not only the world-famous views of the windmills and Little Venice, but the warmth of its hallmark service, cool ambience and beautiful bones. Neither too trendy nor too traditional, Kyma is a place for true originals. It hits the right note between laid-back luxury and meticulous attention to detail – revealing a world of sublime experiences, lush gardens, panoramic views, private terraces, and art-filled spaces that come alive in contrasts of marble and wood.
More information
Butler Service
Free Wi-Fi
Refreshments on arrival
Luxury airport transfer
Laundry service
Yacht and helicopter hire
Leisure activities
LGBT Rights in Greece
The state of LGBTQ+ rights has made significant progress in recent years in Greece, although hardships and inequalities still persist in areas outside of the major cities. The country has undergone a widespread legal and societal transformation that has begun to improve the rights and protections for LGBTQ+ individuals.
When it comes to legal advancements, Greece decriminalised same-sex sexual activity in 1951, and in 2015, the Greek Parliament passed a law that recognised civil partnerships for same-sex couples, granting them legal recognition and many of the same rights as married heterosexual couples. However, marriage equality has still not been achieved, as same-sex marriages are not legally recognised.
The legal system in Greece prohibits discrimination on the basis of sexual orientation in employment and certain other areas. However, LGBTQ+ individuals continue to face discrimination and social stigma in various aspects of their lives. Homophobic and transphobic attitudes persist in some parts of society, especially in more remote and rural areas.
On a positive note, Athens, the capital city, has a vibrant LGBTQ+ community with a thriving nightlife scene, with an annual Pride parade that attracts thousands of participants from across the globe. LGBTQ+ organizations and advocacy groups in Greece actively work to promote equal rights and social acceptance.
Though LGBTQ+ travellers can enjoy visiting all areas of Greece's diverse landscape, the gorgeous island of Mykonos is a particular favorite amongst the LGBTQ+ community. In Mykonos, you'll find a plethora of gay-focused bars and clubs as well as some of Europe's most beautiful gay beaches.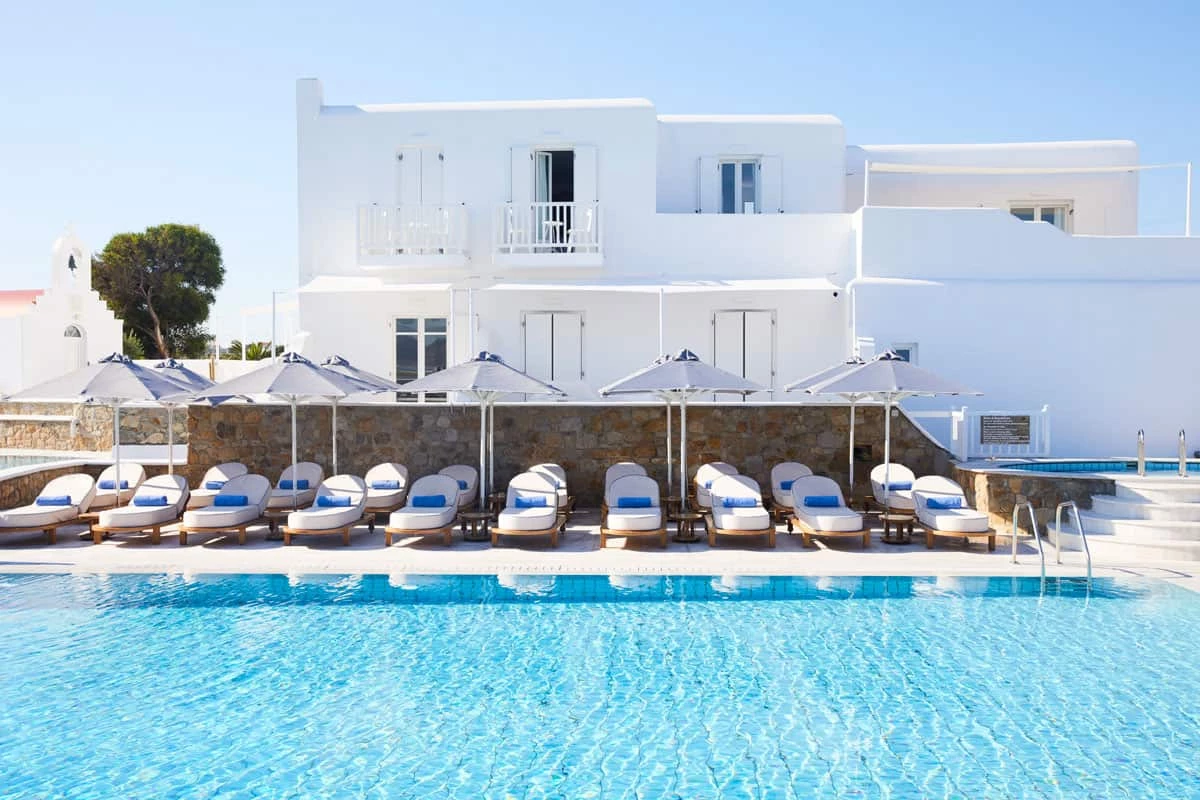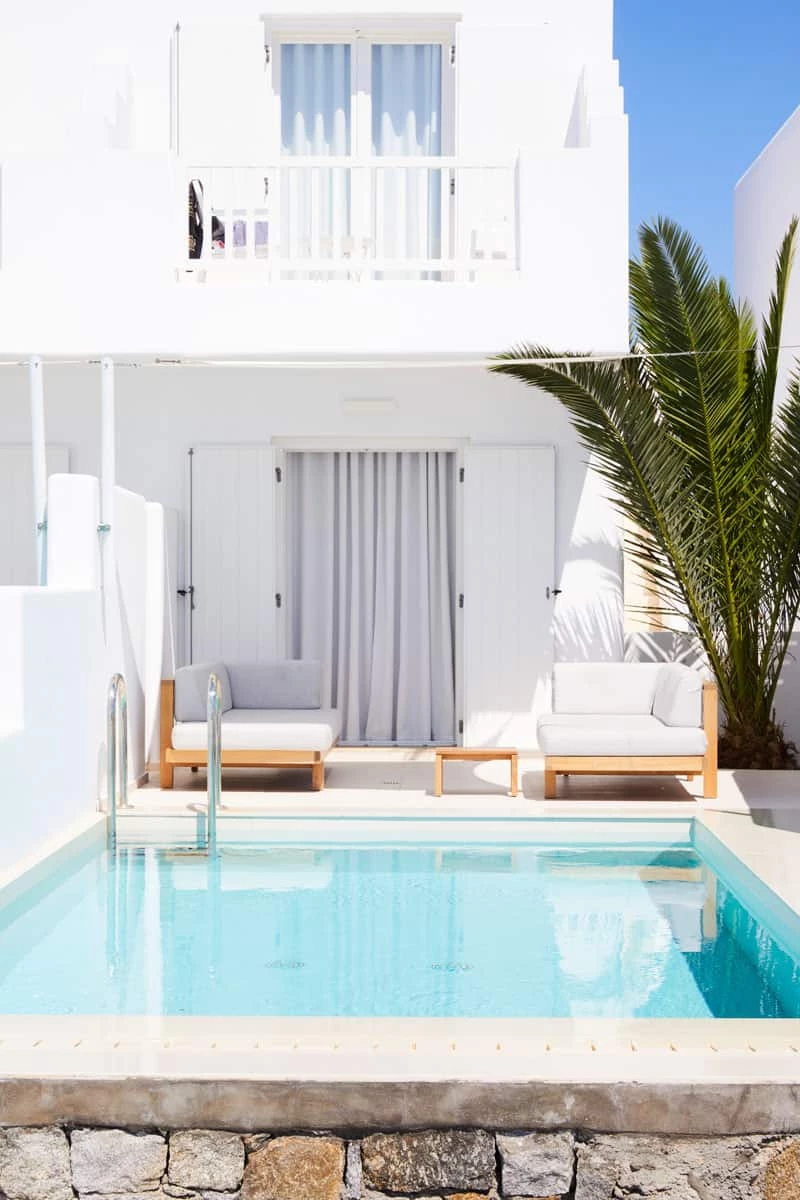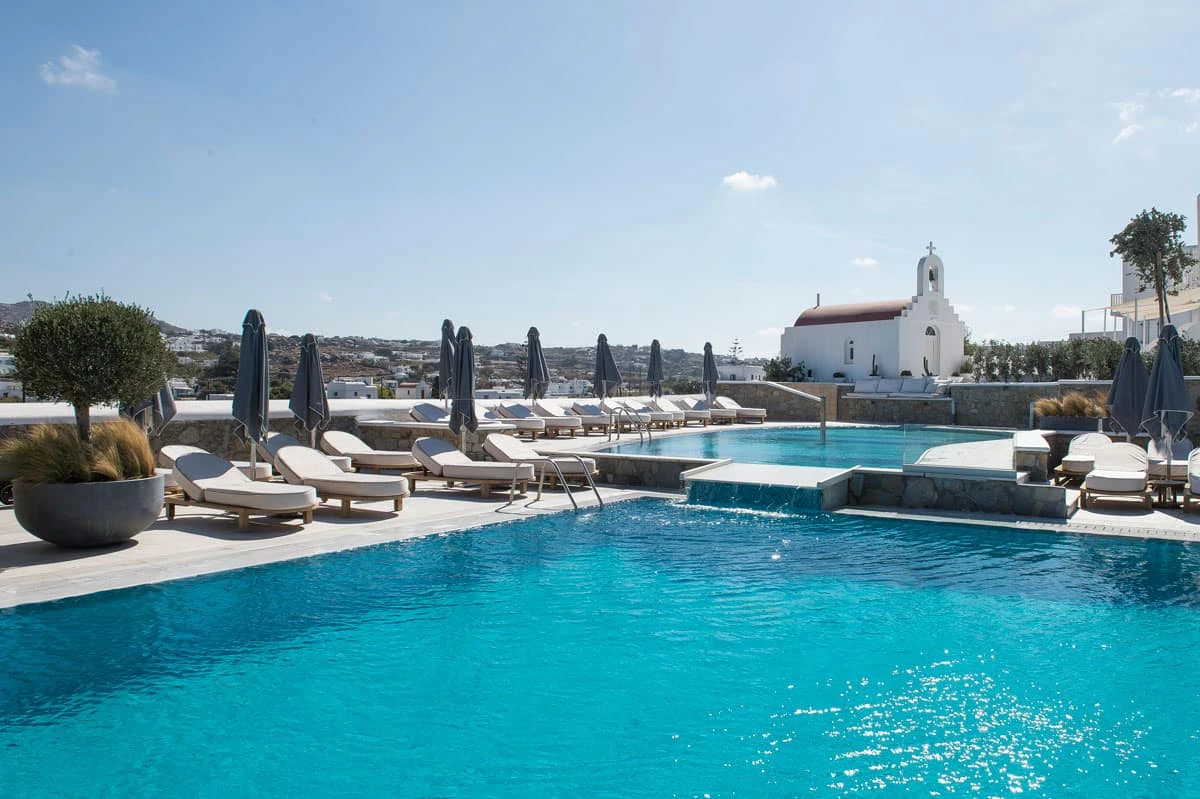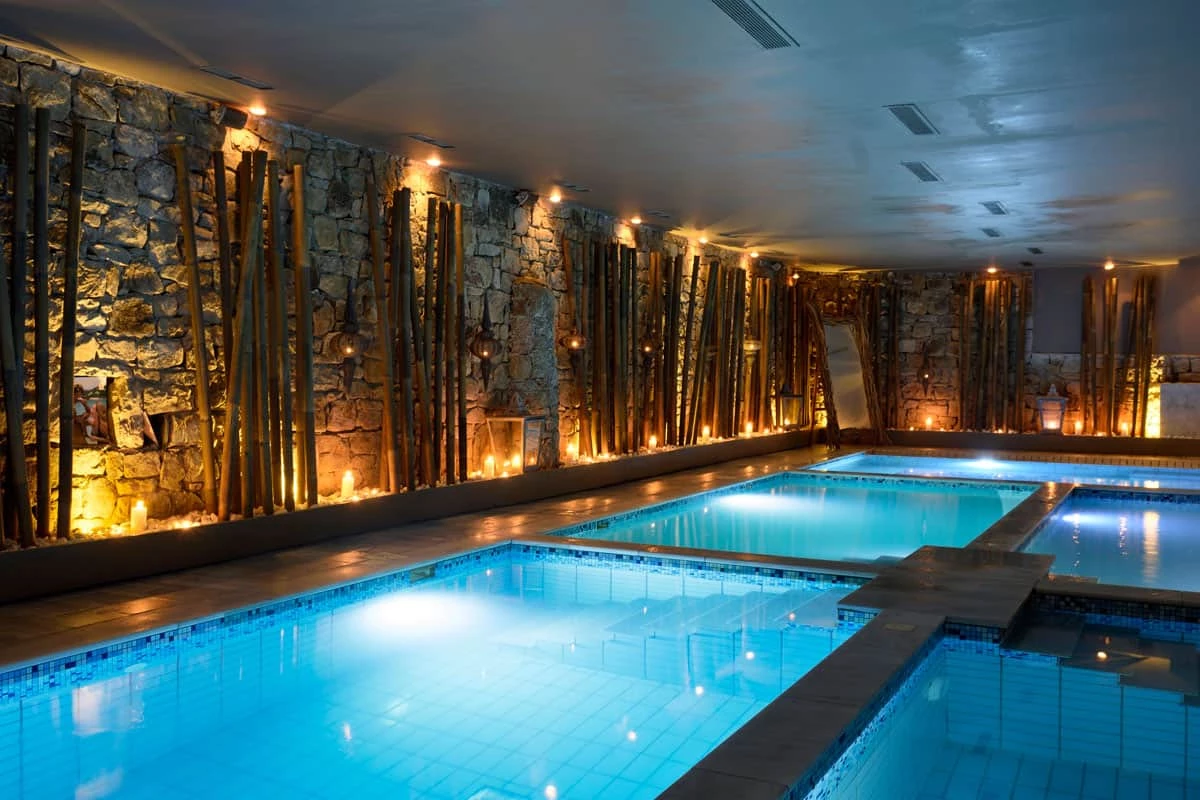 Bright and well-conceived, this 26m2 room is fashioned in graceful contemporary style with exquisite materials, designer furniture and lighting, and an abundance of white linen. An excellent choice for a genuine Myconian experience.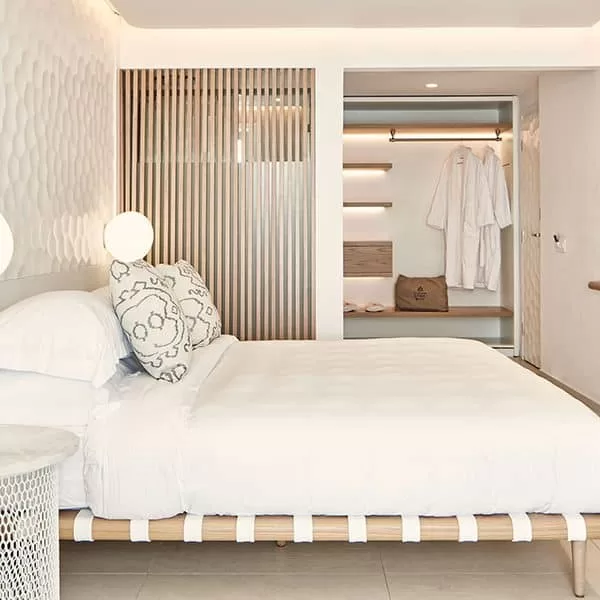 The soothing white and simple lines of this 26m2 room create a unique atmosphere, enhanced by the harmonious combination of eclectic furniture and design objects. From the private balcony, you will enjoy views of Mykonos town and the Aegean.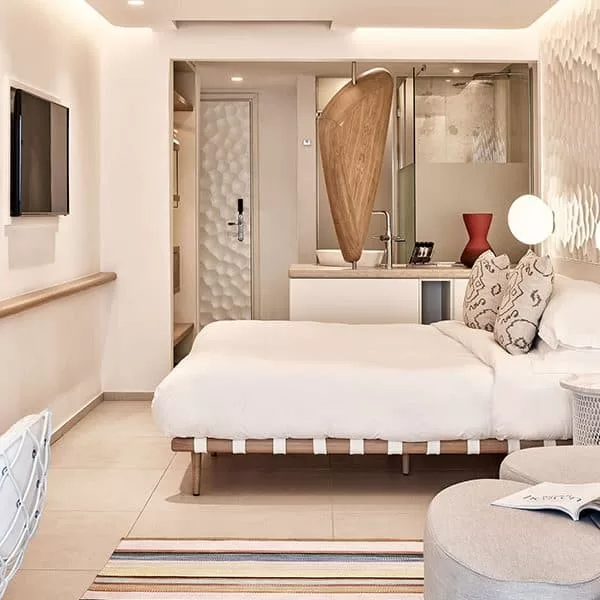 Spacious and yet utterly intimate, this is an elegant cocoon of contemporary comforts in the heart of the island's action, with fine white linen, exquisite materials and designer lighting. Imagine the pleasure of lying back in the Jacuzzi on your own private veranda while enjoying your favourite cocktail under an open sky, moments away from the pleasures of Mykonos town.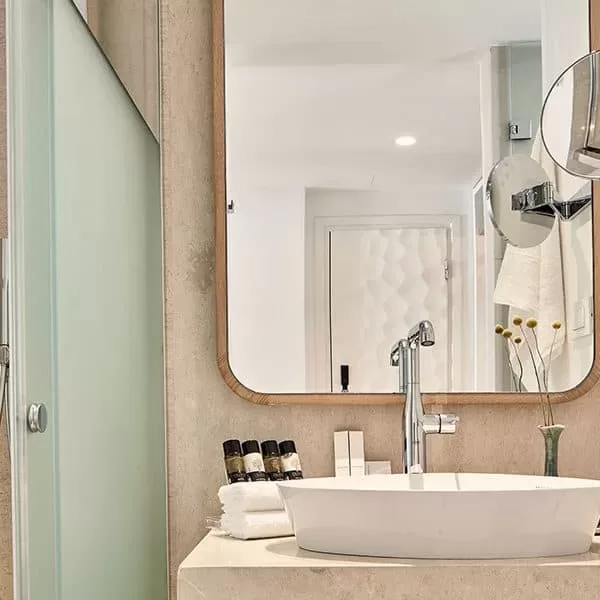 Step into the contemporary elegance of this deluxe double premium room which is designed with an open flow, leading onto a private balcony or terrace with views of the sea, the main pool and the surrounding hillsides. Sophistication and comfort are invested in every detail: marble floors and floating shelves, walls and crisp linens all play to the power of pure white. Coming from the vibrant atmosphere of the outdoors, it is an oasis of quiet intimacy and luxury that accommodates two guests.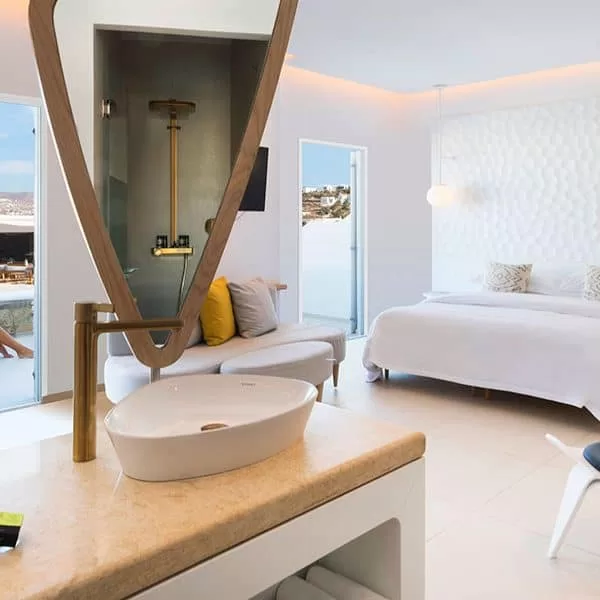 Magnificent, delightful and fresh, this indulgent retreat with perfect views of Mykonos town and the Aegean is appointed with an eye for true romance: full of crisp white detail, designer furniture and lighting, the finest fabrics and a spectacular freestanding bath for honeymooners and hedonists.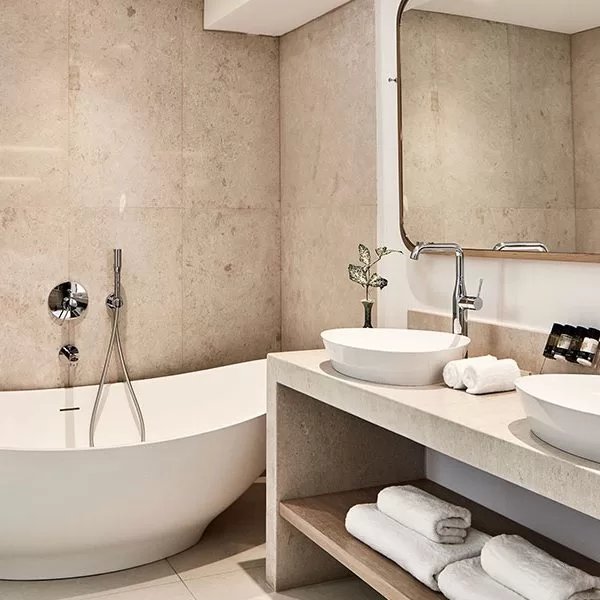 In homage to the glorious Aegean and to the unique minimalist aesthetic of Myconian architecture, Nissos is a strikingly beautiful suite, filled with luminous white interiors that combine fine art objects and soft textures with the sleek luxury of a marble bathroom, an abundance of high-tech comforts and superb views from the balcony. Altogether an unforgettable place to be.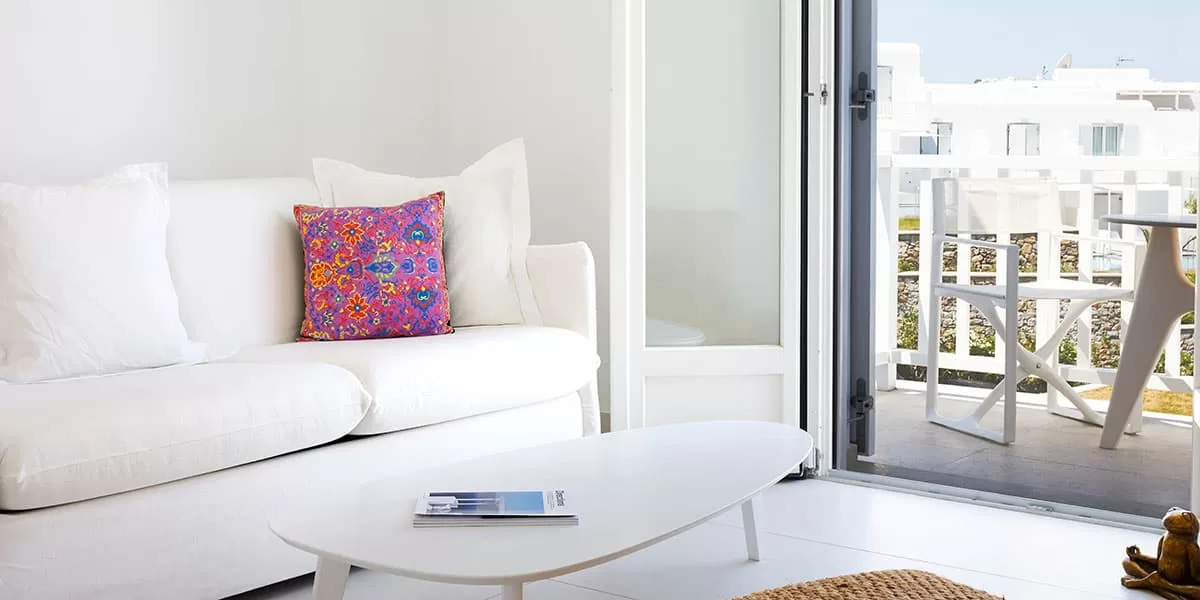 This is a Junior suite with a contemporary open flow that opens out onto a terrace and private Jacuzzi with views of the pool and the Myconian landscape. The bathroom experience is pure indulgence, with a deep bath, rain shower and amply stocked with luxury cosmetics. Coming from the vibrant atmosphere of the outdoors, it is an oasis of quiet intimacy and luxury. The room may accommodate up to 2 people.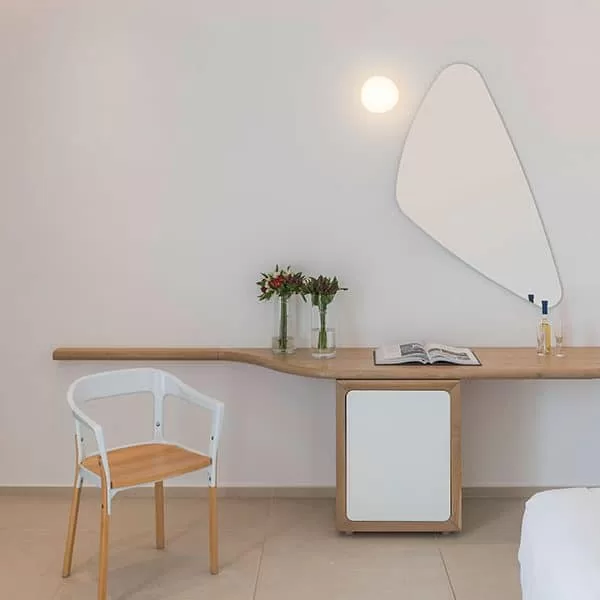 One word that captures a thousand perfect moments on the charming veranda of this exceptional luxury suite. Over two levels, a sophisticated blend of custom-made Myconian elements, contemporary furniture and carefully designed lighting is barely steps away from a charming veranda and that everlasting view.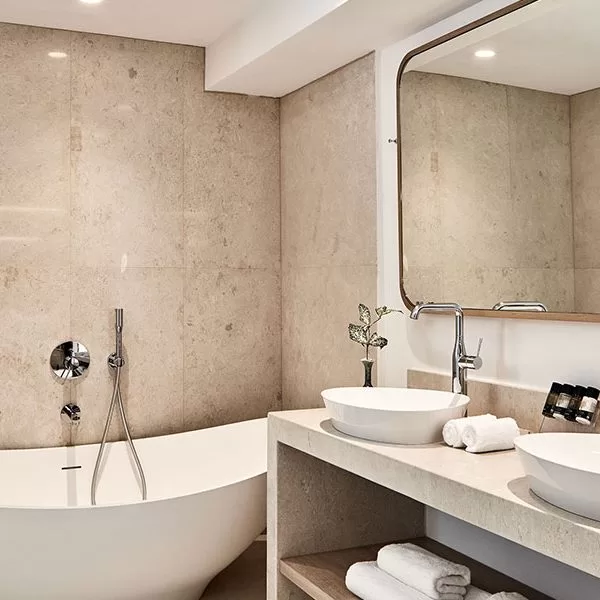 Fresh and lovely, it features an refined balance of crisp white luxury and contemporary aesthetics, with funky touches and a full complement of high-tech amenities, objects by leading designers, a marble bath and a veranda with dazzling views and a lovely pool right above the heart of Mykonos town.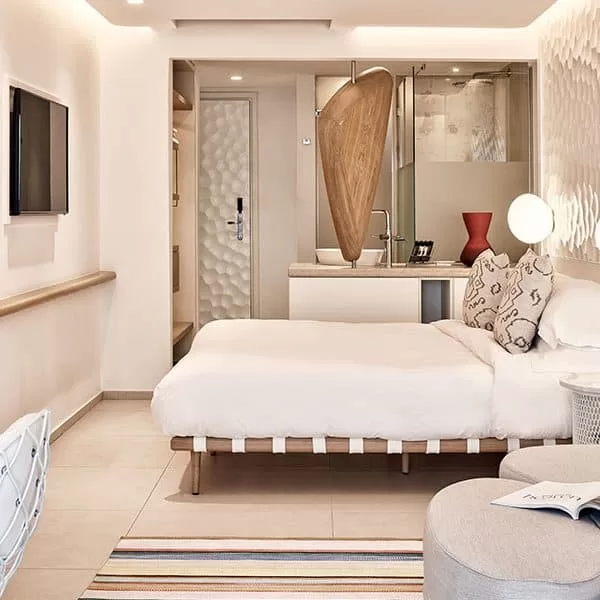 An exceptional retreat, this is chic elegance epitomised. Sumptuously decorated with the finest of materials, fabrics and art objects, equipped with high-tech amenities and a lavish marble bath, it redefines the meaning of 'suite'. Out on its generous veranda, the infinity pool with the spectacular Aegean background will tempt you to linger forever.
About the Hotel
Guests absorb slow-motion pleasures in this timeless environment, enhanced by a recent renovation that accessorised its classic chic with a bevy of iconic 1960s design beauties. The pool deck is the heart of the hotel, a brilliant blue gem surrounded by shaded sunbeds, an outdoor lounge and a fabulous bar that lives up to its reputation as a hotspot, by day and night. Some villas sport terraces with a private pool or Jacuzzi that almost eclipse the dazzling Aegean view. Here you'll relax and recharge in the hands of superb therapists in serene spa, and you can rely on the expert advice of Guest Relations to make almost anything possible.
Food and Drink
Breakfast Area
The best way to start the day is by taking in the sea views along with the plenitude of the morning buffet laden with a variety of utterly delicious breakfast favourites: organic eggs prepared however you like them; freshly-baked breads and patisserie still warm from the oven; the finest homemade preserves and wild honey; cereals that include gluten-free options; fruit, fresh juices and smoothies; as well as a select assortment of international delicacies.
Kalypso Streak House
Rich Mediterranean flavours and appetising aromas come into their own with the use of the finest seasonal ingredients and produce, grown or reared locally and exclusively for Kyma and carefully selected by executive chef. The journey of transformation begins with mixing culinary heritage and contemporary innovation to create haute cuisine. And it finds its perfect ending in the most elegant ambience at your table, as you enjoy the subtle flavours amidst the natural splendour that recalls their provenance.
Georges's Bar
If you like a lively vibe with an elegant flair, George's is the place to be. Notoriously hip yet surprisingly unpretentious, it has attracted loyal patrons from dusk till dawn since the '80s. Just because the barman serves the best coffees — from the traditional Greek brew, through latte and macchiato to refreshing freddo — doesn't mean he's not an old hand at mixing the best cocktails you've ever had. You haven't tasted a real mojito until you've had it here. Even the juices and light refreshments seem cooler here, and shareable platters from the menu are simply irresistible.
In-room Dining
For those rare evenings when you feel like 'staying home' to catch up on sleep, work or TV entertainment, we offer a delicious in-room menu with something exceptional for everyone's taste, guaranteed to arrive as hot or as chilled as the chef would have it. Whether you wish to arrange for a private and memorable dining experience, or simply enjoy a meal that's not on the menu, a personal chef and his team are always at your disposal, ready to demonstrate their culinary prowess and prepare your favourite dishes in the privacy of your own room or suite.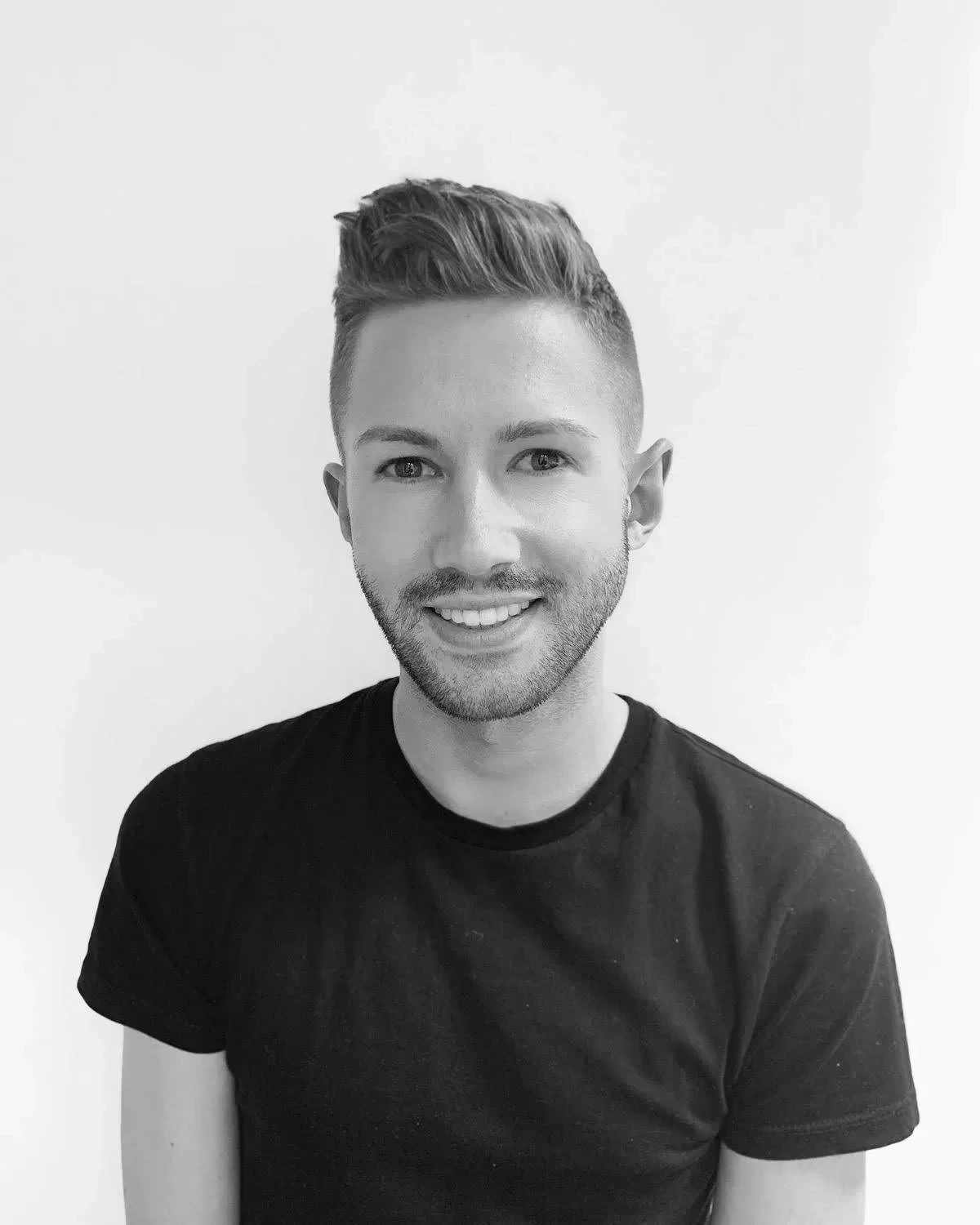 Jaike Rowe
Luxury Travel Expert
---
"Greece is one of our clients' most popular destinations. The combination of history in Athens and beach life in the islands is a brilliant combination."
Contact us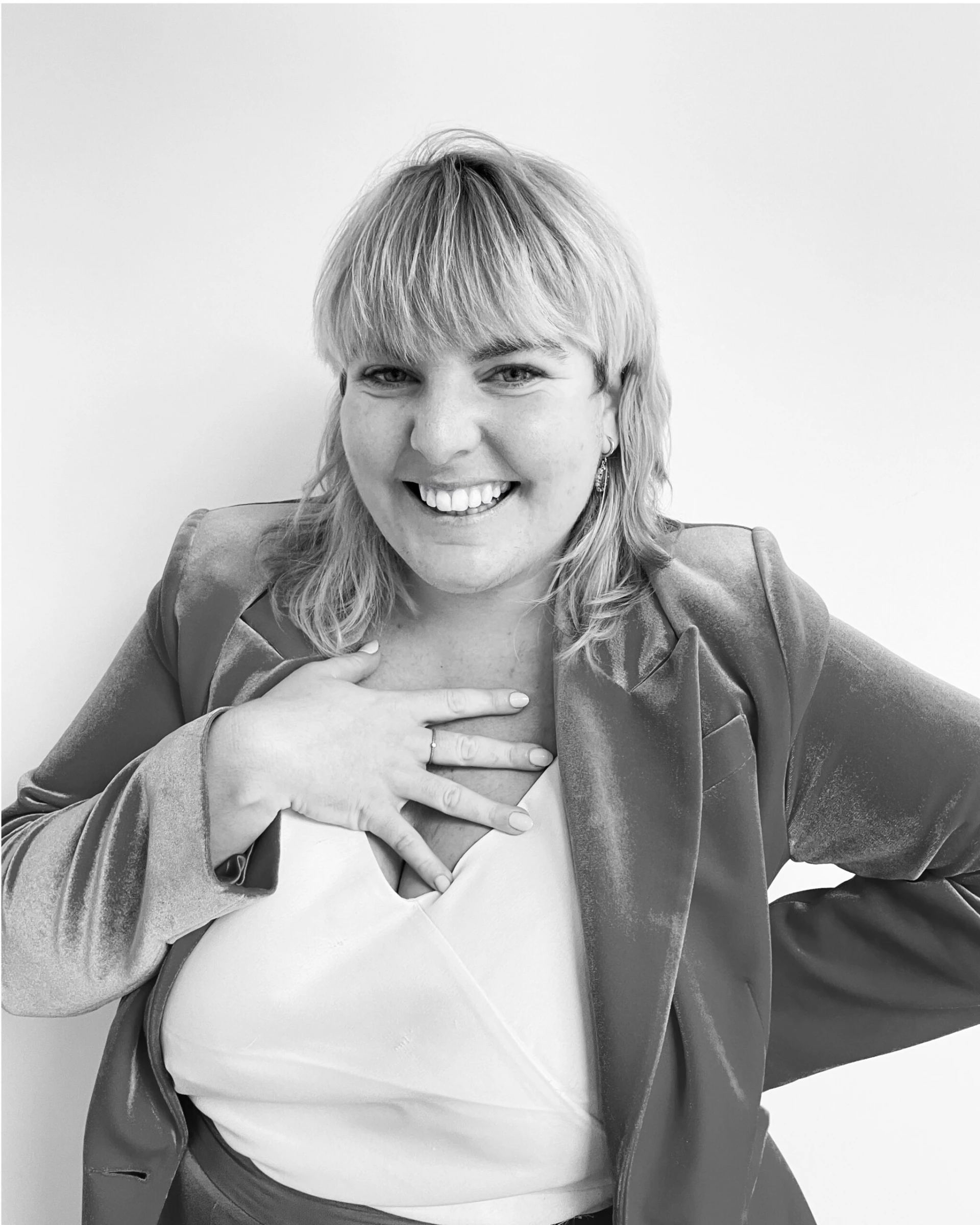 Maria Gardner
Luxury Travel Expert
---
"Island hopping in Greece is one of my favorite travel experiences. The cobbled streets of Mykonos and the bright blue domes of Santorini are picture perfect."
Contact us
We want to ensure you have the best experience with us so we'll keep working on your itinerary until perfect. You will have your own personal dedicated member of our team who will help build the perfect trip for you.
We pride ourselves in the number of clients that are referred to us by our existing customers. Our 5* Trustpilot rating is important to us, so we encourage you to browse our reviews. They speak for themselves and that's why you are in safe hands.
Make an
enquiry
---
Email
info@outofoffice.com
To start planning your trip, please call us or complete the enquiry form and one of our team of experts will contact you as soon as possible for an initial consultation to discuss your travel plans in more detail.
All the prices on our website do not include flights. We can, of course, arrange them for you.