Kenshō Ornos has 10 suites and 25 rooms, all exquisitely designed with aged wood and classic Aegean architecture. Each room is like a work of art, and you'll see a lot of artworks in the hotel by local and international artists. Kenshō Ornos combined classical Mykonian architecture with a modern, luxurious twist.
More information
Shuttle and limo service
Bookings for helicopters and private jets
Library
Free wi-fi
Exceptional design
LGBT Rights in Greece
The state of LGBTQ+ rights has made significant progress in recent years in Greece, although hardships and inequalities still persist in areas outside of the major cities. The country has undergone a widespread legal and societal transformation that has begun to improve the rights and protections for LGBTQ+ individuals.
When it comes to legal advancements, Greece decriminalised same-sex sexual activity in 1951, and in 2015, the Greek Parliament passed a law that recognized civil partnerships for same-sex couples, granting them legal recognition and many of the same rights as married heterosexual couples. However, marriage equality has still not been achieved, as same-sex marriages are not legally recognised.
The legal system in Greece prohibits discrimination on the basis of sexual orientation in employment and certain other areas. However, LGBTQ+ individuals continue to face discrimination and social stigma in various aspects of their lives. Homophobic and transphobic attitudes persist in some parts of society, especially in more remote and rural areas.
On a positive note, Athens, the capital city, has a vibrant LGBTQ+ community with a thriving nightlife scene, with an annual Pride parade that attracts thousands of participants from across the globe. LGBTQ+ organizations and advocacy groups in Greece actively work to promote equal rights and social acceptance.
Though LGBTQ+ travellers can enjoy visiting all areas of Greece's diverse landscape, the gorgeous island of Mykonos is a particular favorite amongst the LGBTQ+ community. In Mykonos, you'll find a plethora of gay-focused bars and clubs as well as some of Europe's most beautiful gay beaches.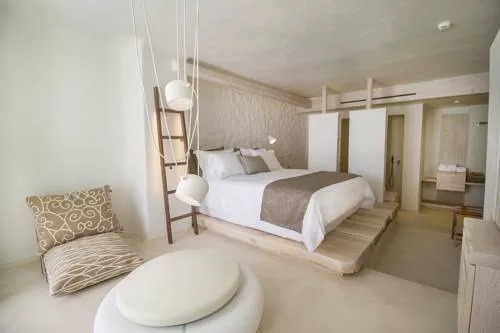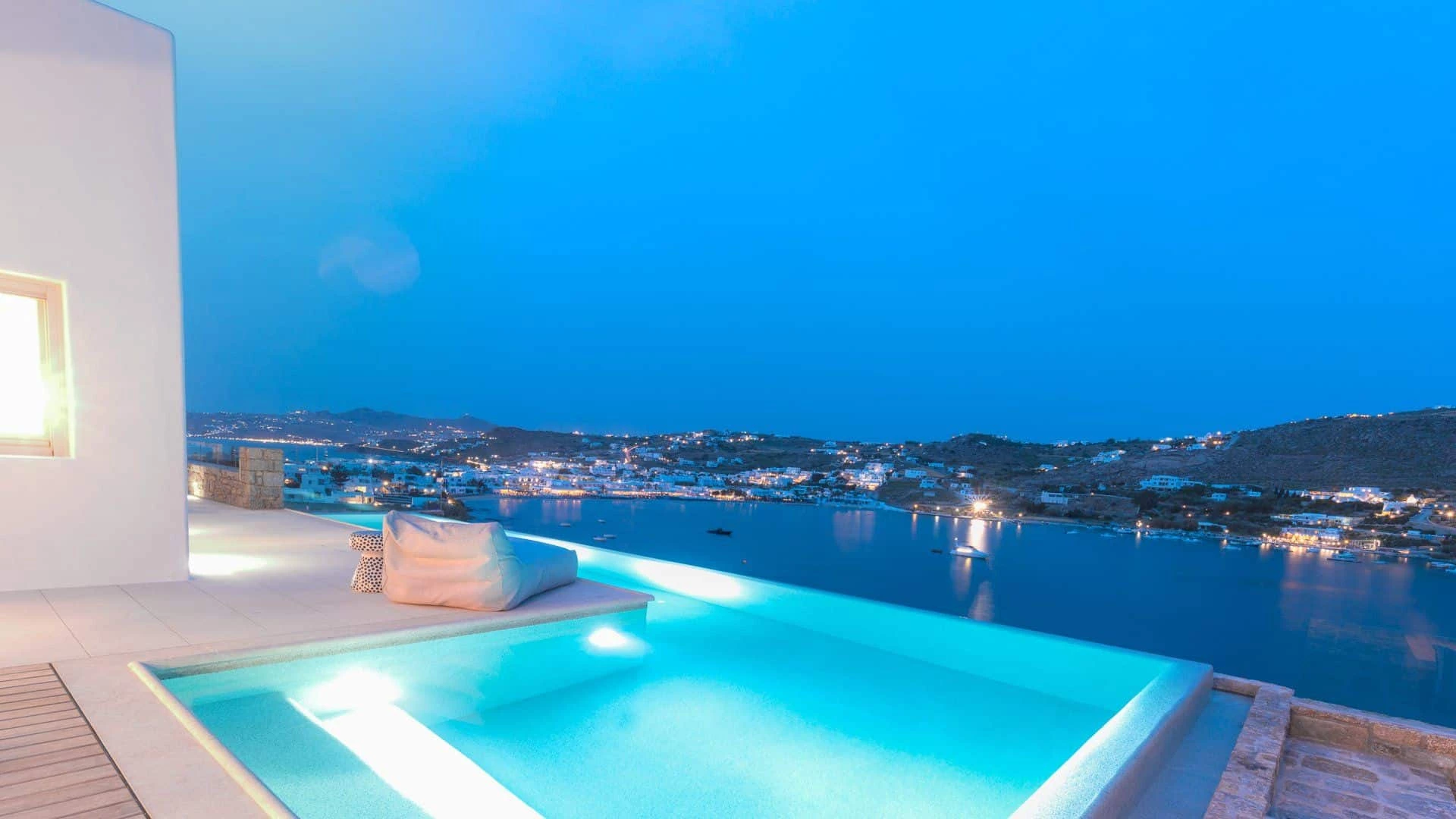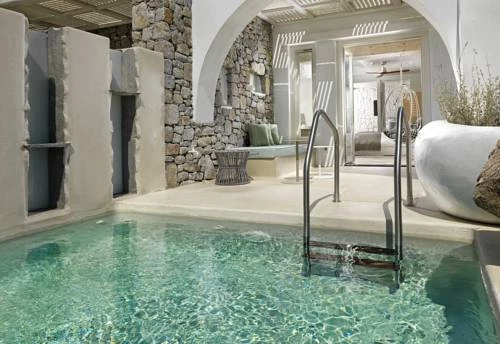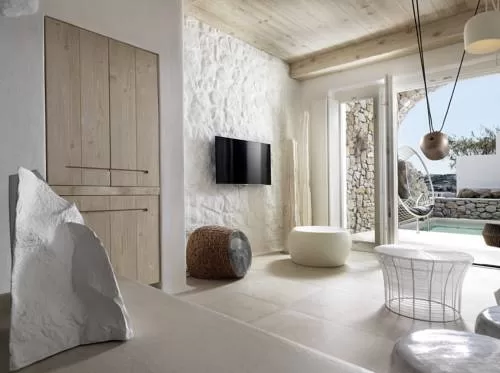 The lightly accented colours of this room are very Greek and incredibly chic. Although the rooms come with no view it makes for a luxurious Mykonian getaway.
All rooms at the Kenshō Ornos come with a 40-inch TV, an ergonomic desk, free wi-fi, air conditioning, a Nespresso machine, an iPad and toiletries from Hermes.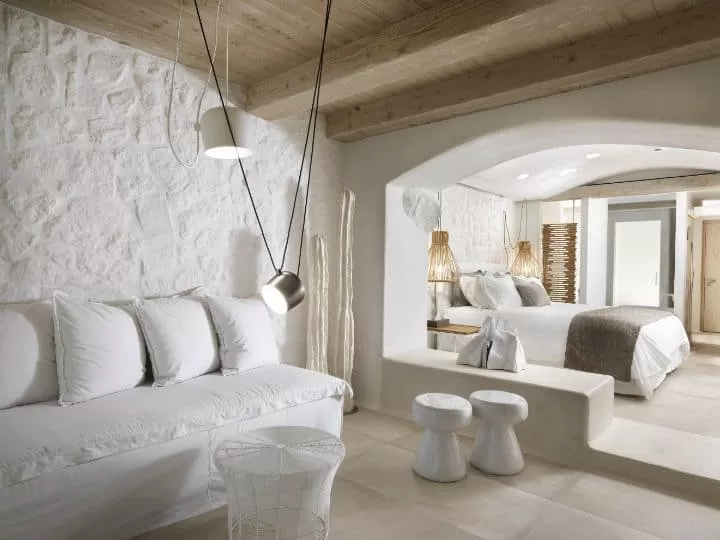 Deluxe Rooms come with ocean views and your own external jacuzzi. You can even upgrade to a room with a private plunge pool and spacious sitting area.
With its outdoor space, you'll find a beautiful link between the room and the stunning views. Traditionally built, the rooms do have a great focus on modern technology too to ensure you are able to enjoy your blissful stay peacefully.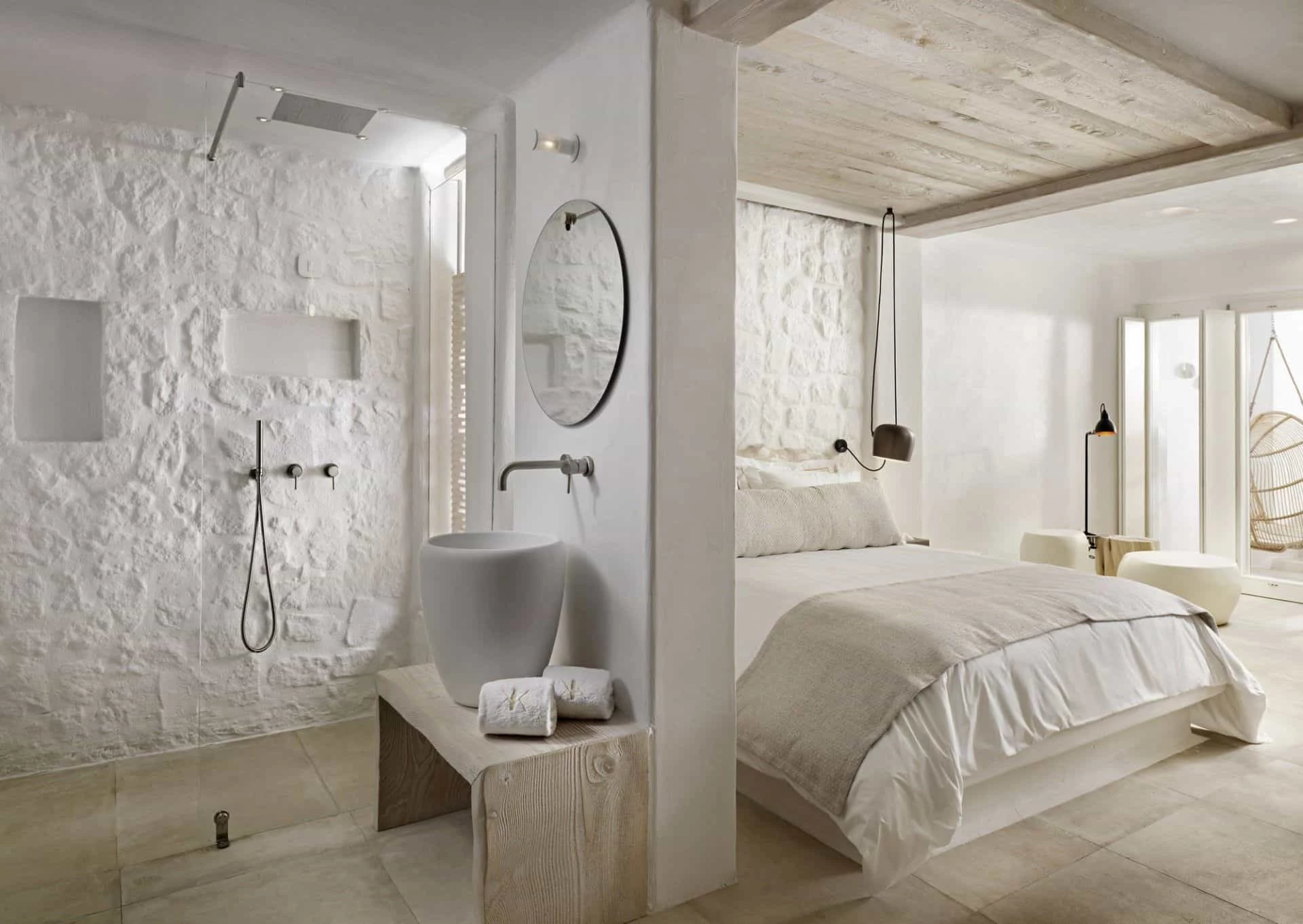 A sumptuous suite with a private outdoor hot tub and, if you're feeling really posh, you can upgrade to a suite with a plunge pool.
Additional room types:
VIP Junior Suite With Private Pool
Vista Suite With Panoramic Views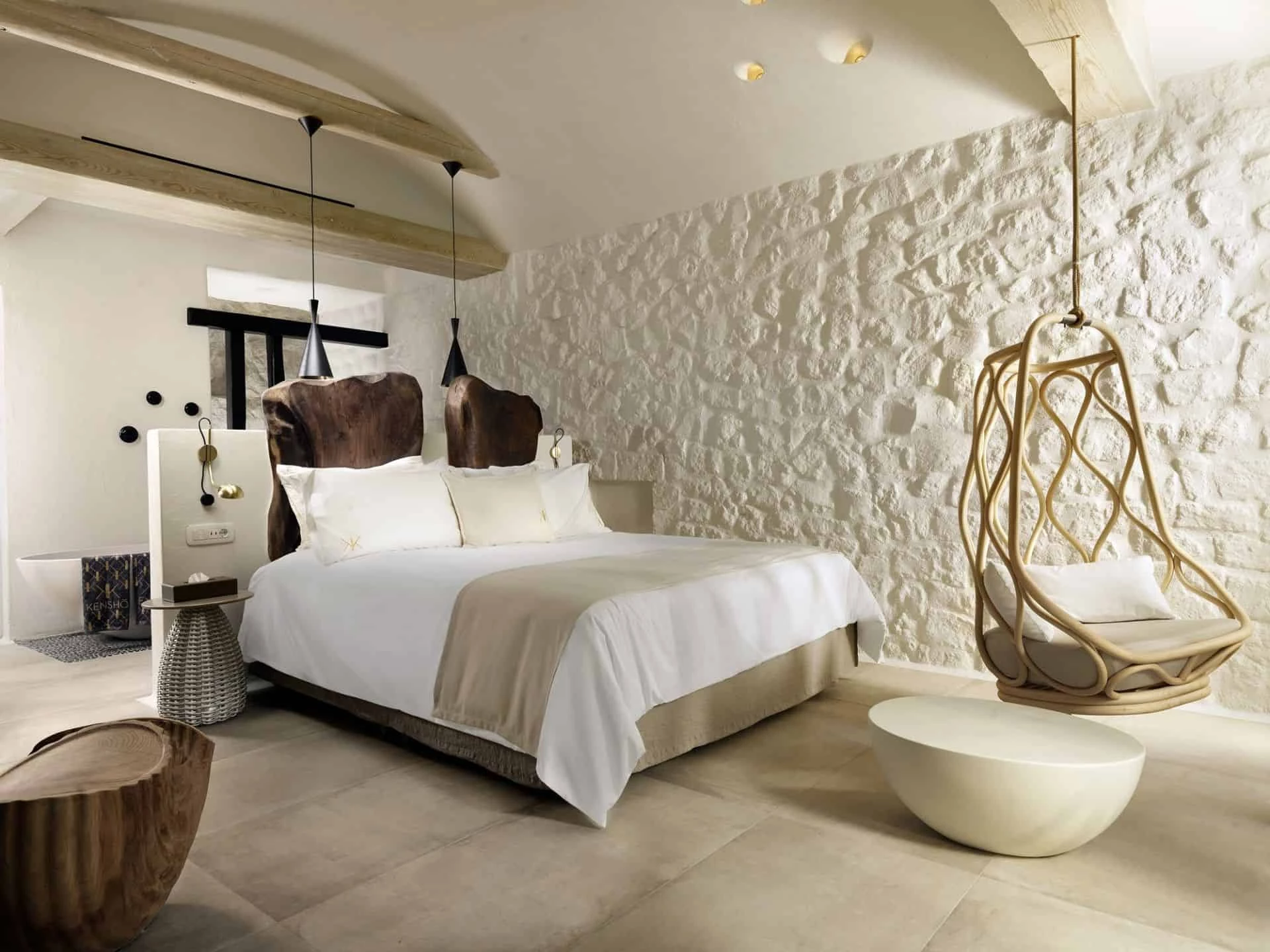 Dining Options
Kenshō Ornos
Serving classic Greek and Mediterranean cuisine, you can try the Greek stew "kakavia".
Kenshō Psarou Lounge
Located on the water's edge, Kenshō Psarou Lounge serves seafood with Greek, Japanese and Peruvian twists. Chef Dimitris Chronopoulos has put together an excellent dessert menu. The pool and the ocean and just a few steps away.
Kenshō Bar And Sunset Lounge
Try some finger food at the pool bar select from a range of cocktails at the Sunset Lounge.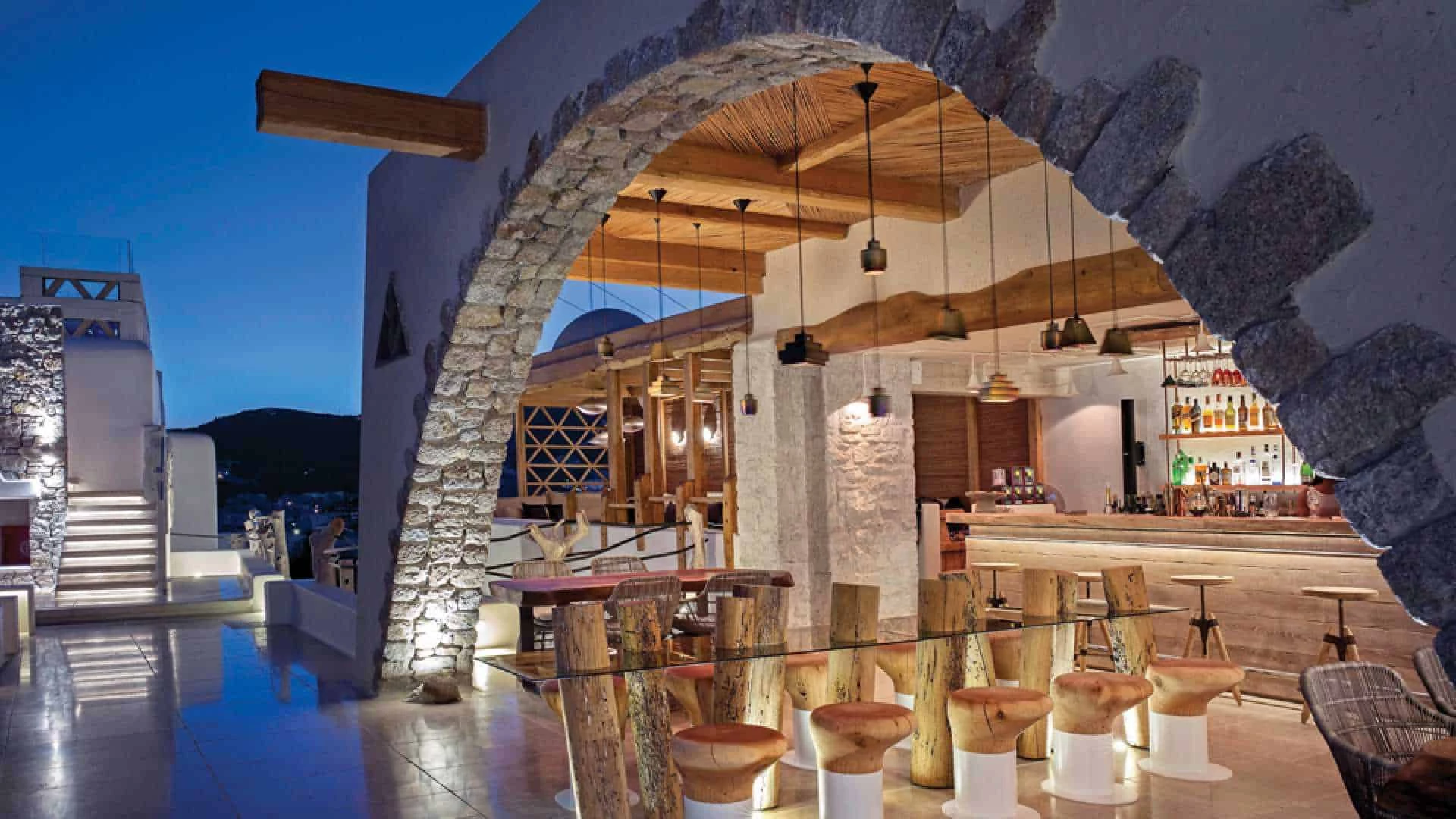 Spa/Wellness
Spa
The spa offers a range of luxurious beauty treatments and massage services. Ideal after you've worked up a sweat at the gym.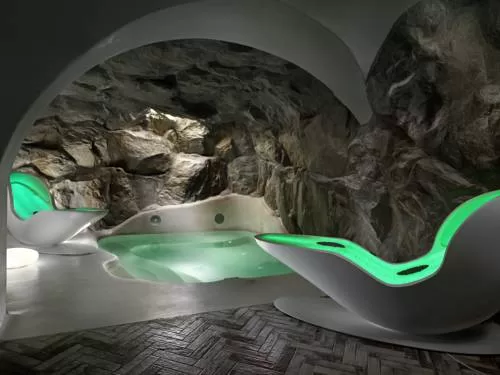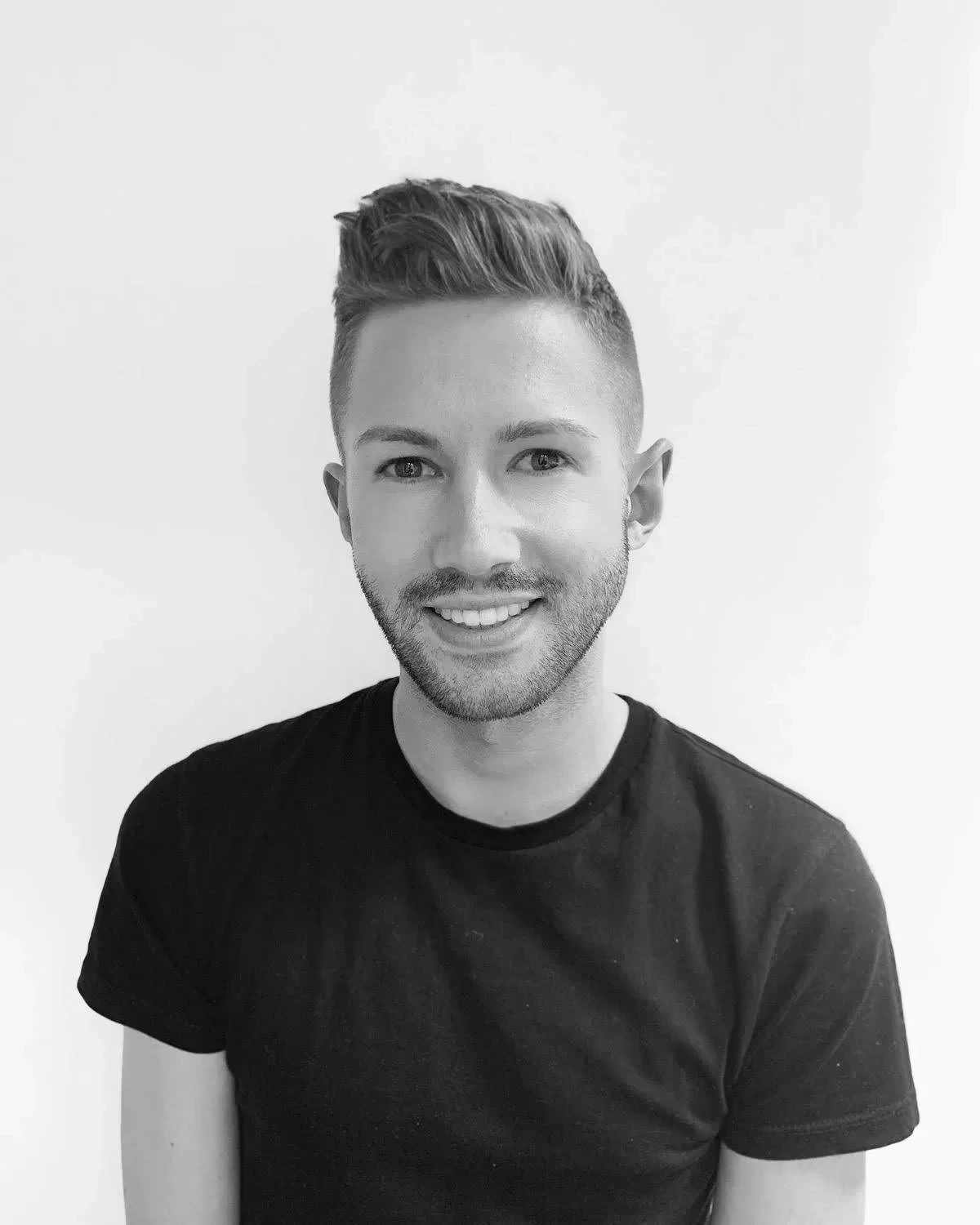 Jaike Rowe
Luxury Travel Expert
---
"Mykonos is undoubtedly one of my favourite European destinations. The combination of luxury properties, cobbled streets with beautiful tavernas and also the beach is perfect."
Contact us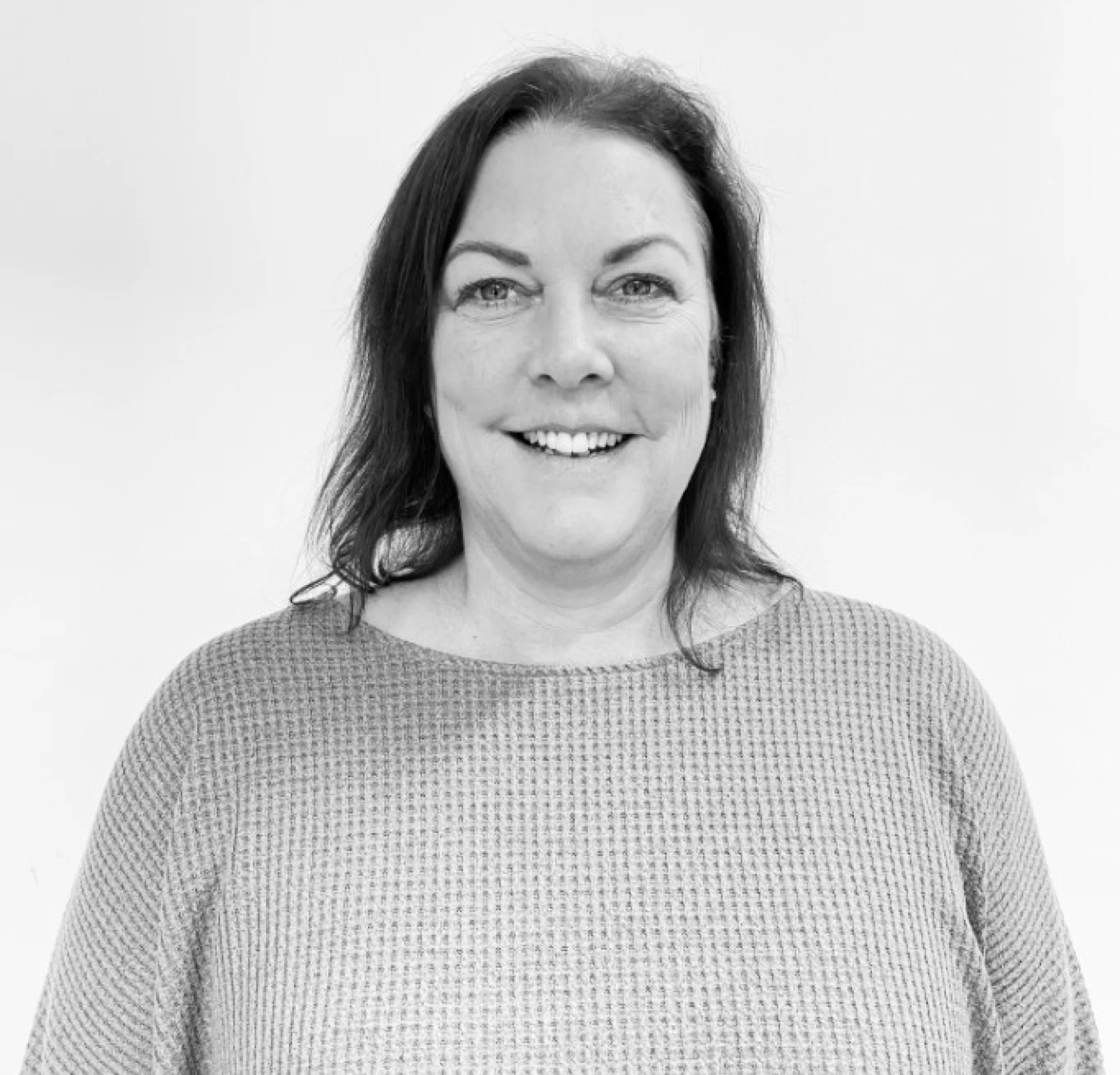 Lisa Muschamp
Luxury Travel Expert
---
"I have been to Mykonos several times and love the combination of glamour and laid back vibes. I would recommend combining it with Santorini for a romantic trip."
Contact us
We want to ensure you have the best experience with us so we'll keep working on your itinerary until perfect. You will have your own personal dedicated member of our team who will help build the perfect trip for you.
We pride ourselves in the number of clients that are referred to us by our existing customers. Our 5* Trustpilot rating is important to us, so we encourage you to browse our reviews. They speak for themselves and that's why you are in safe hands.
Make an
enquiry
---
Email
info@outofoffice.com
To start planning your trip, please call us or complete the enquiry form and one of our team of experts will contact you as soon as possible for an initial consultation to discuss your travel plans in more detail.
All the prices on our website do not include flights. We can, of course, arrange them for you.