OZEN Reserve takes luxury to the next level, even by Maldivian standards. This hotel is part of the OZEN group but its separate to its sister property, OZEN by Atmosphere. It has one of the best house reefs in the Maldives. You can also explore five shipwrecks in the waters surrounding the island.
You'll be staying in state of the art overwater bungalows and beach villas. Quite often it's the little details that elevate premium luxury hotels. At OZEN Reserve, the RESERVE™ all inclusive packages are so good you can enjoy Moet on tap.
More information
World-class villas
All inclusive options
Moet on tap
Despite having problematic laws concerning LGBTQ+ rights, the Maldives is one of Out Of Office's most popular destinations. Due to the geography of the Maldives, each island is essentially run by the resort that occupies it. We work with an incredible selection of resorts, many of which have LGBTQ+ management, that are welcoming to the LGBTQ+ community.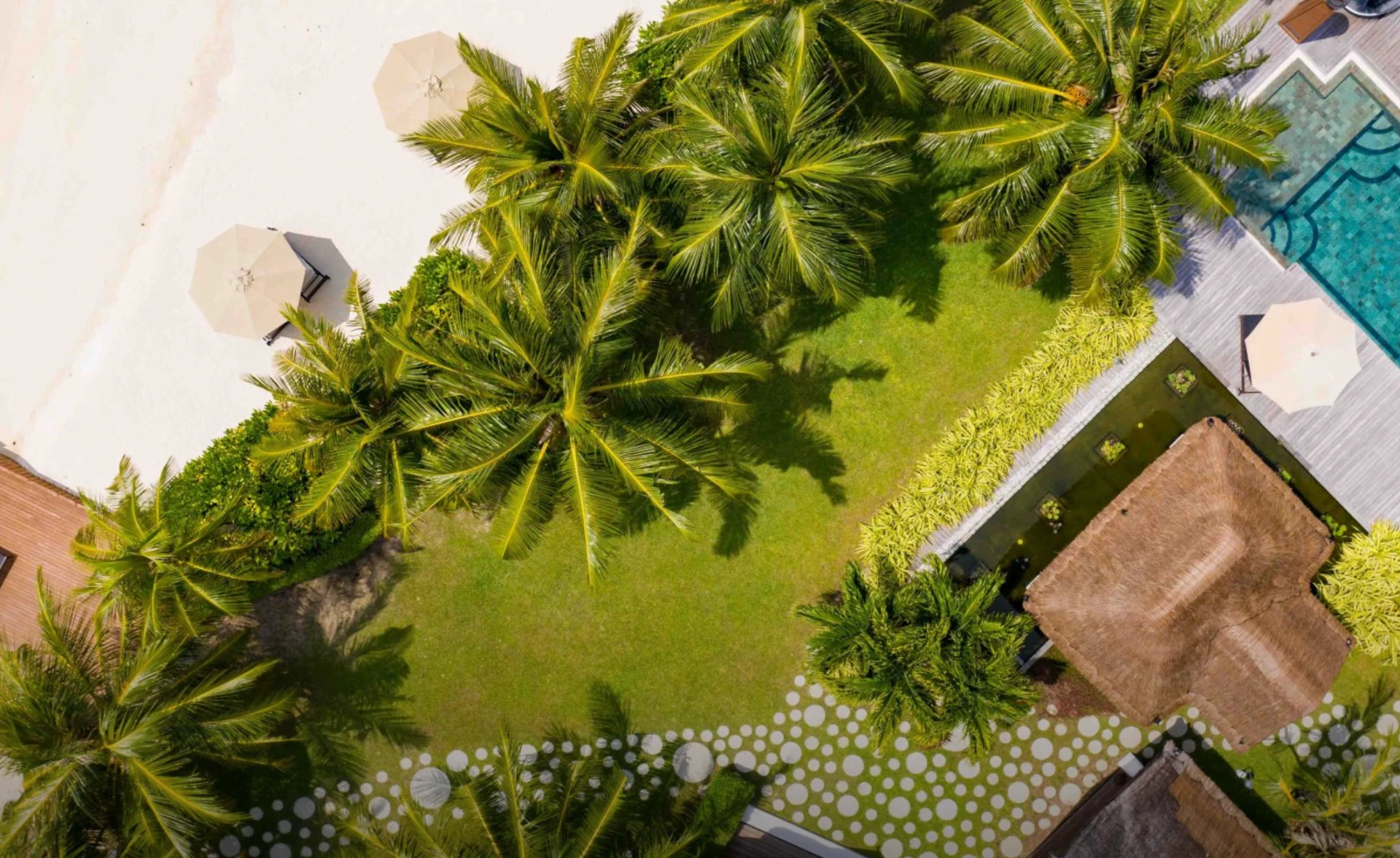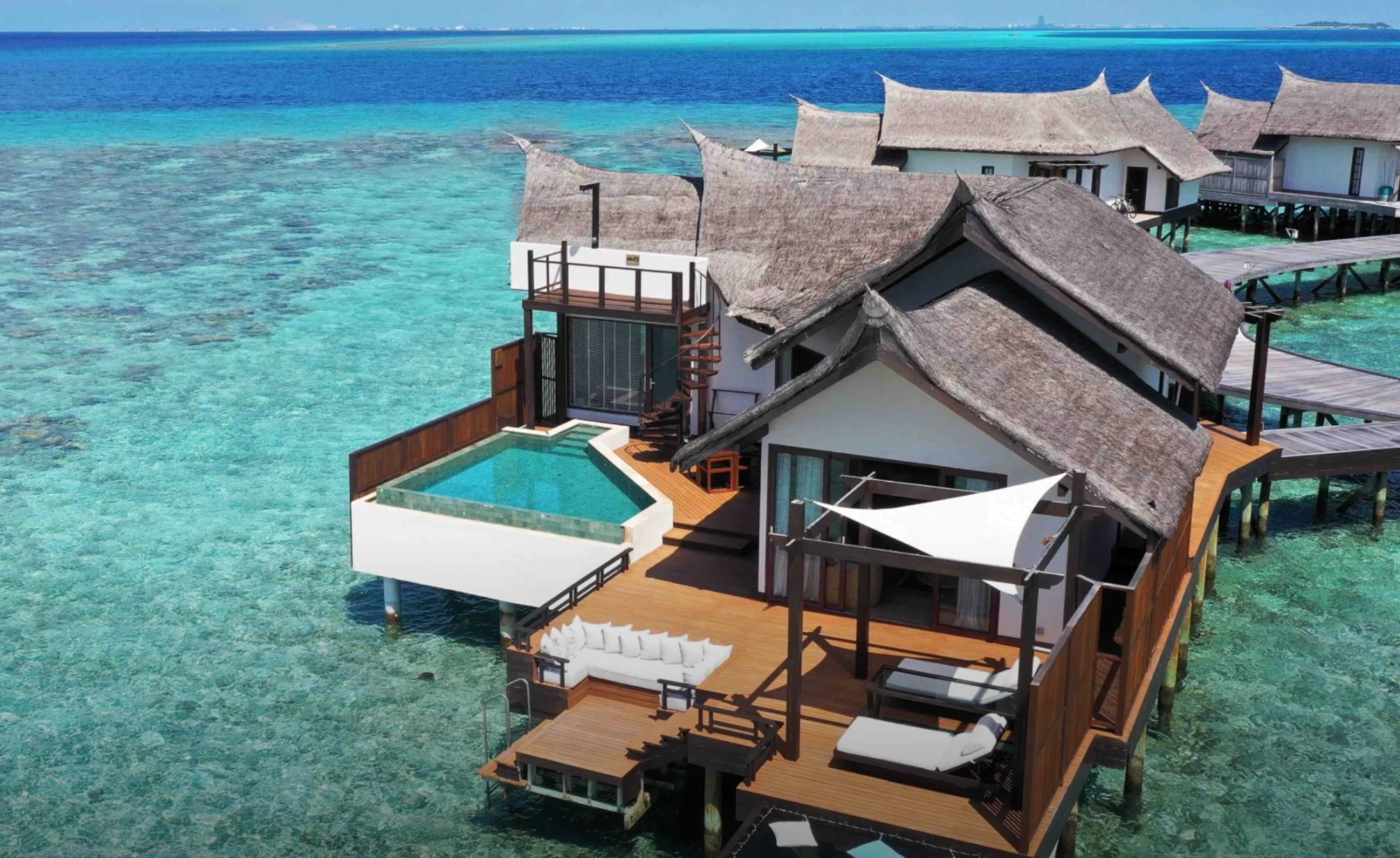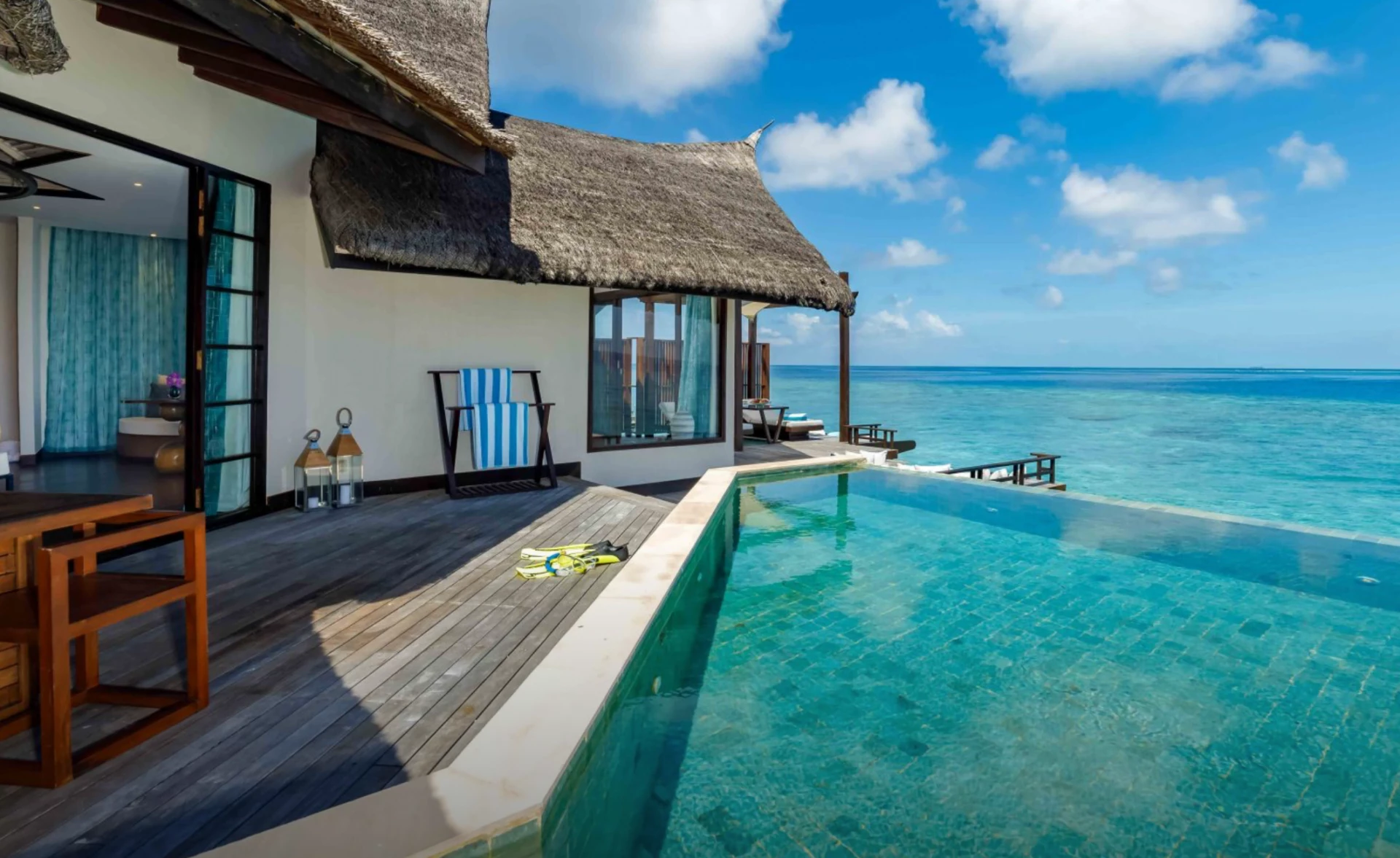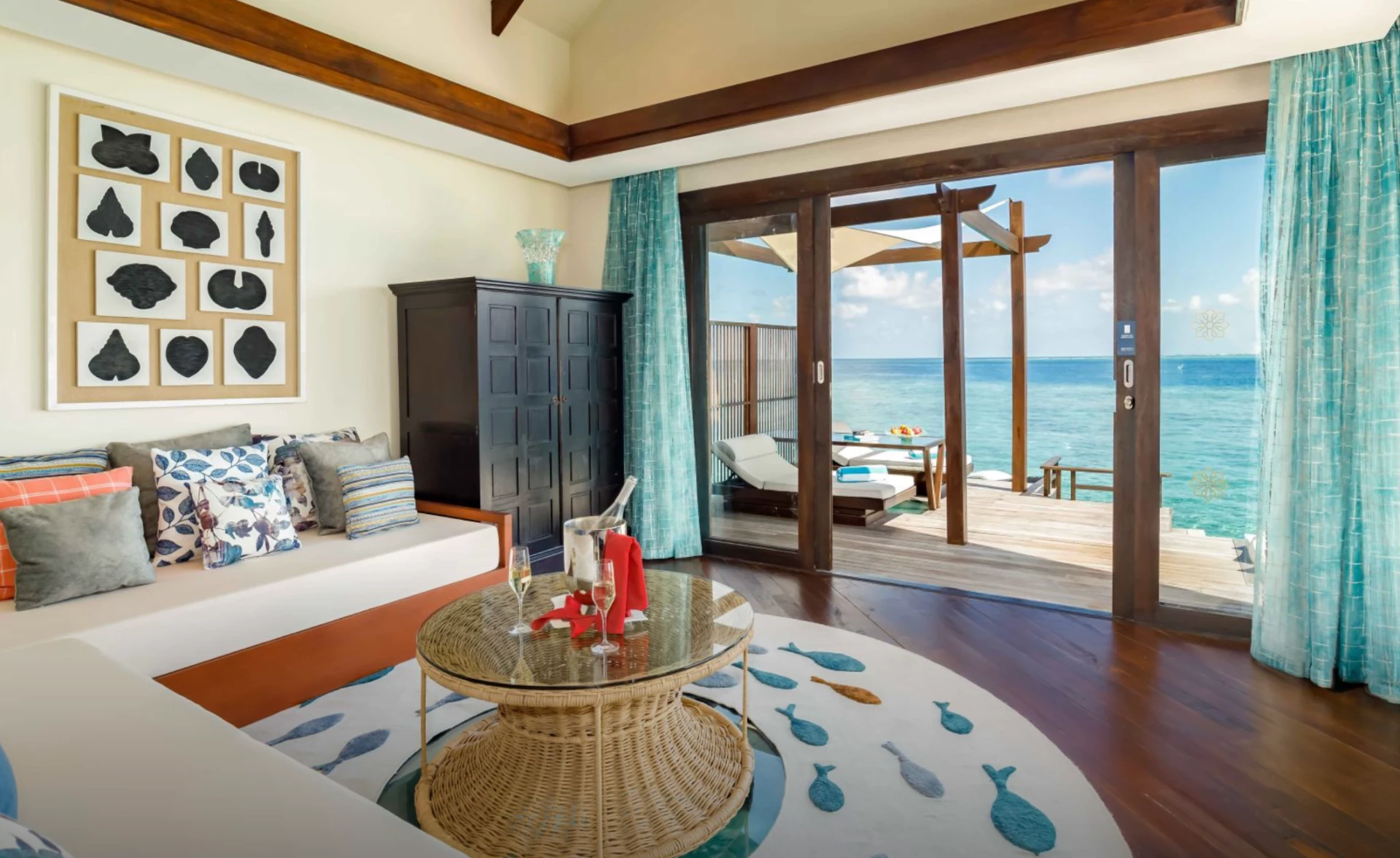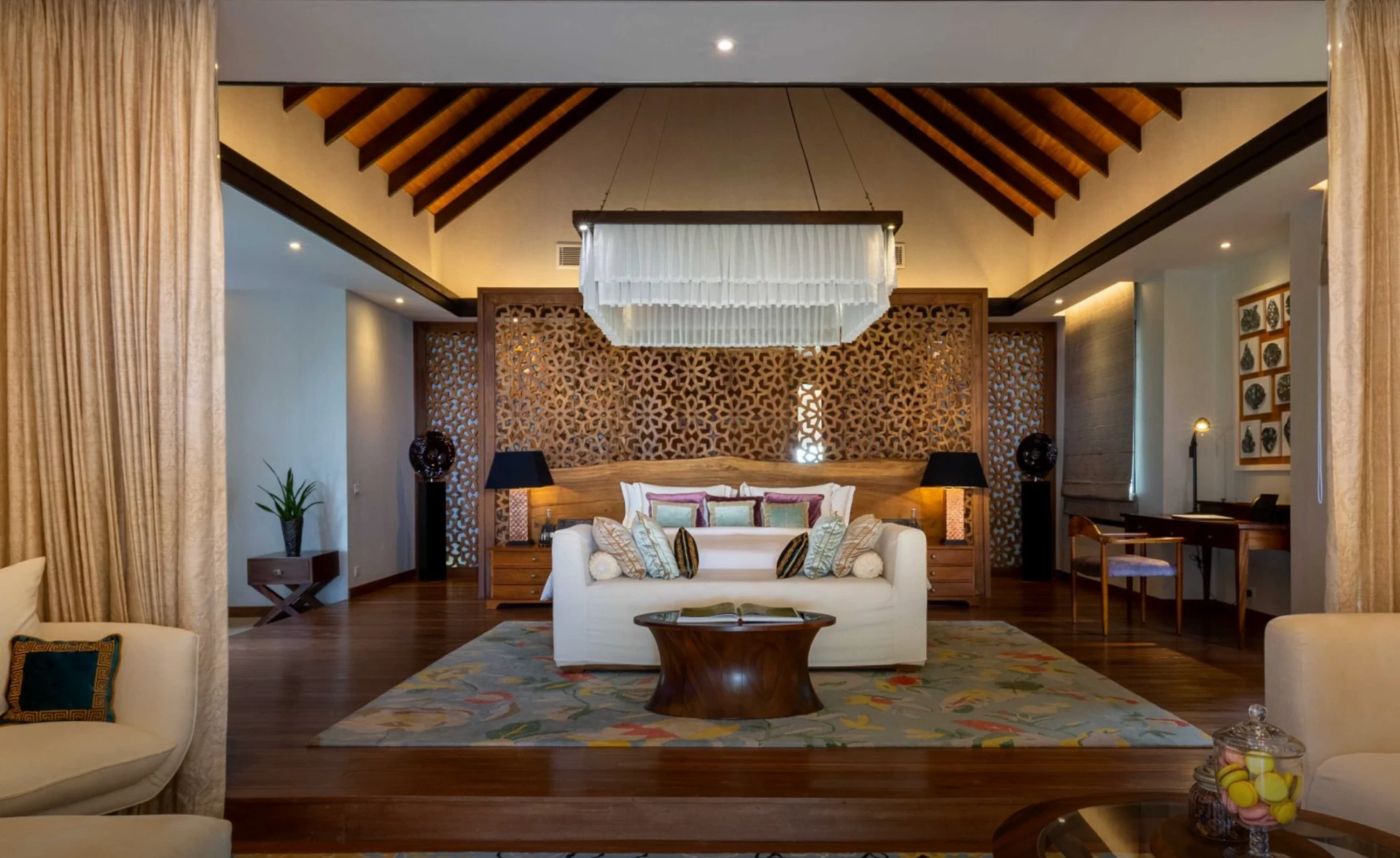 There are just 15 Reserve Villas. They take luxury to the next level, crafted as they are with timber and marble. You can even opt for a villa with a 23-metre water slide. Overwater villas are often advertised with "direct lagoon access", meaning a few stairs will lead you into the lagoon. Sliding your way into the water (pictured) is quite something.
The reserve villas are huge – more like private overwater homes. Added touches include the Maxi Bar, which is filled twice every day. These villas demonstrate why this resort takes the lead over many of its competitors.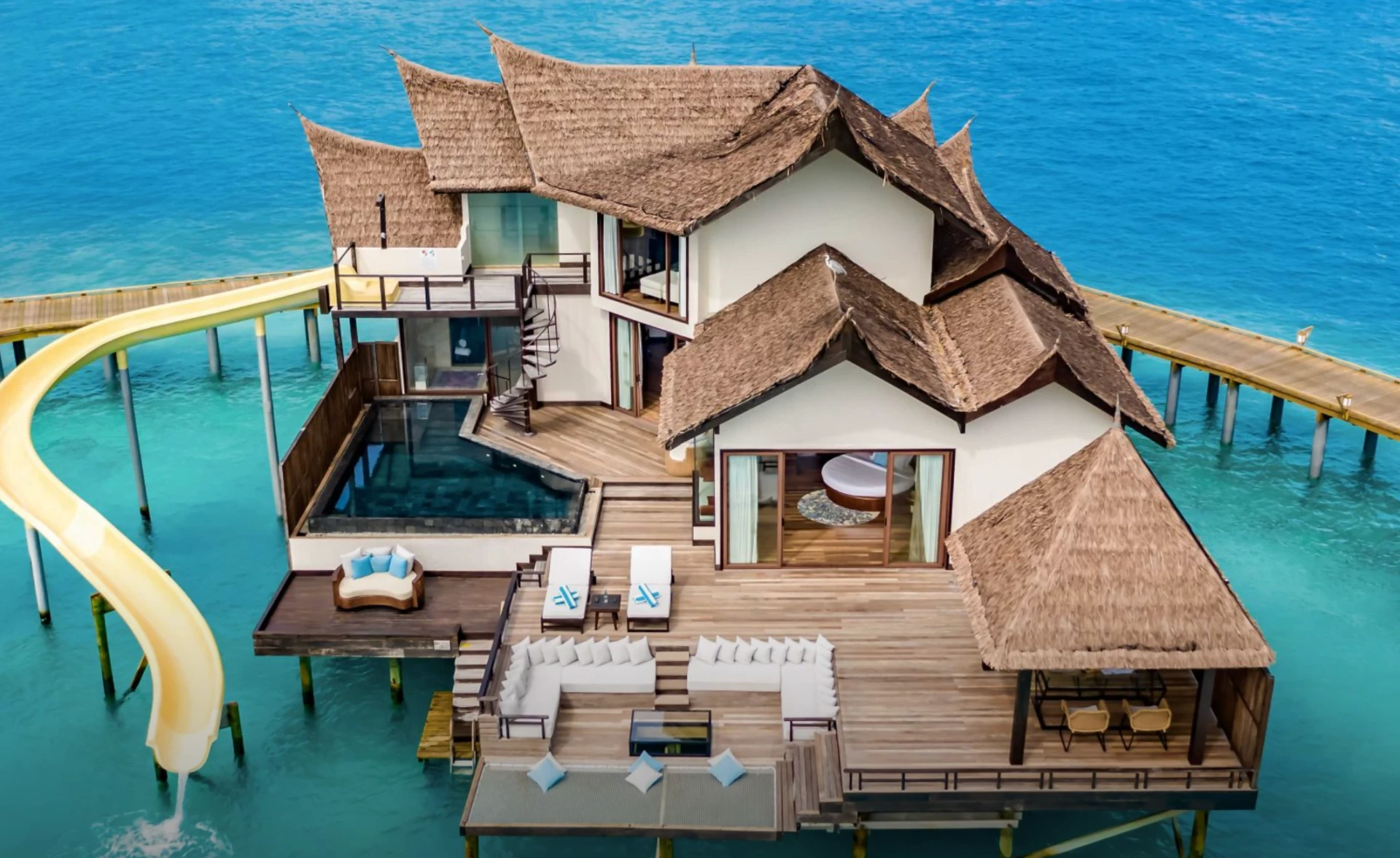 The Royal Reserve is grand, even by Elizabeth Taylor Standards. The Royal RESERVE has a main 'Sanctuary' and two Guest Villas. You'll have dramatic Indian Ocean views from almost every corner.
Enjoy your own secluded beach, spa pavilion, open-air Jacuzzi, gym and a pool. The Royal Reserve is catered to by four staff members. It has its own kitchen and wine cellar. This is about as grand as it gets in the Maldives, and that's saying something.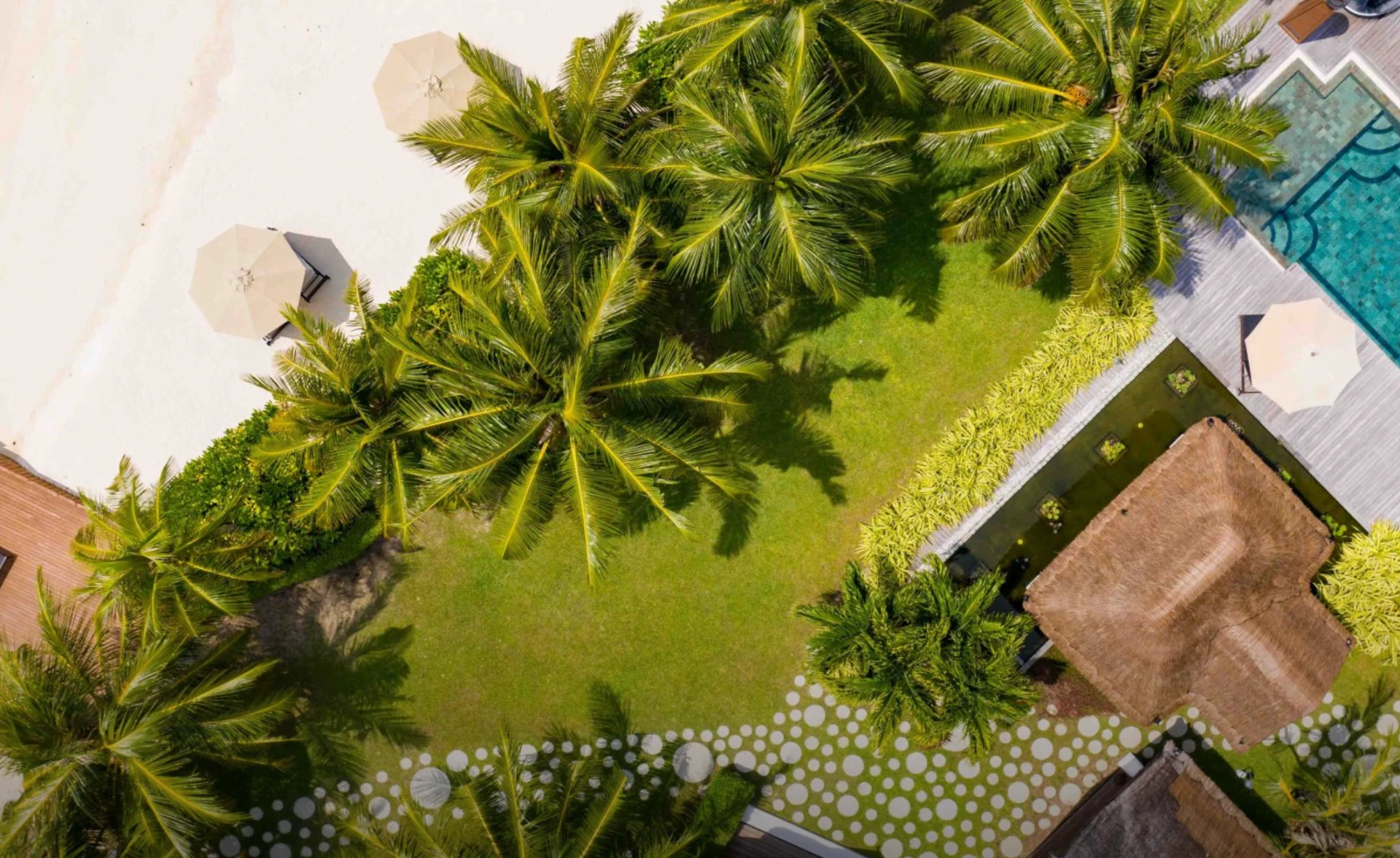 Dining at the OZEN Reserve
ORIGINƎ
The island's main restaurant is a world-class multi-sensory dining experience you'll never forget. The menu constantly changes, featuring locally sourced ingredients.
SANGU BEACH AND BAR
The best Arabic cuisine from Morocco, Tunisia, and Lebanon.
TRADITION SAFFRON
An Indian restaurant serving food on the Maharaja-style garden.
VISTA DEL MAR
It's on the beach and it's the place to go for Spanish cuisine. This is an all-day restaurant.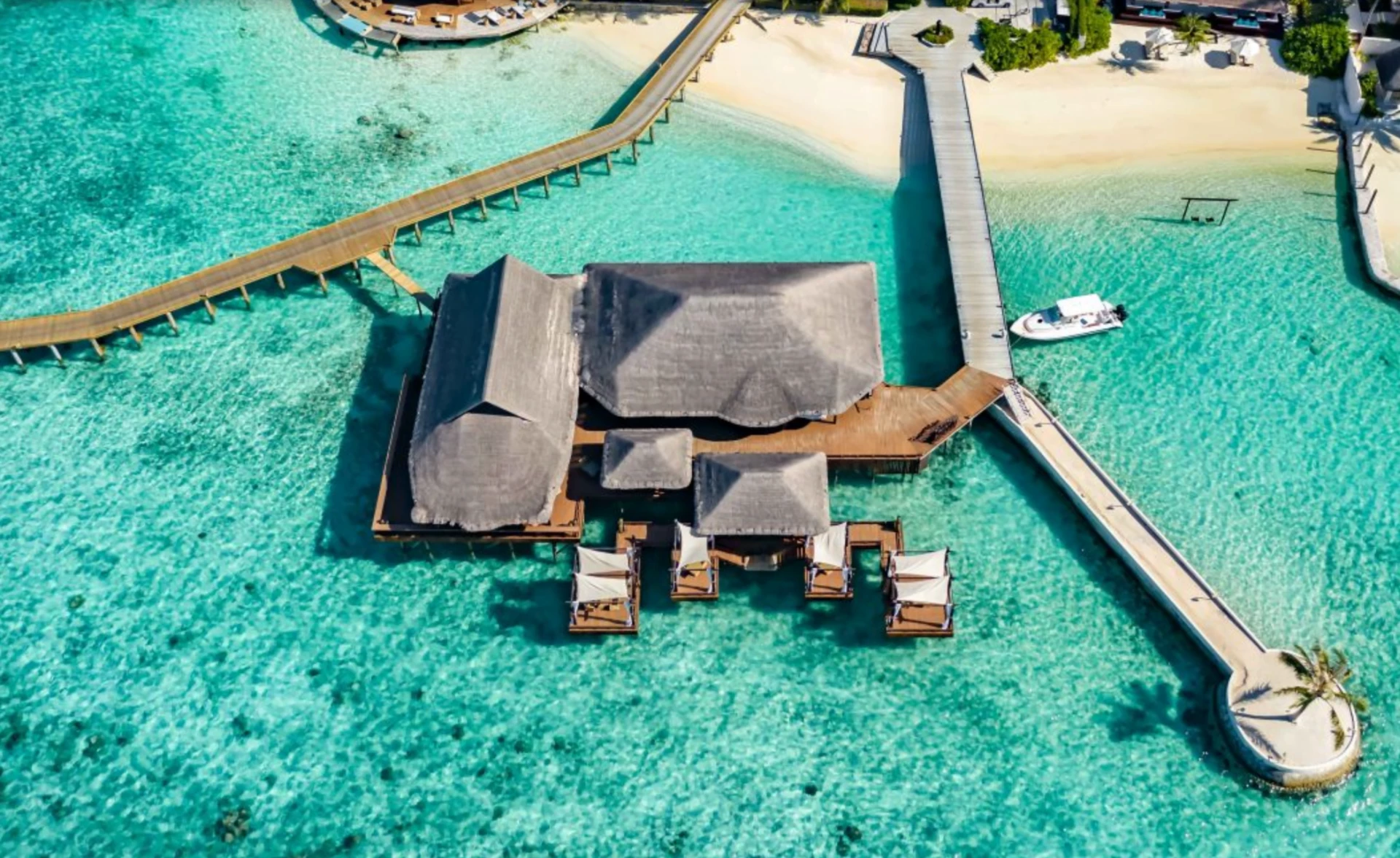 Other Facilities
Ele Na Spa and Wellness
Nestled amongst lush vegetation, this spa is the epitome of luxury relaxation, offering a wide range of treatments and facilities.
Outdoor Cinema
The resort can craft bespoke experiences that are truly unforgettable, including a star-lit beach cinema screening.
Water sports
Ranging from semi-submarine exploration to coral reef snorkelling, there is a multitude of ways to make the most of the OZEN's stunning surroundings.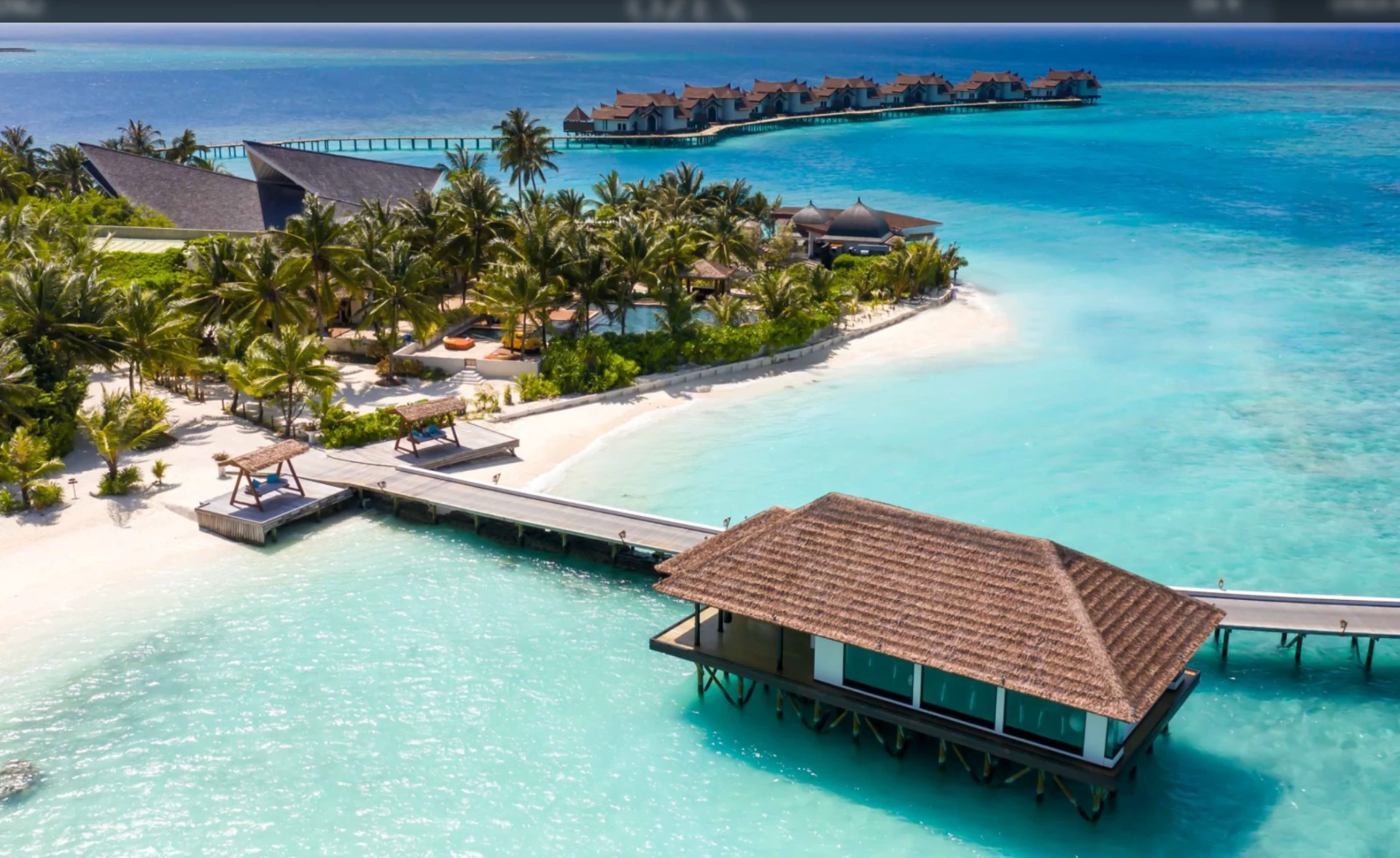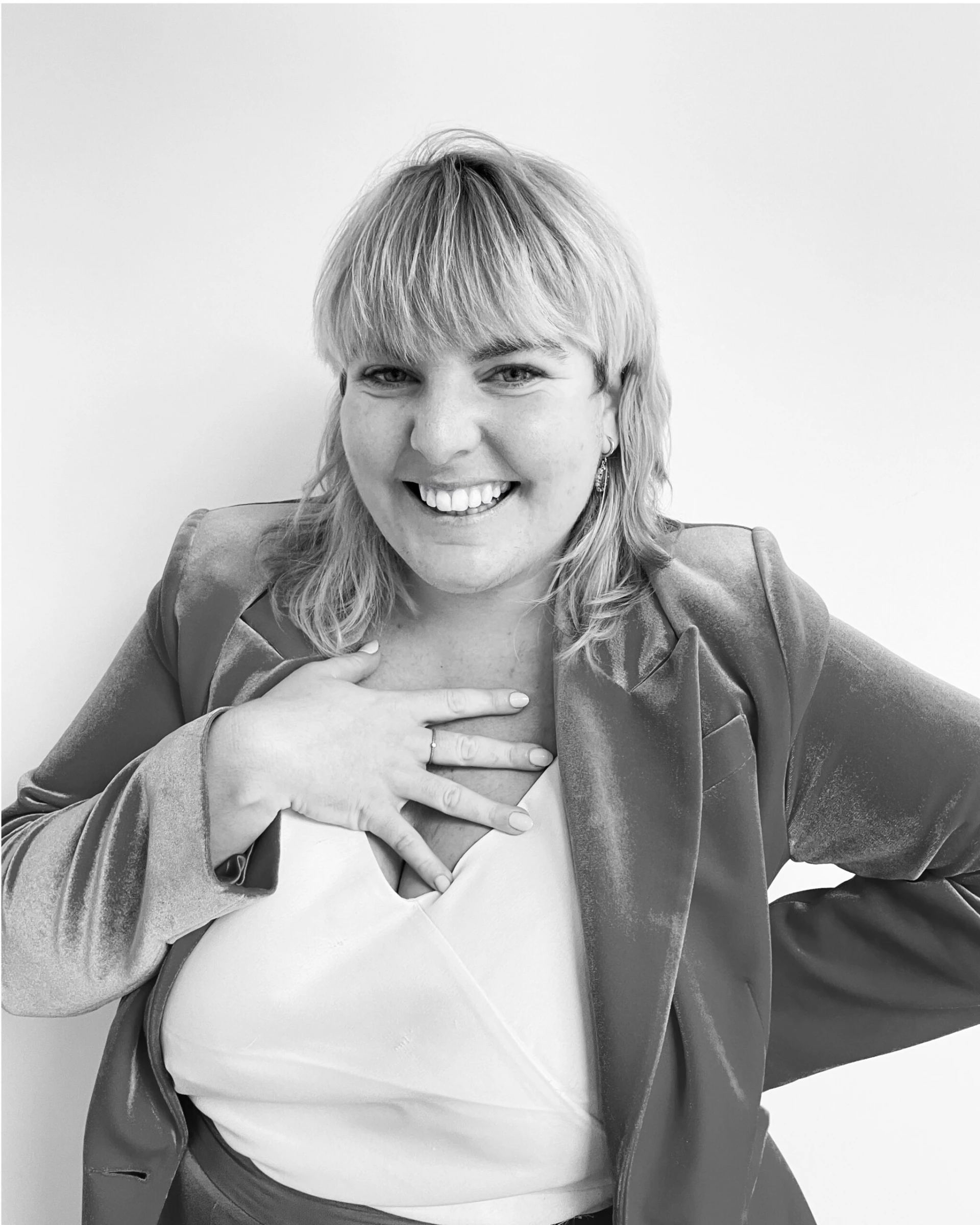 Maria Gardner
Luxury Travel Expert
---
"The Maldives is a stand-out when it comes to luxury travel and our most popular destination. We are also proud to be able to work with properties that are welcoming to the LGBTQ+ community."
Contact us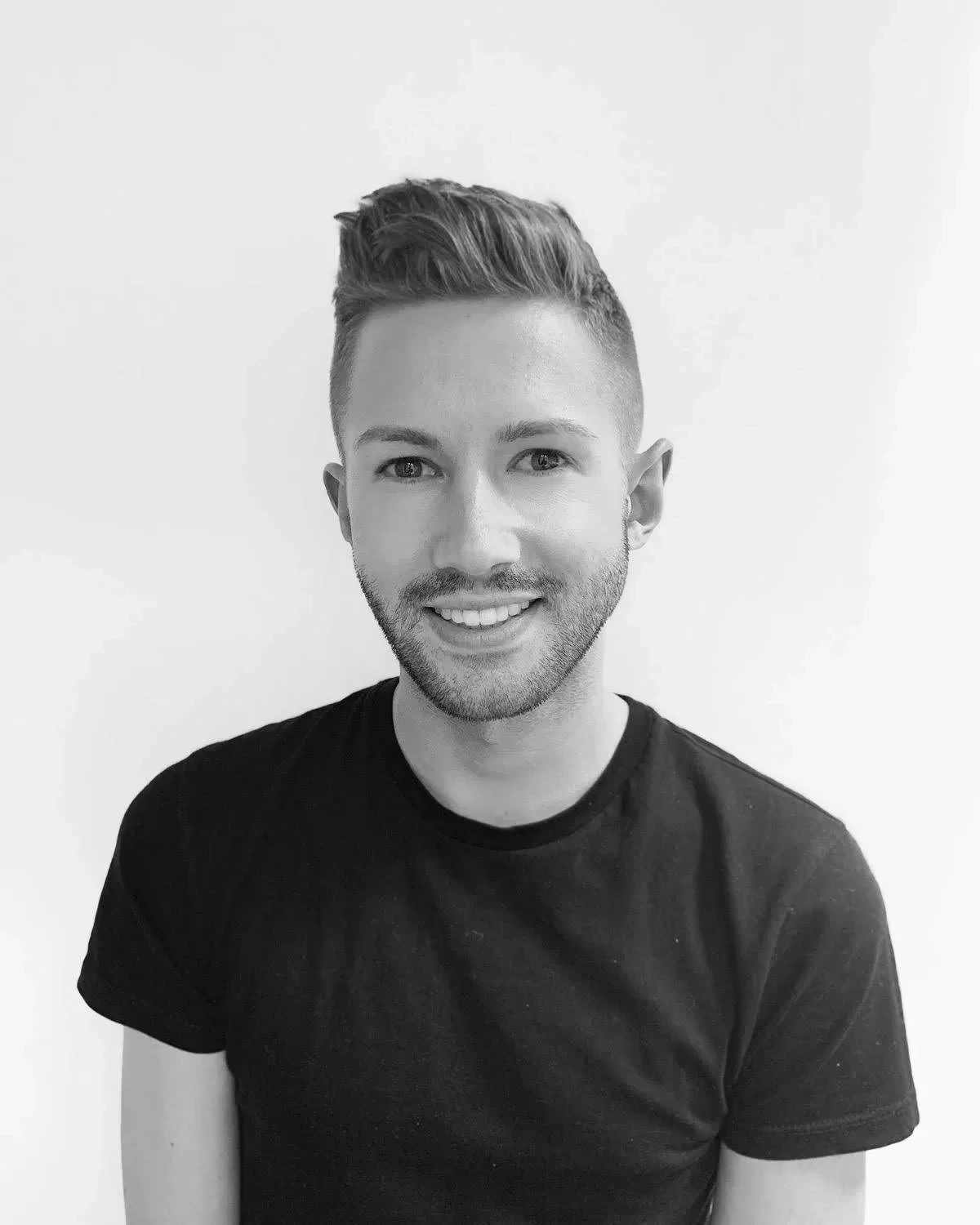 Jaike Rowe
Luxury Travel Expert
---
"Staying in an over-water bungalow is a once-in-a-lifetime experience that I'd recommend to any traveller. It's amazing to swim in some of the world's most impressive coral reefs and the sunset's divine."
Contact us
We want to ensure you have the best experience with us so we'll keep working on your itinerary until perfect. You will have your own personal dedicated member of our team who will help build the perfect trip for you.
We pride ourselves in the number of clients that are referred to us by our existing customers. Our 5* Trustpilot rating is important to us, so we encourage you to browse our reviews. They speak for themselves and that's why you are in safe hands.
Make an
enquiry
---
Email
info@outofoffice.com
To start planning your trip, please call us or complete the enquiry form and one of our team of experts will contact you as soon as possible for an initial consultation to discuss your travel plans in more detail.
All the prices on our website do not include flights. We can, of course, arrange them for you.