Nestled in the Noonu Atoll in the Maldives, Velaa Private Island is an ultra-luxe destination and of one the world's most exclusive hideaways. It's surrounded by some of the best snorkelling and diving sites in the Maldives. As well as the stunning beaches you expect from the Maldives, Velaa also has a sprawling golf course designed by Jose Maria Olazabal.
Compromising 43 private villas and 2 four-bedroom residences, the accommodation is among the Maldives' finest. Velaa Private Island boasts the culinary expertise of Michelin-star chef Adeline Grattard and the most extensive wine cellar in the Indian Ocean. The name of this retreat translates to "Turtle Island"– named after generations of sea turtles that have flocked here to nest and hatch. Velaa Private Island can be reached by a scenic 45-minute journey on a seaplane from Male International Airport.
More information
Best Resort in the Maldives
Golf Course on Veraa Island
Private Yacht
Michelin Star Chef
Despite having problematic laws concerning LGBTQ+ rights, the Maldives is one of Out Of Office's most popular destinations. Due to the geography of the Maldives, each island is essentially run by the resort that occupies it. We work with an incredible selection of resorts, many of which have LGBTQ+ management, that are welcoming to the LGBTQ+ community.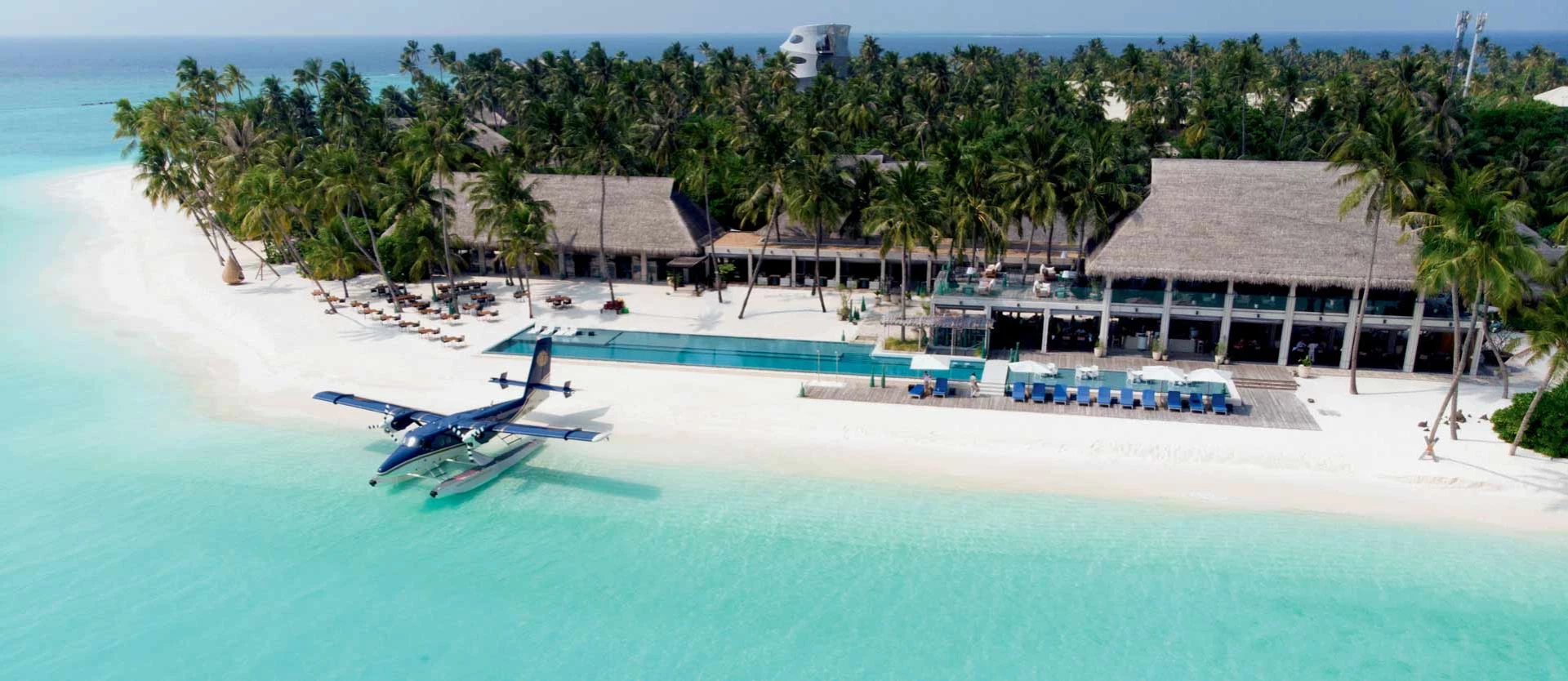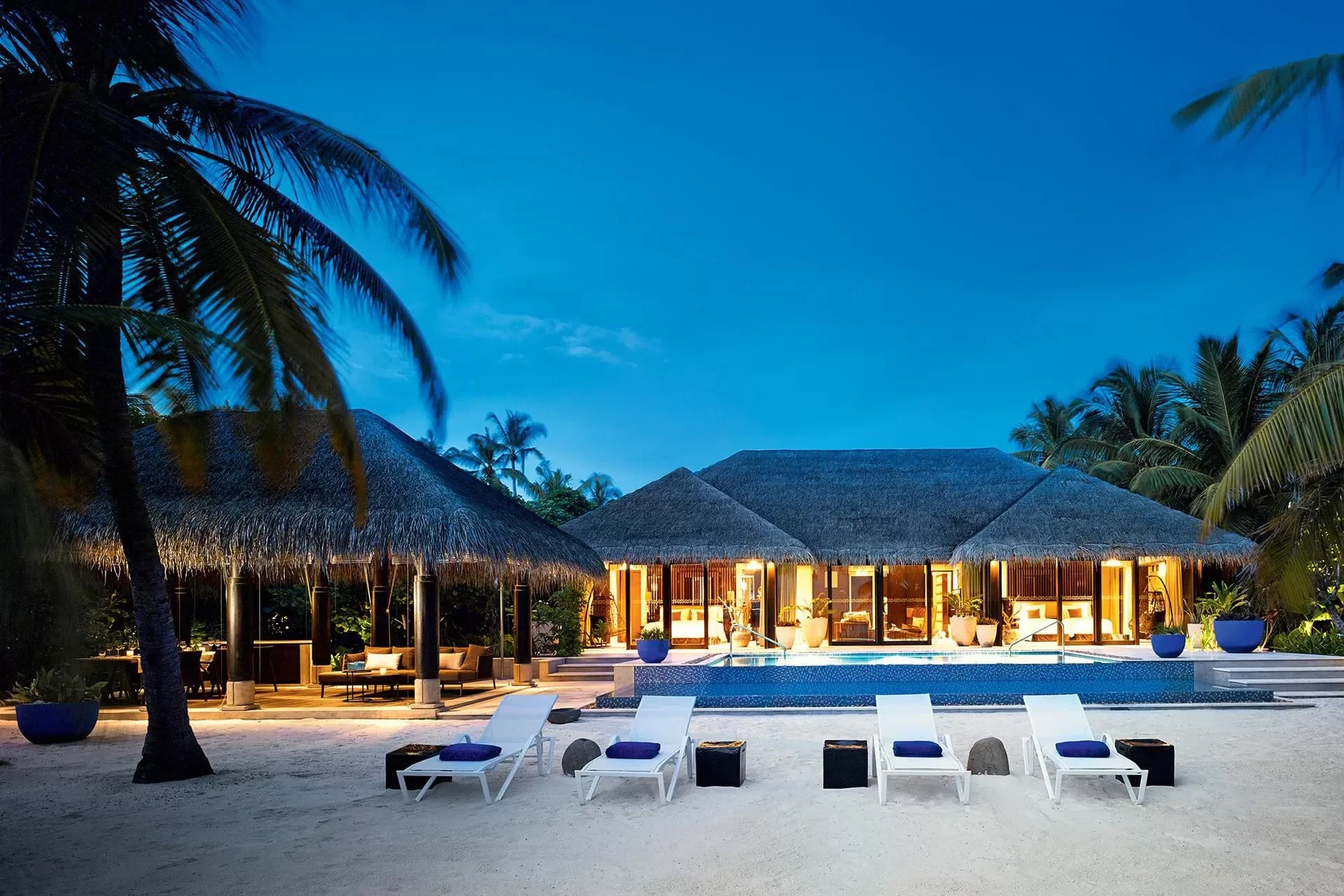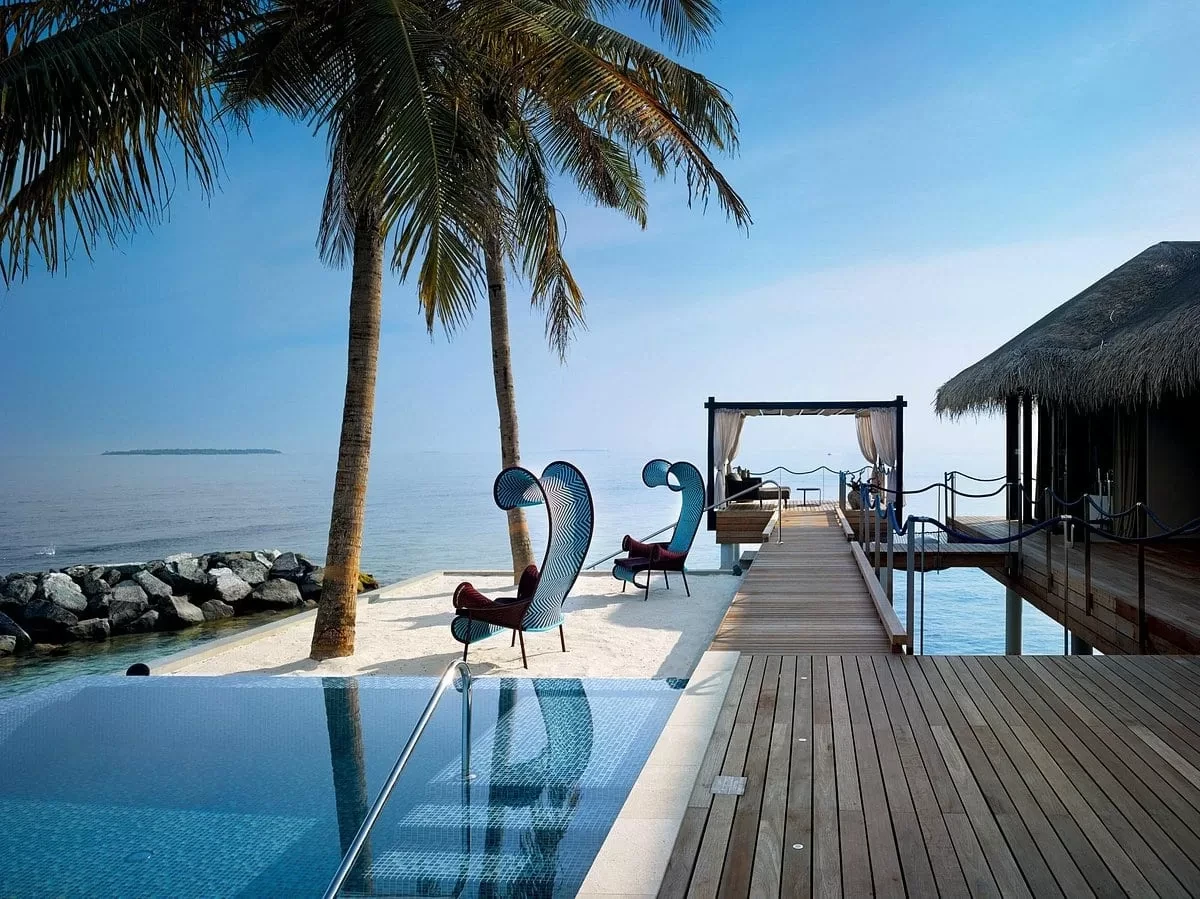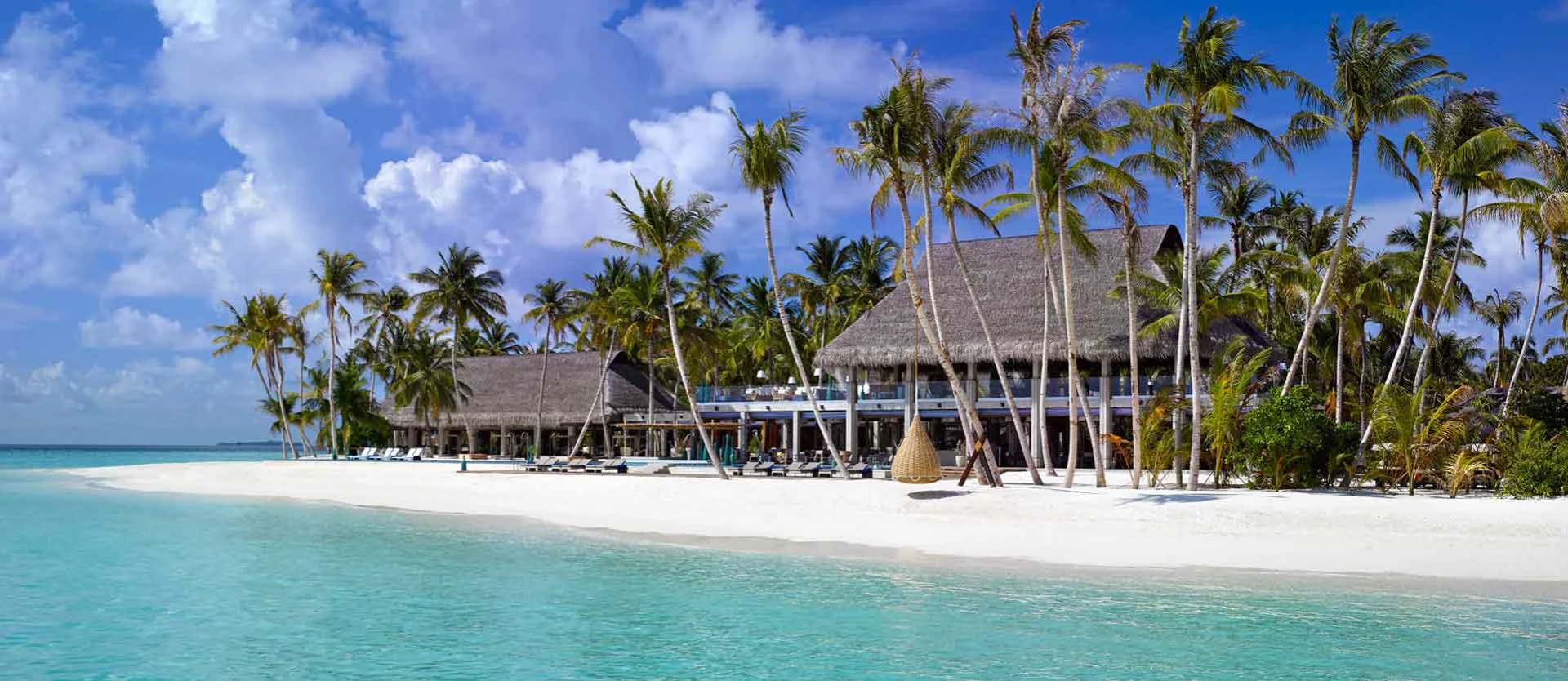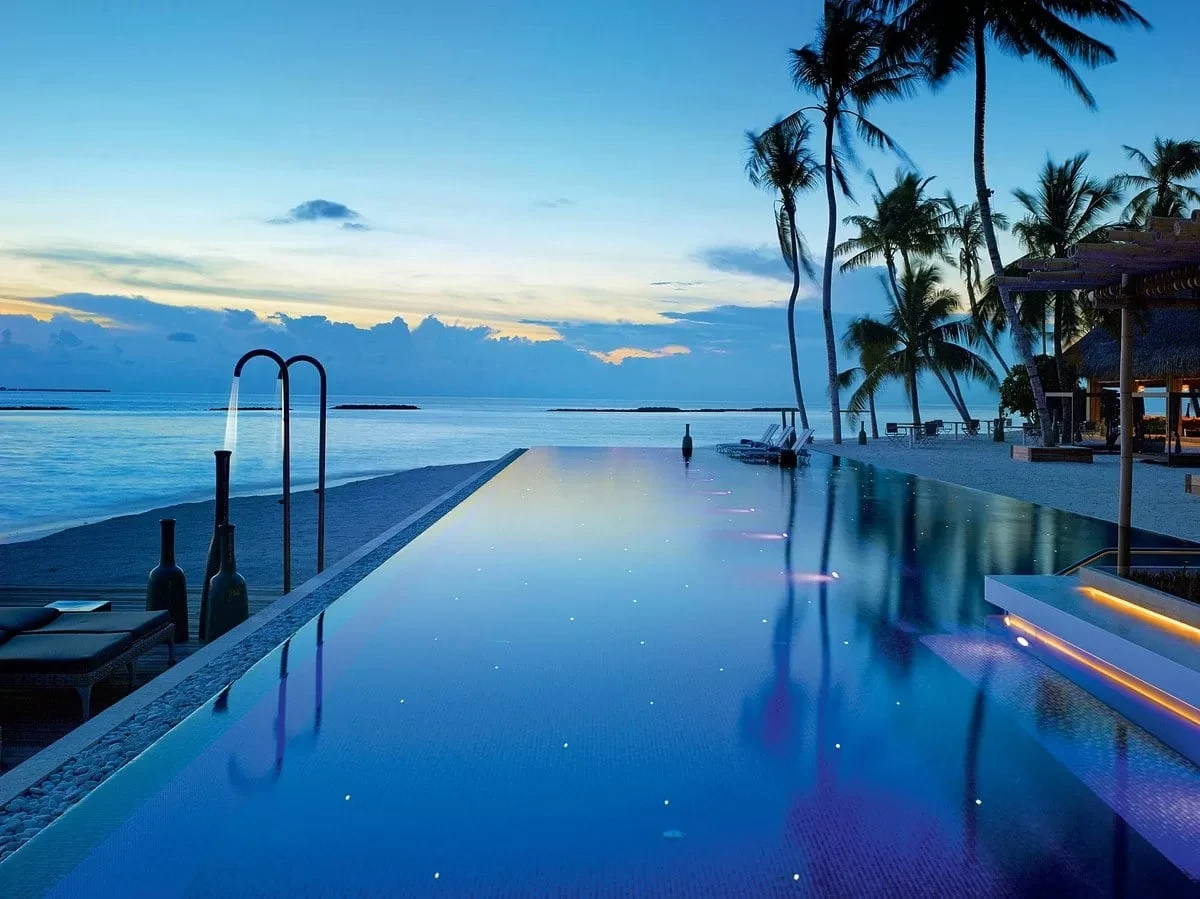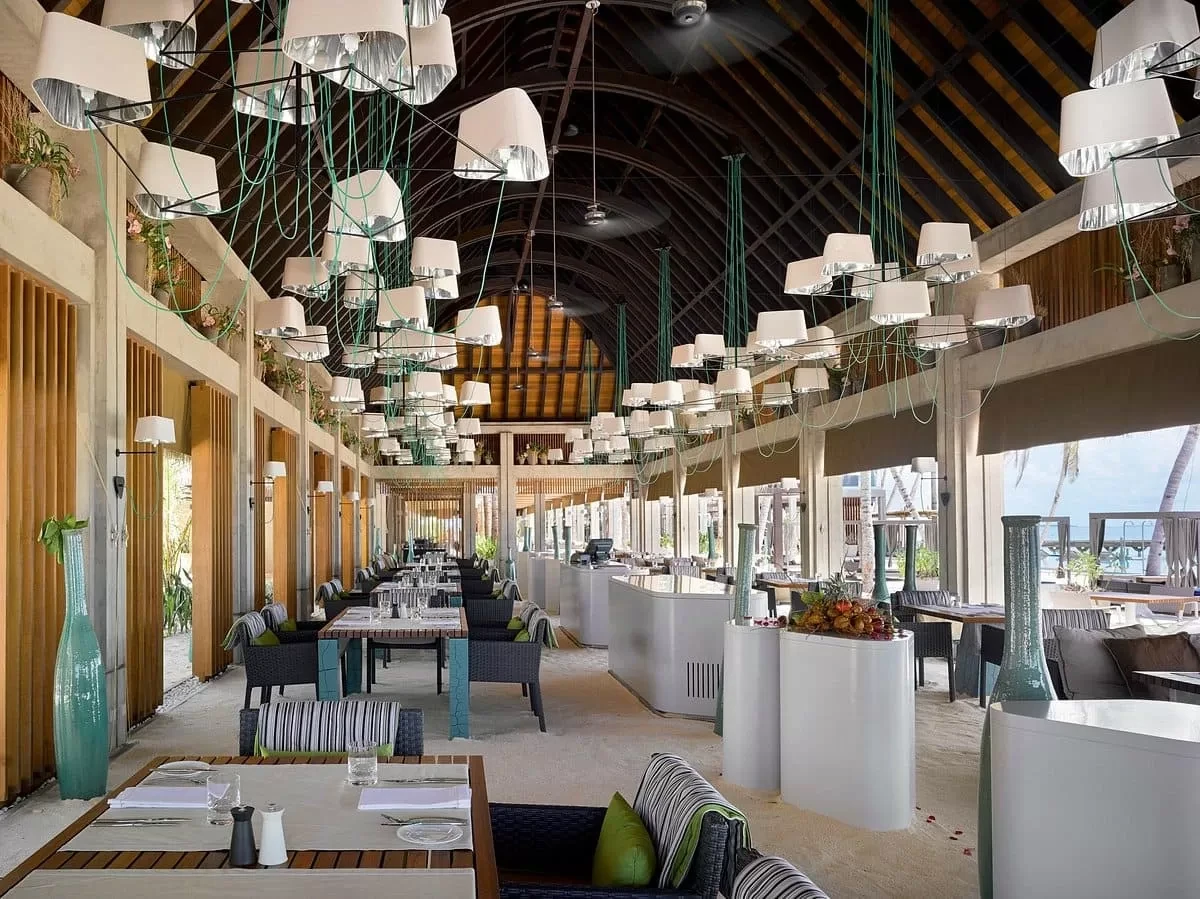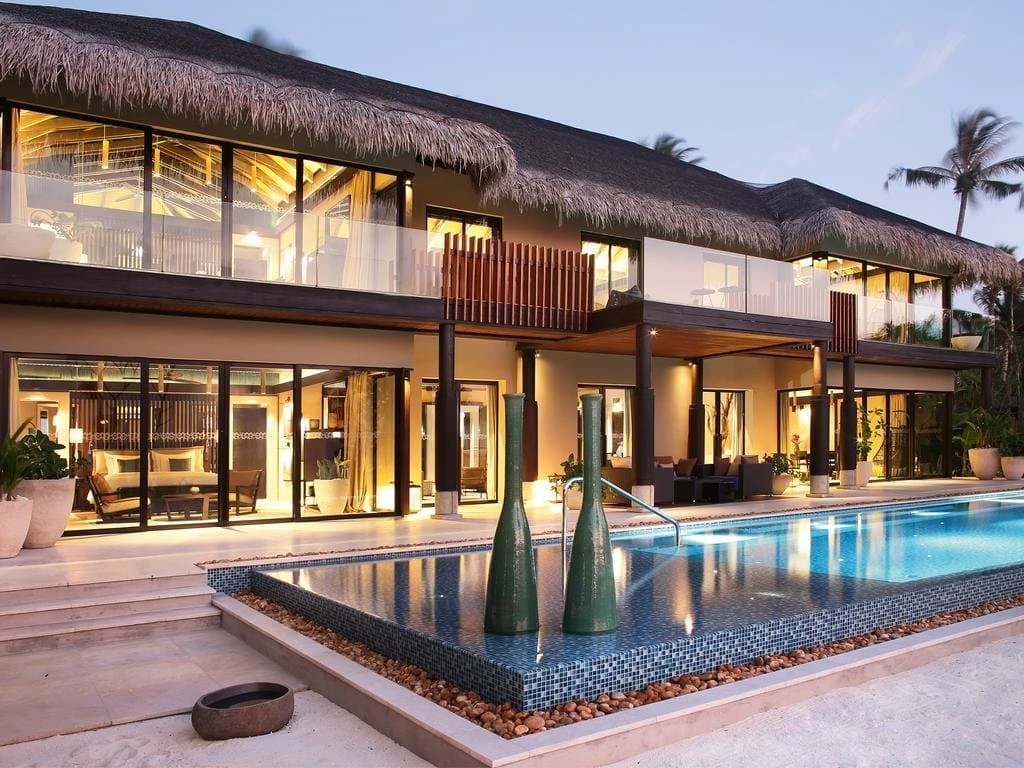 Velaa Private Island One-Bedroom Beachfront Pool Villas feature a large separate living room, outdoor terrace, private pool and indoor bathroom.
The Zen-like outdoor bathroom features a huge bath and deck, and a reclining daybed under a pillared podium connected by a garden atrium.
The alfresco dining area by the pool is the place to be at sunset.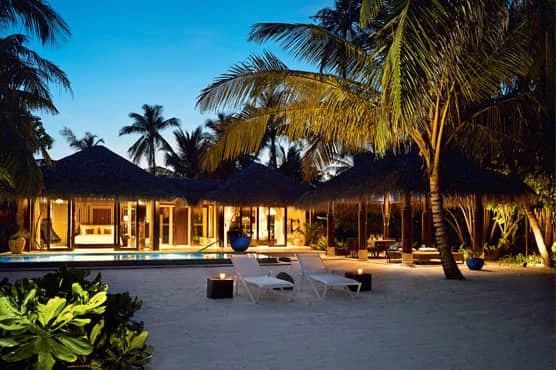 Velaa Private Island Residences set a new level of ultimate luxury in the Maldives for friends and families alike, the Four Bedrooms Velaa Private Island Residence accommodates up to 10 guests.
These two-story Velaa Private Island Residences are laid out with privacy in mind. Each of the four bedrooms faces the ocean and beach; the first floor bedrooms have generous balconies, while the ground floor rooms open onto the pool.
Indoor and outdoor bathrooms are connected by a garden atrium.
Flanked by two gazebos for dining, relaxation, or playing, the pool reflects the ocean and is the central focus. Behind the living space a gym, spa room, and outdoor living area offer plenty of quiet spaces to retire to.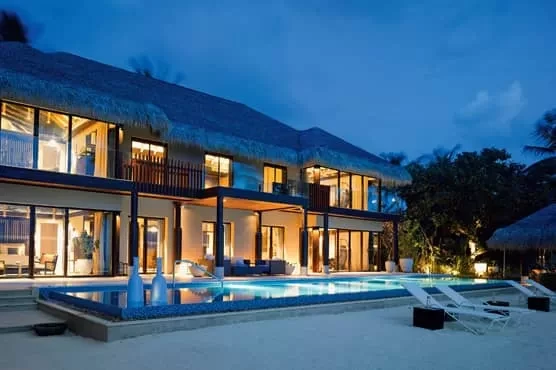 Along an extended jetty, the villas on this crescent have uninterrupted views of the ocean and private pools.
Overhanging thatch offers shade over the dining area, while the bedroom and bathroom open onto the terrace, pool, and sun deck, with steps leading into the ocean.
Inside, the comfortable living room is designed around a viewing window set into the floor, while the bed faces the ocean.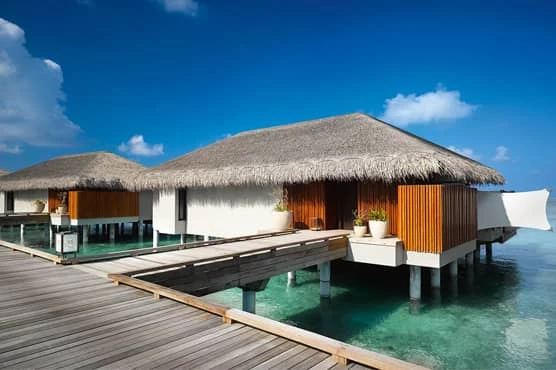 Prestigiously located on the tip of the island in an exclusive private domain, Velaa Private Island Maldives Two Bedroom Overwater Residence offers an elegant living space with carefully curated elements, such as traditional Maldivian thatched roofs.
Louvered shutters let the breeze flow through, while a deep sofa is covered in scatter cushions.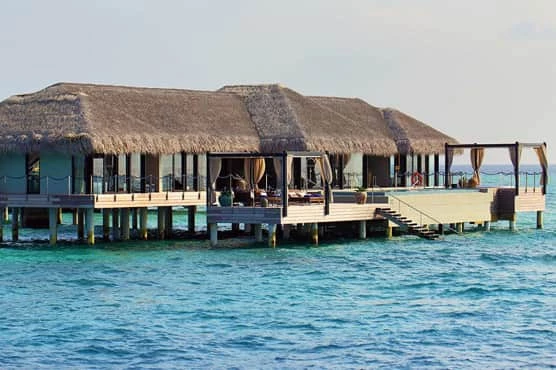 Accessible only by boat, this ultra-private Velaa Romantic Pool Residence is a one-bedroom villa suspended above the lagoon with uninterrupted views of the ocean. It offers the utmost privacy, making it perfect for ultra-luxury honeymooners. The Residence includes a private chef and butler.
All rooms open onto the terraces, where the Jacuzzi, pool, sundeck, and sunken bath.
With a personal gym and spa treatment rooms inside the Velaa Private Island residence, there's little reason to leave.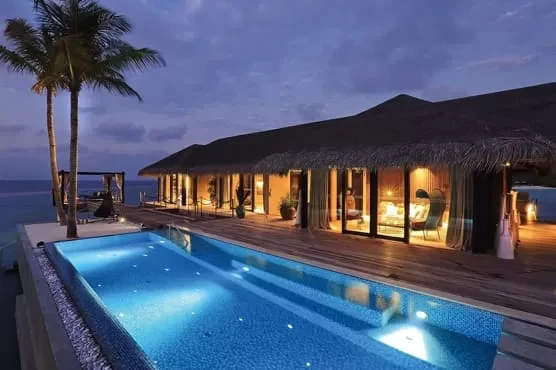 Dining at Velaa
Athiri – All Day Dining – Take delight in the surrounding beauty and selections available from the Á la carte menu, a buffet breakfast with fresh fruits and cooked breakfasts.
Avi Pool Cocktail Bar – Against the backdrop of spectacular ocean views, Avi is the perfect place to unwind and sip on delicious cocktails while relaxing poolside. Complete with its own mixologist and live DJ, Avi is a casual pool bar by day and a vibrant cocktail bar by night. Avi Bar is the perfect way to end a day in Velaa Maldives.
Tavaru Tower – Boasting stunning views over Velaa Private Island and the beautiful azure waters of the Indian Ocean, Tavaru is located at the Wine tower with a rooftop Teppanyaki restaurant. Watch the theatre of talented chefs from a front-row seat as they slice, dice, season and create bespoke menus right under your nose on the sizzling hot iron plates of the Teppanyaki grill.
Wine Cellar – The ivory-white Tavaru Tower hosts Velaa's extensive wine cellar, more than five hundred bins, the largest on the Maldives, this exquisite list has unearthed treasures from across the globe.
Aragu Signature Restaurant, Michelin Star Cuisine – With a twist on Modern European Cuisine, Aragu is taking its gourmet experience to a new level; combining a passion for culinary art with awareness and sustainability.
Cru Champagne Lounge – Overlooking the waters of the Indian Ocean, the Cru Champagne Lounge exudes an unrivaled elegance where guests can savor some of the world's finest and rarest champagnes under the guidance of expert sommeliers.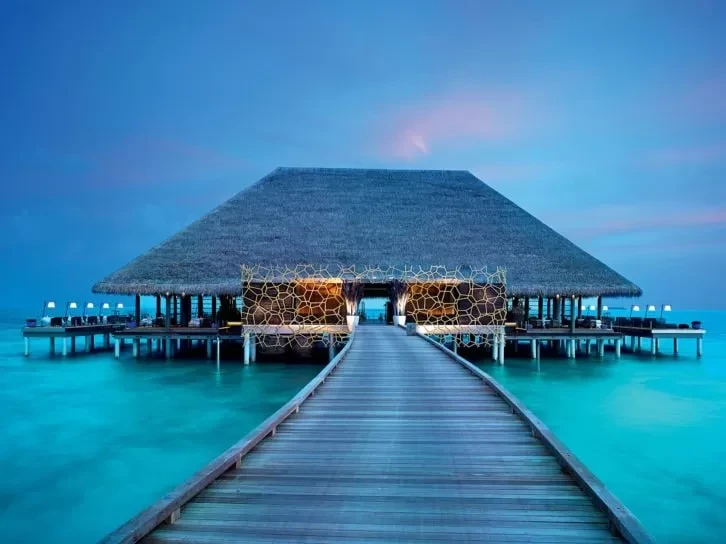 My Blend by Clarins Spa
My Blend by Clarins is one of seven in the world and the first to have been launched in Asia. With six overwater, ocean-facing treatment villas are connected by boardwalks, with an open-air sunken Jacuzzi, the Maldives' only snow room, a flotation suite, nail studio, hair salon, and relaxation area all leading off them.
Two cloud-shaped reclining treatment pods by Klafs and Sha will also be featured in the spa, which slowly sways and cradle guests into deep relaxation.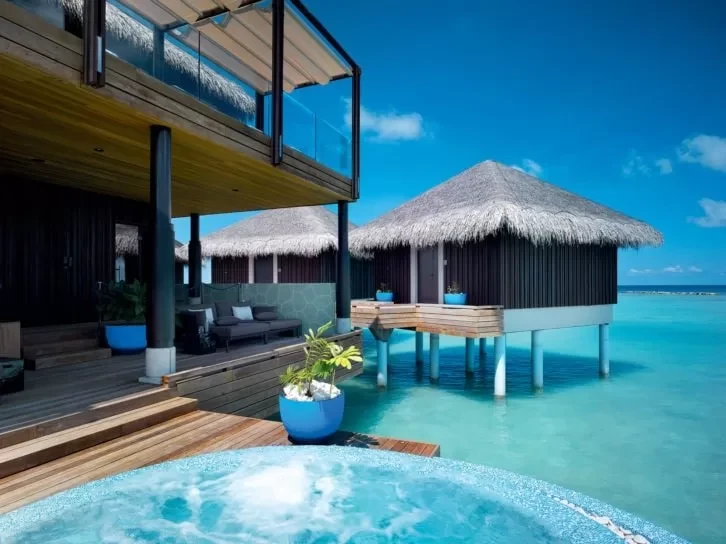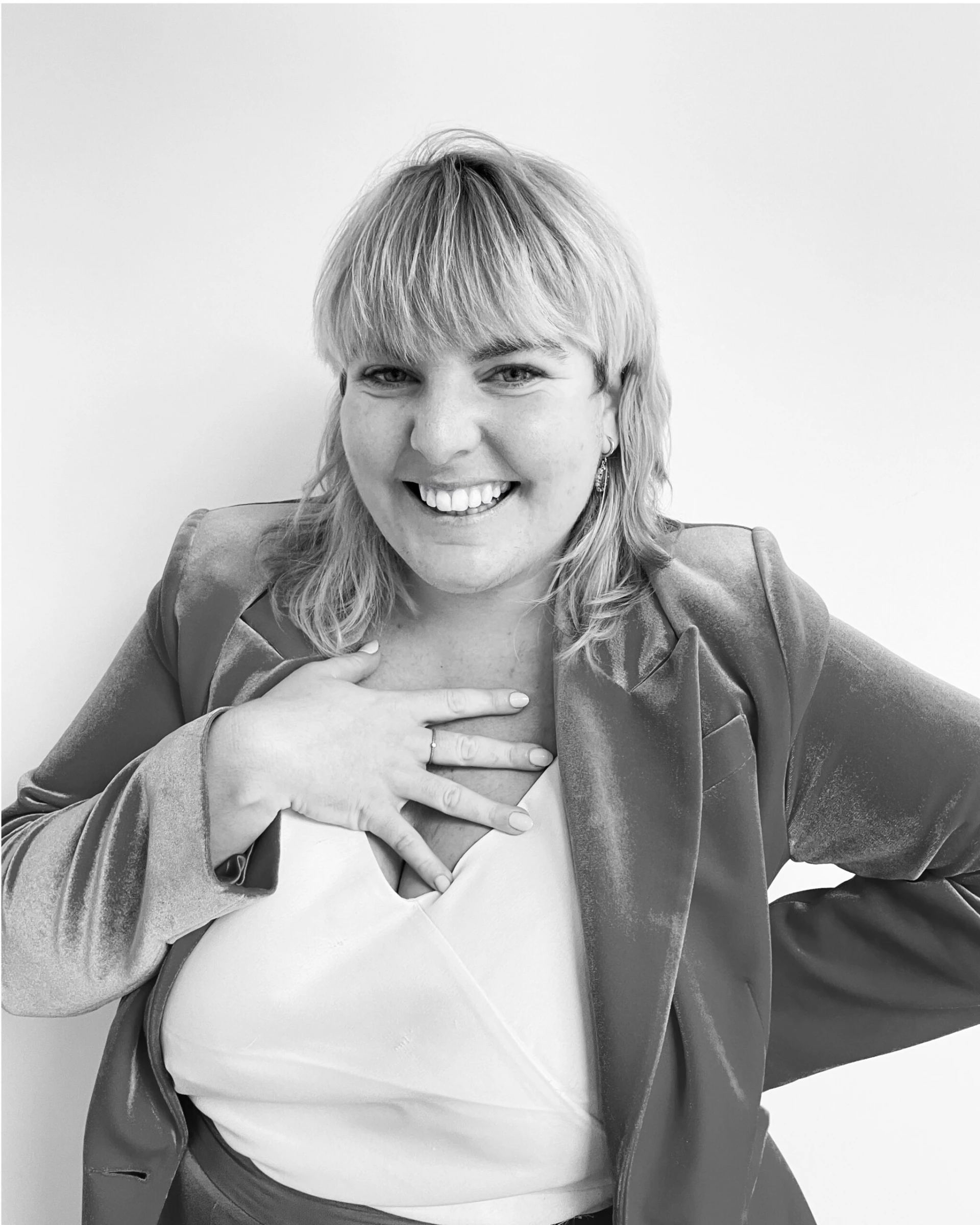 Maria Gardner
Luxury Travel Expert
---
"The Maldives is a stand-out when it comes to luxury travel and our most popular destination. We are also proud to be able to work with properties that are welcoming to the LGBTQ+ community."
Contact us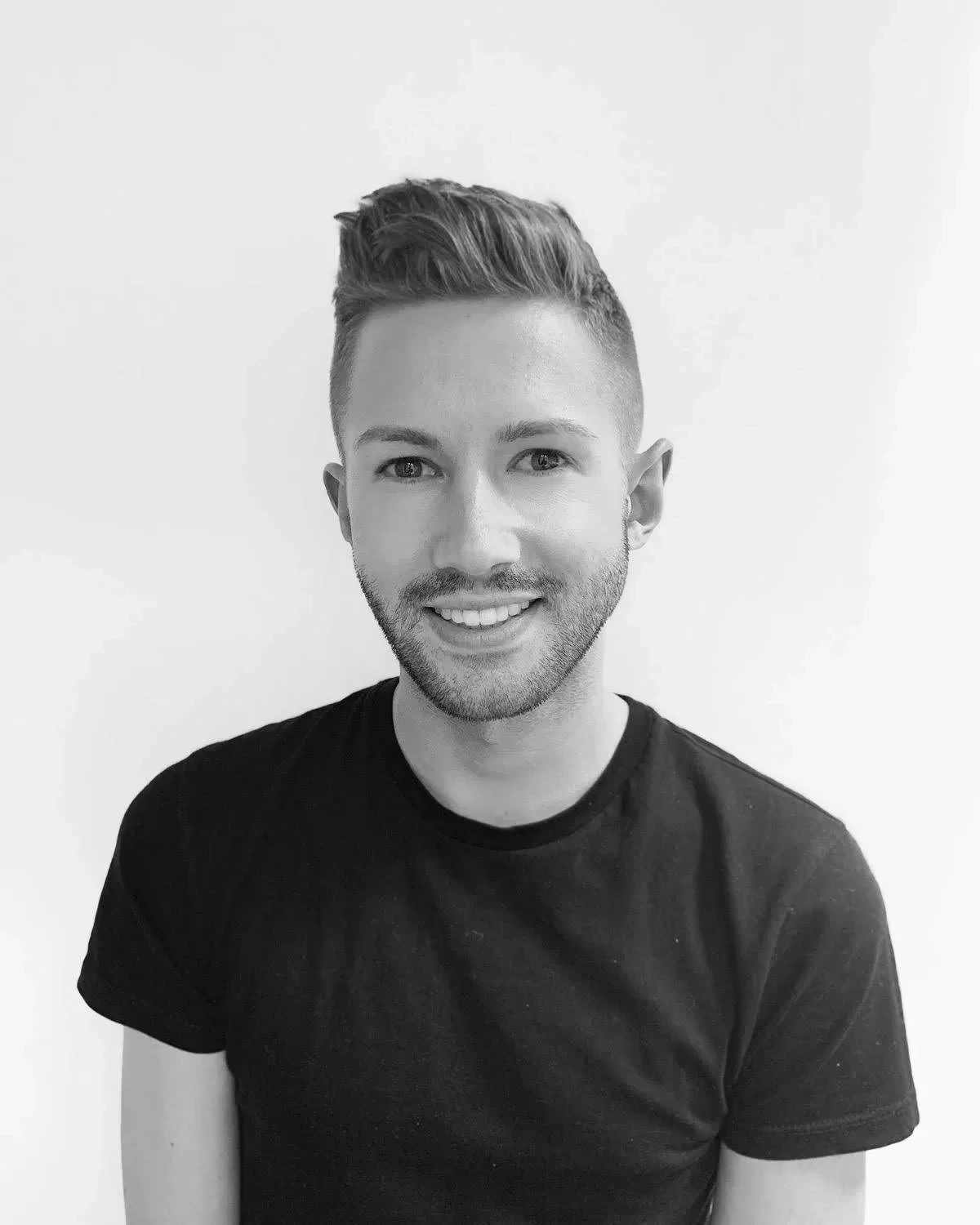 Jaike Rowe
Luxury Travel Expert
---
"Staying in an over-water bungalow is a once-in-a-lifetime experience that I'd recommend to any traveller. It's amazing to swim in some of the world's most impressive coral reefs and the sunset's divine."
Contact us
We want to ensure you have the best experience with us so we'll keep working on your itinerary until perfect. You will have your own personal dedicated member of our team who will help build the perfect trip for you.
We pride ourselves in the number of clients that are referred to us by our existing customers. Our 5* Trustpilot rating is important to us, so we encourage you to browse our reviews. They speak for themselves and that's why you are in safe hands.
Make an
enquiry
---
Email
info@outofoffice.com
To start planning your trip, please call us or complete the enquiry form and one of our team of experts will contact you as soon as possible for an initial consultation to discuss your travel plans in more detail.
All the prices on our website do not include flights. We can, of course, arrange them for you.