Cobblers Cove is a beautiful resort in the Caribbean haven of Barbados. It was built in 1943 as a family beach house by a plantation owner Joss Haynes but is now one of the most renowned luxury boutique hotels in Barbados.
The iconic pink and white building still retains the beauty of the original architecture with its charming bay windows and turreted rooftops. You'll be greeted by a welcome that offers striking views from the Great House out to the crystal blue ocean beyond.
Many of its guests return year on year to experience not only the beach and sea, but the vibrant tropical gardens with its tasteful furnishings.
Call our travel experts on
+44 (0)20 7157 1570
Highlights
Cost Category: Gold

Breakfast
Afternoon tea daily
Complimentary Watersports
Free wifi
More Information
Dining at The Camelot Restaurant
Popular with discerning guests and diners alike, the ocean-front Camelot Restaurant has been awarded many accolades. You'll find an exceptional menu from Head Chef Jason Joseph, with cuisine that is fresh and seasonal, offering a true taste of Barbados.
At the heart of Cobblers Cove, and in a culinary league all of its own, the Camelot Restaurant is recognised as serving some of the best food in Barbados.
Chef Jason Joseph and his team source as many of their ingredients as possible from local suppliers to make sure only the freshest, most flavourful ingredients are used to bring the true taste of the island to Camelot guests. Local fisherman Barker brings freshly caught fish to Camelot Restaurant each day.
Cobblers Cove's reputation for excellence in cuisine has earned the hotel its much coveted 5-star recognition from the prestigious Relais & Châteaux group, whose emphasis on food and wine has set the culinary bar at the highest level.
Popular with both guests and locals alike, the ocean-front restaurant is open for breakfast, lunch and dinner daily.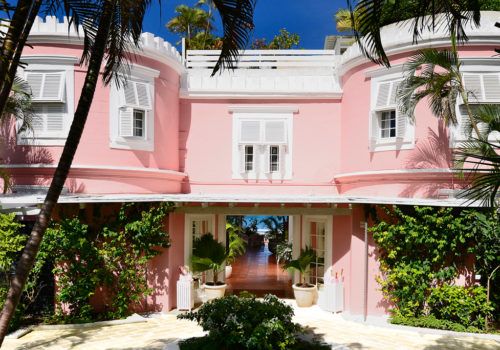 The Bar
After a long day at the beach relaxing in the beautiful Barbados sunshine and enjoying the variety of water sports, or maybe exploring historic Speightstown, you will be ready to stroll to the Great House for a sundowner in the Cobblers Cove Bar. Choose from an exotic collection of original cocktails – all with a distinctly Bajan feel – and let the highly skilled barman create a perfect cocktail just for you.
The Cobblers Cooler has become something of a signature cocktail at Cobblers Cove. This delicious smooth flavoured rum-based cocktail with its blend of tropical fruits and a sprinkling of nutmeg, is a Cobblers' tradition well worth continuing.
The history of rum and Barbados offers a rich narrative that spans almost four centuries. At Cobblers you'll find a wide and varied selection of fine aged rums from the island and around the Caribbean.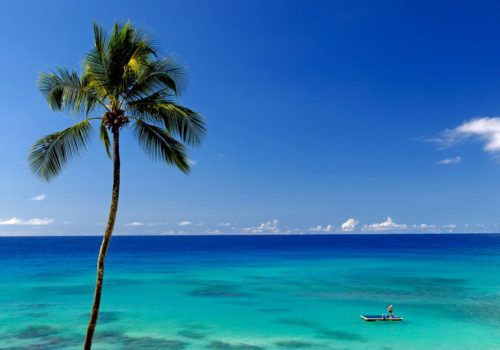 Watersports
Cobblers Cove sits in a private, tropical beach setting, one of the finest on the famous west coast of Barbados. Overlooking a breakwater, the clear, calm waters are ideal for a wide variety of water sports, from exploring the local marine life to some fast and furious fun.
During your stay at the hotel, Cobblers Cove invites you to enjoy a complimentary lesson in water skiing, sailing and windsurfing each day.
Activities include: Water skiing, snorkelling, kayaking, banana boat rides, tubing, Sunfish sailing, windsurfing, scuba diving and island fishing.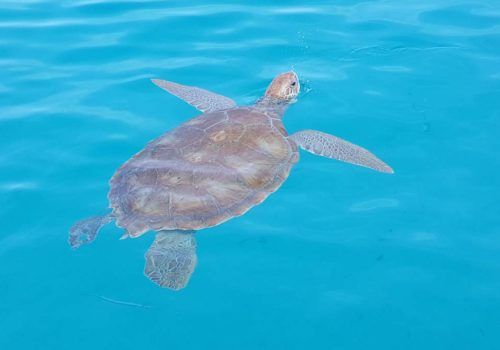 Swim with Turtles
Swimming with turtles in Barbados is an experience of a lifetime, one that makes for an amazing holiday highlight at Cobblers Cove.
Barbados is home to a healthy population of Hawksbill turtles and, although once endangered by over-fishing, these great creatures are now protected throughout the island. In certain monitored areas the sociable turtles have become accustomed to humans and are very friendly.
You can swim with these magnificent creatures as they play and feed amongst the coral along the inshore reefs. Pack up the snorkels and head out on the boat for an hour, or arrange a picnic and a ride down the coast to make the most of the day.