Curaçao is a Dutch island in the Caribbean Sea 40 miles from the coast of Venezuela. It gained its independence from Holland in 2010, but the locals still have Dutch passports and the island has Dutch political and cultural characteristics.
It's one of the most beautiful islands in the Caribbean and a popular holiday destination. Curaçao is a great place to be whether you're on a budget or travelling in luxury.
Call our travel experts on
+44 (0)20 7157 1570
More Trips to Curacao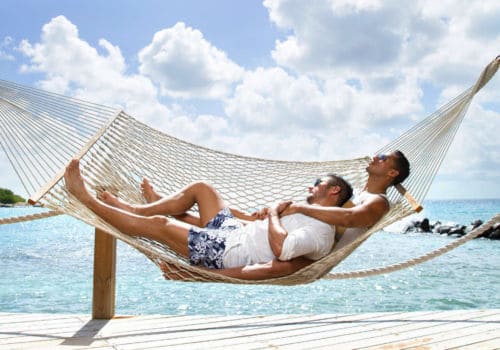 Tailor-Made
If you're looking for something above and beyond pure paradise then look no further. Renowned for the quintessential Caribbean experience – think white sands and swaying palm trees – Aruba and Curacao is one of our favourite twin-centre Caribbean holidays....
Luxury Hotels in Curacao
General Information
Curaçao has been pinged back and forth between the Spanish, Dutch and British empires so many times it's difficult to keep up. Now independent, it's a polyglot culture with many influences.
Many Jewish refugees settled in Curaçao in the 16th-century. The locals, rather like the Dutch, speak many languages. The capital city of Willemstad was established in 1634. It's distinguished by colourful Dutch colonial buildings. Curaçao is a major beach destination – there are 35, each with distinct characteristics. You'll also find buzzing nightlife, including a great live music scene.
What Everyone Does In Curaçao
Explore the Willemstad, a UNESCO World Heritage City. It's packed with vibrant coloured buildings and has an air of faded grandeur. Take a stroll down the historic Handelskade waterfront.
What Some People Do In Curaçao
Take a trip underground and visit the Hato Caves. You'll see surreal limestone formations and man-made sculptures.
What No One Else Does In Curaçao
It's an hour-and-a-half by boat to the small coral island of Klein Curaçao. Fringed by white sand beaches, it boasts an abandoned 19th-century lighthouse, several shipwrecks and it's home to a lounge of whiptail lizards.
From the Blog
Aruba and Curacao
We are the experts when it comes to delivering the most memorable gay honeymoons on earth. Our expert team have planned thousands of honeymoons and we've handpicked our top gay honeymoons. 2022 and 2023 are expected to be extremely busy

The US LGBT+ Travel Index is a report ranking the most gay friendly US states which are the best US travel destination for LGBT travelers to visit. The last few years weren't the years we had imagined for travel. Sadly,

Aruba feels a much more developed island than its counterpart of Curacao. It's smaller and flatter than Curacao, which is probably why. Not only has it just approved civil unions, there is also a very healthy Gem and Precious Metals