The Galápagos are one that should definitely be on your bucket list if it isn't already. Considered one of the world's most impressive destinations for wildlife-viewing, its isolation means there's a diversity of plant and animal species, many found nowhere else. Charles Darwin visited in 1835, and his observation of Galápagos' species later inspired his theory of evolution.
A cruise is by far the best way to visit the world-famous archipelago. Cruise passengers have access to visitor sites not offered on daily tours and can rest assured that you will be accompanied by the most qualified naturalist guides. This itinerary also offers an optional extension into the Andes to a stunning retreat.
Day 1: Quito
Arrival into Quito and transfer to your hotel.
Our carefully selected Quito hotels are chosen for their quality of service and ideal locations from which to explore the city – the first to be named a UNESCO World Heritage Site in 1978.
Day 2: Quito
A day designed to give you a taste of your new environment. No trip to Ecuador is complete without a visit to the equator and so first visit Mitad del Mundo for a great photo opportunity with one foot simultaneously in both the northern and southern hemispheres. Lunch will be served at a local restaurant.
In the afternoon head back to Quito's superb historic centre – the best-preserved colonial center in Latin America — to properly spend time exploring the cobbled streets, squares and churches of this fascinating area with your English-speaking guide.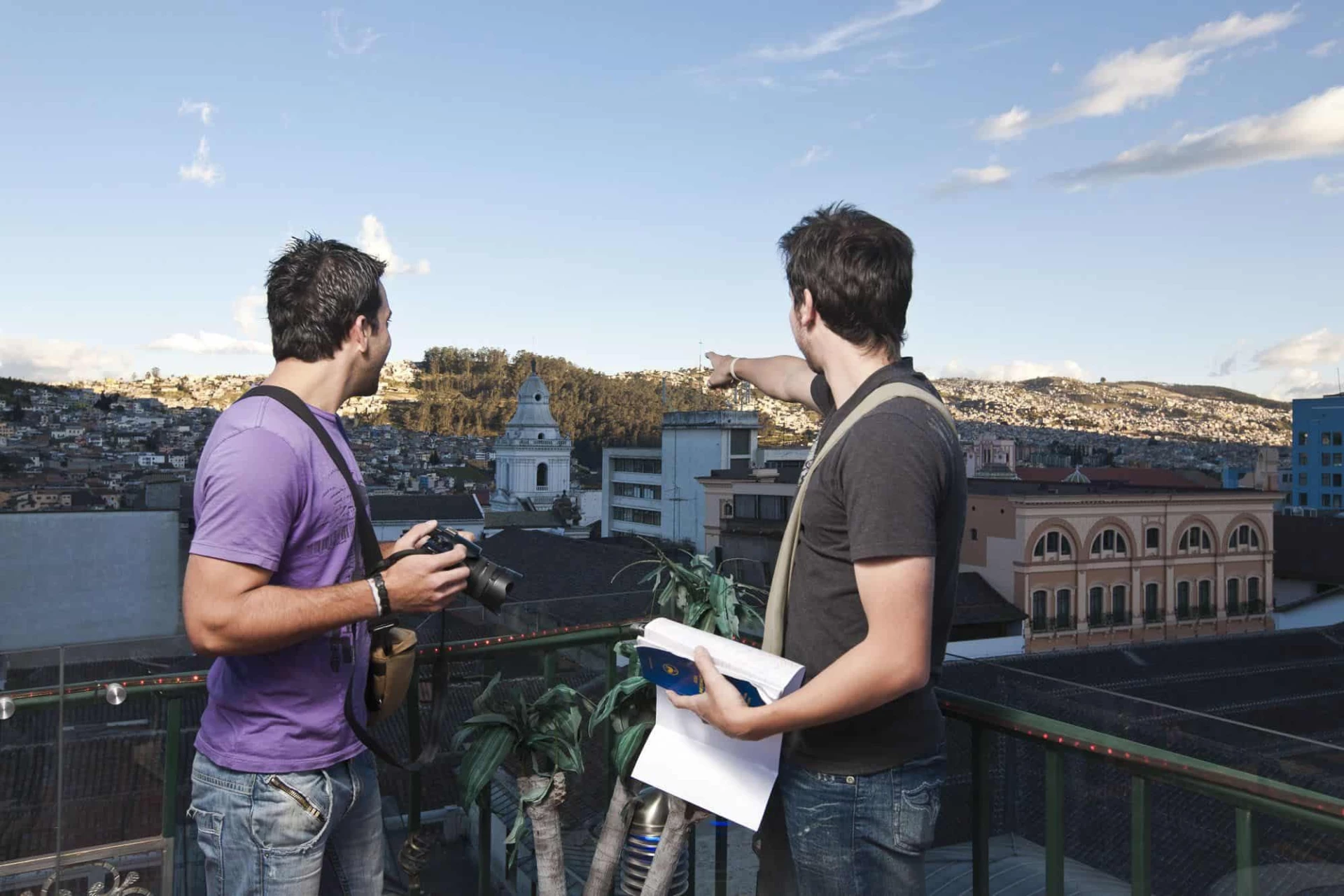 Day 3: Quito to Baltra Island
Upon arrival at the airport on Baltra, a cruise representative of your selected vessel will be there to greet you.
After lunch, we will navigate a short distance to Black Turtle Cove, a large mangrove lagoon on the north coast of Santa Cruz Island. Pelicans and herons roost on the branches, while marine dwellers such as green sea turtles or golden rays may cruise right next to the panga as it makes its way through the mangroves.
Day 4: Galapagos Cruise
AM
We travel to Genovesa Island and reach Darwin Bay (wet landing), a unique site lined with red mangroves and soft-haired prickly pear cacti where red-footed boobies and great frigatebirds perch tamely.
PM
At Prince Philip Steps (dry landing), we climb the edge of a cliff where frigatebirds, masked boobies, and red-footed boobies nest. We will be seeking out the impressive red-billed tropicbird amidst Galapagos storm petrels.

Day 5: Galapagos Cruise
AM
Dry landing at Bartholomew to climb up the wooden steps and reach the summit of this spatter cone for a most breath-taking panorama of the island's well photographed Pinnacle Rock, views of neighbouring Santiago and many other central islands in the distance.
PM
We head across to Sullivan Bay (dry landing) in Santiago to walk over a recent lava flow, including very fresh pahoehoe lava formations, lava bubbles containing crystallized minerals, and pioneer plants. Along the shoreline, we may find Galapagos penguins and herons going after small fish.

Day 6: Galapagos Cruise
AM
Wet landing onto Rábida's deep-red beaches to explore the red island's fascinating interior and saltwater lagoon. Darwin's finches, Galapagos mockingbirds, and yellow warblers feed off the vegetation. Given the right time of the year we may see brown pelicans nesting on salt bushes that fringe the beach.
PM
We head across to Cerro Dragón on Santa Cruz's northwest shore (dry landing) to visit a saltwater lagoon, home to Greater Flamingos, black-necked stilts, and white-cheeked pintails. Further inland we find a fantastic land iguana nesting site.

Day 7: Galapagos Cruise
AM
We will spend this day visiting Santa Cruz Island´s most famous highlights. We will have a dry landing in the dock of Puerto Ayora to then board our transportation and head to the island's highlands. This area, in contrast to the coastal region, has lush vegetation and forest due to the humidity that gathers in the higher regions.
We will visit one of the ranches of the area where it is possible to see giant tortoises in their natural habitat. As these animals migrate from the coastal area to the highlands and back, the chosen ranch will depend on the presence of the tortoises, as they roam free and change locations. This is also a good place to see the Galapagos hawk and barn owl of this island and the surrounding forests are filled of birds such as the vermilion flycatcher or the yellow warbler.
PM
We will enjoy lunch at the ranch to then head back to Puerto Ayora for our second visit of the day, the Charles Darwin Research Station and the Fausto Llerena Breeding Center. Here, we will see tortoises from different islands. The animals are found in large semi natural pens for their protection, but also to ensure an easy view for the visitors. The pens are divided according to four different stages: eggs, neonates, juveniles (held here until they are mature enough to be "repatriated"), and adults.
After this visit, we will have some time to explore the town of Puerto Ayora and its many souvenir shops, before boarding the boat for dinner and the evening briefing.

Day 8: Galapagos Cruise
AM
Dry landing on one of the oldest docks of the archipelago, colorful Plaza Sur is home to vibrant green prickly pears, deep red Sesuvium and coppery-orange land iguanas; impressive seaward cliffs are excellent for a variety of coastal birds. This is also a great place to observe the adult and pup sea lions swimming along the shores.
PM
After a wet landing on Santa Fe onto a white beach where sea lions are usually resting, we will be looking for the endemic species of land iguana, larger and yellower than land iguanas on other islands. The largest prickly pear cacti in the Galapagos are also found here.

Day 9: Galapagos Cruise
AM
Punta Suárez (dry landing) is a spectacular walk to give insight into the intimacies of life at sea, with nesting sites of blue-footed and Nazca Boobies, as well as the fascinating breeding rituals (April to December) of the waved albatross. Lined with neon-colored marine iguanas (January), and lazy Galapagos sea lions, we walk up to an amazing viewpoint of the famous blowhole.
PM
We will spend the day in fantastic Española, starting with Gardner Bay (wet landing), an outstanding beach with sea lions, marine iguanas, and the intrepid Española Mockingbird.
Day 10: Galapagos Cruise
AM
This is our last day in the islands. After breakfast we will disembark in Puerto Ayora to take our transport to Baltra Airport, doing a short stop to visit the lava tunnels found in the highlands. These intriguing tunnels were formed by a lava flow that hardened on the outside while still maintaining its fluid scolding state on the inside, leaving hollow tunnels where it passed. We will walk inside one of the tunnels (that are artificially illuminated to help visitors) to have a close look at the formations and learn more about the origin of these very volcanic archipelago.
After this visit we will make our way to the Baltra airport for the flight to mainland Ecuador.
Optional Andes Add On
Transfer to Sacha Jí, an Andean wellness retreat.
The owner of Sacha Jí is both a fully qualified architect and a professional photographer and their skill and passion are evident everywhere in this comfortable, contemporary and ecologically designed hotel.
From the feng shui inspired curved forms of the hotel's elegant structures to the impressive collection of original photographs that adorn the walls throughout, it is clear that the hotel is in the hands of someone to whom attention to detail is everything.
Sacha Jí's 11 spacious guestrooms are set into the hillside in small curved groups to take full advantage of the stunning views of Imbabura Volcano and Lake San Pablo. Each room has a well-appointed private bathroom and most come equipped with a cosy wood-burning stove. Individual decorative touches include locally made Andean rugs, 18th century Spanish wooden doors and fabulous contemporary photographs. The eco-friendly green roofs of the room complexes all sport hammocks in which you can relax and take in the views of the surrounding countryside.
Your day includes breakfast, lunch and dinner.

Optional Add On: Otavalo, Peguche and Cuicocha Lagoon
Otavalo is the biggest and most important indigenous market in all of Latin America. The colourful main handicraft and textile market spills into the streets from the central Plaza de Ponchos whilst the cacophony of the animal market is kept to the outskirts of town. The produce market impresses with the sheer number and colour of the locally cultivated fruits and vegetables. The friendly Otavaleños are more than happy to talk about their crafts and traditions and will expect you to haggle a bit on the price.
From the busy market, head to a restaurant of the area to taste the local flavours in a variety of typical regional dishes. After lunch continue to the town of Peguche to visit a textile and handicraft workshops and learn, from the hand of the owners, the ancient techniques and secrets used in the making of this wonderful pieces. A good example of this is the use of an insect for dyeing the wool.
In this town we also stop by an Andean musical instrument workshop where the musicians, who also build the instruments, will do a short performance. Before heading back to Sacha Jí, visit the active volcanic crater lake of Cuicocha and if time permits, stop for some last-minute shopping in the town of Cotacachi, a town famous for its leather products.
Your day includes breakfast, lunch and dinner.
We want to ensure you have the best experience with us so we'll keep working on your itinerary until perfect. You will have your own personal dedicated member of our team who will help build the perfect trip for you.
We pride ourselves in the number of clients that are referred to us by our existing customers. Our 5* Trustpilot rating is important to us, so we encourage you to browse our reviews. They speak for themselves and that's why you are in safe hands.