Hop on board The Venice Simplon-Orient-Express and take a trip to a more glamorous time. The shimmering vintage carriages of the train bring to life golden age of luxury train travel. Belmond was founded by James B Sherwood in 1977. He collected vintage train carriages and cars, including Le Train Bleu and the Rome Express. It took considerable craftsmanship to restore these trains to their former glory. The midnight-blue cars took to the rails in 1982.  The Venice Simplon Orient Express has been a popular choice for luxury travellers ever since.
You can join a gay-exclusive trip on the Orient Express from Venice to Paris. All meals (including wine) will be provided. A major highlight of the trip includes spending a night in the Belmond Hotel Cipriani in Venice – one of the greatest hotels in the world. There'll be a gala dinner at the Granaries of the Republic, Venice. You'll be in a private cabin with a 24-hour cabin steward. Expect surprise entertainment in the evenings. This is a great way to experience the luxury and style of a bygone era.
Included
Accommodation as listed
Overnight at Belmond Hotel Cipriani
Gala dinner at Granaries of the Republic, Venice
Transfer to Santa Lucia station
Overnight on Venice Simplon-Orient-Express from Venice to Paris
24-hour steward and private cabin
All meals and wine on-board included
Surprise entertainment
Excluded
International Flights
Travel insurance
Departing on
2nd November 2021 Tuesday
BOOK EXCLUSIVELY WITH OUT OF OFFICE TO SECURE THE BEST CABINS
Featured Video
More Information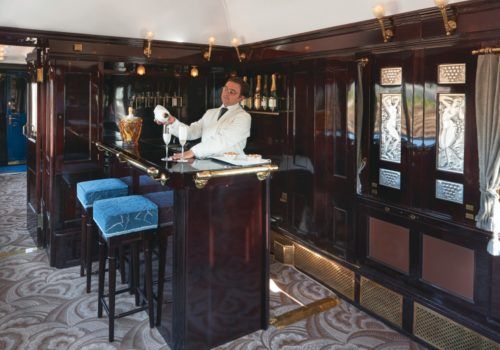 ABOUT THE VENICE SIMPLON-ORIENT-EXPRESS
The Venice Simplon-Orient-Express runs from March to October and is truly a once in a lifetime experience. Travelling between European cities in the ultimate luxury, your trip will be one to tell all your friends about.
A work of art in itself and a true Art Deco icon, the legendary Venice Simplon-Orient-Express train offers one of the most celebrated and romantic journeys in the world. As you crisscross Europe, you'll discover some incredible countryside and lively onboard entertainment to make the journey on this luxury train one of the finest experiences you'll experience in a lifetime.
LIFE ON BOARD
DINING
You'll find three restaurant cars on board which offer an incredible dining experience – from scenic and beautiful lunches to romantic dinners. In the Etoile du Nord restaurant car you'll find ornate and floral woodwork. Cote D'Azur has stunning Lalique glass panels and in L'Oriental you'll find an exotic style complete with black lacquer.
CHAMPAGNE BAR
Taste the finest champagnes in this stunning bar. With a nod to the 1920s, you'll find Art Deco interiors and signature Lalique glassware.
THE BAR CAR
Experience the glamour of pre-dinner drinks and cocktails, mingle with your fellow passengers, or enjoy a nightcap before retiring to bed. There's a baby grand piano too which is complete with a resident piano.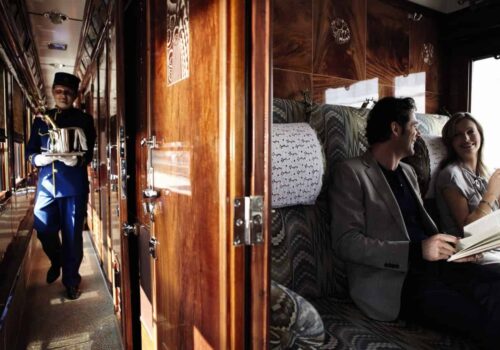 CABINS
The Venice Simplon-Orient-Express cars are the original 1920s models. Each cabin comes complete with its own washbasin with hot and cold water, towels, bathrobes and slippers.
Many cabins have adjoining doors and can be converted to 'Cabin Suites'. WC's are located at either or both ends of each sleeping car.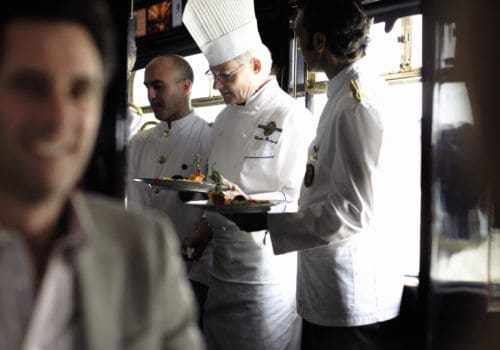 Includes
Accommodation as listed
Overnight at Belmond Hotel Cipriani
Gala dinner at Granaries of the Republic, Venice
Transfer to Santa Lucia station
Overnight on Venice Simplon-Orient-Express from Venice to Paris
24-hour steward and private cabin
All meals and wine on-board included
Surprise entertainment