The Philippines is located in Southeast Asia and it is comprised of over 7000 islands. The capital, Manila, is the most populous city in The Philippines.
The inhabitants of the Philippines are known to be very friendly and welcoming people. It's also, curiously, the selfie capital of the world. They sure love social media.
Notoriously, The Philippines' former first lady, Imelda Marcos, assembled the world's largest shoe collection.
Trips to Philippines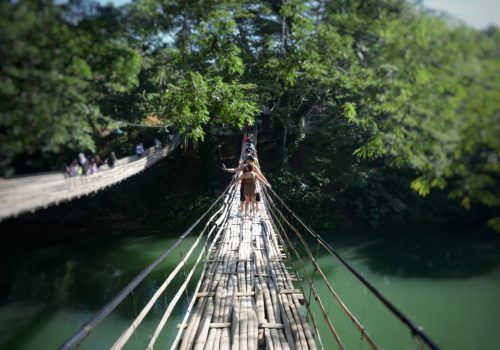 Tailor-Made
Discover the Philippines as you island hop your way from Manila to Bohol. You'll visit the historic walled city of Manila, built by the Spanish empire. In Bohol, you'll see the iconic Chocolate Hills and also the smallest primate on...
Hotels in Philippines
Getting to Philippines
You'll fly into Manila's chaotic airport. You may need to get a cab between the bustling terminals. It's not quite as well organised as Heathrow!
General Information
Known as the largest Catholic country in Asia, The Philippines is an archipelago with many areas of great natural beauty. It's islands are separated into three distinct island groups: Mindanao, Visayas and Luzon.
The islands came under the sway of the Spanish empire from 1521 until 1899, when the United States took over. Japan brutally took over the island from 1941 until 1945. It gained independance after the war and, after some difficulties, caught up economically with its neighbourhoods.
Its culture is very diverse. English is widely spoken. So much so that most Philippine authors write in English. The culture is vibrant and outward-looking: people love to drink, sing, eat and enjoy the good life.
What Everyone Does In The Philippines
You'll want to go island hopping on a bamboo boat. On your travels you must visit the limestone islands of Bacuit Bay. Here you'll fine stunning landscapes and world class beaches.
What Some People Do In The Philippines
Go do some karaoke and hang out in shopping malls. Seriously, people here love to eat junk food, hang out in malls and sing like crazy on the karaoke.
What No One Else Does In The Philippines
Climb the volcanoes of Camiguin. It's less visited by tourists and relatively unspoiled. You'll also find hot and cold springs.
From the Blog
Island Hopping In The Philippines
You may never have heard of Samantha Power, but she is making waves when it comes to trying to get international governments to integrate LGBTI rights into their foreign policy by default. The U.S. Permanent Representative to the United Nations