Designed exclusively for couples, this idyllic and intimate Caribbean hideaway, is set on a beautiful two-mile stretch of white sandy beach and is surrounded by seven acres of tropical gardens. Candlelit dining on the beach, the finest cuisine, sumptuous rooms, a lazy river pool that meanders gently through the resort creating small nooks and private hideaways, wading pools, a lush tropical garden and a brand new spa where you can reward yourself with some well-earned pampering. 
Highlights For Rendezvous Couples Resort
Cost Category: Gold

Beautiful beach
Exclusively for couples
Champagne bar
All-Inclusive
Lazy river pool

MAKE AN ENQUIRY
Room Options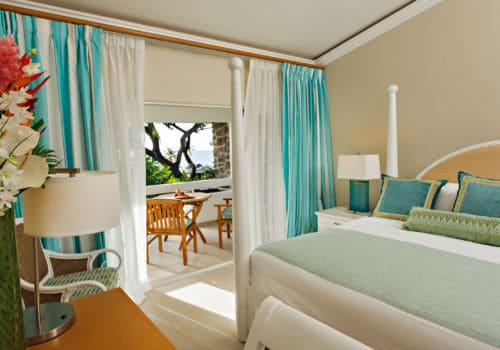 Premium Garden View Room
The Premium Garden View Rooms are newly refurbished with a fresh new decor and have glass doors that lead to either a patio or balcony with views of the gardens.
Premium Garden View rooms offer views of the resort's lush tropical gardens. Large French mullion glass doors lead out onto a comfortable patio or balcony which are situated in a three-story, Caribbean-style building. Patios and balconies all offer tasteful teak garden furniture.
The new decor is fresh and modern and features soft seaside colours. Interior furniture in ice mist is a refreshing compliment to the room. Rooms have been upgraded to offer spacious closets, refrigerators, iPod docking station, clock radio, and complimentary internet access.
The king-sized, four-poster beds that Rendezvous is known for, remains a feature in the Premium Garden View Rooms, though they have been improved with new, luxurious mattresses and pillows that will provide the best sleep you've ever had. Bathrooms offer the combination of bath and shower.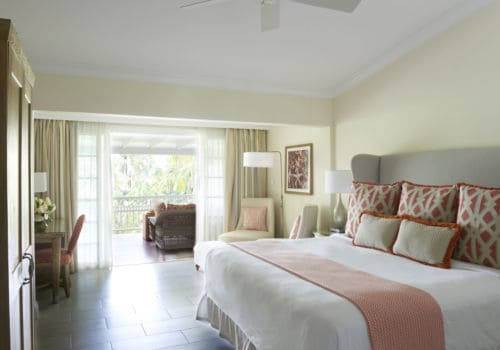 Verandah Suite
The Verandah Suites combine great taste in indoor/outdoor living, incorporating a huge 12-foot balcony or verandah. New, spacious and utterly unique.
The newly refurbished Verandah Suites are popular at this St Lucia all inclusive resort. These spacious suites feature large verandahs, located in a two-storey building that overlooks the tropical gardens. All the rooms have fine detailing, hand carved in the traditional Caribbean style. The king-sized bed is complemented by sumptuous fluffy down cushions.
Rendezvous' Verandah suites are well equipped with a mini refrigerator, tea and coffee making facilities, an iPod docking station and clock radio. Ceiling fans circle slowly below painted wood ceilings whilst the top floor rooms have expansive cathedral ceilings. The beautiful bathrooms are finished with frameless glass shower doors, a body shower and a spacious bathtub.
The rooms open onto large 12-foot deep verandahs that are equipped with a large loveseat as well as a teak coffee table and chairs. Perfect for an evening drink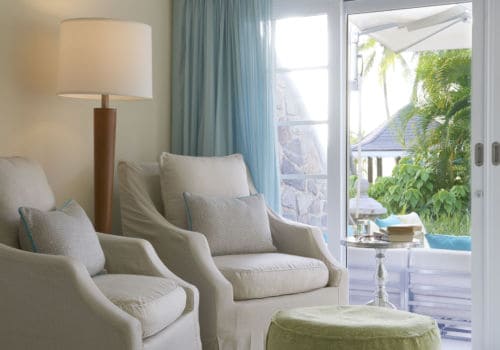 Seaside Suite
The newly refurbished Seaside Suites of this St Lucia couples resort are all situated on the ground floor, so that you can walk directly from your room onto a private deck that overlooks the seaside pool, the Caribbean Sea and the gardens.
Each suite at this hotel for couples is designed for privacy and romance. We have fitted the suites with Italian marble floors throughout and a truly spacious bathroom with a beautiful bathtub and body-shower. The bedroom accommodates a king-sized bed, draped with canopies of sheer fabric.
To further enhance your stay, we provide tea and coffee making facilities in suite, an iPod docking station and clock radio. Experience a romantic couple vacation like no other when you stay in the Seaside Suites at Rendezvous, the hotel for couples.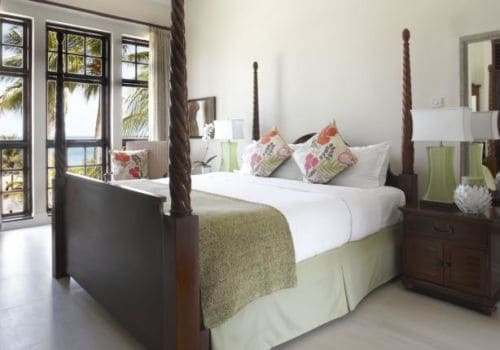 Luxury Beach Front Room
The Luxury Beach Front Rooms of the beautiful, Rendezvous, enjoy an enviable location situated in a vine-covered three-storey traditional Caribbean building located on the beach front. The bedroom furniture is made from hardwood and there is a large dresser, a desk with Durban side chair, lounge chair and ottoman.
The soft furnishings are of soft colours with bright Caribbean accents. Every room is furnished with a mahogany four-poster, king sized bed and a superior sleep-comfort mattress. The large bathrooms have a glass block wall, shower and marble vanity unit.
The rooms are equipped with a mini refrigerator, tea and coffee making facilities, an iPod docking station and clock radio.
Each room has a private terrace or balcony with a sitting hammock, perfect to laze away the day. Enjoy your romantic holidays in these luxury beach front rooms when you book Rendezvous, the top couples resort in the Caribbean.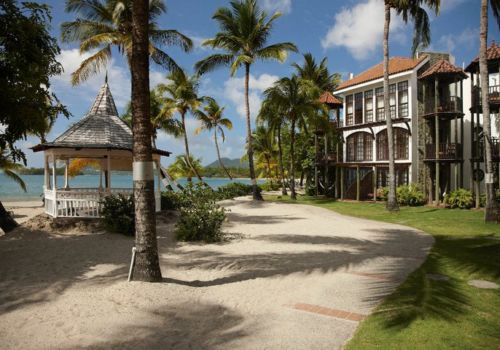 Beach Front Cottage
A stay in our beachfront cottages will ensure truly romantic holidays in St Lucia. These semi-detached Caribbean Cottages are set right on the beach and are decorated with gingerbread fretwork and surrounded by Rendezvous Resort's lush gardens. The Cottages offer private patios and are furnished with a beachfront bungalow motif.
Bedrooms are set on bamboo floors and are adorned with cathedral ceilings. The view from your King size bed and your sitting area are the Caribbean Sea and the golden sand beach only feet away from your doorstep.
The Beachfront Cottages have iPod docking stations and desk connectivity ports. Bathrooms are all newly refurbished with luxurious bathroom amenities by Ren.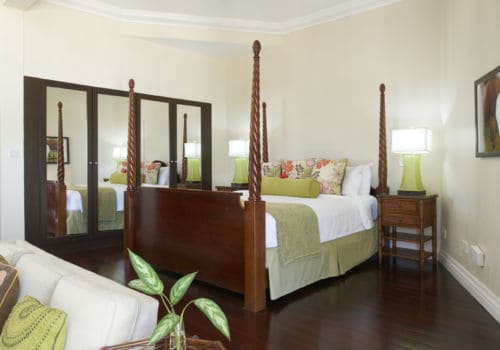 Luxury Beach Front Suite
The Luxury Beach Front Suites are the largest accommodations at Rendezvous and are located in the same building as the Luxury Beach Front Rooms. Designed with a split-level bedroom/sitting area these Suites are furnished with a mahogany four-poster king-sized beds and superior sleep comfort mattresses.
The furniture includes a grand sectional sofa and a wet bar and comfortable vanity. The bathrooms offer a beautiful shower enclosed by frameless glass shower doors as well as an elegant stand-alone claw foot bathtub.
These suites also offer a mini refrigerator, coffee making facilities and an iPod docking station. Outside on the balcony or terrace is a sitting hammock with great views overlooking the Caribbean Sea.
Food And Drink
Terrace Restaurant
Set on the water's edge, it is the perfect spot from which to enjoy a cold drink or fine open-air dining. Breakfast, lunch and dinner are served buffet style on the terrace.
The Boardwalk
Set right on the beach, this is perfect for dinner on a sultry evening.
The Trysting Place
Is the air-conditioned fine dining restaurant, which is open for dinner six nights a week, with a fabulous à la Carte menu.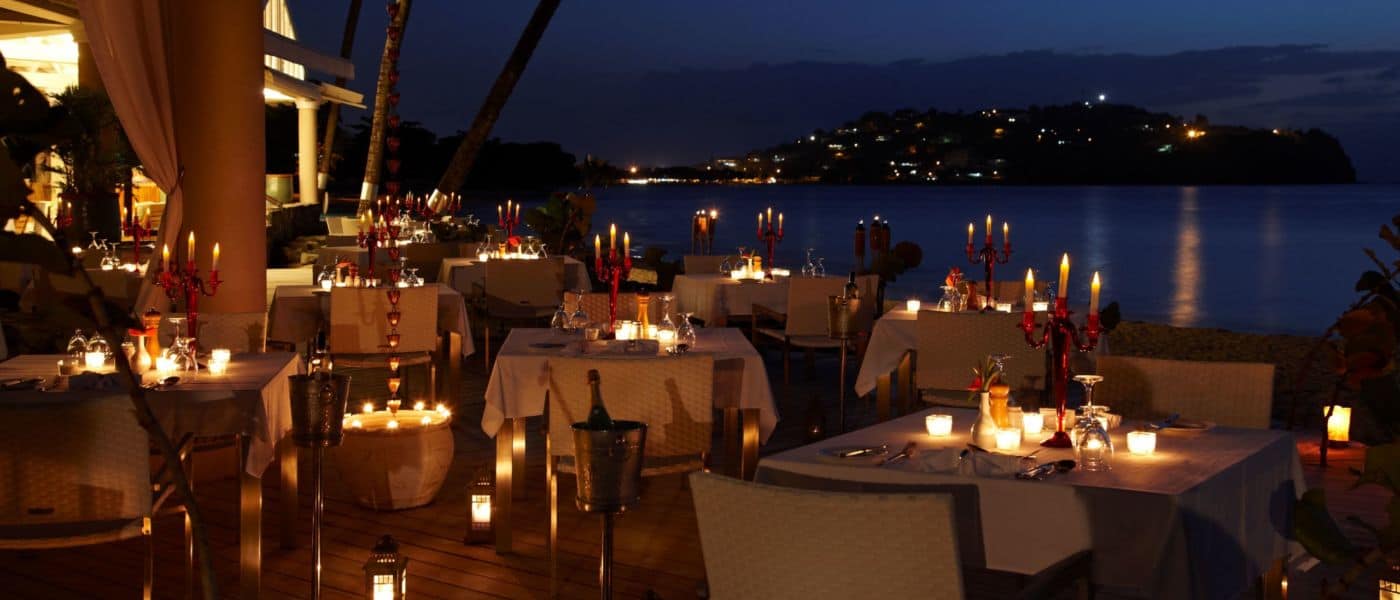 Spa
You can indulge yourself in a range of spa treatments.
Massage therapy
Elemis facials
Hopi ear candling
Waxing
Eyelash and eyebrow treatments
Manicures and pedicures