Greece is the cradle of Western Civilisation, so it's no surprise that it's a popular tourist destination. The perfect weather, golden beaches and cuisine also help. Not to mention the magical Islands surrounding the mainland.
On this trip you'll get to explore the wonders of Athens, and then do a bit of island hopping – including trips to Santorini, Mykonos and Milos.  This trip is not based on a strict itinerary so you'll have plenty of chance to explore, unwind and enjoy Greece with a great group of guys.
This has long been one of our most popular group trips and the fact you get to explore history combined with partying and relaxation is undoubtedly why it's one of our bestsellers.
More Information
The state of LGBTQ+ rights has made significant progress in recent years in Greece, although hardships and inequalities still persist in areas outside of the major cities. The country has undergone a widespread legal and societal transformation that has begun to improve the rights and protections for LGBTQ+ individuals.
When it comes to legal advancements, Greece decriminalized same-sex sexual activity in 1951, and in 2015, the Greek Parliament passed a law that recognized civil partnerships for same-sex couples, granting them legal recognition and many of the same rights as married heterosexual couples. However, marriage equality has still not been achieved, as same-sex marriages are not legally recognized.
The legal system in Greece prohibits discrimination on the basis of sexual orientation in employment and certain other areas. However, LGBTQ+ individuals continue to face discrimination and social stigma in various aspects of their lives. Homophobic and transphobic attitudes persist in some parts of society, especially in more remote and rural areas.
On a positive note, Athens, the capital city, has a vibrant LGBTQ+ community with a thriving nightlife scene, with an annual Pride parade that attracts thousands of participants from across the globe. LGBTQ+ organizations and advocacy groups in Greece actively work to promote equal rights and social acceptance.
Though LGBTQ+ travelers can enjoy visiting all areas of Greece's diverse landscape, the gorgeous island of Mykonos is a particular favorite amongst the LGBTQ+ community. In Mykonos, you'll find a plethora of gay-focused bars and clubs as well as some of Europe's most beautiful gay beaches.
20 May, 2023
23 May, 2023
02 Jun, 2023
12 Sep, 2023
15 Sep, 2023
All Taxes
Accommodation
All breakfasts
All land and sea transfers between destinations
3-day dune buggy rental on Milos
Welcome dinner and drinks in Athens
Group travel within Greece
Athens / Acropolis guided day tour
Knowledgeable and fun leaders
International Flights
Travel insurance
All other meals
Optional gratuities
Days 1 And 2: Athens
N.B. The destinations on this trip will not change but Greek ferry times might, so the order of the itinerary could change.
Meet your group in Athens where your adventure will begin. Athens was the great hub of art and philosophy in antiquity, and that legacy endures to this day. This city is a dream for a history buff. We shall visit the Acropolis, a shining citadel on a hill containing the Parthenon, one of the greatest buildings on earth. We can also visit the Archeology Museum and see some of the wonders of ancient Greece. Then we have the energy and excitement of modern Athens to enjoy, centred in Gazi – where you can enjoy bustling nightlife.

Days 3 to 5: Milos
Time to go island hopping. We'll begin on Milos, one of the lesser known islands but an unforgettable one. Surrounded by stunning beaches, ancient ruins friendly locals, this is an undiscovered corner of paradise. Our favourite Greek Mama is a local who will tell us about her island. We'll take you for a tour of the island in an ATV vehicle. You'll be free to soak up the sun on the beach whenever you want.

Days 6 And 7: Santorini
We'll arrive at Thira airport and then head to our accommodation, overlooking Santorini and the Aegean Sea. This is one of the most famous islands in the world. A place of great sophistication and natural beauty, you'll fall in love with the beaches, sunsets, hot springs and wineries. There's no better place to relax, drink wine and enjoy life than Santorini.

Days 8, 9 And 10: Mykonos
You won't want to leave Santorini, but arriving in Mykonos will soften the blow. This island has a famous gay scene, so there'll be plenty of bars to explore. You'll also see some of the great ruins of antiquity. Mykonos is cosmopolitan and popular with travellers – there'll be plenty of interesting people to meet.

Days 11 And 12: Athens
We'll return to the capital to finish our trip. You'll have the chance to do some shopping, check out some museums, explore the nightlife and cuisine. Then it'll be time to say our farewells. If this is your first time in Greece we're pretty sure it won't be your last.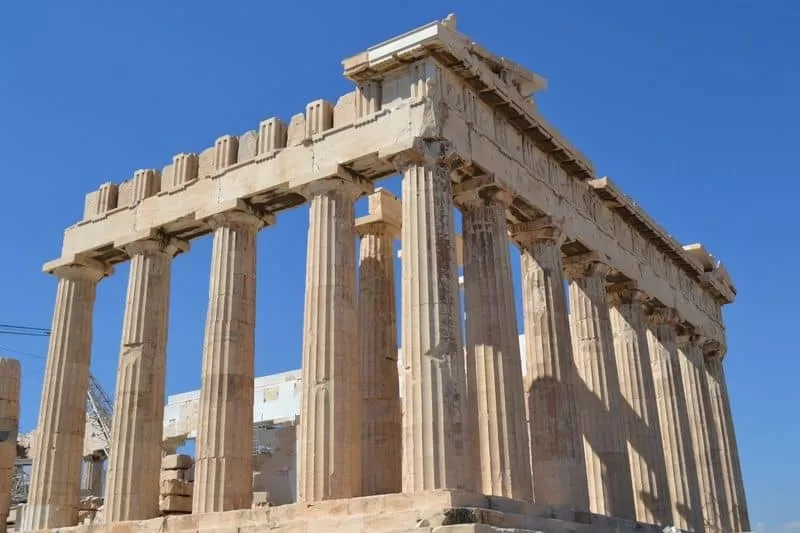 Accommodation
You'll be staying in four beautiful hotels in Athens, Mykonos, Santorini and Milos respectively. This is an adventure-filled itinerary so you'll spend the majority of time away from the hotel, but a huge amount of work has gone into selecting beautiful 4* properties in each location. You'll enjoy spectacular sea views, super comfortable beds and delicious sunset cocktails!

Food & Drink
Breakfast is included each morning. Lunch and dinner are not part of the package, giving you ample time to explore Greece's world-class culinary scene. In terms of tips, Greece doesn't really have a strong tradition of charging for service.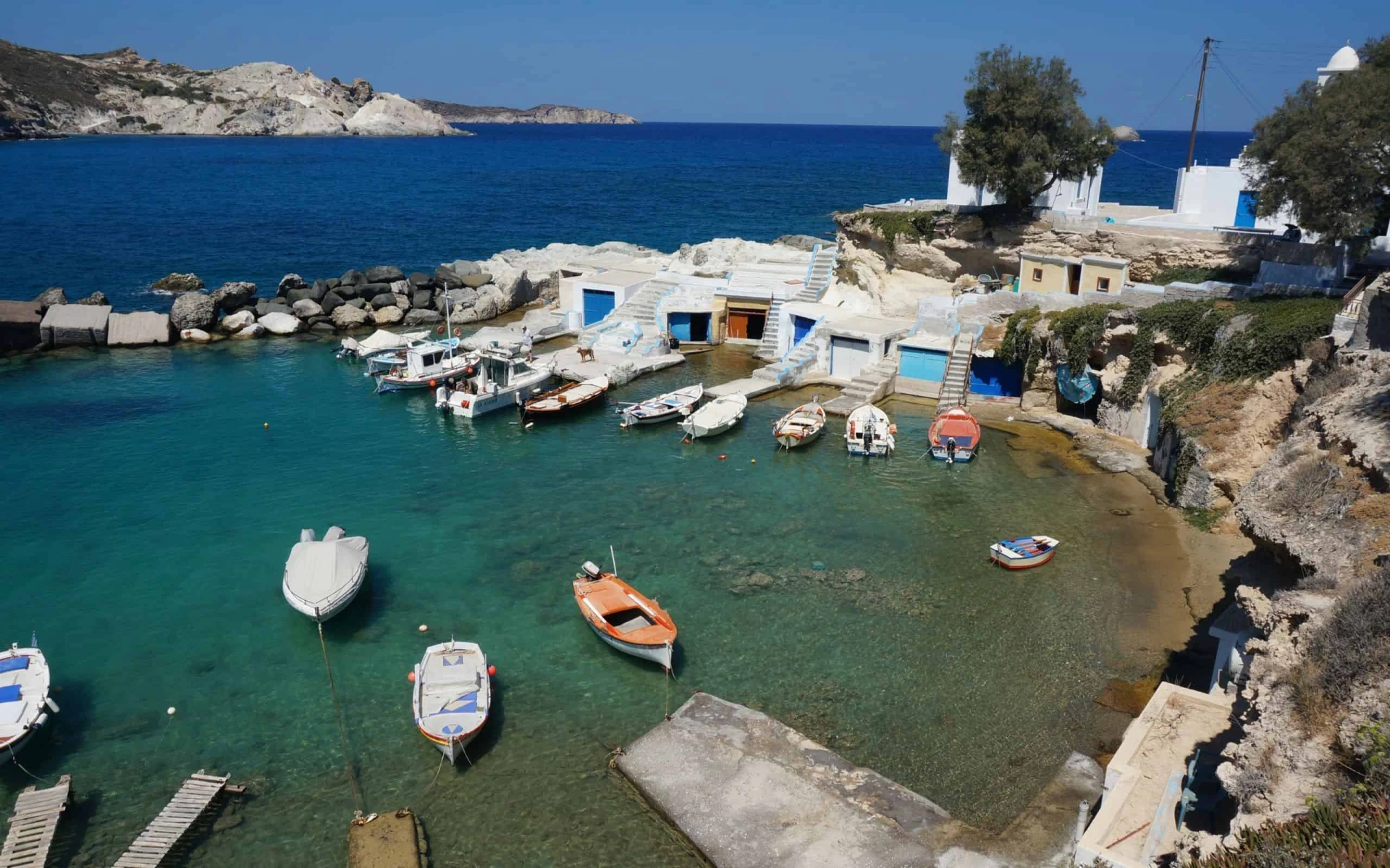 Solo Travel
You can join the trip as a solo traveller, with a partner or group of friends. Joining a group trip organised by destination experts is a great way to discover the highlights of Greece in one trip. Booking a Greek island-hopping itinerary can be tricky logistically – all you have to do is show up and enjoy the ride.

Further Information
You'll be visiting three Greek islands and taking two trips to Athens. It's important to start and end the trip in the Greek capital to ensure all your transfers run smoothly. Greece tends to be very warm in summer and there's little rain. That being said, as your mum would no doubt concur, it's always best to bring a sweater to be on the safe side.
We can extend your trip in Greece if you'd like to take more time to explore. Your trip leader will be on hand throughout the journey – feel free to ask them any questions you may have. We've run this trip many times so we know the itinerary inside out. It's a very popular one so expect our gay Greek island hopping trip to sell out.

We want to ensure you have the best experience with us so we'll keep working on your itinerary until perfect. You will have your own personal dedicated member of our team who will help build the perfect trip for you.
We pride ourselves in the number of clients that are referred to us by our existing customers. Our 5* Trustpilot rating is important to us, so we encourage you to browse our reviews. They speak for themselves and that's why you are in safe hands.