Old Drift Lodge is an unbeatable luxury choice if you want to experience Victoria Falls. It's located on the banks of Zambezi River, just 7 kilometres from the Falls and in the surrounded by diverse flora and fauna. The main lodge area offers 360-degree views of the Falls and the park. It's the closest lodge within the Park to Victoria Falls. You'll wake up each morning to the sound of birdsong. Buffalo, sable, zebras, kudu, waterbucks and impala roam around in the wild.
All rooms at the lodge have direct views of the Falls. It's a mere ten minutes by shuttle to the Falls – all shuttles are included in the price.
Highlights
Cost Category: Gold

Closest accommodation to the Falls in the National Park
Direct shuttles to the Falls
Surrounded by diverse wildlife
Room Options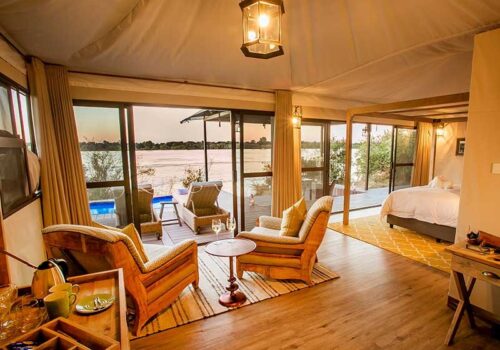 Luxury Family Suites
These suites have incredible views of the Zambezi River and call to mind the glamour of a bygone safari era. The glass door leads you to your elegantly furnished lodge. The colour tone combines lightly accented colours with copper, brass and dappled wood, complementing the colours of the wilderness outside.
Family Suites have two bedrooms separated by a sliding canvas door. You'll have a private deck with a plunge pool, an outdoor shower, claw-footed bathtub and sun loungers.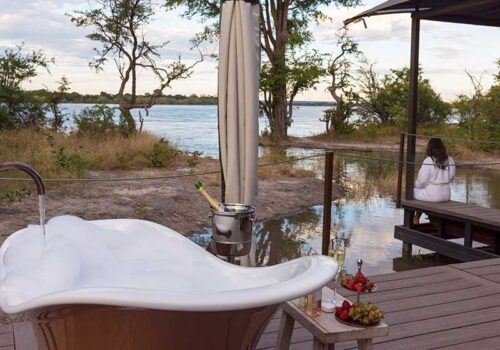 Luxury Tented Suites
You'll be transported to your Luxury Tented Suite on a boat. There are ten double suites and four family suites. The suites are all very stylish and they have indoor and outdoor showers, plunge pools and outdoor baths. You can unwind in a bubble bath on your private deck and enjoy a bottle of champagne under a canopy of stars.
Featured Video
More Information
Activites
Guided Tour of The Falls (Zimbabwe)
The mighty Victoria Falls, the world's greatest waterfall, of one of nature's masterpieces. You can hear the sound of its thundering waters for miles around. Join a guided walking tour in the morning and discover it with a local expert.
Lunch at the Lookout Café (Including drinks)
120 metres above Zambezi River you'll find the Lookout Café overhanging the chasm of the Batoka Gorge. Enjoy food, drink and one of the finest views in Africa.
Morning & Afternoon Game Drive
This is the best way to discover the mysteries of the African bush. Jump in a four by four with a qualified guide and explore the truly wild, unfenced wilderness area.
Morning & Afternoon River Safari
Sail in style down the Zambezi River and enjoy 360-degree views of the dramatic surroundings.
Guided Walking Safari
If you're up for a challenge you can head out on a walking safari. You'll be with an armed, expert guide getting up close and personal with some of Africa's greatest wildlife.